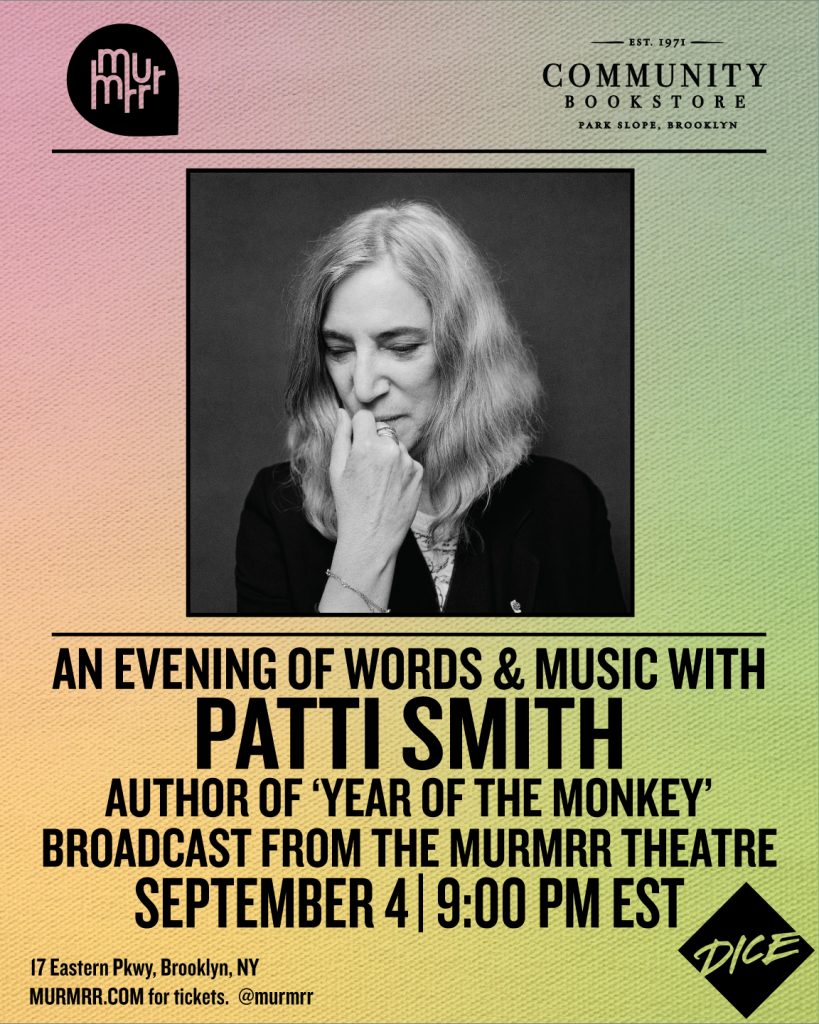 Who: Patti Smith, Tony Shanahan
What: Patti Smith's only live, staged appearance in 2020
Where: Murmrr Theatre
When: Friday, September 4, $30, 9:00
Why: In her follow-up to the hugely successful Just Kids and M Train, poet, punk goddess, and visual artist Patti Smith writes in her latest memoir, Year of the Monkey (Penguin Random House, September 1, $16):
"I decided on the Waterfront for dinner but went the opposite way and passed a wall covered in murals, Chagall-like scenes from Fiddler on the Roof, floating violinists amidst tongues of flame that produced a disconcerting sense of nostalgia. When I finally circled back and entered the Waterfront, I thought I had made a mistake. The layout looked totally different than in the afternoon. There was a pool table and nothing but fellas of all ages with baseball caps and huge glasses of beer with slices of lemon. Several looked at me as I entered, an unthreatening alien, then went about the business of drinking and talking. There was a hockey game on a big screen with no sound. The din, the drone, was all male, amiable male, laughing and talking, broken only by the tapping of a ball with a cue stick, the ball dropping into the pocket. I ordered coffee, a fish sandwich and salad, the most expensive plate on the menu. The fish was small and deep-fried, but the lettuce and onions were fresh. The same starfish mug, the same brew. I laid my money on the table and went out. It was raining. I put on my watch cap. Passing the mural, I nodded to the Yiddish fiddler, commiserating an unspoken fear of friends slipping away."
Tickets are now on sale to watch Smith's live, virtual, one-time-only show on September 4, in which she will read excerpts from Year of the Monkey, which comes out in paperback on September 1, and other writings and perform songs with longtime bassist Tony Shanahan. The live performance, held in conjunction with the Community Bookstore in Park Slope, will take place at an empty Murmrr, the Brooklyn club at the historic Union Temple by Grand Army Plaza. The livestream will be filmed by cinematographer Matthew Schroeder with multiple cameras; it will be Smith's only stage appearance of 2020. Tickets are $30 and include a copy of the paperback.