"MANOS": THE HANDS OF FATE (Harold P. Warren, 1966)
MoMA Film, Museum of Modern Art
11 West 53rd St. between Fifth & Sixth Aves.
Saturday, November 18, 2:00
Series runs through February 28
212-708-9400
www.moma.org
There aren't a whole lot of movies that get skewered on Mystery Science Theater 3000 (aka MST3K) and later have the privilege of being shown at the Museum of Modern Art. But one of them, "Manos": The Hands of Fate, universally considered to be one of the very worst films ever made, is receiving that honor as part of the MoMA series "You Are Now One of Us: Film at Club 57," held in conjunction with the gallery exhibition "Club 57: Film, Performance, and Art in the East Village, 1978-1983." And no question about it, "Manos": The Hands of Fate, which translates as "Hands: The Hands of Fate" and was written, directed, and produced by fertilizer salesman Harold P. Warren, who also plays the lead, is thoroughly atrocious; it really has to be seen to be believed. Michael (Warren), his wife, Margaret (Diane Mahree), their young daughter, Debbie (Jackey Neyman), and their doomed dog, Peppy, get lost on vacation in Texas, searching for Valley Lodge but instead winding up at a creaky house with a jittery Renfield/Igor-like caretaker named Torgo (John Reynolds) who worships the Master (set designer Tom Neyman), a caped creep with a bushy mustache and a bevy of wives dressed in white (Stephanie Nielson, Sherry Proctor, Robin Redd, Jay Hall, Bettie Burns, and Lelaine Hansard) who participate in crazy rituals when not getting into an utterly ridiculous mass catfight. Each scene is more absurd than the one that precedes it, getting worse by the second as the really stupid family gets deeper and deeper into trouble. All technical aspects of the seventy-minute horror show, from the cinematography (Robert Guidry), editing (James Sullivan and Ernie Smith), and writing (Warren) to the sound (Bruce Shearin), score (Robert Smith Jr. and Russ Huddleston), and lighting, are amazingly atrocious.
All of the dialogue, which often gets lost behind the terrible music, was poorly dubbed in postproduction by only a few actors. Shots could not last more than thirty-two seconds because of the type of handheld camera used. Reynolds was high on acid through the entire shoot and committed suicide shortly before the film's premiere. At various moments you can see the "Action!" clapboard flash by and Warren mouthing the word "Cut!" Warren added completely unrelated scenes of a teenage couple (Bernie Rosenblum and Joyce Molleur) making out in a convertible because he wanted Molleur in the movie even though an injury prevented her from playing one of the Master's wives. The 2004 documentary Hotel Torgo claims that since the movie was released, "the cast and crew have all passed away or mysteriously disappeared," except for Rosenblum. (Actually, several are indeed still alive and have been looking into making a prequel or a sequel.) The movie was made for less than twenty grand, with Warren offering cast and crew percentages that totaled way more than one hundred percent of the take. And just wait till you see the Master spread out his arms and reveal his costume, which was designed by Thomas Ivy, whose grand plans for the wives' attire was thwarted by the actresses, who refused to wear more revealing outfits. One of the film's only redeeming elements is the philosophy spouted by a local police officer (William Bryan Jennings; no, really) who states, "If you're running late, you should have started earlier" and "Well, whatever it is you're not doing, go and don't do it somewhere else." "Manos": The Hands of Fate is so bad that it's hard to love it the way so many movie fanatics do Ed Wood's Plan 9 from Outer Space and Phil Tucker's Robot Monster.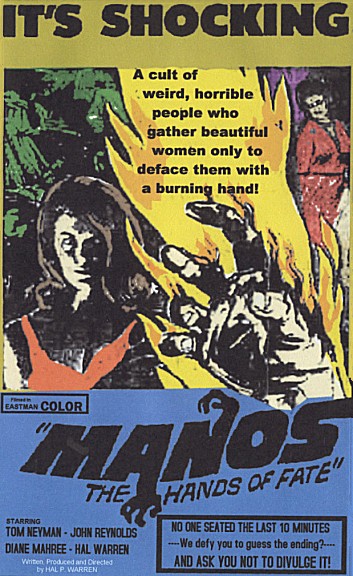 "This may indeed be one of the most inept films ever made," explains "You Are Now One of Us: Film at Club 57" guest curator John "Lypsinka" Epperson in his program notes. "But it points toward some other disturbing horror films that became classics of the genre: The Texas Chainsaw Massacre, The Hills Have Eyes, The Last House on the Left, and all of their many derivations. In "Manos," a family is tormented by a heathen group of bizarre characters. The exposing of the Manson 'family' came three years later. Many of the Club 57 members were impressionable teens when the Manson murders took place. Ten years after, at the basement club in the East Village, mocking a questionably tasteless film about 'family vs. family' could have been a way of purging the fears." You're more likely to purge your lunch than your fears when watching this disorientingly dreadful flick, in which Torgo fatefully declares, "There is no way out." The wide-ranging MoMA series continues through February 28 with such other films as Andy Warhol's Vinyl, Luis Buñuel's El, Phil Karlson's Kansas City Confidential, and Joseph H. Lewis's The Big Combo.