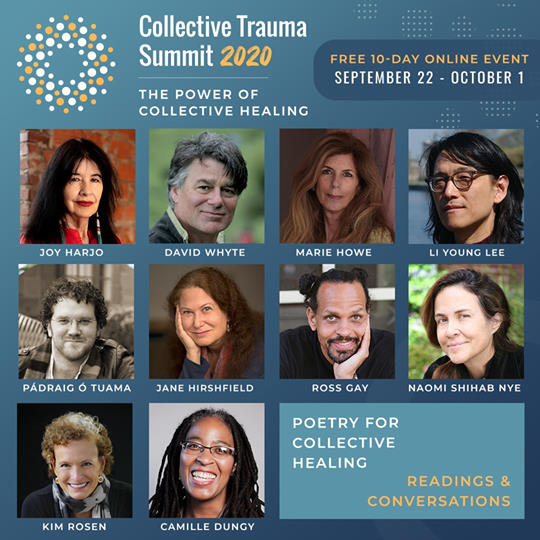 Who: Hosts Thomas Hübl, Dr. Laura Calderón de la Barca, Kosha Joubert, Robin Alfred, and Anna Molitor, and more than forty guests
What: Live guided experiences, performances, artist dialogues
Where: Collective Trauma Summit
When: September 22 - October 1, free with registration
Why: It's been a rough 2020, and it seems to only be getting worse. We could all use a bit of healing, and that's just what the Collective Trauma Summit seeks to do. The virtual conference runs September 22 through October 1 with ten live events in addition to numerous prerecorded talks and performances, featuring music, poetry, panel discussions, guided experiences, and more with Sharon Salzberg, Priya Parker, Jacqueline Novogratz, Daniel J. Siegel, Melanie Goodchild, Joy Harjo, David Whyte, Marie Howe, Pádraig Ó Tuama, Li-Young Lee, Naomi Shihab Nye, Jami Sieber, Krishna Das, Dr. Srini Pillay, Margaret Wheatley, Yehudit Sasportas, Xiuhtezcatl, and many others. Among the topics are "The Link between Personal Trauma and Collective Trauma," "How Neuroscience Can Inform Approaches to Trauma Healing," "How to Become Aware of Unresolved States and Heal Them," "The Future of Collective Healing Processes and Methods," "How Communities Can Transform Themselves," "Practices for Engaging the Wisdom of the Body," "Working with Inherited Family and Ancestral Trauma," "Transforming Cycles of Violence and Cultural Trauma," and "Using Trauma as a Call to Service and Self-Transcendence." The hosts are Thomas Hübl, Dr. Laura Calderón de la Barca, Kosha Joubert, Robin Alfred, and Anna Molitor. "Trauma is not just a personal experience. It is always embedded in a much wider chain of events and history. Examining our collective trauma is the way to tap into the evolutionary intelligence of humanity," explains Hübl, the founder of the Academy of Inner Science and author of the forthcoming book Healing Collective Trauma. Admission is free; below are the live events.
Tuesday, September 22, noon
"Awakening to the Nature of Collective Trauma," with Thomas Hübl, Laura Calderón de la Barca, Robin Alfred, Kosha Joubert, and Anna Molitor, music by Adam Bauer, and poetry by Kim Rosen
Wednesday, September 23, noon
"Uncovering Our Cultural Trauma Conditioning," with Thomas Hübl, host Robin Alfred, music by Adam Bauer, and poetry by Kim Rosen
Thursday, September 24, noon
"Exploring Our Roots and Ancestral History," with Thomas Hübl, host Kosha Joubert, music by Adam Bauer, and poetry by Kim Rosen
Friday, September 25, noon
"The Art of Peacemaking: Mediating Conflicts in a Traumatized Field," with William Ury, host Kosha Joubert, and panelists Ameya Kilara and Claire Hajaj
Saturday, September 26, 1:00
"Collective Healing and Structural Inequality: A Contemplative Walk," with Thomas Hübl, Angel Acosta, and host Laura Calderón de la Barca
Saturday, September 27, noon
"Poetry as a Gateway to Collective Healing," with Marie Howe, Pádraig Ó Tuama, and host Anna Molitor
Tuesday, September 29, noon
"The Pocket Project: Activating the Power of Group Coherence," with Thomas Hübl, Yehudit Sasportas, Kosha Joubert, and Laura Calderón de la Barca
Thursday, October 1, noon
"Climate Crisis: Restoring Our Relationship to the Earth," with Thomas Hübl, host Kosha Joubert, and music by Adam Bauer