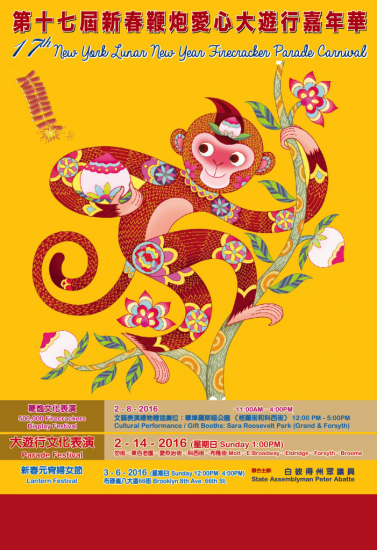 Sara D. Roosevelt Park and other locations
East Houston St. between Forsythe & Chrystie Sts.
February 8-28, free - $200
www.betterchinatown.com
www.explorechinatown.com
Gōng xǐ fā cái! New York City is ready to celebrate the Year of the Monkey this month with special events all over town. The seventeenth New Year Firecracker Ceremony and Cultural Festival will explode in and around Sara D. Roosevelt Park on February 8 at 11:00 am, with live music and dance, speeches by politicians, drum groups, lion, dragon, and unicorn dancers making their way through local businesses, and more than half a million rounds of firecrackers warding off evil spirits and welcoming in a prosperous new year. Also on February 8, China Institute will host "A Taste of Chinese New Year" (free, 12 noon - 5:00 pm) featuring Mandarin classes, a China Ink workshop, and more; on February 13 (free, 12 noon - 5:00), China Institute invites everyone back for a family celebration including lion dances, kung fu demonstrations, arts & crafts, and dumplings.
The New York Philharmonic gets into the party spirit with Long Yu conducting a multimedia Chinese New Year Concert at David Geffen Hall on February 9 ($35-$110, 7:30) with violinist Maxim Vengerov and harpist Nancy Allen performing Li Huanzhi's "Spring Festival Overture," Chen Gang and He Zhanhao's "The Butterfly Lovers Violin Concerto," Kreisler's "Tambourin Chinois," and Tan Dun's "Nu Shu: The Secret Songs of Women." The Flushing Lunar New Year Parade takes place February 13 at 9:30. Dr. Hsing-Lih Chou has again curated a Lunar New Year Dance Sampler at Flushing Town Hall on February 14 (free, 12 noon). The seventeenth annual Chinatown Lunar New Year Parade and Festival will wind its way through Chinatown, Sara D. Roosevelt Park, and Columbus Park on February 14 starting at 1:00, with cultural booths in the park and a parade with floats, antique cars, live performances, and much more from China, Korea, Japan, Vietnam, Taiwan, Malaysia, Singapore, and other nations. The annual family festival at the Queens Botanical Garden is set for February 20 ($2-$4, 1:00 - 3:00). The New York Chinese Cultural Center will present a Lunar New Year program with folk dances, paper cutting, calligraphy, and lion dances at the Bronx Museum of the Arts also on February 20 (free, 2:00 - 4:00).
The Museum of Chinese in America celebrates the holiday with its annual Lunar New Year Family Festival on February 20 ($10, 11:00 am – 4:00 pm) with live music and dance, demonstrations and workshops, storytelling, arts and crafts, and more. One of our favorite restaurants, Xi'an Famous Foods, will be hosting a Lunar New Year Festival concert at Terminal 5 on February 20 ($60-$200, 5:30) with Far East Movement, Kimberley Chen, Soft Lipa, and Kina Grannis, benefiting Apex for Youth. There will be a Hao Bang Ah Monkey Puppet Show by Chinese Theatre Works, calligraphy workshops, a zodiac-themed scavenger hunt, and arts & crafts at the Prospect Park Zoo and the Queens Zoo on February 27-28 ($6-$8). And finally, the Lantern Festival is set for February 28 (free, 11:30 am - 3:30 pm) in Sunset Park on Eighth Ave. between Fifty-Third & Fifty-Fifth Sts.