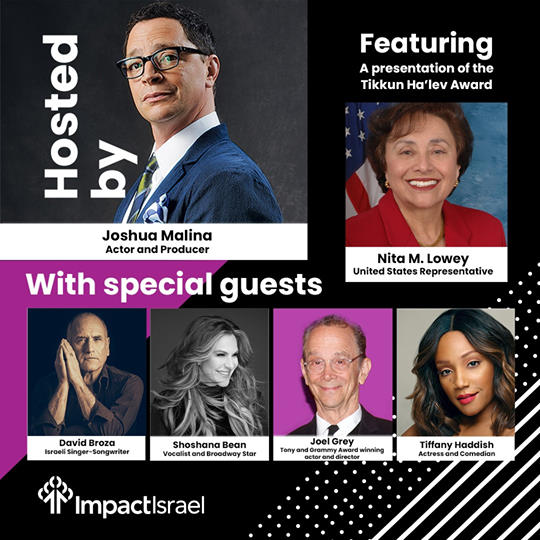 Who: Joshua Malina, David Broza, Nita M. Lowey, Joel Grey, Shoshana Bean, Tiffany Haddish, Yemin Orde Youth Village Choir, more
What: Virtual benefit
Where: ImpactIsrael
When: Wednesday, October 28, free with RSVP, 8:00
Why: ImpactIsrael is a Maryland-based organization that "provides the support needed to transform immigrant and at-risk youth into productive members of Israeli society through value-driven education and support. ImpactIsrael works to improve the education, security, health, and welfare of over 25,000 Israelis by touching lives across all boundaries — religious, secular, Jews, Arabs, Druze, and Bedouins." On October 28 at 8:00, it will be presenting "A Celebration of Gratitude and Hope," an online benefit for Israel's next generation of leaders. The evening will be emceed by Joshua Malina (A Few Good Men, Scandal) and features appearances by Israeli singer-songwriter David Broza (East Jerusalem West Jerusalem, At Masada: The Sunrise Concert featuring Shawn Colvin & Jackson Browne), U.S. Representative Nita M. Lowey (who will receive the Tikkun Ha'Lev Award), singer and stage actress Shoshana Bean (Wicked, Waitress), comedian and actress Tiffany Haddish (Girls Trip, The Carmichael Show), legendary actor and director Joel Grey (Cabaret, Fiddler on the Roof in Yiddish), and the Yemin Orde Youth Village Choir, among others. Admission is free, but donations will be accepted, including at special levels that will qualify you for listings on a digital scroll, promotional materials, and recognition with a commemorative gift.