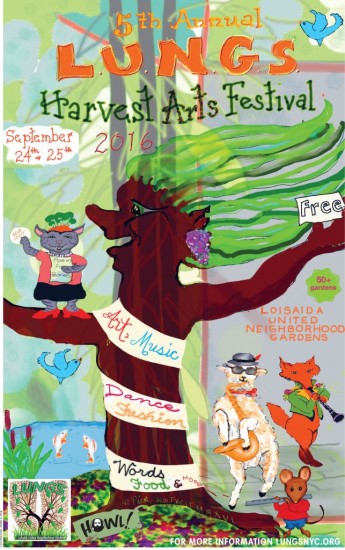 Multiple community gardens on the Lower East Side
Saturday, September 24, and Sunday, September 25, free
www.lungsnyc.org
More than fifty community gardens on the Lower East Side are participating in the fifth annual LUNGS (Loisaida United Neighborhood Gardens) Harvest Festival, a weekend of free special events, including music, dance, film screenings, walking tours, workshops, art, poetry, karaoke, meditation, and more. Below are only some of the recommended events for Saturday and Sunday; there are also activities at the M'Finda Kalunga Garden, Fireman's Garden, Liz Christy Garden, Secret Garden, El Sol Brillante, Doroty Strelsin Suffolk St. Garden, East Side Outside Garden, Umbrella House Rooftop Garden, Creative Little Garden, Lower East Side People Care Garden, Kenkeleba House Garden, Children's Magical Garden, Green Oasis, Elizabeth St. Garden, Toyota Children's Garden, Sam & Sadie Koenig Garden, and many others. The festival is a great way to become familiar with and support these small gems that can be found all over the Lower East Side.
Saturday, September 24
Permaculture tour with Ross Martin and Marga Snyder, La Plaza Cultural, Ave. C at Ninth St., 12 noon
Live music with Elizabeth Ruf, Ben Cauley, Avon Faire, Tammy Faye Starlight, Witch Camp with Amber Martin & Nath-Ann Carrera, Salley May, and Val Kinzler, DeColores Garden, East Eighth St. between Aves. B & C, 1:00 – 5:00
Guided meditation, with Matthew Caban and Jaquay Saintil, the Lower East Side People Care Garden, Rutgers St. between Henry and Madison Sts., 2:00
Collaborative poetry workshop with Rhoma Mostel, La Guardia Corner Gardens, Bleecker & Houston Sts., 3:00
"The Bride" performance piece by Theresa Byrnes, La Plaza Cultural, Ave. C at Ninth St., 4:00
Dance performance with Heidi Henderson and students from Connecticut College, Kizuna Dance, John Gutierrez, Sheep Meadow Dance Theater, Rina Espiritu, Lauren Kravitz, and Shantel Prado, Cornfield Dance, Rod Rodgers Teen Dancers, El Jardín del Paraíso, Fourth St. between Aves. C & D, 4:00
Dimensions of Ecology panel discussion, with Stuart Losee, Felicia Young, Anna Fitzgerald, and Chloe Rosetti, La Plaza Cultural, Ave. C at Ninth St., 5:00
Sunday, September 25
Pysanky workshop: How to Make Ukrainian Easter Eggs, with Anna Sawaryn, 6B Garden, Ave. B at Sixth St., 11:00 am – 2:00 pm
"Garbagia Island" Creatures Performance and Fashion Show, El Jardín del Paraíso, Fourth St. between Aves. C & D, 1:00
Vangeline Theater's "Wake Up and Smell the Coffee," contemporary Butoh dance, El Jardín del Paraíso, Fourth St. between Aves. C & D, 2:00
"Garden to Table Nutrition," with Vanessa Berenstein, La Guardia Corner Gardens, Bleecker & Houston Sts., 3:00
Fountain installation: "Jeux d'Eaux" by Nicholas Vargelis, Le Petit Versailles, Second St. between Aves. B & C, 4:00
Laughter Yoga, with Sara Jones, La Guardia Corner Gardens, Bleecker & Houston Sts., 5:00
Photography show: George Hirose's "Midnight in the Garden," Campos Garden, Twelfth St. between Aves. B & C, 6:30
Dance party with Ray Santiago Band, Campos Garden, Twelfth St. between Aves. B & C, 7:30-9:30