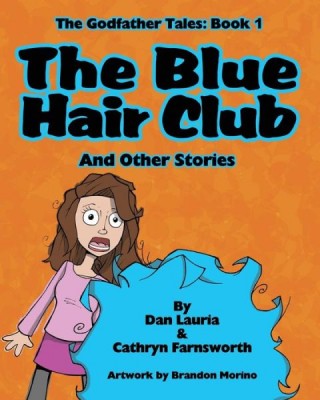 Society of Illustrators
128 East 63rd St. between Park & Lexington Aves.
Monday, December 16, free but advance RSVP required, 5:30
www.thegodfathertales.com
www.societyillustrators.org
In his first children's book, The Blue Hair Club and Other Stories, actor Dan Lauria collects made-up stories he's been telling his godson, Julian Farnsworth. The book is the first in a new series called "The Godfather Tales"; Lauria collaborated on the text (the book also includes "The Boy Who Built a Bridge Our of Carrots" and "The Story of the Sun") with Julian's mother, L.A.-based photographer Cathryn Farnsworth; the playful illustrations are by Brandon Morino. The Brooklyn-born Lauria, who starred as grumpy father Jack Arnold in The Wonder Years and is about to reprise his role as narrator Jean Shepherd in A Christmas Story: The Musical, running at the Theater at Madison Square Garden December 11-29, will be at the Society of Illustrators on December 16, in conversation with Star-Ledger theater critic emeritus Peter Filichia, discussing his long career onstage, on television, and in the movies, as well as the book. Also on hand will be the famous leg lamp from the show, along with members of the cast of the musical, who will perform excerpts from the book, followed by a signing. In addition, there will be fudge and a cash bar. Proceeds from sales of the self-published book ($21.73) will go to the nonprofit Front Door Agency, whose mission is "to offer support and provide services to assist individuals and families in their transition from crisis to self-sufficiency," focusing on the needs of single moms and their children. Advance RSVP with the number of books you'd like to reserve is required.