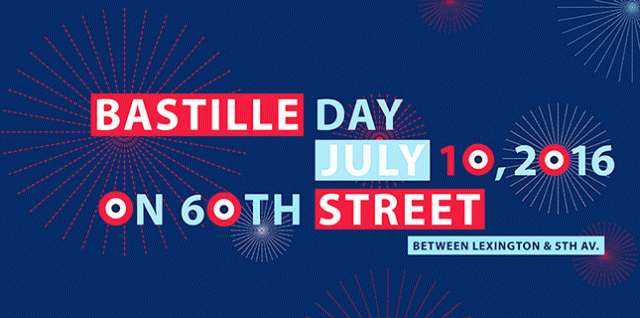 60th St. between Fifth & Lexington Aves.
Sunday, July 10, free, 12 noon – 5:00 pm
www.bastilledaynyc.com
fiaf.org
On July 14, 1789, a Parisian mob stormed the Bastille prison, a symbolic victory that kicked off the French Revolution and the establishment of the Declaration of the Rights of Man and of the Citizen. Ever since, July 14 has been a national holiday celebrating liberté, égalité, and fraternité. In New York City, the Bastille Day festivities are set for Sunday, July 10, along Sixtieth St., where the French Institute Alliance Française hosts its annual daylong party of food, music, dance, and other special activities. There will be a Wine, Beer, Cocktail, and Cheese Tasting in FIAF's Tinker Auditorium at 12 noon, 1:30, and 3:00 ($25), as well as luxurious ninety-minute Champagne & Chocolate Tastings in Le Skyroom at 12:30 and 3:00 ($75) featuring delights from G. H. Mumm, Piper-Heidsieck, Drappier, Brimoncourt, Billecart-Salmon, La Caravelle, Neuhaus, La Maison du Chocolat, Valrhona, MarieBelle, and Maman Bakery. The annual raffle ($5 per ticket) can win you such prizes as trips to Paris and New Orleans, concert tickets, beauty treatments and gift baskets, lunches and dinners, and more. Food and drink will be available from Babeth's Feast, Barraca, Booqoo Beignets, Dominique Ansel Bakery, Éclair Bakery, Epicerie Boulud, Financier, Bec Fin, Le Souk, St. Michel, Tipsy Scoop, François Payard Bakery, Mille-feuille, Oliviers & Co., Ponty Bistro, and others. Taking the stage will be cast members from An American in Paris (12:30), CanCan dancers led by Sarah O'Dwyer (1:15 & 2:15), a French puppet show by Samantha Grassian (1:30), the Hungry March Band (2:30), the Sheridan Fencing Academy (3:15), and Myriam Phiro's Accordion Trio (4:00). The festivities also include a roaming French Mime for Hire (Catherina Gasta), a photobooth, a book signing with Marc Levy (A Spin on the Horizon, 1:00), the annual Citroën Car Show (1:00 – 5:00), a live screening of the UEFA Euro final between France and Portugal (3:00), and more. Vive la France!