Who: Lisa Banes, Jordan Boatman, Eleanor Burgess, Kimberly Senior
What: Virtual reading and discussion
Where: Broadway on Demand
When: Online streaming extended through June 27, free with RSVP
Why: "It's a dangerous time, and this is a play that ignites those thoughts and makes you look at yourself and makes you look at your place in the world," Lisa Banes says in a brief recorded conversation about Eleanor Burgess's The Niceties, which is streaming in a sizzling online version through June 27. "I mean, every time we had talked to the audience after the play, we were asked as human beings, not just as actors, Where do you stand on this?" Sadly, Banes will no longer be answering these questions; she died on June 14 at the age of sixty-five after being hit by a scooter on the Upper West Side; the perpetrator has not been found. This production from MTC's Curtain Call series and the Huntington Theatre Company in Boston is the last play featuring the extraordinarily talented Banes.
Banes and Jordan Boatman had reunited for the virtual reading; they starred in the two-character play when it premiered at MTC's Studio at Stage II at City Center in 2018. The two-act, one-hundred-minute play has been moved from an American history professor's office at a prestigious university to Skype, where Janine (Banes), a tenured teacher, is offering advice to one of her students, Zoe (Boatman), who's working on a paper about radical revolutions. Janine is white; Zoe is black. The discussion does not go as expected; what was supposed to be a productive session turns into a ferocious confrontation about how the past and the present define and regard colonialism, slavery, political protests and marches, constitutional democracy, racial oppression, the concept of freedom, and the Supreme Court. "I love critical dialogue; I'm listening," Janine says. But Zoe argues that she is not being heard.
"You have a contempt for your students, and particularly your students who think different from you," Zoe explains.
"Differently," Janine corrects.
Zoe: "You use your intelligence to critique and belittle people who have less power than you. Like your comments on my paper. Do you think that's helpful? To take a person who's trying to put forward an underrepresented point of view and criticize them until they feel like they might as well give up because you'll never understand?"
Janine: "I didn't tell you to give up. . . ."
Zoe: "Listen, there is one appropriate way of responding to a woman of color who says I have an idea to assert. And that is to shut up and listen, because she has experiences you cannot possibly know and insight you can learn from."
Janine: "To shut up and listen, as you so rudely put it, would be doing you a disservice."
Three weeks later, they are dealing with the aftermath of their fierce exchange, but while much has changed, much has not as they continue to disagree about personal and public aspects of dignity, equality, and compromise.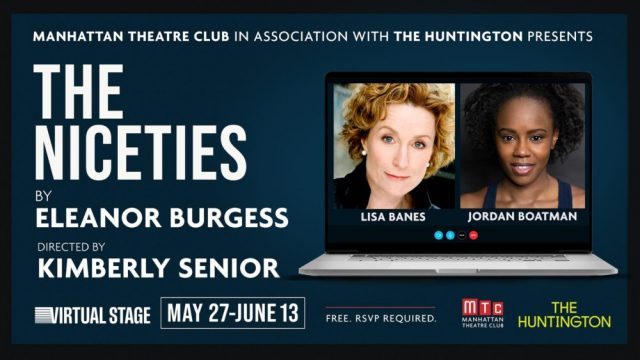 The Niceties is set in the spring of 2016, during the race for the Republican presidential nomination. Original director Kimberly Senior (Disgraced, Sweat) helms this virtual iteration, which is ablaze with passion while including artful little touches: Janine drinks out of a Hillary Clinton mug, even after Zoe expresses her fondness for President Obama, and Janine has a framed portrait of George Washington on her wall, whereas Zoe has a poster of The Color Purple behind her. And KRS-ONE's "Sound of Da Police" plays during the five-minute intermission, preparing viewers for a highly volatile second act.
Obie winner Banes (Look Back in Anger, My Sister in the House, Isn't It Romantic?) and Boatman (The Good Fight, The Path) are electrifying, picking up right where they left off at Studio at Stage II; this is no mere reunion reading but a thrillingly performed work that takes on issues that have only grown more complex since 2018. Banes is elegant and refined as the meticulous woman forced to defend her career, while Boatman is fervent and intense as a tenacious student fighting to be heard. If The Niceties doesn't get your juices flowing, then you haven't been paying attention to what has been happening across the country, and around the world, these past few years.
"I was so, so happy to do this," Banes says in the talk. "It came at just the right moment. I feel like we started our engines and got 'em going, and now I can't wait for the next thing." Banes, who also appeared in such films as Cocktail and Gone Girl and the television series Son of the Beach and Royal Pains, is survived by her wife, Kathryn Kranhold. Anyone with information about the tragic hit-and-run that took her life is urged to call NYPD Crime Stoppers at (800) 577-TIPS.