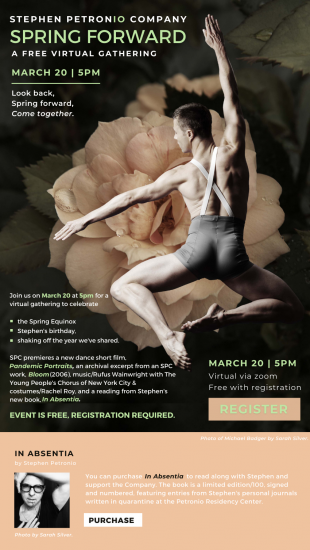 Who: Stephen Petronio Company
What: Virtual birthday party
Where: SPC Zoom
When: Saturday, March 20, free with RSVP, 5:00
Why: In April 2013, Newark-born, New York City–based dancer and choreographer Stephen Petronio threw himself quite a New Orleans–style funeral at the Joyce for Like Lazarus Did (LLD 4/30). On March 20, he will rise up again for the spring equinox, celebrating his sixty-fifth birthday in style over Zoom. The virtual gathering will include an excerpt from SPC's 2006 piece, Bloom, featuring music by Rufus Wainwright with the Young People's Chorus of NYC; the world premiere of his latest short dance film, Pandemic Portraits (SPC previously presented #GimmeShelter last May and Are You Lonesome Tonight in July); and a reading and discussion of Petronio's new book, In Absentia, consisting of personal journal entries about dealing with the current state of the world, written while Petronio was quarantining at the Petronio Residency Center in the Catskills. Signed and numbered copies of the limited edition book are available for $250. Petronio is a charming, effervescent character, so it's always worth being in his company. Happy birthday!