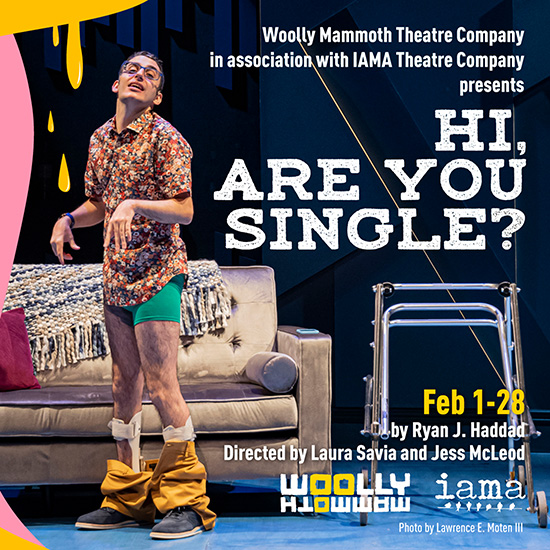 HI, ARE YOU SINGLE?
Woolly Mammoth Theatre Company
February 1-28, $20.99 for forty-eight-hour stream (captioning and audio description available)
www.woollymammoth.net
Ryan J. Haddad wants to get laid. A lot. And also find true love and inner happiness. Is that so much to ask? He shares his bittersweet, hugely entertaining story in his one-man show Hi, Are You Single?, streaming from Woolly Mammoth Theatre Company February 1-28. Haddad delves into his deepest desires in the hourlong autobiographical play, which was filmed live on Woolly Mammoth's DC stage, in front of a small, masked, socially distanced audience made up of members of the staff and design team.
"Have you ever felt an overwhelming sense of longing for companionship and intimacy and love?" he asks. "And how many of you just get horny sometimes, huh?" Haddad, who is gay and has cerebral palsy, requiring the use of a walker, details various encounters with men, from a high school football player to guys he meets on a gay dating site, at an East Village bar, and other pickup hotspots. He is engagingly open and honest, which can be both shocking and hysterically funny, and not just because of his disability, which he does not let stop him from fulfilling his sexual urges, like loving to be cuddled after being spanked. He also poignantly relates the issues of being both gay and disabled. After coming out to his mother, she tells him, "I'm scared, because now you're different in two ways."
Hi, Are You Single? has been touring the country since 2016; the filmed version, presented in association with LA's IAMA Theatre Company and directed by Laura Savia and Jess McLeod, arrives at a time when theater-hungry audiences are desperate for intimate artistic connection, not unlike the companionship Haddad seeks, save, perhaps, for the erotic sexual aspect. Haddad, whose previous work includes My Straighties, Noor and Hadi Go to Hogwarts, and Falling for Make Believe at such venues as the Public Theater, Ars Nova, Joe's Pub, Dixon Place, and La MaMa E.T.C. here in New York, also deftly handles a part of the show in which he brings someone onstage to dance with him, a startling yet affecting moment during the coronavirus crisis. In Hi, Are You Single?, Haddad takes a long look at himself, which makes us look at ourselves in solidarity, in a wholly satisfying show that will yet leave you aching for more.