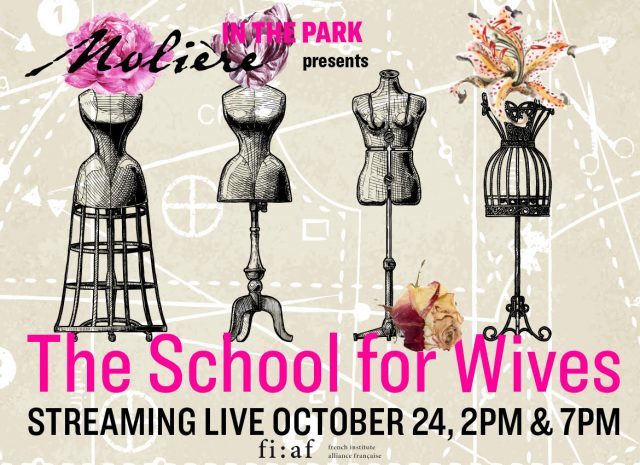 Who: Tonya Pinkins​, Kaliswa Brewster, Cristina Pitter, Tamara Sevunts, Mirirai Sithole, Carolyn Michelle Smith, Corey Tazmania
What: Molière in the Park virtual presentation in association with French Institute Alliance Française (FIAF)
Where: Molière in the Park Zoom
When: Saturday, October 24, free with RSVP (donations accepted), 2:00 & 7:00
Why: "Don't worry, friend; I'm not a fool," Arnolphe tells Chrysalde at the beginning of Molière's The School for Wives in Richard Wilbur's translation. "I shan't expose myself to ridicule. / I know the tricks and ruses, shrewd and sly, / Which wives employ, and cheat their husbands by; / I know that women can be deep and clever; / But I've arranged to be secure forever: / So simple is the girl I'm going to wed / That I've no fear of horns upon my head. . . . No, keep your smart ones; I've no taste for such. . . . / In short, I want an unaccomplished wife, / And there are four things only she must know: To say her prayers, love me, spin, and sew." Molière in the Park, following their popular virtual presentations of The Misanthrope and Tartuffe online over the summer instead of in Prospect Park, their usual home, is now taking on Molière's 1662 five-act comedy, reinvented for Zoom, copresented with FIAF. And in a casting twist that would terrify Arnolphe, all the roles will be portrayed by women, with Mirirai Sithole, Kaliswa Brewster, Cristina Pitter, Tamara Sevunts, Carolyn Michelle Smith, Corey Tazmania, and Tony winner Tonya Pinkins (Jelly's Last Jam; Caroline, or Change) as the lead cad. (The play ran on Broadway in 1971 with Brian Bedford as Arnolphe, Joan Van Ark as Agnes, and David Dukes as Horace and was made into a 1983 film by Ingmar Bergman with Allan Edwall as Arnolphe, Lena Nyman as Agnes, and Stellan Skarsgård as Horace.)
The troupe has employed unique technical elements in their virtual plays, courtesy of director Lucie Tiberghien, video engineer Andy Carluccio, set designer Lina Younes, costume designer Ari Fulton, composer Paul Brill, sound designer Daniel Williams, and animator Emily Rawson, so it should be fun to see what innovations they will bring this time around. The School for Wives will be performed live on October 24 at 2:00 and 7:00, followed by a Q&A with members of the cast and crew; French and English subtitles are available, and the show can be viewed through October 29. Next up for Molière in the Park is a rare contemporary play, Christina Anderson's pen/man/ship, on December 12.