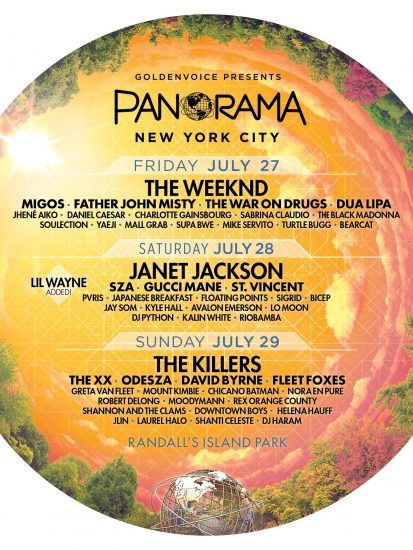 Randall's Island Park
July 27-29, day pass $99-$220, two-day pass $185-$380, three-day pass $250-$490
www.panorama.nyc
randallsisland.org
Panorama is back for its third year after proving in its first two that it knows what it's doing, providing an excellent balance of music, art, technology, and food on Randall's Island. Taking place July 27-29, the 2018 iteration features another diverse, high-powered lineup, including the Weeknd, Migos, Charlotte Gainsbourg, Father John Misty, the Black Madonna, and yaeji on Friday, Lil Wayne, SZA, Janet Jackson, St. Vincent, Gucci Mane, and Bicep on Saturday, and David Byrne, the xx, the Killers, Fleet Foxes, Nora en Pure, Moodymann, and Helena Hauff on Sunday. The performers play at three venues spread across the vast landscape: the Panorama Stage with its huge screen, the partially exposed Parlor, and the tented Point.
The Lab consists of a half dozen interactive, cutting-edge installations: the tranformative gathering space "As Above, So Below" by Kate Raudenbush, the multimedia adaptation "Flatland: A Romance of Many Dimensions," the audio-reactive "HyperSubtle" by Superbright, the solar-powered "Infinite Wild" by Smooth Technology, the giant mood ring "Pixel Vortex" by the Windmill Factory, and the transmutation tunnel "Portal to Flatland" by Magenta Field. The lines for the Lab can get very long, so go early to check out the fun. The food roster is rather impressive as well; among the more than thirty vendors are Alamo Mexican Kitchen, Bareburger, Emmy Squared, Ice & Vice, Korilla, La Newyorkina, Lolo's Seafood Shack, Mighty Quinn's, Roberta's Pizza, Schaller's Stube, Spicy Pie, Two Guys Chicken and Fries, and Waffle de Lys. There are water stations throughout the grounds for free fill-ups. And be on the lookout for giveaways and unique experiences from such sponsors as American Express, Bug Light, JBL, Rough Trade, Sephora, bai, and more. Panorama is a must for music and technology fans or anyone who just wants to do something different on a summer weekend.