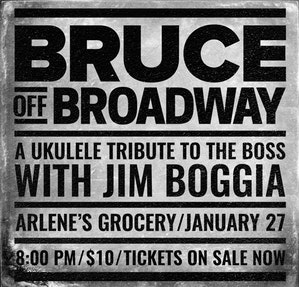 Who: Jim Boggia
What: Ukulele tribute to the music of Bruce Springsteen
Where: Arlene's Grocery, 95 Stanton St. at Orchard St.
When: Saturday, January 27, $10, 8:00
Why: Retro-pop nostalgia devotee Jim Boggia released three albums last decade, Fidelity Is the Enemy, Safe in Sound, and Misadventures in Stereo, and has also played with the Fab Faux and Mad Dogs & Dominos in addition to many, many others. On January 27, the vinyl-obsessed musician will be at Arlene's Grocery, offering an alternative to the hottest show around, Springsteen on Broadway, with his own celebration, "Bruce Off Broadway: A Ukulele Tribute to the Boss." Yes, Boggia, who was raised just outside Flint, Michigan, and is a longtime Philly dude, will be playing Springsteen songs on his ukulele, and, lo and behold, he's pretty damn good at it, as evidenced by his videos for "Tenth Avenue Freeze-Out," "Thunder Road," and "Growing Up." It might not quite be the toughest ticket going, but get one while you still can to check out what should be a very different kind of Springsteen experience.