Flea Theater Mainstage
20 Thomas St. between Broadway & Church St.
Monday - Saturday through June 30, premium tickets start at $67
866-811-4111
www.ablanketofdust.com
theflea.org
Richard Squires's A Blanket of Dust, the political thriller opening June 12 at the Flea, begins on September 11, 2001, with Diana Crane on the phone with her husband, who is calling her from inside the North Tower as chaos mounts. After his death, she determinedly seeks justice but comes up against both the media and the government as she hunts for the truth. The world premiere, part of the Theater of Resistance, is directed by Christopher Murrah and produced by writer, actor, director, composer, and experimental gallerist Squires, whose previous works include Feathertop, The Fall of Albion, and the film Crazy Like a Fox. Angela Pierce stars as Diana, an Antigone-like figure who is the daughter of Sen. Walter Crane, played by Anthony Newfield, and the widow of 9/11 victim Sam Power. Alison Fraser is her mother, Vanessa, and James Patrick Nelson is her brother, Washington Post reporter Charlie Crane. Tommy Schrider plays bookstore owner Andrew Black, son of former CIA director Adam Black, who is portrayed by Brad Bellamy. The cast also features Brennan Caldwell, Joseph Dellger, Jessica Frances Dukes, Kelsey Rainwater, Peter J. Romano, and Peggy J. Scott.
TICKET GIVEAWAY: A Blanket of Dust runs through June 30 at the Flea, and twi-ny has two pairs of premium tickets to give away for free. Just send your name, daytime phone number, and favorite play or movie involving 9/11 and its aftermath to contest@twi-ny.com by Wednesday, June 13, at 3:00 pm to be eligible. All entrants must be twenty-one years of age or older; two winners will be selected at random.
The Acorn Theatre at Theatre Row
410 West 42nd St. between Ninth & Tenth Aves.
Tuesday - Sunday through June 30, $79
212-560-2183
www.lettertoharveymilk.com
www.theatrerow.org
On May 22, Harvey Milk would have turned eighty-eight. Instead, the San Francisco city supervisor and outspoken gay activist was assassinated on November 27, 1978, at the age of forty-eight. His moving life story has been turned into a nonfiction book (Randy Shilts's The Mayor of Castro Street), an Oscar-winning documentary (Rob Epstein's The Times of Harvey Milk), an opera (Stewart Wallace and Michael Korie's Harvey Milk), a two-time Oscar-winning film (Gus Van Sant's Milk, starring Sean Penn), a cantata by Jack Curtis Dubowsky, and several children's books. And now comes A Letter to Harvey Milk, a stage musical about Milk's legacy. It's 1986, and Harry, a retired kosher butcher, has been given an assignment by Barbara, his senior center writing teacher: He has to write a letter to a deceased person from his past, and he chooses Harvey Milk. Based on the short story by Lesléa Newman, A Letter to Harvey Milk features a book by Jerry James, Cheryl Stern, the late Ellen M. Schwartz, and Laura I. Kramer, with music by Kramer, lyrics by Schwartz, and additional lyrics by Stern. Adam Heller stars as kosher butcher Harry Weinberg, Stern is his deceased wife, Julia Knitel plays Barbara, Michael Bartoli is Milk, and Jeremy Greenbaum, Aury Krebs, and CJ Pawlikowski play multiple ensemble roles. The ninety-minute show is directed by Evan Pappas, with sets by David Arsenault, costumes by Debbi Hobson, lighting by Christopher Akerlind, sound by David M. Lawson, and music direction by Jeffrey Lodin.
TICKET GIVEAWAY: A Letter to Harvey Milk runs through June 30 at the Acorn Theatre at Theatre Row, and twi-ny has three pairs of tickets to give away for free for performances June 1-23. Just send your name, daytime phone number, and favorite play or movie about an activist to contest@twi-ny.com by Tuesday, May 22, at 3:00 pm to be eligible. All entrants must be twenty-one years of age or older; three winners will be selected at random.
Doc Fortnight 2018: George (Jeffrey Perkins, 2017) and Carolee, Barbara, and Gunvor, (Lynne Sachs, 2018), MoMA Film, Museum of Modern Art, 11 West 53rd St. between Fifth & Sixth Aves., 212-708-9400, Wednesday, February 21, $12, 7:30
"Art and Practice with Carolee Schneemann," MoMA PS1, 22-25 Jackson Ave. at 46th Ave., 718-784-2084, Thursday, February 22, free with advance RSVP, 6:00
Exhibition continues at MoMA PS1 Thursday - Monday through March 11, suggested admission $5-$10, free for NYC residents
www.moma.org
www.caroleeschneemann.com
MoMA PS1's "Carolee Schneemann: Kinetic Painting" is a revelatory exploration of the career of the immensely influential multidisciplinary artist. The seventy-eight-year-old Pennsylvania-born Schneemann will reveal yet more this week during two special programs. On February 21 at 7:30, she will be at MoMA for the world premiere screening of Lynne Sachs's Carolee, Barbara, and Gunvor, a nine-minute short about Schneemann, Barbara Hammer, and Gunvor Nelson, which is screening with Jeffrey Perkins's George, about George Maciunas and Fluxus, as part of "Doc Fortnight 2018: MoMA's International Festival of Nonfiction Film and Media." Schneemann, Perkins, and Sachs will participate in a discussion after the films; in addition, Alison Knowles will re-create her interactive 1963 piece Shoes of Your Choice. (MoMA PS1 will also be hosting "An Evening in Honor of Carolee Schneemann," a screening and discussion on March 5 with Melissa Ragona, Jenny Jaskey, Branden W. Joseph, and the artist.) "Carolee Schneemann: Kinetic Painting" continues through March 11, an expansive two-floor survey that shines a light not only on Schneemann's well-known feminist video and performance pieces but her exceptional paintings and sculptures. Superbly curated by Sabine Breitwieser with consulting curator Branden W. Joseph and organized at MoMA PS1 by Erica Papernik-Shimizu with Oliver Shultz, the show takes deep looks at such Schneemann works as Meat Joy, in which a group of people roll around with raw beef, chicken, and fish; Interior Scroll, in which Schneemann pulls a long strip of paper from her vagina and reads the contents; and Up to and Including Her Limits, for which she strapped herself in a harness and used her body to draw on a surface. In 1993, Schneemann declared, "I'm a painter. I'm still a painter and I will die a painter. Everything that I have developed has to do with extending visual principles off the canvas." For the Abstract Expressionist Pinwheel, a white-gloved staff member will spin the painting upon request. Like Joseph Cornell, she made shadowbox-type works, and her collections of sharp, often aggressive detritus hang on the walls like three dimensional paintings. Colorado House is a "failed" painting turned into a freestanding sculpture. Magnetic audio tape falls out of the bottom of One Window Is Clear — Notes to Lou Andreas Salomé, a tribute to the Russian-German psychoanalyst and writer.
"My work can take substance from the materials I find," Schneemann wrote to French poet and activist Jean-Jacques Lebel in 1964, which helps explain Blood Work Diary, a visual document of her menstrual flow. For Body Collage, a naked Schneemann, coated in wallpaper paste and molasses, rolls around in paper shreds. Her body is also one of the main subjects in Fuses, a film in which she makes love with her then-partner, James Tunney, while her beloved cat, Kitch, hangs around nearby. Kitch can be found in several works, but it's Cluny (and later Vesper) who Schneemann gets perhaps a little too close to in Infinity Kisses. Meanwhile, Vulva's Morphia is so hot that Schneemann includes four electric fans to cool off the thirty-five vaginal depictions, with such text as "Vulva decodes feminist constructivist semiotics and realizes she has no authentic feelings at all; even her erotic sensations are constructed by patriarchal projections, impositions, and conditioning." That statement gets to the heart of Schneemann's six-decade oeuvre, taking back the female body, and the power that comes with that, and redefining it, with no limits. Particularly in the era of #MeToo, "Carolee Schneemann: Kinetic Painting" is an extraordinary exhibition by an extraordinary artist who has never been afraid to make the private public, and political.
The Joyce Theater
175 Eighth Ave. at 19th St.
February 6-11, $10-$46
212-242-0800
www.joyce.org
www.evidencedance.com
In a program note for his troupe's winter season at the Joyce, Brooklyn-based choreographer Ronald K. Brown quotes Judith Jamison, the former longtime artistic director of the Alvin Ailey American Dance Theater: "Dance is bigger than your physical body. When you extend your arm, it does not stop at the end of your fingers, because you're dancing bigger than that; you're dancing spirit." Brown and Evidence, a Dance Company display that and more at their thrilling presentation at the Joyce, as arms reach out and reach up, searching for and finding spiritual fulfillment while energizing the rapt audience. The evening begins with Come Ye, a nearly half-hour piece with music by Nina Simone, including the title song, and Fela Anikulapo Kuti, performed by four men and four women in front of a screen that shifts in emotional colors from blue to red to orange before switching to archival footage of Simone, Fela, Muhammad Ali, Marcus Garvey, Dr. Martin Luther King Jr., and scenes from the civil rights movement. Occasionally, seven of the dancers will stand still, watching one dancer take over, while at other times one dancer will slowly move through the other seven, in full motion, as if all are bearing witness in their own way. As part of Carnegie Hall's wide-ranging festival "The '60s: The Years that Changed America," the company is performing March, a duet excerpted from 1995's Lessons and set to a speech by Dr. King, being performed as a tribute to the fiftieth anniversary of his assassination, with additional music by Bobby McFerrin. On opening night, Annique Roberts and Courtney Paige Ross teamed up in front of a dark background, moving determinedly, raising a hand when King speaks of "breaking down the barriers of segregation and discrimination," later performing a breathtaking horizontal lift and carry. (On other nights, the duet will be danced by Keon Thoulouis with either Shayla Caldwell or Demetrius Burns.)
After a pause, Brown debuted Den of Dreams, a short piece celebrating the twentieth anniversary of Evidence dancer and associate artistic director Arcell Cabuag. It's a dynamic piece about collaboration and trust, friendship and tribute, as Brown, who is fifty-one, publicly thanks Cabuag, who is forty-three, and Cabuag bows at the feet of his mentor. Brown, wearing an intoxicating smile through it all, also looks above, thanking the heavens for bringing them together. Opening night concluded with the rousing, nonstop Upside Down, an exhilarating excerpt from Brown's 1998 Destiny, as the company, including Brown, cut loose to music by Wunmi, their arms pushing to the ground, then rising into the air in one of Brown's trademark moves. The other nights will end instead with the company premiere of Dancing Spirit, which Brown created for Alvin Ailey in honor of Jamison's twentieth anniversary as AAADT artistic director, as individual dancers perform slightly different routines to music by Duke Ellington, Wynton Marsalis, Radiohead, and War. If you've never seen Brown and Evidence before, this is a terrific introduction to a company that has been thrilling New York audiences for more than thirty years while also playing a key role in the Brooklyn community.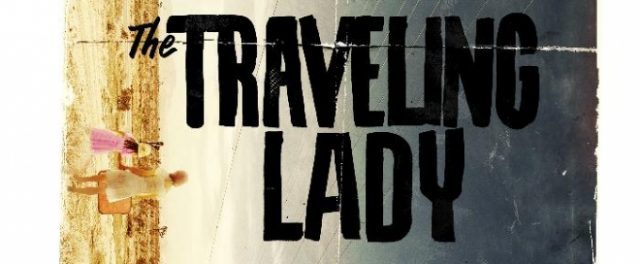 HORTON FOOTE'S THE TRAVELING LADY
Cherry Lane Mainstage Theatre
38 Commerce St.
Tuesday - Sunday, June 7 - July 30, $65-$95 ($39-$49 with code TTLRED)
212-989-2020
www.cherrylanetheatre.org
Cherry Lane Theatre's Founder's Project and La Femme Theatre Productions are teaming up to honor celebrated playwright Horton Foote's centennial (he actually would have turned 101 this past March; he passed away in 2009 at the age of 92) with a revival of his short-lived 1954 Broadway drama, The Traveling Lady. The show, about a wife reuniting with her husband upon his release from prison, originally featured Helen Carew and Lonny Chapman in the lead roles but such supporting actors as Jack Lord and Kim Stanley. Directed by multifaceted stage and screen legend and Obie winner Austin Pendleton, the Cherry Lane production stars Tony winner Karen Ziemba along with Larry Bull, Lynn Cohen, Angelina Fiordellisi, Jean Lichty, George Morfogen, Ron Piretti, PJ Sosko, and Jill Tanner. (Fiordellisi is the founding artistic director of Cherry Lane; Lichty and Pendleton, with Robert Dohmen, founded La Femme, which presents plays that have significant roles for women.) The set and lighting are by Harry Feiner, with costumes by Theresa Squire and sound and original music by Ryan Rumery. Foote won screenwriting Oscars for To Kill a Mockingbird and Tender Mercies and a Pulitzer for The Young Man from Atlanta but never took home a Tony despite such successes as Atlanta, Dividing the Estate, and The Trip to Bountiful.
TICKET GIVEAWAY: The Traveling Lady runs June 7 through July 30 at the Cherry Lane, and twi-ny has three pairs of tickets to give away for free. Just send your name, daytime phone number, and favorite Horton Foote play or movie to contest@twi-ny.com by Wednesday, June 7, at 5:00 pm to be eligible. All entrants must be twenty-one years of age or older; three winners will be selected at random.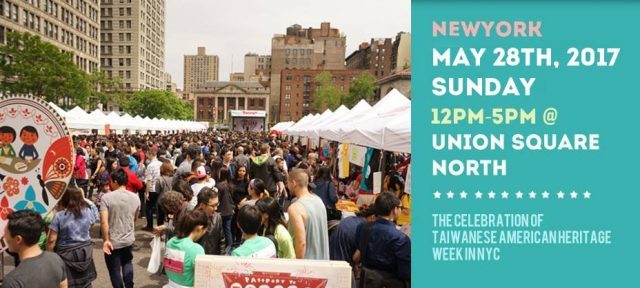 Union Square Park North
Sunday, May 28, free, 12 noon - 5:00 pm
p2tw.org
Held in conjunction with Asian Pacific American Heritage Month, the sixteenth annual Passport to Taiwan festival will take place Sunday, May 28, in Union Square Park. The afternoon will feature live performances by Spintop Snipers, Chai Found, Journey to Broadway, Alvin Ailey Dancers, Formosa Melody, Music Center, and Hello Taiwan Tour; such Taiwanese delights as pan-fried dumplings and noodles, intestine vermicelli, Taiwanese tempura, rice dumplings, red sticky rice cakes, lobabeng, steamed crystal meatballs, mango and red bean shaved ice, oyster pancakes, grilled sausage, taro cake, guabao, smoked duck, and crispy giant squid; exhibits from Notable Taiwanese American Project, Bike Tour with Steven Huang, Compassionate Taiwan with Tzu-Chi Foundation, Famous Taiwan Cuisine Connoisseur — Amazing Gourmet Demonstrations, Hakka Culture Experience, and Shiisu Old Street Cultural Mart of Tainan; and children's games, calligraphy masters, arts & crafts, and more.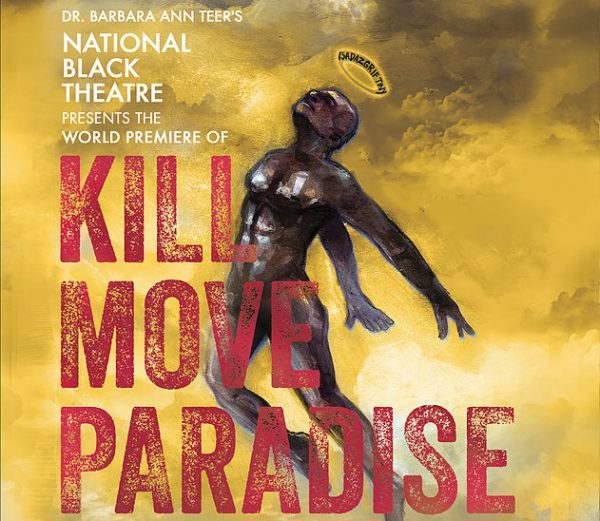 IN PURSUIT OF BLACK JOY: KILL MOVE PARADISE
The National Black Theatre: Institute for Action Arts
2031 Fifth Ave. between 125th & 126th Sts. (National Black Theatre Way)
May 31 - June 2, $20; June 4-18, $35 ($25 with code RISE), June 18-25, $40
212-722-3800
www.nationalblacktheatre.org
Award-winning actor and writer James Ijames (The Brothers Size, White) makes his New York City debut with the ripped-from-the-headlines Kill Move Paradise, about the plight of four black men after they have been killed by racist acts and are now in an otherworldly place. The world premiere closes Dr. Barbara Ann Teer's National Black Theatre's forty-eighth season, which is themed "In Pursuit of Black Joy" and featured such other works as Harrison David Rivers's Sweet and Craig 'muMs' Grant's A Sucker Emcee. Inspired by recent events, the play, which explores the "All Lives Matter" controversy, stars Ryan Swain (A Negro Writer, Black Nativity) in his New York City stage debut, Donnell E. Smith (Time: The Kalief Browder Story, Ugly Is a Hard Pill), Clinton Lowe (Bamboo in Bushwick, The Hustle), and Sidiki Fofana (Most Dangerous Man in America, Children of Killers) and is directed by Saheem Ali (Nollywood Dreams, The Erlkings). Maruti Evans is the scenic designer, with lighting by Alan Edwards, sound by Palmer Hefferan, and costumes by Ntokozo Fuzunina Kunene. "We wanted to flip the narrative surrounding the oppressive tropes that keep us feeling helpless and stuck as a community," National Black Theatre theatre arts director Jonathan McCrory said in a statement. "With Kill Move Paradise, we are seeking to inspire our community to remember the power of joy as a tool of resistance, a mechanism forged as our sacred birthright to gain freedom in the midst of oppression."
TICKET GIVEAWAY: Kill Move Paradise runs May 31 to June 25 at Dr. Barbara Ann Teer's National Black Theatre, and twi-ny has three pairs of tickets to give away for free. Just send your name, daytime phone number, and favorite sociopolitical play or movie to contest@twi-ny.com by Tuesday, May 30, at 3:00 pm to be eligible. All entrants must be twenty-one years of age or older; three winners will be selected at random.