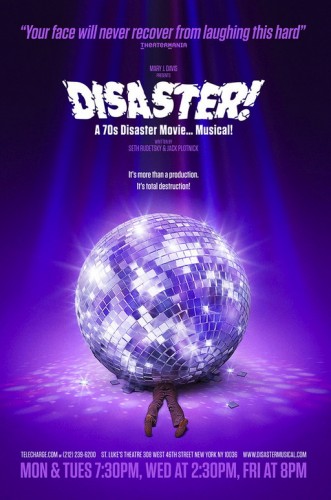 DISASTER! A 70s DISASTER MOVIE . . . MUSICAL!
St. Luke's Theater
308 West 46th St.
October 14 - December 31 (Monday, Tuesday, Wednesday, and Friday), $39.50 - $79.50
www.disastermusical.com
www.stlukestheatre.com
Ah, those beautiful disaster flicks of the 1970s. With the country emerging from Vietnam and getting ready for Reaganism, Hollywood turned to star-studded epics loaded with death and destruction, on ground, sea, and air, with such classic fare as The Poseidon Adventure (Gene Hackman, Shelley Winters, Ernest Borgnine), Airport 1975 (Charlton Heston, Linda Blair, George Kennedy, Karen Black, Helen Reddy), The Towering Inferno (Steve McQeen, Paul Newman, William Holden, Faye Dunaway, Fred Astaire, O. J. Simpson), and Earthquake (Heston, Kennedy, Victoria Principal, Lorne Greene, Ava Gardner, Richard Roundtree, in Sensurround!), among a slew of other minor league efforts. With the country going down the tubes, the time is right to revisit those halcyon days, and Disaster! A 70s Disaster Movie…Musical! does just that, riffing on those popular movies along with period songs, including such unforgettable 1970s hits as Donna Summer's "Hot Stuff," Reddy's "I Am Woman," Gilbert O'Sullivan's "Alone Again (Naturally)," Amii Stewart's "Knock on Wood," and ELO's "Don't Bring Me Down." Written by Seth Rudetsky and Jack Plotnick, directed by Plotnick, and choreographed by Denis Jones, Disaster! originally ran at the Triad in early 2012 and is now back for an encore engagement at St. Luke's Theatre, with a cool cast that features the ubiquitous Mary Testa, Tom Riis Farrell, Michele Ragusa, Jennifer Simard, and Rudetsky.
TICKET GIVEAWAY: Disaster! begins previews October 14 prior to a November 4 opening, and twi-ny has four pairs of tickets to give away for free. Just send your name, daytime phone number, and all-time-favorite disaster movie to contest@twi-ny.com by Friday, October 11, at 3:00 to be eligible. All entrants must be twenty-one years of age or older; four winners will be selected at random.