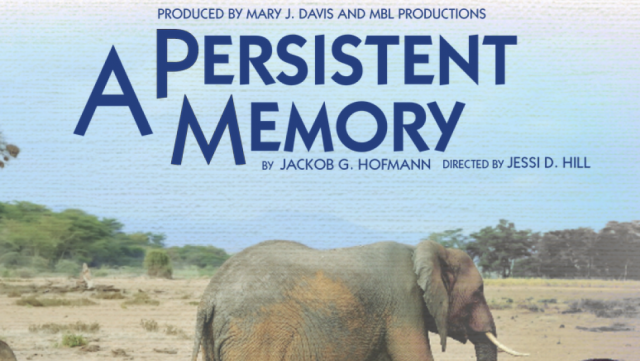 A PERSISTENT MEMORY
The Beckett Theatre at Theatre Row
410 West 42nd St. between Ninth & Tenth Aves.
Previews begin May 27, opening June 1, runs through June 18, $49.50 ($29.50 with code TRBI29)
www.apersistentmemory.com
www.theatrerow.org
A 2009 Scientific American article explained that "remarkable recall power, researchers believe, is a big part of how elephants survive." Playwright Jackob G. Hofmann (The Speed Date, Tracking Gertrude Treadwell) makes recollection and elephants central issues in his latest work, The Persistence of Memory, having its world premiere at the Beckett Theatre at Theatre Row later this month. The play travels from New York City to Uganda, following the exploits of David Huntington as his memories start disappearing and his past begins to haunt him at the same time "a mysterious phenomenon is plaguing the world's elephant population." The ninety-minute play is directed by Jessi D. Hill and stars Drew Ledbetter as David, Ariel Estrada as Kasem, Claire Warden as Carly, Lisa Bostnar as Marie, and Richard Prioleau as Elijah, with scenic design by Parris Bradley, costumes by Valerie Joyce, and lighting by Greg Solomon. For further information about elephants, the play's official website includes links to the David Sheldrick Wildlife Trust, the African Wildlife Foundation, the Elephant Sanctuary, the Performing Animal Welfare Society, the Wildlife Conservation Network, the World Wildlife Fund, and the wildLIFE Project.
TICKET GIVEAWAY: A Persistent Memory begins previews May 27 and opens June 1 at the Beckett Theatre at Theatre Row, and twi-ny has three pairs of tickets to give away for free. Just send your name, daytime phone number, and favorite play or movie that involves elephants to contest@twi-ny.com by Friday, May 20, at 12 noon to be eligible. All entrants must be twenty-one years of age or older; three winners will be selected at random.