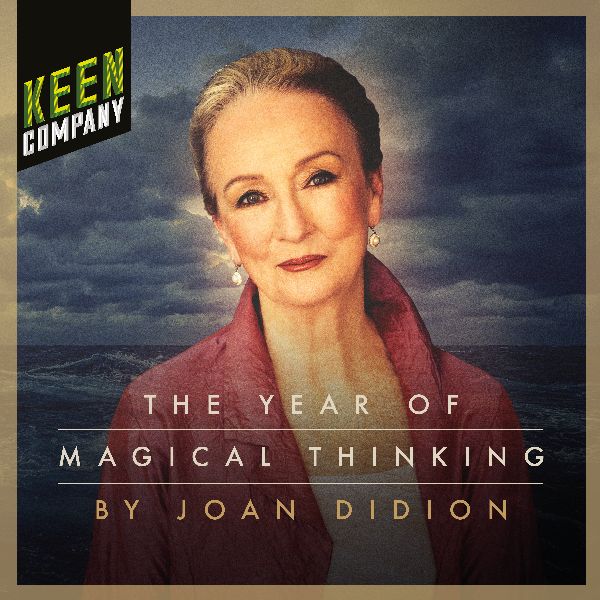 Who: Kathleen Chalfant
What: Benefit livestream
Where: Keen Company
When: Saturday, March 13, $25, 7:00 (available on demand through March 17)
Why: It's been precisely a year since the coronavirus crisis shuttered theaters across the country. With more than half a million Americans dead from Covid-19 and more than 2.6 million victims worldwide, the planet has experienced a tremendous amount of loss since the WHO declared on March 11, 2020, "We have made the assessment that Covid-19 can be characterized as a pandemic. Pandemic is not a word to use lightly or carelessly. It is a word that, if misused, can cause unreasonable fear, or unjustified acceptance that the fight is over, leading to unnecessary suffering and death." In homage to what this year has wrought, Keen Company is presenting a livestreamed virtuaL reading of Joan Didion's 2007 play, The Year of Magical Thinking, which she adapted from her memoir that detailed what she experienced in the twelve months and one day following the sudden death in 2003 of her husband, writer John Gregory Dunne, during which their daughter, Quintana Roo, was seriously ill with a series of health issues that began with the flu; she passed away shortly before the National Book Award–winning bestseller was published, an incident that was added to the play.
Thus, the time seems right for a reading of the one-woman show, which premiered on Broadway in 2007 at the Booth Theater, starring Vanessa Redgrave; more recently, Kathleen Turner performed the role in a 2016 run at Arena Stage. The Keen presentation features the grande dame of New York theater, five-time Obie winner Kathleen Chalfant, who in the fall of 2019 portrayed Mabel Loomis Todd in Rebecca Gilman's one-woman play, A Woman of the World. The online show is helmed by Keen artistic director Jonathan Silverstein, who said in a statement, "I am thrilled and honored to be reunited with Kathleen Chalfant on this beautiful play. Working with Kathleen for A Walk in the Woods [in 2014] was a highlight of my career, and she is a brilliant match for Joan Didion's moving text. Didion's words are clear-eyed, inspiring, and resonate on this one-year anniversary of the pandemic. We will be coming to you remotely, yet this intimate reading of Didion's play will make you feel you're in conversation with Chalfant and Didion." Chalfant (Wit, Angels in America) is always elegant and graceful, whether onstage, on the big and small screens, or on Zoom. The one-night-only event takes place March 13 at 7:00 and will be followed by a talkback; tickets are $25, and purchasers can access the stream through March 17 at 7:00. Proceeds will benefit Keen's Hear/Now season of audio theater in addition to Keen Playwrights Lab and Keen Teens.
Update: Kathleen Chalfant gives an exquisite, beautiful reading of Joan Didion's The Year of Magical Thinking for Keen Company. It is so well done you will sometimes forget you're watching an actress performing and think you're seeing Didion reading from her own book. Chalfant, who had contacted director David Hare about originating the part on Broadway, a role that had already been given to Vanessa Redgrave, rehearsed the play four times with director Jonathan Silverstein, including once in her home, where she delivers this performance, sitting in her living room, book in hand. She was offered a TelePrompter but found reading directly from the published play was more effective, and she's right. She touches her chin, adjusts her glasses, pauses at a poignant moment when, by chance, ambulance sirens can be heard outside, and looks directly at the viewer, baring her character's soul as she shares Didion's tragic story over one hundred uncut, unedited minutes. It's a gentle tour de force that comes at a time when we are all reflecting on a year like no other, delivered by a wonderful actress like no other. The reading is followed by a short talkback that lends further insight into this moving virtual presentation.