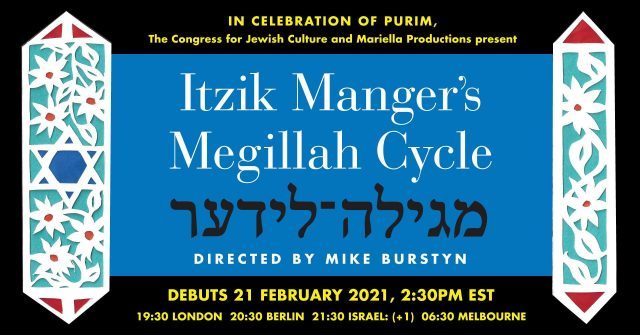 Purim is one of the most joyous of holidays of the year, when Jews around the world gather together to celebrate the defeat of the evil Haman and the saving of the Jewish people in the Persian city of Shushan in the fifth century BCE. Temples host "spiels," humorous sketches telling the story of Queen Vashti, King Ahasuerus, Mordecai, Esther, and Haman; congregants arrive in costume and use noisemakers known as groggers every time Haman's name is mentioned; the traditional fruit-filled three-cornered pastry known as hamantaschen is served; plenty of alcohol is mandated; and the whole Megillah, the Book of Esther, is read. With synagogues shuttered because of the pandemic lockdown, the party has gone virtual, with festivities zooming in from all over for you to enjoy from the confines of your home. All of the below events are free; some require advance registration.
On February 21 at 2:30, the Congress for Jewish Culture is presenting Itzik Manger's Megillah Cycle, an adaptation of the 1968 Broadway musical The Megilla of Itzik Manger, conceived and directed by Mike Burstyn, who will reprise his original roles of the Interlocuter and the master tailor Fanfosso in addition to playing King Ahasuerus, previously portrayed by his father, Pesach Burstein. The international cast also includes Shane Baker, Eli Batalion, Jamie Elman, Daniel Kahn, Lia Koenig, Noah Mitchel, Eleanor Reissa, Joshua Reuben, Suzanne Toren, Allen Lewis Rickman, Yelena Shmulenson, and Avi Hoffman (as Haman), many of whom should be familiar to fans of Yiddish theater here in New York City. The free show, which will be performed in Yiddish with English subtitles, with commentary written by the late Joe Darion, artwork by Adam Whiteman, and music by Uri Schreter, will be broadcast on YouTube, where it will be available for an unlimited amount of time.
On February 22 at 7:00, the Jewish People's Philharmonic Chorus is holding the grand finale of its Yiddish Purim Song Workshop & Sing-Along, led by Binyumen Schaechter (free with advance RSVP).
As you can tell, Purim is supposed to be a party, and the funniest party of them all is likely to be Met Council's appropriately titled "Funny Story," a free virtual table read of the Megillah with an all-star cast of comedians: Elon Gold, Howie Mandel, Bob Saget, Jeff Garlin, Judy Gold, Jeff Ross, Russell Peters, Susie Essman, Triumph the Insult Comic Dog, Bari Weiss, Claudia Oshry, Violet Benson, Montana Tucker, and Eli Leonard, benefiting the organization's Covid-19 Emergency Fund.
The National Yiddish Theater Folksbiene will be livestreaming its Purim blowout February 22 to 25, with a fifteen-minute Yiddish lesson with Motl Didner on Monday at 1:00; Zalmen Mlotek's Purim-themed "Living Room Concert" on Tuesday at 1:00; the Hava Tequila Cabaret with Adam B. Shapiro, Dani Apple, Stephanie Lynne Mason, Daniella Rabbani, Lauren Jeanne Thomas, Bobby Underwood, Mikhl Yashinksy, and Michael Winograd on Wednesday at 7:00; and "The Megillah in Yiddish" reading, followed by a performance by the Brooklyn klezmer band Litvakus, on Thursday at 7:00.
On February 25 at 7:00, the Temple Emanu-El Streicker Center is putting on "The Masked Megillah," a spiel inspired by the popular television program The Masked Singer. While the shul is not divulging the secret identities of who will be sharing the story of Purim in song and dance, the teaser features the one and only Tovah Feldshuh, from Golda's Balcony and The Walking Dead.
And from February 25 to 28, the Yiddishkayt Initiative is offering a Purim edition of the International Virtual Yiddish Fest, consisting of "Bright Lights . . . Big Shushan: A Musical Megillah" with Cantor Shira Ginsburg on Thursday at 8:00; "Shmoozing with Avi," featuring Phillip Namanworth the Boogie Woogie Mystic, on Thursday at 10:00; Aelita's "Songs from the Heart" concert on Friday at 4:00; Isaac Bashevis Singer's Gimpel Tam (Gimpel the Fool) starring Dori Engel on Friday at 8:00; a "PurimShpiel" concert with the Chorny-Ghergus Duo on Saturday at 2:00; the multimedia "KhapLop," beloved children's stories translated into Yiddish by Miriam Hoffman and read by her son, actor Avi Hoffman, on Sunday at noon; and a watch party of Itzik Manger's Megillah Cycle on February 28 at 2:00.