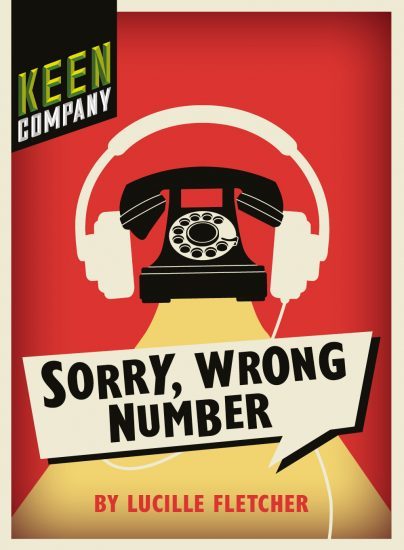 Who: Marsha Mason, Heidi Armbruster, Chuck Cooper, Jasminn Johnson, Matt Saldivar, Lauren Molina, Marc delaCruz, Sarah Lynn Marion, Dan Domingues
What: All-star benefit reading of Sorry, Wrong Number
Where: Keen Company YouTube
When: Thursday, February 18, $25, 7:00 (available through February 21 at midnight)
Why: "Operator, I've been dialing Murray Hill four-oh-oh-nine-eight now for the last three quarters of an hour and the line is always busy. I don't see how it could be busy that long. Will you try it for me, please?" Agnes asks at the beginning of Lucille Fletcher's 1943 radio play, Sorry, Wrong Number. As the operator calls the number, Agnes adds, "I don't see how it could be busy all this time. It's my husband's office; he's working late tonight and I'm all alone here in the house. My health is very poor and I've been feeling so nervous all day." But instead of getting her husband on the other end of the line, she overhears a murder plot, and she's determined to do something about it, despite her condition. The noir thriller was adapted into a 1948 film by Fletcher, directed by Anatole Litvak and starring Barbara Stanwyck and Burt Lancaster; Agnes Moorehead had the lead role in the original May 1943 radio production.
The Drama Desk– and Obie-winning Keen Company is now adapting the play for an all-star benefit live presentation taking place February 18 at 7:00. (The link will be active through February 21 at midnight.) The cast features four-time Oscar, Grammy, and Emmy nominee Marsha Mason (The Goodbye Girl, Steel Magnolias), Tony winner Chuck Cooper (Choir Boy, The Life), Heidi Armbruster (Disgraced, Poor Behavior), Jasminn Johnson (Blues for an Alabama Sky, Seven Guitars), and Matthew Saldivar (Junk, Saint Joan). "Since the early days of the pandemic, I became increasingly fascinated with old-time radio and the ways these early pioneers inspired their audience to use their imagination in new ways," company artistic director Jonathan Silverstein said in a statement. "One of the most popular of these dramas is Lucille Fletcher's Sorry, Wrong Number, a taut thriller that set the bar for suspense on the radio. I look forward to welcoming patrons to this special fundraising event, which will make you think twice before making your next phone call."
Fletcher was married to Bernard Herrmann, wrote the libretto for Herrmann's opera Wuthering Heights, and penned the radio script for The Hitch-Hiker for Orson Welles's Mercury Theatre of the Air; it was later adapted by Rod Serling for a classic Twilight Zone episode with Inger Stevens. Welles considered Sorry, Wrong Number "the greatest radio script ever written." The reading is directed by Silverstein and includes live foley effects by Nick Abeel; it will be preceded by a musical preshow with Lauren Molina, Marc delaCruz, and Sarah Lynn Marion performing American standards, hosted by Dan Domingues, and will be followed by a live talkback with members of the cast and crew. All proceeds benefit Keen's Hear/Now audio theater season and the Keen Playwrights Lab.