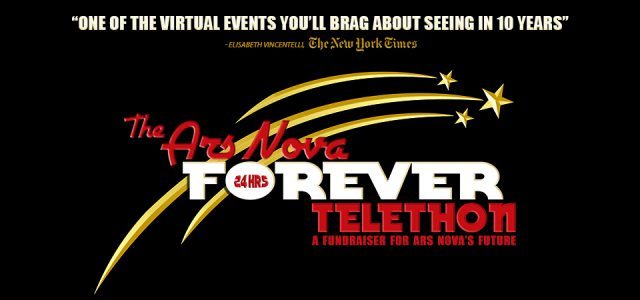 Who: Julia Abueva, César Alvarez, Frankie Alvarez, Cathy Ang, Brittain Ashford, Jaclyn Backhaus, Courtney Bassett, Gelsey Bell, Nick Belton, Katja Blichfeld, Brian Bogin, Rachel Bonds, Hannah Bos, Michael Breslin, Salty Brine, Starr Busby, Andrew R. Butler, Nikki Calonge, Josh Canfield, Kennedy Caughell, Rachel Chavkin, Karen Chee, Manik Choksi, Claudia Chopek, Heather Christian, Lilli Cooper, Gavin Creel, Lea DeLaria, Blake Delong, Sonia Denis, Vinny DePonto, Dickie DiBella, Billy Eichner, Erik Ehn, Naomi Ekperigin, Bridget Everett, Jesse Tyler Ferguson, Ashley Pérez Flanagan, Patrick Foley, Peter Friedman, Laura Galindo, Nick Gaswirth, Matt Gehring, Alex Gibson, Betty Gilpin, Amber Gray, Deepali Gupta, Stephanie Hsu, Khiyon Hursey, Joomin Hwang, Joe Iconis, James Monroe Iglehart, Michael R. Jackson, Sakina Jaffrey, Kyle Jarrow, Mitra Jouhari, Jinwoo Jung, Stephen Karam, Celia Keenan-Bolger, Jennifer Kidwell, Billy Kiessling, Blaine Krauss, Mahayla Laurence, Arthur Lewis, Chris Lowell, Grace McLean, Dave Malloy, Andrew Mayer, Karyn Meek, Sammy Miller, James Monaco, Kaila Mullady, Shoba Narayan, Lila Neugebauer, Ryan O'Connell, Emily Oliveira, Isaac Oliver, Larry Owens, Ashley Park, Joél Pérez, Paul Pinto, Pearl Rhein, Matt Rogers, Phil Romano, Kyra Sedgwick, Shalewa Sharpe, Scott R. Sheppard, Brooke Shields, Rona Siddiqui, Leigh Silverman, Ben Sinclair, Tessa Skara, Peter Smith, Phillipa Soo, Scott Stangland, Chris "Shockwave" Sullivan, Babak Tafti, Jason Tam, Robin Lord Taylor, Stephanie Wright Thompson, Alex Timbers, Anthony Veneziale, Cathryn Wake, Natalie Walker, Jason "Sweettooth" Williams, Beau Willimon, Bess Wohl, Lauren Worsham, Katrina Yaukey, John Yi, Paloma Young, more
What: Virtual fundraiser
Where: Ars Nova online
When: Friday, December 4, free with RSVP (donations accepted), 6:00
Why: What, you were expecting something standard from Ars Nova? Then you don't know the arts organization very well, do you? Whether you're a longtime fan of the innovative company or a newbie, you'll find a vast array of talent participating in the Ars Nova Forever Telethon, taking place over twenty-four consecutive hours beginning at 6:00 pm on December 4. Founded in 2002, Ars Nova develops and nurtures experimental, cutting-edge, innovative presentations at its main home on West Fifty-Fourth St. and its new satellite venue at Greenwich House; among its biggest recent successes are Small Mouth Sounds, The Lucky Ones, Rags Parkland Sings the Songs of the Future, boom, and Natasha, Pierre & the Great Comet of 1812.
The telethon will feature appearances by such theatrical luminaries as Gavin Creel, Lea DeLaria, Bridget Everett, Jesse Tyler Ferguson, Betty Gilpin, Amber Gray, Stephanie Hsu, James Monroe Iglehart, Michael R. Jackson, Celia Keenan-Bolger, Lila Neugebauer, Ashley Park, Kyra Sedgwick, Brooke Shields, Leigh Silverman, Phillipa Soo, Robin Lord Taylor, Alex Timbers, and Bess Wohl, among dozens of others, who are all listed above. Registration is free, but donations are encouraged based on what you can afford; if you make a gift of $100 or more in advance, you will receive a watch party box filled with goodies you can eat, drink, and wear during the show. The full schedule is below.
The Kickoff, hosted by Ashley Pérez Flanagan and Grace McLean, 6:00 pm
The Comet Comes Home, hosted by Rachel Chavkin & Dave Malloy, celebrating Natasha, Pierre & the Great Comet of 1812, 8:00 pm
Showgasm, hosted by Matt Rogers & Shalewa Sharpe, variety show, 10:00 pm
Isaac Oliver's Lonely Quarantine, hosted by Isaac Oliver, midnight
The Witching Hour with the Neon Coven, hosted by the Neon Coven, 2:00 am
Cartoon Camp, hosted by Mahayla Laurence & Matt Gehring, 4:00 am
Ars Nova Rewind: Vintage Videos, rare archival footage, 6:00 am
Morning Meditations: An In-Home Retreat, hosted by Sakina Jaffrey, inspired by Small Mouth Sounds, 8:00 am
"Boom Crunch" Zoom Brunch: A Celebration of Theatrical Choices, hosted by Larry Owens & Natalie Walker, 10:00 am
So You Think You Can KPOP, hosted by Jason Tam, celebrating KPOP, noon
Thon-Tha-Thon-Thon-Thon, hosted by Freestyle Love Supreme, 2:00 pm
The Finale for the Future!, hosted by Lilli Cooper & Joél Pérez, 4:00 pm
follow twi-ny
 navigate
listings