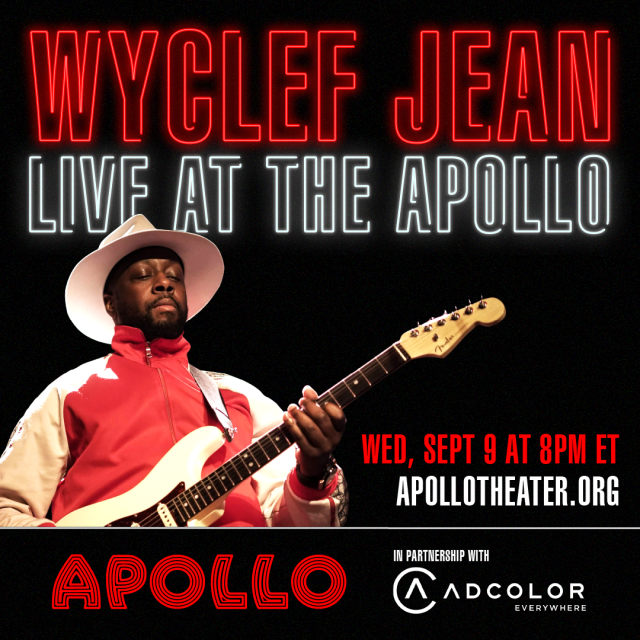 Who: Wyclef Jean
What: Livestreamed concert
Where: Apollo Digital Stage
When: Wednesday, September 9, free, 8:00
Why: Haitian-born, New Jersey-based multigenre superstar and activist Wyclef Jean will return to the stage of the historic Apollo Theater in Harlem on September 9 at 8:00 to perform his 1997 album, Wyclef Jean Presents the Carnival Featuring the Refugee All-Stars, in its entirety for the first time ever. The double LP signaled the end of the Fugees, who performed at the Apollo in 1996, although bandmates Lauryn Hill and Pras appear on the record. "Stepping on the Apollo stage back in 1996 accomplished one of the greatest goals I had as a young Fugee, so it really feels like I'm coming home by having the opportunity to perform at the theater again," Jean said in a statement. "I've been wanting to do a complete performance of The Carnival for a while now, and I'm excited that I'm able to combine energies with the Apollo and ADCOLOR to pull it off. All three of us are here to celebrate culture, diversity, and the Black American experience, and we're ready to provide a historic performance that does just that." The Carnival features such tracks as "Apocalypse," "Guantanamera" with Celia Cruz, Jeni Fujita, and Hill, "To All the Girls," "Anything Can Happen," "Mona Lisa" with the Neville Brothers, and the Bee Gees-inspired "We Trying to Stay Alive" with John Forté and Pras.
The concert will take place with no audience and a minimal crew; you can watch the livestream here. Admission is free, but donations will be accepted to support the legendary venue through this time of crisis. This inaugural Apollo Digital Stage show will be followed September 23 at 7:00 with a free conversation between Grammy-winning musician, actor, and activist John Legend and activist, scholar, and writer Salamishah Tillet (Sites of Slavery: Citizenship and Racial Democracy in the Post-Civil Rights Imagination, the upcoming In Search of "The Color Purple": The Story of an American Masterpiece), exploring the duty of an artist, especially at this critical period in the nation's history, and on September 29 at 6:30 by a discussion between authors Nic Stone (Dear Martin, Dear Justyce) and Angie Thomas (The Hate U Give, On the Come Up), looking at the flawed American juvenile justice system.
follow twi-ny
 navigate
listings