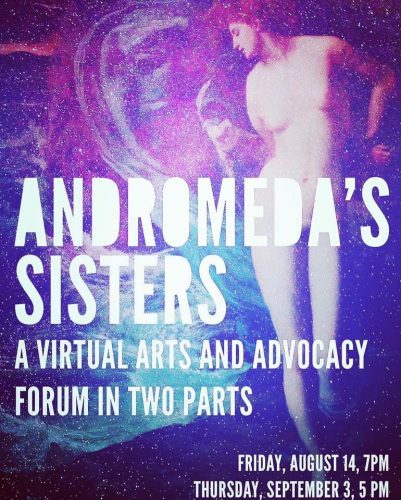 Who: Blythe Danner, Susie Essman, Tamara Tunie, Catherine Curtin, Joy Behar, Laura Gomez, Ellen Dolan, Florencia Lozano, Welker White, Portia, Kathryn Grody, Nehassaiu DeGannes, Dahlia Lithwick, Amy Spitalnick, Roberta Kaplan, Kerry Kennedy, more
What: An Arts and Advocacy Forum in Two Parts
Where: Zoom link sent with ticket purchase
When: Friday, August 14, 7:00, and Thursday, September 3, 5:00, $25-$120
Why: In June 2019, the nonprofit organization the Neo-Political Cowgirls presented "Andromeda's Sisters," what they called a "Two Day Gala of Powerful Arts and Advocacy" at Guild Hall. The event featured workshops and one-act readings by an all-star lineup of actresses performing monologues by female-identifying playwrights. The cast is now reuniting for a virtual restaging and expansion, beginning August 14 at 7:30, with Blythe Danner as accused Salem witch Goody Garlick in a work written for her by Lucy Boyle; Catherine Curtin as a wife who discovers her husband is cheating on her in a monologue written for her by Joy Behar; Florencia Lozano as the other woman in Dipti Bramhandkar's The Funeral; Laura Gomez as a woman who visits a sex shop in Bramhandkar's Brown Girl's Guide to Self-Pleasure; Welker White as the title character in Lynn Grossman's BITCH; Ellen Dolan as a mother and a grandmother in Sarah Bierstock's MAD (Mothers and Daughters); Tanya Everett's One Thousand Miles, about a relationship webinar; Portia reading the late poet June Jordan's "A Poem About My Rights"; a movement piece by Mia Funk; and two extracts from choreographer Vanessa Walters's ongoing "Ripening" project.
Founded in 2007 by Kate Mueth, the Neo-Political Cowgirls "are committed to making work for women and about women — to creating a space where women and girls from all walks of life can share their experiences, joys, concerns, and spirits through professional dance." The gala gets its name from the legend in which Princess Andromeda, captured by Poseidon, is saved by the daughters of the God of the Sea, leading to the idea that sisters should seek to help one another in these difficult times. As the NPC website asserts, "When we 'swim' to help our sisters, even if it may go against our own best interests in the moment, it's astounding what can happen for all of those involved." The second part takes place on September 3 and focuses on advocacy, with journalist Dahlia Lithwick interviewing Amy Spitalnick of Integrity First for America and litigator Roberta Kaplan about their upcoming court case against neo-Nazis; a cocktail hour; Kerry Kennedy giving the keynote address about fighting femicide; and Gomez, Curtin, and Lozano reading from Kennedy's 2000 book, Speak Truth to Power: Human Rights Defenders Who Are Changing Our World. Tickets are $25 ($50 with donation) for the monologues and readings at both parts and $120 for those in addition to the cocktail hour and access to breakaway rooms with some of the invited guests.