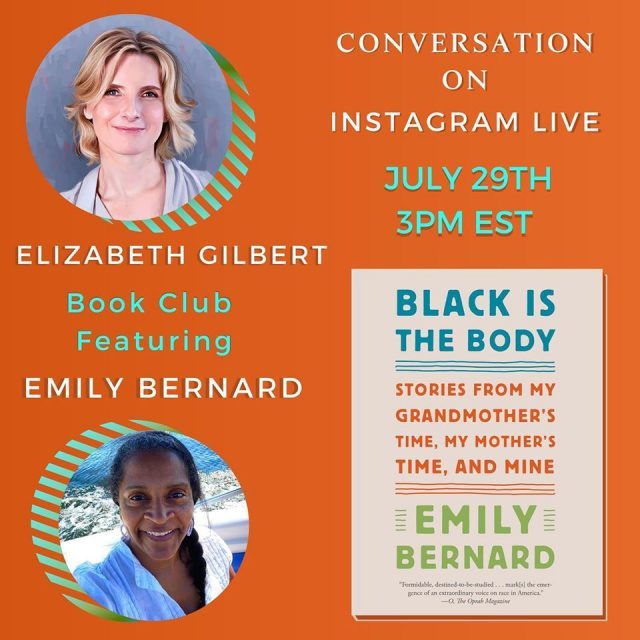 Who: Elizabeth Gilbert, Emily Bernard
What: Live literary discussion
Where: Elizabeth Gilbert Instagram Live
When: Wednesday, July 29, free, 3:00
Why: "Black Is the Body is one of the most beautiful, elegant memoirs I've ever read," bestselling author and journalist Elizabeth Gilbert writes in a blurb for Emily Bernard's new book, Black Is the Body: Stories from My Grandmother's Time, My Mother's Time, and Mine (Penguin Random House, $16, December 2019). "It's about race; it's about womanhood; it's about friendship; it's about a life of the mind and also a life of the body. But more than anything, it's about love. . . . I can't praise Emily Bernard enough for what she has created in these pages." You're likely to hear plenty more praise when the Nashville-born-and-raised Bernard joins the Connecticut-born Gilbert, the bestselling author of such books as Eat Pray Love, The Signature of All Things, and City of Girls, for the next edition of "The Elizabeth Gilbert Book Club: Conversations on Instagram" on July 29 at 3:00. Bernard, who previously edited Some of My Best Friends: Writings on Interracial Friendships and Remember Me to Harlem: The Letters of Langston Hughes and Carl Van Vechten and wrote Carl Van Vechten and the Harlem Renaissance: A Portrait in Black and White, won the Los Angeles Times' Christopher Isherwood Prize for Autobiographical Prose for Black Is the Body, which contains such chapters as "Scar Tissue," "Teaching the N-Word," "Skin," and "White Friend." The live talk will be archived on Gilbert's Instagram page in case you miss it on Wednesday; you can watch her previous talks with Dr. Michelle Harper (The Beauty in Breaking) and Mikki Kendall (Hood Feminism: Note from the Women that a Movement Forgot) there, and you can catch Bernard's LA Times prize acceptance speech here. "I'm so looking forward to this encounter," Gilbert exclaims in her announcement of the event. So are we.