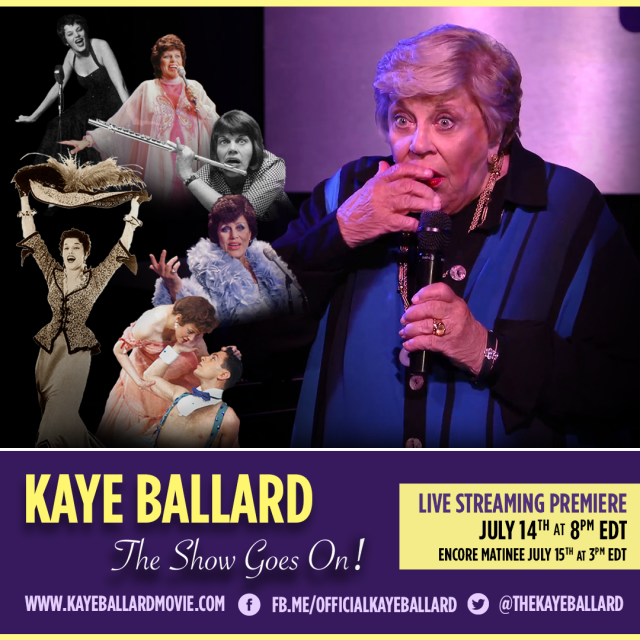 Who: Special guests
What: Livestream film premiere of Kaye Ballard — The Show Goes On! with bonuses before and after screening
Where: Facebook Live
When: Tuesday, July 14, free, 8:00
Why: In January 2019, the one and only Kaye Ballard passed away at the age of ninety-three. If you don't know anything about her, you need to, and you can do so on July 14 when the documentary Kaye Ballard — The Show Goes On! makes its virtual premiere for free on Facebook Live. Ballard was a beloved singer, actress, and comedian perhaps best known for her many guest appearances on talk shows, game shows, and variety programs, from The Tonight Show with Johnny Carson (and Jack Paar) and The Mike Douglas Show to Hollywood Squares and The Perry Como Show; she also appeared on such sitcoms as The Mothers-in-Law, The Doris Day Show, and What a Dummy in addition to a bunch of films, burlesque and vaudeville, and more than two dozen stage shows, going back to 1946.
In Kaye Ballard — The Show Goes On!, director Dan Wingate speaks with Ann Margret, Jerry Stiller, Carol Burnett, Harold Prince, Carol Channing, Michael Feinstein, Rex Reed, Joy Behar, Peter Marshall, and Ballard herself, who is seen in new interviews, classic archival footage, and clips from her 2017 one-woman show about her life. "I don't know where I got it, I don't know why it happened, but I think I'm lucky because I always knew what I wanted to do," she says in the film. And now you can consider yourself lucky to discover the great Kaye Ballard either for the first time or all over again; the advance screening (the virtual release is set for July 17) will be preceded by a special introduction and followed by a surprise bonus.