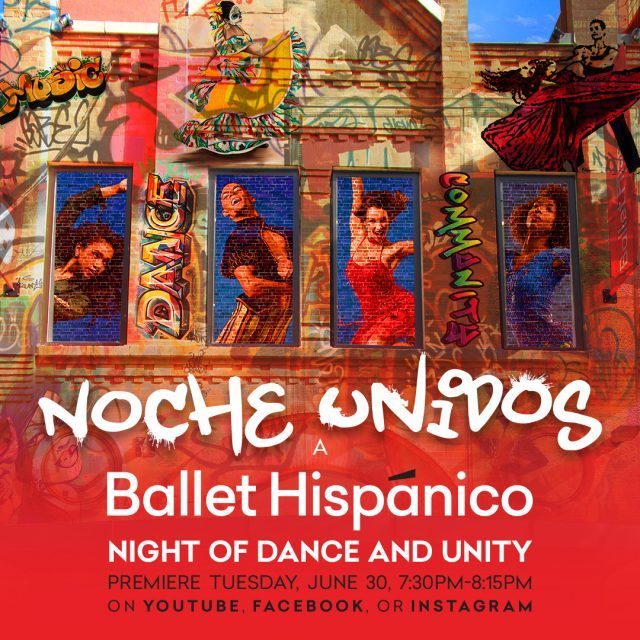 Who: Rita Moreno, Norman Lear, Pacquito D'Rivera, Arturo O'Farrill, Eduardo Vilaro, Lin-Manuel Miranda, Gloria Estefan, more
What: Ballet Hispánico fiftieth anniversary celebration
Where: YouTube, Facebook, Instagram
When: Tuesday, June 30, free with RSVP (donations accepted), 7:30
Why: Founded by Tina Ramirez in 1970, Ballet Hispánico has been "bringing communities together to celebrate and explore Latino cultures through innovative dance productions, transformative dance training, and community engagement" for fifty years, as its mission statement explains. As part of its golden anniversary, the Upper West Side institution is going virtual with "Noche Unidos: A Night of Dance and Unity," an evening of world premieres by Latinx choreographers along with special celebrity appearances. Debuting new works will be Kiri Avelar, Rodney Hamilton (Punto De Vista with Paulo Hernandez-Farella), Michelle Manzanales (Cautivadx), Andrea Miller (Orilla), Annabelle Lopez Ochoa (Pajarillo Escondido with Dandara Veiga), Pedro Ruiz (Sobre el Siglo de la Luces with Lyvan Verdecia and Melissa Verdecia), Carlos Pons-Guerra (Gazpacho with Omar Rivera and Antonio Cangiano), Gustavo Ramirez Sansano (Lady of Spain with Shelby Colona), Nancy Turano (Mambo for 50 with Lenai Wilkerson), and company artistic director and CEO Eduardo Vilaro (Serenata with Laura Lopez). "Noche Unidos is beyond anything we could have imagined several months ago. This will be a spectacular virtual celebration of Ballet Hispánico with a group of amazing Latinx artists from across the nation coming together to honor the legacy of Tina Ramirez and Ballet Hispánico's roots while looking forward, beyond our fiftieth anniversary. There is still work to be done, and Ballet Hispánico intends to pave the way and create these opportunities for Latinx voices to be amplified through dance, education, and our communities," noted Eduardo, who will be hosting the event.
Among others joining in the festivities are EGOT winner Rita Moreno, legendary television producer Norman Lear, Hamilton creator extraordinaire Lin-Manuel Miranda, three-time Grammy winner Gloria Estefan, Cuban sax and clarinet great Paquito D'Rivera, and Afro-Latin Jazz Orchestra artistic director and pianist-composer Arturo O'Farrill. There will also be performances by Ballet Hispánico School of Dance students and Nuestro Futuro scholarship recipients Julienne Rane Buenaventura and Ruby Castillo, choreographed by Hamilton (Ayer y Hoy) and Avelar (Mi Baile en Casa, A Film by Kiri Avelar), respectively. "Now more than ever it is important that we, as artists, learn about the rich history and meaning behind Black/Latinx dance forms, that we no longer whitewash the field and instead celebrate all cultures," Buenaventura wrote in a letter to the Ballet Hispánico community. For a limited time you can also see the troupe's previous watch party, Somebrerísimo by Annabelle Lopez Ochoa, while the next event will be Edwaard Liang's El Viaje on July 8, both from last year's Joyce season and each followed by a "Choreographers & Cocktails" talk led by former company dancer Vilaro.