WITHIN OUR GATES (Oscar Micheaux, 1920) / ST. LOUIS BLUES (Dudley Murphy, 1929)
Film Forum
209 West Houston St.
Tuesday, January 28, 6:35
Series continues through February 13
212-727-8110
filmforum.org
#OscarsSoWhite and #OscarsSoMale have you disappointed and mad? Film Forum is offering just the medicine with its four-week, sixty-film festival "Black Women: Trailblazing African American Actresses & Images, 1920 – 2001." Running through February 13, the wide-ranging series consists of movies starring Hattie McDaniel, Dorothy Dandridge, Cicely Tyson, Ethel Waters, Josephine Baker, Diana Ross, Angela Bassett, Diahann Carroll, Oprah Winfrey, Juanita Moore, Whoopi Goldberg, Billie Holiday, Lena Horne, Ruby Dee, Eartha Kitt, Abbey Lincoln, Gloria Foster, Ella Fitzgerald, Vonetta McGee, Alfre Woodard, Lonette McKee, Lynn Whitfield, Janet Jackson, Queen Latifah, Pam Grier, Tamara Dobson, Whitney Houston, Halle Berry, and many others, made by black, white, male, and female directors. The oldest film being presented is the oldest surviving film made by an African American director, Oscar Micheaux's Within Our Gates, on January 28 at 6:35. A response to D. W. Griffith's Birth of a Nation, Micheaux's film, released in 1920 after trouble with the censor board, packs a whole lot into its seventy-nine minutes, giving the film an epic feel as it deals with violent crime, rape, slavery, poverty, education, love quadrangles, Jim Crow, subservient blacks, mixed-race romance, the Great Migration, and other incendiary topics.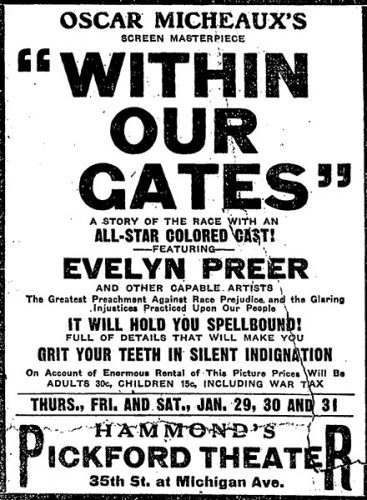 "I have always tried to make my photoplays present the truth, to lay before the Race a cross-section of its own life, to view the Colored heart from close range," Micheaux explained on January 24, 1925. "It is only by presenting those portions of the Race portrayed in my pictures, in the light and background of their true state, that we can raise our people to greater heights. . . . The recognition of our true situation will react in itself as a stimulus for self-advancement." He does just that with Within Our Gates, in which Evelyn Preer plays Sylvia Landry, a young woman in love with Conrad Drebert (James D. Ruffin). However, Sylvia's supposed friend, the manipulative Alma Prichard (Floy Clements), is also in love with Conrad and determined to steal him from her. Meanwhile, Alma's stepbrother, gangster Larry Prichard (Jack Chenault), wants Sylvia, who is not interested in him. Larry is being closely watched by a detective, Philip Gentry (William Smith), who was tipped off by the FBI as to his whereabouts.
A car accident leads Sylvia to meet Dr. V. Vivian (Charles D. Lucas) and philanthropist Elena Warwick (Mrs. Evelyn), who wants to help Sylvia, but Elena's friend, the racist Geraldine Stratton (Bernice Ladd), would rather see no women gain the right to vote if a new amendment would include black women as well. The story shifts gears when Alma tells Dr. Vivian about Sylvia's past, involving Sylvia's adopted family, a robbery and shooting, a white landlord (Ralph Johnson) and his brother (Grant Gorman), and a tattletale Uncle Tom (E. G. Tatum) seeking to gain favors, all shown in flashback. It's a complex tale filled with surprising twists, and it's a critically important film in the history of black cinema.
Micheaux's first work was The Homesteader, which is lost; he would go on to make such pictures as Body and Soul, Veiled Aristocrats, and Underworld. The Library of Congress Motion Picture Conservation Center restored Within Our Gates in 1993 from a lone Spanish print, so most intertitles were rewritten in English, and a section in the middle was lost. In 2016, DJ Spooky (aka Paul D. Miller) added a guitar-and-piano-based soundtrack, but the Film Forum screening of a 35mm print will be accompanied by a live score played by Steve Sterner. In addition, it will be preceded by Dudley Murphy's sixteen-minute 1929 short St. Louis Blues, highlighted by Bessie Smith in her only film appearance. The series continues with such films as both Foxy Brown and Jackie Brown, The Color Purple, Set It Off, Lady Sings the Blues, Monster's Ball, and Dirty Gertie from Harlem U.S.A.