IN THE AUTHOR'S CORNER
The AKC Museum of the Dog
101 Park Ave. between Fortieth & Forty-First Sts.
Friday, November 8, free with RSVP, 2:00
museumofthedog.org
rickcrandallbooks.com
In 2001, Rick Crandall was looking for something different. The New York-born Michigan grad had experienced tremendous success in early tech, cofounding the computer timeshare business Comshare. "But after our talented team defied long odds to keep the company relevant, innovative, and (mostly) profitable for over twenty-five years, I found myself in my mid fifties and burned out mentally, physically, and spiritually," he explains in The Dog Who Took Me Up a Mountain: How Emme the Australian Terrier Changed My Life When I Needed It Most (HCI, September 2019, $15.95), which he cowrote with Joseph Cosgriff. He went through "the emotional lows and anxieties that were the fallout of a sad and difficult divorce" but found love with Pamela Levy after moving to Colorado. They were married and the next year added to their family on April 5, 2001, by getting a tiny Australian terrier they named Emme. "There were pastrami sandwiches at Katz's Deli that were larger and weighed more than this puppy," he writes.
Crandall, once named one of the Five Leading Pioneers of the Computer Industry, started going on hikes with the dog, and together they were soon climbing Colorado's fourteeners, peaks of at least fourteen thousand feet in altitude. He blogged about their adventures and was then teamed with Hasbrouck Heights native, raconteur, and sports and jazz aficionado Cosgriff, a former star athlete dedicated to the New York Rangers and Boston Red Sox and who wrote the song "I Like Jersey Best" for his close pal John Pizzarelli. Cosgriff, a friend of mine, had previously collaborated with Pizzarelli on the latter's memoir World on a String and with publishing scion Richard Press on Rebel without a Suit: The Not-So-Casual Road to Casual Friday. In his book, Crandall, now seventy-six, tells his compelling, irresistible story in such chapters as "Pint-Sized Pup, Giant Personality"; "Take Me Higher"; and "Everybody's Got a Mountain to Climb." On November 8, he and Cosgriff will be at the American Kennel Club Museum of the Dog on Park Ave. to talk more about The Dog Who Took Me Up a Mountain in an Author's Corner event, followed the next afternoon by a talk and signing at Bookends Bookstore in Ridgewood, New Jersey. Below is an edited, combined transcript of separate interviews I conducted with them.
twi-ny: Rick, what was your single favorite moment with Emme? When did you realize she was special?
rick crandall: It was when I first realized how strong was her will to push forward and upward on a hike or climb regardless of the challenges. She had a drive to get to the highest place wherever we ventured. On a hike near Aspen, we were on a trail that had high grass on both sides; we saw two massive bulls headbutting right across our trail. I was debating whether to turn around or fight through sidetracking in the bush.
Then I noticed Emme continuing a steady march right towards the bulls. She let out a single low-pitched "rrrruff," and both bulls turned their head to see what the noise was. Emme stared them down as she continued straight towards them without a single hesitation. Astonishingly, the bulls each backed up about ten feet like two semi-trucks in reverse. Emme proceeded to march right through that temporary truce as if saying, "Make way, I'm coming through, and I'm bringing my human with me."
I saw no option but to follow her, nervously. She got through and so did I right behind her. Soon after we passed, the bulls went right back to headbutting across the path — I have the photo. It was then I saw how unstoppable was her spirit, which served us so well afterwards going for the high peaks. She was undeterred by high wind, hail, boulders, or slippery rocks and it motivated me to adopt the same will, which then transformed into a passion.
twi-ny: What do you think it was about her that made her such an extraordinary outdoor companion?
rc: Two things: First is that she never backed down, never quit; second is that she watched out for me. For example, the mountains get increasingly rocky as you go higher, and after the freeze/thaw of winter, many rockslides often make some rocks unstable underfoot. She was always ahead of me, and when she got on a rock that teetered she would stop and teeter while turning her head to me as if to say, "Dad, this one moves, don't come here."
Also, when climbing I was always with friends who were younger and faster than me. When they would get far enough above me to be out of sight, she would climb up quickly, spot them, and then come back down just far enough so I could see her like a sentinel and I would know where they went. She was a connector and she knew it.
twi-ny: As a child, you had Jiggs, a Boston terrier, which was a great experience, and much later you had Simba, Pamela's cat, which didn't go so well, and more recently Tucker, who ended up getting along famously with Emme. Have any other animals prior to or after Emme played an important part in your life?
rc: Emme just passed a few years ago at age fifteen. Pamela and I have been looking for the next Emme. Pamela has been breeding some of Emme's descendants and we currently have a young Aussie similarly named Ella, who is behaving like she may be my next climbing buddy. She is irrepressible with an alpha personality, just like Emme. Even fresh out of the womb, while the smallest in the litter, she climbed on top of the other pups and right out of the whelping box. Now we see her seeking the highest point around, just like Emme. She is fearless and adventurous. That would be so cool, because while I have finished climbing all fifty-eight fourteeners in the Rockies, I have a lot of great thirteeners to enjoy and would love to have a dog buddy with me.
twi-ny: Joe, have you had any pets that had an impact on your life? Do you consider yourself a dog or cat person?
joseph cosgriff: Working backwards, I'm definitely a dog person, especially after bonding with Emme through Rick's stories. Also from reading the works of Alexandra Horowitz, most notably Being a Dog. I missed the four years of our family's dog experiment while in college and away playing baseball, although I seem to recall that the dog (or a hungry sibling) ate one of my baseball gloves.
twi-ny: Rick, in addition to Ella, what's your pet situation now?
rc: Currently we have six Aussies, some of which are there to carry on Emme's line with more litters, and one, Ralfie, is a record-setting show dog in the breed. Pamela has been having about one litter every eighteen to twenty-four months. She loves everything dog and the Australian terrier meets all her checkboxes.
twi-ny: As a native New Yorker, what do you miss most about the city?
rc: NYC has the most intense and densely located feast of stimuli for anyone searching for a new passion in life. Colorado has mountains that became such an important real part of my life, but the mountains in my story in the book also serve as a metaphor for any passion that can raise the quality of life for any New Yorker, especially with so many choices.
twi-ny: What do you miss the least?
rc: Everything worth climbing has an elevator!
twi-ny: Joe, have you had any experience climbing mountains or going on long hikes?
jc: Rick has promised to take me up into the mountains, so I'm hoping to mix some hiking and jazz in Aspen this summer.
twi-ny: Have you climbed any metaphorical mountains in your life?
jc: Sure, we all have mountains to climb every day. The lesson of Rick and Emme is that allowing one's senses to enjoy every aspect of a hike is as important as reaching the summit.
twi-ny: Have you ever been to Colorado and, if so, how did you like it?
jc: I have been to Colorado for business a few times, which included "team building" via white water rafting and a few novice hikes with office colleagues. I look forward to a summer trip that lets me explore firsthand several of the climbs we wrote about.
twi-ny: Rick, what was the best part of collaborating with Joe?
rc: The best part is that we quickly developed a relationship due to the intense interaction that only longtime friends get to know about each other. The older I get, the more I cherish a friendship like that.
twi-ny: What was the most challenging part?
rc: The most challenging part wasn't very challenging. Joe is passionate and highly knowledgeable about MLB — baseball — and he is prone to introduce baseball quotes here and there. He would throw some in and I would go, Huh? But we had no trouble getting to a balance closer to my world — i.e., more mountain and dog quotes. 😊
twi-ny: Joe, what was the best part of collaborating with Rick?
jc: The best part was that Rick came to the book armed with a central, overarching theme — the importance of finding a passion for the final third of one's life. But those words would have fallen flat like bromides without the stories that put the reader on the mountain trails with Rick and Emme.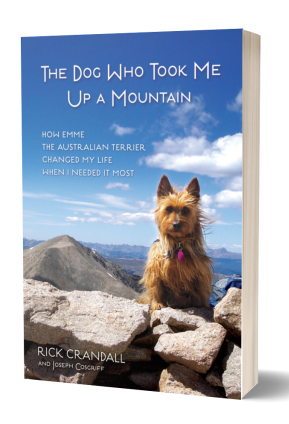 twi-ny: What was the most challenging?
jc: As you'd expect from someone who has been a business founder, a management consultant, and a chairman of the board of several corporations, Rick has strong opinions. No surprises there.
twi-ny: You've also collaborated with John Pizzarelli and Richard Press. How did those collaborations compare with the one with Rick?
jc: Those collaborations were different in that I had known both men for a while, and the published book was at least our third or fourth project together. In the case of Pizzarelli, we had known one another for over thirty years and had already cowritten songs and worked out material for Red Sox luncheons both in New York and in Boston.
The highest compliment I would hear about the Pizzarelli and Press books was "Why did they need you?" I know both voices well and tried to tell those stories using each one's style. Not being as familiar with Rick's voice, I worked extra hard to describe the world as he does and not as, say, Jean Shepherd would have.
twi-ny: Rick, you climbed all fifty-eight fourteeners in the Rockies with Emme, beginning when you were sixty-four, and thirteeners might be in your immediate future with Ella. Do you have any other grand adventures coming up, with or without an animal companion?
rc: Yes, this is an often-asked question, especially by people trying to figure out how to discover what their next passion should be and from where that idea might come. Mine came from the unlikely source of following my irrepressible dog who had already discovered her passion.
Now, even though she is gone from this earth, the impact on my life continues as I work to get the inspirational message underlying this book in front of as many eyeballs and hearts as I can.
Increasingly I am hearing that my talks at author events, like the one coming up at the Museum of the Dog on November 8, is inspiring to others. That is as much a gift to me and I am all over it, treating this book as my next adventure. I do still climb and I will continue until I can't, but I don't have a goal to reach a number; rather, I want to smell the different roses all the way up to each summit.
twi-ny: Joe, next up for you are a music documentary and a children's book. Anything you can talk about yet?
jc: Yes, I am working on a music documentary that will likely air on public television in early 2021. The director is Jim Burns, who also directed the terrific PBS pledge-week doc a few years ago about the great songwriter and WWII test pilot Jimmy Van Heusen [Swingin' with Frank & Bing]. My next book will be about the 1904 baseball season and the first pennant race ever between the New York and Boston teams that became the Yankees and the Red Sox. And the children's book Pizzarelli and I are planning is built around a song near and dear to our hearts — "I Like Jersey Best." It will be a trip to the Jersey Shore and other Garden State landmarks as seen through the wondering eyes of two eight-year-olds.
twi-ny: Rick, how did the Museum of the Dog event come about?
rc: They schedule a monthly series called the Author's Corner. When Joe heard that after thirty-two years the AKC had moved the museum back to New York City, he brought a copy of the book over. They called the next day, excited to have us. I am also doing an article for the AKC community, which is impressively large.
twi-ny: How would you say your book is different from the many other dog-related books out there?
rc: On the surface it is an easy flowing mix of humor, adventure, and uncanny stories about an improbably older guy following his small dog up the highest mountains in the continental US in pursuit of their new passion in life. Underlying is the joy and inspiration that takes the reader away from all the negatives bombarding us daily and gives us something important to think about.
twi-ny: Speaking of being bombarded, while you're in New York, what else do you plan to do for fun?
rc: Hunt around for a jazz club; too many are shutting down, but still some of the best jazz in the country is right here in the city.
follow twi-ny
 navigate
listings