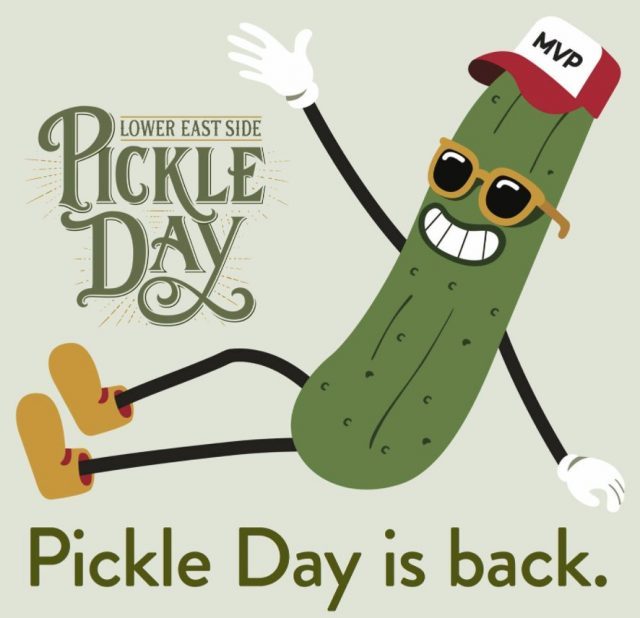 Orchard St. between Houston & Delancey Sts.
Sunday, October 6, free, 12 noon - 5:00 pm
pickleday.nyc
"My first taste memory is pickle," Padma Lakshmi told the Guardian in 2004. "Even as a kid, I was really weird. I used to climb up the shelves in my grandmother's pantry. The pickle jar was kept right at the top. One time, I dropped the jar and it broke. I was totally busted." You won't have to worry about getting busted for your pickle obsession at the annual Lower East Side Pickle Day, being held Sunday on Orchard St. between Houston and Delancey. Among those participating in the festivities, which include food, fashion, and family-friendly games and activities, are pickled purveyors Guss' Pickles, Pickle Me Pete, Backyard Brine, Grillo's Pickles, Crisp Pickles, the Pickle Guys, Rick's Picks, Horman's Best Pickles, Adamah Farm, Brooklyn Brine, MacDonald Farms, Epic Pickles, Brine Brothers, City Saucery, Brooklyn Whatever, Kilhaney's Pickles, Anomaly Season, Messy Brine, and Farm Ferments in addition to Melt Bakery, Ice & Vice, Que Chevere, Nom Wah Tea Parlor, Heros & Villains, Macaron Parlour, the SKINny Bar & Lounge, DACHA Live Cultured Veggies, Renegade Lemonade, and Roni-Sue's Chocolates, among others. There will also be live music, the Pickling Poet, and a home pickling contest. Pickles have a long affiliation with the Lower East Side, and the annual Pickle Day only adds to that pickled history.