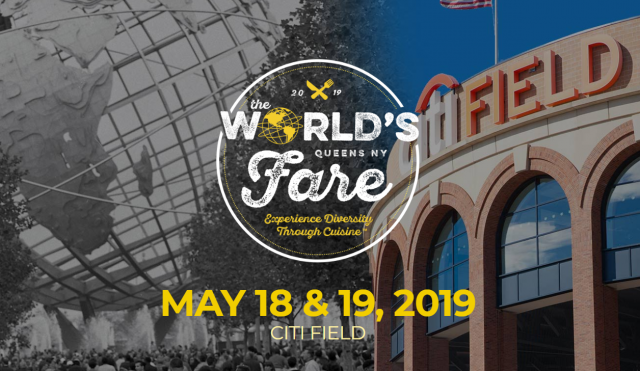 EAT. DRINK. UNITE.
Citi Field
123-01 Roosevelt Ave.
Saturday, May 18, and Sunday, May 19, noon - 7:00
General admission $23, with three-hour beer garden $49, VIP $199
theworldsfare.nyc
www.eventbrite.com
The second annual World's Fare at Citi Field, near where the 1963-64 World's Fair took place, features more than one hundred food vendors from all five boroughs, more than five dozen craft breweries, a World Market Bazaar, and more. The Culinary Committee co-chairs this year are Gael Greene, Alex Raij, Anita Lo, and Joshua Schneps, with the festival curated by food-arena movers and shakers Liza Mosquito deGuia, Niko Triantafillou, Jean Lee, Joe DiStefano, George Motz, Tia Keenan, Hannah Goldberg, Felipe Donnelly, Jenny Dorsey, Joseph Yoon, Karen Seiger, Kysha Harris, Tamy Rofe, and Cindy VandenBosch. There will be live music by Black Tie Brass Band, Strings N Skins, Funky Dawgz Brass Band, Mariachi Loco, Rho & the Nomads, Royal KhaoZ, Kaleta & Super Yamba, and Underground Horns and dance performances by Sachiyo Ito & Company, Leggz Ltd., American Bolero Dance Company, NY Chinese Cultural Center, Salit Bellydance, Nartan Rang Dance Academy, Country Dancing, KG Group Entertainment, Gemuetlichen Enzianer Dancers, and Schade Academy of Irish Dancing along with interactive murals, karate exhibitions, henna, African body painting, art by Taisan Tanaka, and other events. Among the participating eateries are Baba's Pierogies, Balkan Bites, Barbecue on a Stick, Caribbean Street Eats, Chef Jimmy's Vicious Creole Cycle, D'Abruzzo NYC, DiRiso Risotto Balls, Donovan's Pub, Down East Lobstah, Duck Season, George Motz's Oklahoma Fried Onion Cheeseburger, Keki Modern Cakes, Little Porky's, Macaron Parlour, Melt Bakery, Memphis Seoul, Miss Holly's Smokehouse, Nansense, Oaxaca Taqueria, Republic of Booza, Rooster Boy, Sam's Fried Ice Cream, Stuffed Ice Cream, Tania's Kitchen, Twisted Potato, Wafels & Dinges, and What's the Dillaz. General admission is $23; you can add three hours of libations in the beer garden for another $26, while VIP access goes for $199.