Museum of the Moving Image
35th Ave. at 36th St., Astoria
April 5–7
718-777-6800
www.movingimage.us
pennylaneismyrealname.com
In conjunction with the release of her latest nonfiction feature film, documentarian Penny Lane is being celebrated at the Museum of the Moving Image this week with screenings of all four of her full-length films — Exit Through the Gift Shop, The Pain of Others, Our Nixon, and the new Hail Satan? — in addition to her many shorts: Sometimes I Get Lossy, The Abortion Diaries, The Wren, The Commoners, Nellie Bly Makes the News, The Voyagers, The Pleasure Principle, Kitsch Is a Beautiful Lie, Just Add Water: The Story of the Amazing Live Sea Monkeys, How to Write an Autobiography, Men Seeking Women, Normal Appearances, and We Are the Littletons. Lane — yes, it's her real name — will be at MoMI for all three Saturday programs to discuss her process and the wide range of her subject matter.
EXIT THROUGH THE GIFT SHOP (Banksy, 2010)
Friday, April 5, 7:00
www.banksyfilm.com

The series opens with Banksy's 2010 Exit Through the Gift Shop, which Penny Lane selected as an important influence on her. In 1999, L.A.-based French shopkeeper and amateur videographer Thierry Guetta discovered that he was related to street artist Invader and began filming his cousin putting up his tile works. Guetta, who did not know much about art, soon found himself immersed in the underground graffiti scene. On adventures with such famed street artists as Shepard Fairey, Swoon, Ron English, and Borf, Guetta took thousands of hours of much-sought-after video. The amateur videographer was determined to meet Banksy, the anarchic satirist who has been confounding authorities around the world with his striking, politically sensitive works perpetrated right under their noses, from England to New Orleans to the West Bank. Guetta finally gets his wish and begins filming the seemingly unfilmable as Banksy, whose identity has been a source of controversy for more than a decade, allows Guetta to follow him on the streets and invites him into his studio. But as he states at the beginning of his brilliant documentary, Exit Through the Gift Shop, Banksy—who hides his face from the camera in new interviews and blurs it in older footage—turns the tables on Guetta, making him the subject of this wildly entertaining film.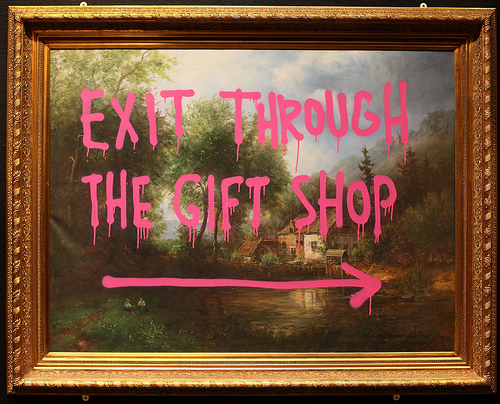 Guetta is a hysterical character, a hairy man with a thick accent who plays the jester in Banksy's insightful comedy of errors. Billed as "the world's first Street Art disaster movie," Exit, which is narrated by Welsh actor Rhys Ifans (Danny Deckchair) and features a soundtrack by Portishead's Geoff Barrow sandwiched in between Richard Hawley's declaratory "Tonight the Streets Are Ours," is all the more exciting and intriguing because the audience doesn't know what is actually true and what might be staged; although the film could be one hundred percent real and utterly authentic, significant parts of it could also be completely made up. Who's to say that's even Banksy underneath the black hood, talking about Guetta, who absurdly rechristens himself Mr. Brainwash? It could very well be Banksy's F for Fake from start to finish. No matter. Exit Through the Gift Shop is riotously funny, regardless of how you feel about street art, Banksy, and especially the art market itself (as the title so wryly implies). Exit Through the Gift Shop is screening at MoMI on April 5 at 7:00, preceded by two Lane shorts, 2010's How to Write an Autobiography and 2014's We Are the Littletons.
OUR NIXON (Penny Lane, 2012)
Saturday, April 6, 4:30
www.ournixon.com

Penny Lane will be at MoMI on April 6 at 4:30 to screen and talk about her debut documentary, the all-archival Our Nixon, which offers a compelling new inside look at the Nixon White House. The classic cautionary tale about power, corruption, and paranoia, which ultimately brought down the thirty-seventh president of the United States, has been told many times before, on film (All the President's Men, Oliver Stone's Nixon), in books (Woodward and Bernstein's The Final Days, RN: The Memoirs of Richard Nixon), onstage (Frost/Nixon, Checkers), and even as an opera (John Adams's Nixon in China). When Nixon moved into the White House in January 1969, he brought along three key figures: Chief of Staff H. R. Haldeman, Chief Domestic Adviser John Erlichman, and Deputy Assistant Dwight Chapin. And those three men brought along Super 8 cameras, prepared to document not only their daily lives but also how they were going to change the nation. During its investigation of the Watergate scandal, the FBI confiscated more than five hundred reels of footage, totaling more than twenty-six hours, taken by Haldeman, Erlichman, and Chapin, and these home movies, which belong to the Nixon Library and have been digitized specifically for the film, form the basis of Our Nixon. Director-producer Lane combines this deeply personal footage — showing alternate views of the 1969 inauguration, a White House Easter egg hunt, the moon landing, Trisha Nixon's wedding, Nixon's trip to China, the Republican National Convention, and other, more mundane events — with carefully chosen audio excerpts from the White House tapes, creating a unique audiovisual experience.
Lane foregoes any political and historical experts in favor of having the protagonists do all the talking, through radio and television interviews (with Mike Wallace, Barbara Walters, and Phil Donahue), oral histories, and the secret White House recordings. In addition, there are supplemental news reports from Walter Cronkite, Dan Rather, Daniel Schorr, and others. As interesting as it is to see the home movies, the audiotapes are mesmerizing, revealing some of the behind-the-scenes manipulations that were often not nearly as planned as most people assume. It is actually both frightening and sad to hear Nixon talking to Haldeman about a just-completed short television address he gave to the nation, the president concerned about how he came off and upset that only one colleague called to congratulate him. And just wait till you hear what they have to say about Secretary of State Henry Kissinger. Although Our Nixon offers no excuses or apologies for the actions of the Nixon White House, it does humanize, instead of demonize, these central figures, who might not have been quite as overtly evil as many people would like to believe. Of course, that doesn't mean they come across as a group of cuddly teddy bears either.
"NUTS!" (Penny Lane, 2016)
Saturday, April 6, 7:00
www.nutsthefilm.com

Penny Lane will also be at MoMI for her wonderfully titled, inventively told "Nuts!," which tells the wacky true tale of Dr. John R. Brinkley, a pivotal twentieth-century figure who was part P. T. Barnum, part Donald Trump, a controversial doctor or a quack, a radio pioneer or a snake-oil charlatan, depending on one's opinion. He became rich and famous by surgically implanting goat glands into men's testicles, claiming it increased virility, but his story is about much more than that. "This is a film about John Romulus Brinkley, a doctor, amongst other things, a man who succeeded against terrible odds and powerful opposition, a man who changed the world," narrator Gene Tognacci explains early on. Lane, who previously profiled another intriguing individual in her debut feature-length documentary, 2013's Our Nixon, this time follows the often outrageous exploits of Brinkley, using text from Clement Wood's 1934 book, The Life of a Man: A Biography of John R. Brinkley, home movies and photographs, newspaper and magazine articles, and actual radio broadcasts. She also has seven different animators re-create scenes from Brinkley's life and career, and each artist or team (Drew Christie & Dane Herforth, Julia Veldman C, Michael Pisano, Krystal Downs, Ace & Son Moving Picture Co., Rose Stark, and Hazel Lee Santino & Downs) employs a unique style while maintaining the film's overall potent sense of humor. Producer-director Lane, who cleverly edited the film with writer Thom Stylinski, initially casts Brinkley as a sympathetic character just trying to get his own piece of the American dream for him and his family in the tiny town of Milford, Kansas, but as Dr. Morris Fishbein, editor of the Journal of the American Medical Association, gets ever closer in his obsessive quest to discredit Brinkley, everything the goat-gland doctor has built threatens to unravel. But Lane's genius is yet to come, as she begins to unravel our assumptions and the very process of biography and history itself as the film proceeds to its inevitable conclusion.
It's hard to believe that "Nuts!" is true, but that's all part of the fun. Lane just lays it out there for us to see, and you'll be rooting for Brinkley as he grows his empire, just as you'll be booing Fishbein for desperately trying to bring him down. Brinkley was a kind of mad genius, understanding how to get ahead in business by giving the people what they want via early infomercials, realizing the vast power of radio, and flouting the rules whenever he could — and then attempting to change them. Lane limits the talking heads to very occasional comments from historian and former Kansas councilman James Reardon, social and cultural historian Dr. Megan Seaholm, Border Radio: Quacks, Yodelers, Pitchmen, Psychics, and Other Amazing Broadcasters of the American Airwaves coauthor Gene Fowler, and Charlatan: America's Most Dangerous Huckster, the Man Who Pursued Him, and the Age of Flimflam author Pope Brock. "Nuts!" is all the more comic for its reality, and Lane has succeeded wildly in transferring that notion to the way she has made the film, literally revealing the hands of the artist as the pages of Wood's sycophantic book are turned; by the end, viewers will be questioning the documentary form itself just as they're questioning Brinkley's validity. In fact, Lane is readying a public online database "for audiences to consider the epistemological and ethical issues at the heart of the nonfiction storytelling process." "Nuts!" will be preceded by Lane's 2004 Kitsch Is a Beautiful Lie and 2011 Just Add Water: The Story of the Amazing Live Sea Monkeys.