NYU Skirball Center for the Performing Arts and other NYU locations
566 La Guardia Pl. between Third & Fourth Sts.
October 17-28, free with advance RSVP
212-992-8484
nyuskirball.org
This past May, Karl Marx would have turned two hundred years old. The NYU Skirball Center is celebrating his bicentennial with twelve days of special free programming honoring the man who wrote, "The mode of production of material life conditions the social, political, and intellectual life process in general. It is not the consciousness of men that determines their being, but, on the contrary, their social being that determines their consciousness." Audiences can also determine if they want to contribute to the performances based on supply and demand and their own consciousness; the events are all free with advance RSVP but donations are welcome. The "Karl Marx Festival: On Your Marx" begins October 17 at 7:30 with London-based Bulgarian performance artist Ivo Dimchev's one-hour show, P Project, in which people from the audience will get paid by agreeing to do spur-of-the-moment things involving words that begin with the letter "P." For example, Dimchev will present them with tasks that might involve such words as Piano, Pray, Pussy, Poetry, Poppers, etc. On October 18 at 6:00, NYU professors Erin Gray, Arun Kundnani, Michael Ralph, and Nikhil Singh will discuss "Racial Capitalism" at the Tamiment Library. On October 19 at 9:30, DJs AndrewAndrew will spin Marxist discs along with readings by special guests from Das Kapital and The Communist Manifesto.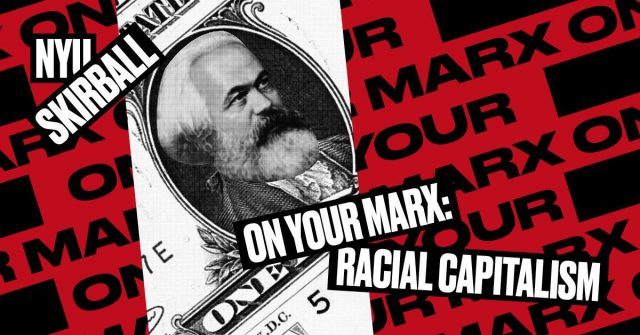 On October 19 and 20 at 7:30, Brooklyn-based Uruguayan dancer and choreographer luciana achugar will present the world premiere of Brujx, which explores ideas of labor. On October 22 at 6:30, Slavoj Žižek will deliver the Skirball Talks lecture "The Fate of the Commons: A Trotskyite View." On October 23 at 5:30, NYU professors Lisa Daily, Dean Saranillio, and Jerome Whitington will discuss "Futurity & Consumption" at the Department of Social & Cultural Analysis. On October 24 at 4:00, author Sarah Rose will talk about her 2017 book, No Right to Be Idle at the eighth floor commons at 239 Greene St. On October 25 at 5:30, luciana achugar, Julie Tolentino, and Amin Husain will join for the conversation "Labor, Aesthetics, Identity" at the Department of Performance Studies. On October 26 at 7:30, Malik Gaines, Miguel Gutierrez, Latasha N. Nevada Diggs, Ryan McNamara, Seung-Min Lee, and Alison Kizu-Blair will stage "Courtesy the Artists: Popular Revolt," a live-sourced multimedia work directed by Alexandro Segade and Amy Ruhl. The festival concludes October 28 at 5:00 with Ethan Philbrick's Choral Marx, a singing adaptation of Karl Marx and Friedrich Engels's Manifesto for the Communist Party, performed by Benjamin Bath, Gelsey Bell, Sarah Chihaya, Hai-ting Chinn, Tomás Cruz, Amirtha Kidambi, Brian McQueen, Gizelxanath Rodriguez, and Ryan Tracy.