Theatre 80
78-80 St. Marks Pl. at First Ave.
Wednesday - Saturday through November 10, $100-$200, 7:00
www.minkywoodcock.com
theatre80.wordpress.com
Ehrich Weisz, better known as Harry Houdini, died under mysterious circumstances on October 31, 1926, at the age of fifty-two. Writer, artist, musician, and immersive theater impresario Cynthia von Buhler investigates the events surrounding the possible murder of the master magician in The Girl Who Handcuffed Houdini, which opened last night at Theatre 80 on St. Marks Pl. Adapted from the four-part comic-book series von Buhler wrote and illustrated (featuring cover collaborations with David Mack, Robert McGinnis, Dean Haspiel, and others), the show invites audience members to follow one of three conceptual narratives: the Pragmatists, led by Bennie Woodcock (Luka Fric), Sam Smiley (Ryan Salvato), and Nurse La Chatte (choreographer Delysia La Chatte); the Spiritualists, represented by Sir Arthur Conan Doyle (Lord Kat), Margery of Boston (Veronica "the Love Witch" Varlow), J. Gordon Whitehead (E. James Ford), and Lady Marler (Celeste Hudson); and the Magician's Favored Guests, VIPs connected to Harry Houdini (director Vincent Cinque), Bess Houdini (Robyn Adele Anderson), and Minky Woodcock (Pearls Daily), the fictional detective trying to find out the truth about Houdini's death. Most of the characters and situations are inspired by actual events; ticket holders receive advance emails pointing to newspaper accounts and other ephemera as well as the introduction to the comic book, which establishes the setup. The different groups make their way through multiple rooms on several floors of the three-story townhouse, site of a former jazz nightclub and movie revival house that was a popular Prohibition destination (Scheib's Place) and now is home to the Museum of the American Gangster and the William Barnacle Tavern as well as a hotel.
The plot focuses on Houdini's desperate need to find a true medium who could actually contact the spirit world; he dedicated the last years of his life to debunking frauds who were bilking grieving customers. To get close to the magician, Minky becomes Houdini's assistant, much to the displeasure of Bess, who assumes Minky will become her husband's next lover. Houdini was friends with Doyle, the creator of Sherlock Holmes and a leading advocate of spirit photography; his wife, Lady Doyle, was believed to have psychic abilities. Both play important roles in a séance led by Margery, who is heckled by Dr. Kretzka, who thinks it is all a bunch of nonsense. Houdini is also at odds with Madame Marcia (Sidney Morss), who is fearful that Houdini is trying to put an end to her and her colleagues' business. Meanwhile, Houdini's lawyer, Bernard Ernst (Tony Noto), wanders around with his parrot. Also making appearances are Houdini's muscled assistant, Jim Collins (Mat Leonard); Jack Price (Will Davis), a McGill University student who witnessed a key moment that might have impacted Houdini's death; and a pianist (Anna Stefanic) performing period songs.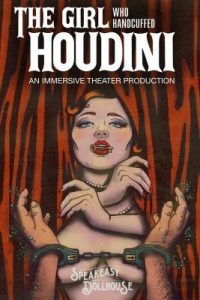 As with von Buhler's earlier theatrical productions, including Speakeasy Dollhouse, The Brothers Booth, and The Bloody Beginning, the audience is encouraged to dress up in period costumes, which adds to the atmosphere, although the night we went the audience was disappointingly garbed. It helps if you are open to just about anything; participation is encouraged but not mandatory. (I ended up playing a critical role in Houdini's death.) As with so many immersive shows, there is a significant FOMO factor, since multiple scenes are going on in separate rooms at the same time, so just be resigned that you are not going to see everything. The transitions in The Girl Who Handcuffed Houdini are ragged from the very start; we arrived on schedule yet still managed to not be guided to an opening séance. At other times groups are led into locations where something is already going on, ends, and then a new scene begins, causing confusion. It is also awkward having to walk outside in order to go upstairs and downstairs; there may be no other way to do that in this building, but it takes away from your immersion in the Houdini mystery as you suddenly encounter people on the street who have no idea what you're doing. After the show, everyone receives the hardcover edition of von Buhler's graphic novel. (They were supposed to be signed, but ours weren't, which was fine but curious.) Regardless, it's all still a lot of fun. Von Buhler, who serves as producer, writer, art director, set designer, music director, and puppet designer, has a great feel for the Prohibition era, and she knows how to titillate her audience, with song, dance, magic, drink, and ample nudity. You might not change your mind about whether spirits exist, but you'll still enjoy a spirited evening — complete with a lovely absinthe station you can indulge in at the bar, if you get there early enough and/or decide to stay late.