THE LAST MOVIE (Dennis Hopper, 1971)
Metrograph
7 Ludlow St. between Canal & Hester Sts.
August 3-8
212-660-0312
metrograph.com/film
arbelosfilms.com

Flying high off his international success with Easy Rider in 1969, cowriter, director, and star Dennis Hopper was given carte blanche by Universal for his next film, 1971's The Last Movie, a controversial picture that, despite winning the Critics Prize at the Venice Film Festival, led to Hopper's unofficial exile from Hollywood for nearly a decade. The Last Movie has now been released in a gorgeous 4K digital restoration made by Il Cinema Ritrovata from the original 35mm camera negative, screening at Metrograph through August 8. As documented in Nick Ebeling's 2017 Along for the Ride and elsewhere, The Last Movie was a longtime labor of love for Hopper and his cowriter, Stewart Stern (who had penned Rebel without a Cause, in which Hopper played a key role), but it ended up being a critical and financial flop. Over the years, there have been occasional rare screenings as the film's legend grew, and the restoration proves that the mythos was fully justified. Hopper stars as Kansas, a movie wrangler working on a Western about Pat Garrett (Rod Cameron) and Billy the Kid (Dean Stockwell) in Chinchero, Peru, directed by one of the toughest auteurs of them all, the great, cigar-chomping Samuel Fuller (Pickup on South Street, Shock Corridor). Kansas is with former prostitute Maria (Stella Garcia), but he is instantly attracted to the fur-wearing Mrs. Anderson (Julie Adams), the wife of a wealthy factory owner (Roy Engel). Kansas's best friend, Neville Robey (Don Gordon), wants Mr. Anderson to invest in his gold mine while both Anderson and Maria become jealous of Kansas's romantic interest in Mrs. Anderson. In addition, following the accidental death of a stunt man during a dangerous scene, the local community of Chinchero blames Kansas and begins making their own movie directed by the vengeful Tomas Mercado (Daniel Ades), using real violence and fake equipment, creating a kind of passion play with Kansas at the center, much to the chagrin of the concerned priest (Tomas Milian), who was never in favor of Hollywood bringing its decadence to his town. It all leads to a stunning, unforgettable finale that questions much of what has come before.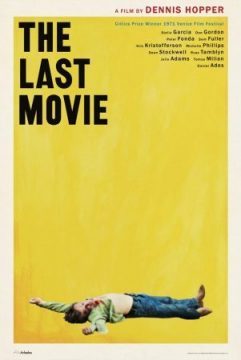 Hopper, who was also a photographer and painter, said about the film, "The Last Movie is something that I made in Peru. I won the Venice Film Festival with it, and Universal Pictures wouldn't distribute it. You should think about [Jean-Luc] Godard a little when you watch it. I made it because I'd read him say that movies should have a beginning, a middle, and an end — but not necessarily in that order. I was trying to use film like an Abstract Expressionist would use paint as paint. I'm constantly reminding you that we're making a movie — I'm constantly making references to the fact that maybe you're just being silly sitting in an audience, being sucked into a movie and starting to believe it — and then I jar you out of it. It's not a very pleasant experience for most audiences." But things have changed significantly over the last half-century, and audiences are now more attuned to watching nonlinear, more unorthodox films that merge fiction and reality and challenge them with purposely confusing plot twists and character development. Some scenes repeat, while others might have been lost — several times a title card identifies that a scene is missing, but it is impossible to know whether that is true or Hopper is playing with the viewer yet again. (The film was edited by David Berlatsky, Antranig Mahakian, and Hopper.) In fact, Tomas and the priest regularly refer to moviemaking as a game. It's also not always clear when we're watching the film, the film-within-a-film, or even a different film as Hopper explodes genre tropes to continually defy expectations. At one point the soundtrack features Kris Kristofferson singing "Me and Bobby McGee," but the camera soon finds Kristofferson himself, guitar in hand, warbling away. Thus, when we later hear a song by John Buck Wilkin, we look for him as well.
Beautifully photographed by László Kovács, The Last Movie turns Kansas into a kind of Jesus figure. Both text and image often reference various stories from the Bible, directly and indirectly, including Jesus being whipped, his relationship with prostitute Mary Magdalene, a celebration around a golden calf, Jesus rising from a cave, and Christ being led to the cross. All seven deadly sins — gluttony, lust, greed, sloth, wrath, envy, and pride — enter the narrative. The color red plays a significant role, as if staining the land with blood, from fake movie blood to the color of Kansas's truck. Everyone ends up guilty of something, with some paying a higher price than others; as the original 1971 production notes explain: "Every character in the film is an innocent. Only as they are tarnished by their participation in the games do they become agents of their own destruction. The dreams that they succumb to are all encompassed in or produced by the American dream. Their sin, however, is the movies." Hollywood has done them in, as it will Hopper himself, who filled the cast with such nonconventional, mostly non-Hollywood actors as Henry Jaglom, Toni Basil, Severn Darden, Sylvia Miles, Warren Finnerty, Peter Fonda, Clint Kimbrough, John Phillip Law, Russ Tamblyn, and Michelle Phillips, who was married to Hopper for eight days. The two-time Oscar-nominated Hopper went on to direct such films as Out of the Blue, Colors, and The Hot Spot and appear in such works as Apocalypse Now, Blue Velvet, Hoosiers, True Romance, and Speed before passing away in May 2010 at the age of seventy-four. His legacy is now cemented with the restoration of The Last Movie, a masterpiece that should finally get the due it, and Hopper, deserves.