Bernie Wohl Center @ Goddard Riverside Community Center
647 Columbus Ave. between Ninety-First & Ninety-Second Sts.
June 20-24, $20
www.outoftheboxtheatre.com
Joe Wissler loves acting; it's in his bones. You can see it when he's onstage performing or when he's discussing his career, which has included appearing in shows at the Mint, the Fringe, the Actors Studio, the Producers Club, and Where Eagles Dare and such indie films as Powder Strike, Empire, and Street Revenge. The Manhattan-born, Brooklyn-raised character actor is quite a character himself, a tough guy with a heart of gold. Wissler is starring this week in the lead role of Joe Keller in the Out of the Box Theatre production of Arthur Miller's All My Sons, an Actors' Equity showcase running June 20-24 at the Bernie Wohl Center at the Goddard Riverside Community Center. The play is directed by Justin Bennett, with a cast also featuring J. D. Brookshire, Matthew Dunivan, Marie Lenzi, Susan McBrien, Patrick McGuiness, Nirvaan Pal, Anna Marie Sell, Jennifer Wingerter, and David Winning.
"As a director, it is an immense pleasure to work with an actor like Joe," Bennett said. "He is constantly striving to find the depth of a complex character that many actors consider to be a dream role. He is always willing to try different ways to do something. Fortunately, the rest of the cast works in a similar way in order to produce a fantastic quality of acting in one of the masterpieces of American theater." Founding Out of the Box board member and coproducer (with Halina Malinowski) Susan Case added, "We're delighted to welcome Joe Wissler to the Out of the Box family. Justin cast Joe to play the lead role of Joe Keller after wading through several hundred resumes and auditioning numerous actors. Joe brings great warmth and honesty to his compelling portrayal of this beleaguered character." After finishing tech rehearsal, Wissler filled us in on his latest show and more.
twi-ny: We last spoke with you four years ago, when you were in Baby GirL at the Fringe in 2014. How've you been since then?
Joe Wissler: The years certainly do fly by. In those years both my children have gotten married, Joe to Kaylyn and Nicole to Sam. In addition, Kaylyn is expecting our first grandchild in July. I have spent a good amount of that time writing. The first project, 20 to Life, is about a police officer who is all set to retire, only to find that his new girlfriend is pregnant, forcing him to stay on the job. Production is set to begin in the fall of 2018.
twi-ny: You're starring as Joe Keller in All My Sons at the Bernie Wohl Center at the Goddard Riverside Community Center. How did that come about?
JW: I saw a listing on Actors Access and submitted. I went in to the audition with one simple strategy: Tell the story from the heart, not the head. It seems to have worked. I am now part of a cast that I consider to be the some of the finest actors I have ever had the pleasure to share a stage with. Our director, Justin Bennett, has guided us on the journey with the precision of Magellan. I am so thankful to Out of the Box for producing this masterpiece and for being the most professional, amazing people that they are.
twi-ny: Joe Keller has previously been portrayed onstage by such actors as Ed Begley, Richard Kiley, John Lithgow, and David Suchet and on film by Edward G. Robinson and James Whitmore. Aside from the original 1947 version, of course, have you seen any of the other adaptations?
JW: I have not seen a stage production of this play before. Which is fine by me. It allowed me to create the character from the ground up. Which is sometimes very difficult to do if you have seen an amazing production. Watching a master actor such as the ones you have listed would leave an impression that would be hard to erase. This Joe Keller is all Joe Wissler's.
twi-ny: What approach are you taking for such a classic role? What do you think is the key to the part?
JW: I am approaching this classic with the respect it deserves. It is truly one of the finest plays ever written. To win this part is one of the greatest honors I have received professionally. I am letting my emotions guide me through the text as a conductor would rely on his sheet music. Every line has such an emotional explosion behind it. The key to this play is Joe's love for his son. I believe nothing is more important to Joe. And that's why I love playing this role. I have the same love for Joe and Nicole.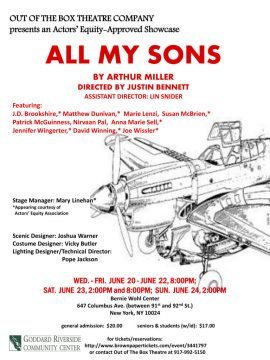 twi-ny: Keller has to deal with something from his past that haunts him. Is there any one thing that you regret from your past that you wouldn't mind sharing with us?
JW: "Regrets, I've had a few, but then again, too few to mention." Thanks for giving me the chance to say that. My biggest regret is not spending even more time with my mother over the years. She passed away suddenly at the young age of sixty-five and it wasn't until she wasn't there anymore that I realized how much I still depended on her. It was her guidance that brought me to acting. And that gave me the heart to love as deeply as I do. Anything good that can be said about me is because of her. I dedicate this performance to her.
twi-ny: Have you done any other Miller plays? Do you have a favorite?
JW: This is my first Miller play. I hope to get cast in many more. I do have a favorite. Actually two, A View from the Bridge and of course All My Sons.
twi-ny: Did Joe and Nicole treat you well on Father's Day?
JW: To look in their eyes and see them smiling is all I need. The gifts were nice too.