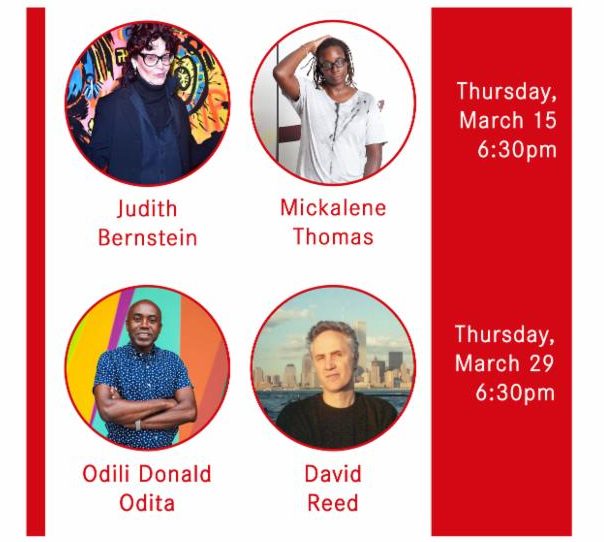 Who: Judith Bernstein, Mickalene Thomas, Odili Donald Odita, David Reed
What: Conversations between National Academicians
Where: National Academy of Design, 5 East 89th St. at Fifth Ave., 212-369-4880
When: Thursday, March 15 & 29, free with advance RSVP, 6:30
Why: Exhibits and classes at the National Academy of Design, situated in the Huntington Mansion on Eighty-Ninth St. and Fifth Ave., have been on hiatus as the institution seeks to sell its buildings and find a new home. But the organization, which was founded in 1825 to promote the fine arts in America, is still hosting special programs. In March, the salons@nationalacademy series continues with what should be two fascinating conversations between National Academicians. On March 15 at 6:30, two New Jersey natives who live and work in New York, Judith Bernstein, known for her explicit sexual imagery, and Mickalene Thomas, a multimedia artist who explores feminine desire and power through glittering works, will get together for a conversation that has the potential to be explosive given what is happening in the country today and in the art world specifically. Two weeks later, on March 29 at 6:30, California multimedia artist, lecturer, historian, and curator David Reed will be joined by Nigerian-born abstract painter Odili Donald Odita, who lives and works in Philadelphia and specializes in large-scale, ornately colorful wall installations. Admission is free, but there is limited seating, so advance reservations are strongly suggested.