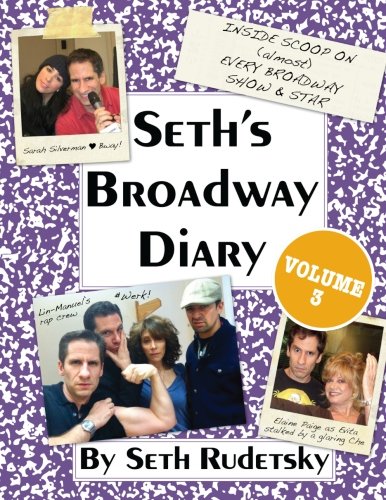 Who: Seth Rudetsky, Charles Busch, Mario Cantone, Ann Harada, Judy Kuhn
What: Book release party with readings and songs
Where: Barnes & Noble, 150 East 86th St. between Lexington & Third Aves., 212-369-2180
When: Monday, November 20, free, 7:00
Why: In his latest campy tome, Seth's Broadway Diary, Volume 3: Inside Scoop on (Almost) Every Broadway Show & Star (Dress Circle, November 14, $19.99), novelist, pianist, deejay, vocal coach, actor, singer, and all-around good guy Seth Rudetsky shares more of his behind-the-scenes "Onstage and Backstage" pieces from his Playbill column, which focuses on theater and cabaret. Rudetsky (The Rise and Fall of a Theater Geek, Disaster!) will be celebrating the release of the book with a fab gathering at the Eighty-Sixth St. B&N, where he will be joined by Charles Busch (The Tale of the Allergist's Wife, Vampire Lesbians of Sodom), Mario Cantone (Sex and the City, Laugh Whore), Ann Harada (Avenue Q, Smash), and Judy Kuhn (Les Misérables, Fun Home) for an evening of readings and music. Wristbands must be picked up in advance and priority seating is given to anyone who buys the book that day.