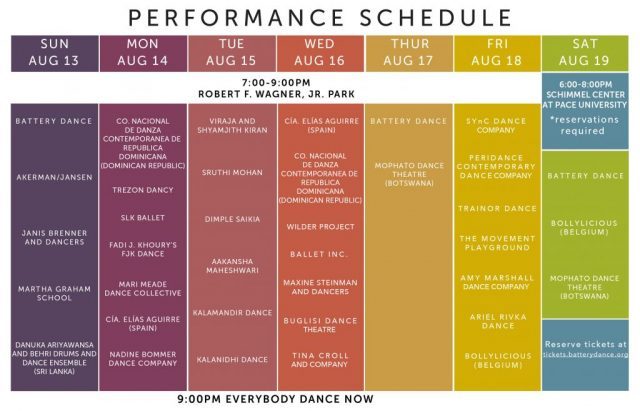 Who: Akerman/Jansen, Battery Dance, Danuka Ariyawansa + Behri Drums and Dance Ensemble, Janis Brenner & Dancers, Martha Graham School, Cía. Elías Aguirre, Compañía Nacional de Danza Contemporánea de República Dominicana, Fadi J. Khoury's FJK Dance, Mari Meade Dance Collective (MMDC), Nadine Bommer Dance Company, SLK Ballet, Trezon Dancy, Aakansha Maheshwari, Dimple Saikia, Kalanidhi Dance, Kalamandir Dance, Sruthi Mohan, Viraja and Shyamjith Kiran, Ballet Inc., Buglisi Dance Theatre, Cía. Elías Aguirre, Maxine Steinman & Dancers, Tina Croll + Company, Wilder Project, Mophato Dance Theatre, Amy Marshall Dance Company, Ariel Rivka Dance, Bollylicious, Peridance Contemporary Dance Company, SYnC Dance Company, the Movement Playground, Trainor Dance
What: Thirty-sixth annual Battery Park Dance Festival
Where: Robert F. Wagner Jr. Park, 20 Battery Pl., Battery Park City
When: August 13-19, free, 7:00 - 9:00
Why: Continuing its mission to connect the world through dance, Battery Dance, which was founded in Lower Manhattan in 1976, is hosting the thirty-sixth annual Battery Dance Festival, held outside August 13-18 in Robert F. Wagner Jr. Park in Battery City. Thirty companies from around the world are participating, with troupes from Sri Lanka, Spain, the Dominican Republic, India, Belgium, Botswana, and the United States. The always popular IAAC Erasing Borders Festival of Indian Dance takes place on August 15, while the closing event, including reception, is set for August 19 at 6:00 in the Michael Schimmel Center, with free tickets and $50 VIP admission available in advance here. That finale will feature Battery Dance's On Foot, Bollylicious's Yatra, and Mophato Dance Theatre's Pula. In addition, there will be daily free morning workshops at 10:30 at Battery Dance Studios on the fifth floor of 380 Broadway, with Battery Dance on August 14, Compañía Nacional de Danza Contemporánea de República Dominicana on August 15, Cía. Elías Aguirre on August 16, Bollylicious on August 17, and Mophato Dance Theatre on August 18; advance RSVP is required here.