NEWS FROM HOME (Chantal Akerman, 1977)
Film Forum
209 West Houston St.
Wednesday, July 19, 8:30, and Tuesday, July 25, 5:40
Series runs through July 27
212-727-8110
filmforum.org

In 1971, twenty-year-old Chantal Akerman moved to New York City from her native Belgium, determined to become a filmmaker. Teaming up with cinematographer Babette Mangolte, she made several experimental films, including Hotel Monterey and La Chambre, before moving back to Belgium in 1973. But in 1976 she returned to New York City to make News from Home, a mesmerizing work about family and dislocation, themes that would be prevalent throughout her career. The film consists of long, mostly static shots, using natural sound and light, depicting a gray, dismal New York City as cars move slowly down narrow, seemingly abandoned streets, people ride the graffiti-laden subway, workers and tourists pack Fifth Ave., and the Staten Island Ferry leaves Lower Manhattan. The only spoken words occur when Akerman, in voice-over, reads letters from her mother, Natalia (Nelly) Akerman, sent during Chantal's previous time in New York, concerned about her daughter's welfare and safety. "I'm glad you don't have that job anymore and that you're liking New York," Akerman reads in one letter. "People here are surprised. They say New York is terrible, inhuman. Perhaps they don't really know it and are too quick to judge." Her mother's missives often chastise her for not writing back more often while also filling her in on the details of her family's life, including her mother, father, and sister, Sylviane, as well as local gossip.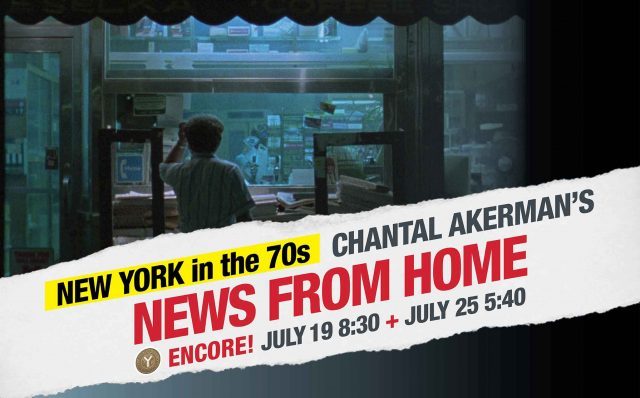 Although it was not meant to be a straightforward documentary, News from Home now stands as a mesmerizing time capsule of downtrodden 1970s New York, sometimes nearly unrecognizable when compared to the city of today. The film also casts another light on the relationship between mother and daughter, which was recently highlighted in Akerman's final film, No Home Movie, in which Chantal attempts to get her mother, a Holocaust survivor, to open up about her experiences in Auschwitz. Nelly died shortly after filming, and Akerman committed suicide the following year, only a few months after No Home Movie played at several film festivals (and was booed at Locarno). News from Home takes on new meaning in light of Akerman's end, a unique love letter to city and family and to how we maintained connections in a pre-internet world. News from Home is screening July 19 at 8:30 and July 25 at 5:40 in Film Forum's terrific "Ford to City: Drop Dead — New York in the 70s" series, which continues through July 27 with such other Gotham favorites as Mean Streets, Gloria, All That Jazz, and Marathon Man and such inspired double features as Shaft and Super Fly, Across 110th Street and Cops and Robbers, Dressed to Kill and Death Wish, Three Days of the Condor and The Eyes of Laura Mars, and The Warriors and Escape from New York.