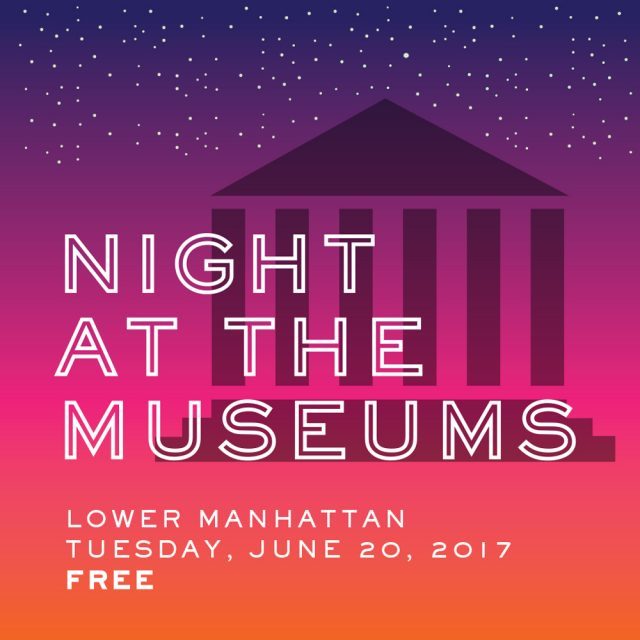 NIGHT AT THE MUSEUMS
Multiple downtown locations
Tuesday, June 210, free, 4:00 – 8:00
lmcc.net
nightatthemuseums.com
Last Tuesday, the Museum Mile Festival offered free admission to seven institutions along Fifth Ave. between 82nd and 105th Sts. This Tuesday, June 20, fifteen downtown organizations will open their doors for free. As part of the River to River Festival, which includes experimental dance, theater, music, and more through June 25, people are invited inside to see exhibitions and special programs as well as join walking tours. The participating organizations (with current exhibitions and special events) are the African Burial Ground National Monument (ranger presentations and screening of Our Time at Last), Federal Hall National Memorial (ranger tours, George Washington, Early American Music by Linda Russell), Fraunces Tavern Museum ("Dunsmore: Illustrating the American Revolutionary War," "Lafayette," live music by Rose Tree), the Museum of American Finance ("For the Love of Money: Blacks on US Currency," hourly tours), the Museum of Jewish Heritage – A Living Memorial to the Holocaust ("My Name Is…The Lost Children of Kloster Indersdorf," "Eyewitness: Photographs by B. A. Van Sise," 6:30 talk on Jewish communities in China), the China Institute ("Dreams of the Kings: A Jade Suit for Eternity, Treasures of the Han Dynasty from Xuzhou," live music), the National Archives at New York City, the National Museum of the American Indian ("Akunnittinni: A Kinngait Family Portrait," "Circle of Dance," live performances by Martha Redbone), the National September 11 Memorial Museum, the NYC Municipal Archives (building tours with MA photographer Matthew Minor and MA commissioner), the 9/11 Tribute Center, Poets House ("Poetry Since 1912: Books, Issues, & Ephemera from the Poetry Foundation," literary scavenger hunt), the Skyscraper Museum ("Ten and Taller, 1874-1900," tour with founding director Carol Willis), and the South Street Seaport Museum ("Street of Ships: The Port and Its People," Waterfront History Walking Tour, Bowne C. Stationers and Printers live demonstration).