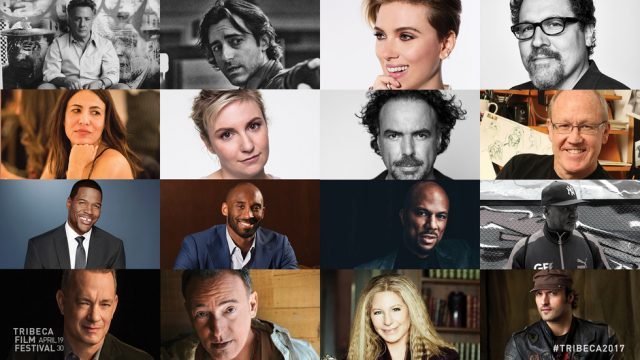 TRIBECA FILM FESTIVAL
Multiple locations
April 20-30, free - $365 (most events $23.88 - $43.45)
tribecafilm.com/festival
Tickets are still available for most of the special screenings, talks, and live performances at the 2017 Tribeca Film Festival, taking place at such locations as the BMCC Tribeca PAC, the SVA Theatre, the Beacon, Regal Cinemas Battery Park, Radio City, the Town Hall, Cinépolis Chelsea, and the Festival Hub at Spring Studios. The guest list is pretty impressive, including Dustin Hoffman, Barbra Streisand, Philip Glass, Common, Scarlett Johansson, Michael Moore, Kathryn Bigelow, Johnny Lydon, Lena Dunham, Kobe Bryant, Aretha Franklin, Errol Morris, Faith Evans, Zac Posen, Lil' Kim, Alejandro González Iñárritu, Julian Schnabel, a Flock of Seagulls, Christopher Plummer, Taj Mahal, Jennifer Hudson, Quentin Tarantino, and Bruce Springsteen with Tom Hanks (which is sold out), among many others. Oh, and how about this gathering, celebrating the forty-fifth anniversary of The Godfather: Francis Ford Coppola, Al Pacino, James Caan, Robert Duvall, Diane Keaton, Talia Shire, and Robert De Niro.
Wednesday, April 19
Gala — Clive Davis: The Soundtrack of Our Lives (Chris Perkel, 2017), followed by live performances by Aretha Franklin, Jennifer Hudson, Earth Wind & Fire, Barry Manilow, Carly Simon, and Dionne Warwick, Radio City Music Hall, $56-$281, 7:00
Thursday, April 20
After the Movie: Bowling for Columbine (Michael Moore, 2002), followed by fifteenth anniversary conversation with Michael Moore and others, SVA Theatre 2 Beatrice, $23.88, 7:00
Retrospective Special Screenings: La Belle et la Bête (Jean Cocteau, 1942), with live musical accompaniment by members of the Philip Glass Ensemble, preceded by a conversation with Philip Glass and Errol Morris, Town Hall, $55-$85, 8:00
Friday, April 21
Tribeca Talks: Directors Series — Jon Favreau with Scarlett Johansson, SVA Theatre 1 Silas, rush, 5:00
Special Screenings: The Public Image Is Rotten (Tabbert Fiiller, 2017), followed by a conversation with director Tabbert Fiiller and John Lydon, Tribeca Festival Hub, sixth floor, $23.88, 8:45
Saturday, April 22
Shorts: Blues Planet: Triptych (Wyland, 2017), with live performance by Taj Mahal and the Wyland Blues Planet Band, Tribeca Festival Hub, sixth floor, $23.88, 2:00
Tribeca Talks: Directors Series — Alejandro González Iñárritu, SVA Theatre 1 Silas, rush, 2:30
Special Screenings: The Third Industrial Revolution (Eddy Moretti, 2017), followed by a conversation with director Eddy Moretti and Jeremy Rifkin, Tribeca Festival Hub, sixth floor, limited, 5:00
Special Screenings: House of Z (Sandy Chronopoulos, 2017), followed by a conversation with director Sandy Chronopoulos and film subject Zac Posen, SVA Theatre 1 Silas, $43.45, 8:00
Tribeca Talks: Virtual Reality — Kathryn Bigelow & Imraan Ismail: The Protectors: A Walk in the Ranger's Shoes, screening and conversation with Kathryn Bigelow and Imraan Ismail, Tribeca Festival Hub, sixth floor, $43.45, 8:15
After the Movie: Awake, a Dream from Standing Rock (2017), followed by a conversation with filmmakers Josh Fox, James Spione, and Myron Dewey and special guests, Cinépolis Chelsea 7, rush, 8:30
Sunday, April 23
Tribeca Talks: Master Class — Dolby: Image and Sound Master Class with Imogen Heap, Dolby Cinema at AMC Empire 2, free, 12 noon
Tribeca Talks: Storytellers — Kobe Bryant and Glen Keane with Michael Strahan, BMCC Tribeca PAC, $43.45, 4:30
Tribeca Talks: Podcasts — Live from the Tribeca Film Festival: Gilbert Gottfried's Amazing Colossal Podcast!, with Gilbert Gottfried and Frank Santopadre, Regal Cinemas Battery Park 11-4, $43.45, 5:30
Tribeca Talks: Storytellers — Common with Nelson George, screening of Letter to the Free, followed by a conversation with Nelson George and a live performance by Common, Tribeca Festival Hub, sixth floor, $43.45, 8:00
Monday, April 24
Tribeca Talks: Directors Series — Noah Baumbach with Dustin Hoffman, BMCC Tribeca PAC, $43.45, 6:00
Tuesday, April 25
Tribeca Talks: Storytellers — Lena Dunham and Jenni Konner, Tribeca Festival Hub, sixth floor, $43.45, 6:00
Tribeca Talks: Directors Series — Paul Feig, BMCC Tribeca PAC, $43.45, 6:00
Special Screenings: Paris Can Wait (Eleanor Coppola, 2016), followed by French food pairings inspired by the film, BMCC Tribeca PAC, $43.45, 8:00
Wednesday, April 26
Special Screenings: The Exception (David Leveaux, 2017), followed by a conversation with director David Leveaux and actor Christopher Plummer, BMCC Tribeca PAC, $23.88, 6:00
Special Screenings: From the Ashes (Michael Bonfiglio, 2017), introduced by Michael Bloomberg and followed by a discussion with director Michael Bonfiglio and special guests, Tribeca Festival Hub, sixth floor, rush, 6:00
Thursday, April 27
Gala — Can't Stop, Won't Stop: The Bad Boy Story (Daniel Kaufman, 2017), followed by a live concert featuring Combs and Mase, Lil' Kim, and Faith Evans, Beacon, $71-$356, 8:00
Special Screenings — Warning: This Drug May Kill You (Perri Peltz, 2017), followed by a conversation with Dr. Nora Volkow, Dr. Andrew Kolodny, film subject Gail Cole, and producer Sascha Weiss, moderated by director Perri Peltz, SVA Theatre 2 Beatrice, $23.88, 8:45
Friday, April 28
Tribeca Talks: Storytellers — Bruce Springsteen with Tom Hanks, Beacon Theatre, 5:00
After the Movie: Reservoir Dogs (Quentin Tarantino, 1992), followed by twenty-fifth anniversary conversation with Quentin Tarantino and members of the cast, Beacon Theatre, $71-$356, 8:00
Special Screenings — Julian Schnabel: A Private Portrait (Pappi Corsicato, 2017), followed by a a conversation with director Pappi Corsicato and Julian Schnabel, SVA Theatre 1 Silas, $43.45, 8:30
Saturday, April 29
Before the Movie: Aladdin (Ron Clements & John Musker, 1992), twenty-fifth anniversary, preceded by a live performance by Aladdin singing voice Brad Kane, BMCC Tribeca PAC, free, 10:00 am
After the Movie: The Godfather (Francis Ford Coppola, 1972) and The Godfather Part II (Francis Ford Coppola, 1974), followed by a forty-fifth anniversary conversation with Francis Ford Coppola, Al Pacino, James Caan, Robert Duvall, Diane Keaton, Talia Shire, and Robert De Niro, moderated by Taylor Hackford, Radio City Music Hall, $46-$131, 1:00
Tribeca Talks: Master Class — Production and Costume Design, with Kristi Zea, SVA Theatre 2 Beatrice, free, 3:00
Tribeca Talks: Storytellers — Barbra Streisand with Robert Rodriguez, BMCC Tribeca PAC, $43.45, 6:00
Tribeca N.O.W. Special Screenings — Out of This World: Female Filmmakers in Genre, screening and conversation with filmmakers Nicole Delaney, Vera Miao, and Arkasha Stevenson, Cinépolis Chelsea 7, $23.88, 6:00
After the Movie — Chris Gethard: Career Suicide (Kimberly Senior, 2017), followed by a conversation with Chris Gethard and fellow comedians Pete Holmes, Abbi Jacobson, and others, SVA Theatre 1 Silas, $23.88, 8:15
Sunday, April 30
Tribeca Talks: Master Class — Cinematography, with Ellen Kuras, SVA Theatre 2 Beatrice, free, 4:00 PM
Special Screenings: Dare to Be Different (Ellen Goldfarb, 2017), followed by live tribute to WLIR with a Flock of Seagulls, Dave Wakeling of the English Beat, and the Alarm, Tribeca Festival Hub, sixth floor, rush, 6:00
Tribeca N.O.W. Special Screenings: The New York Times' Op-Docs (2017), followed by a conversation with filmmakers Andrea Meller, Megan Mylan, Marisa Pearl, and Gina Pollack, SVA Theatre 2 Beatrice, $23.88, 6:15
 
Tribeca Talks: Podcasts — Live from the Tribeca Film Festival: Slate's Trumpcast, with Jamelle Bouie and Virginia Heffernan, hosted by Jacob Weisberg, SVA Theatre 1 Silas, $43.45, 8:15