The Shiva Theater at the Public Theater
425 Lafayette St.
Tuesday - Sunday through October 9, $20
212-539-8500
publictheater.org
After making stops at such locations as Rikers Island, the Brownsville Recreation Center, the Bedford Hills Correctional Facility, the Williamsbridge Oval Recreation Center, and the Lenox Hill Neighborhood House's Women's Mental Health Shelter at the Park Avenue Armory, the Public Theater's Mobile Unit has come home to the Shiva Theater, where it will be presenting its stirring adaptation of Hamlet through October 9. The 105-minute streamlined version of the classic Bard tragedy is performed just as it was during its five-borough road trip, on a small center stage with very few props. The audience is seated on all four sides of the action, and costume changes are made in full view just behind the seats; the only concession to the more traditional theater setup at the Shiva is that the three rows of seating are on risers. Olivier Award winner and Royal Shakespeare Company associate artist Chukwudi Iwuji is both inspired and inspiring as Hamlet, the depressed son of the recently murdered king who is told by his father's ghost (Timothy D. Stickney) that he was killed by his brother, Claudius (Stickney), who has since married Hamlet's mother, Gertrude (Orlagh Cassidy), and assumed the throne. As Hamlet considers what a rogue and peasant slave he is, contemplates the slings and arrows of outrageous fortune, opines on what a piece of work is man, and decides that the play's the thing that will catch the conscience of the king, Claudius sends Hamlet's school friends Rosencrantz (Natalie Woolams-Torres) and Guildenstern (Christian DeMarais) to spy on him. Meanwhile, Hamlet also reevaluates his relationship with Ophelia (Kristolyn Lloyd), the sister of the brave Laertes (DeMarais) and daughter of the king's right-hand man, Polonius (Daniel Pearce).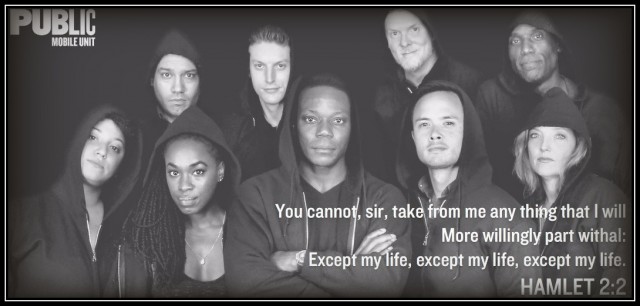 Director Patricia McGregor (Hurt Village, The Mountaintop) takes fun liberties with the staging, infusing it with modern-day humor that works not only for an audience of underserved youth and adults who might never have seen a live Shakespeare play before but also for a more experienced crowd of regular theatergoers at the Public. DeMarais is a hoot as a white hip-hopper, Pearce is extremely funny as the stalwart Polonius (and the gravedigger), and Christopher Ryan Grant (the player king) provides an appropriately foreboding percussive soundtrack. Not everything works; the character of Ophelia nearly gets lost in all the drama, save for Lloyd's overemotional singing of music by Imani Uzuri. Stickney is a bold, confident Claudius, Cassidy is a poignant queen, but this Hamlet, as the work requires, belongs to the lead, and Iwuji, who has never played the role before, jumps in feet first, giving his all, often making direct eye contact with the audience to bring them further into the story. He does a lot of shouting, but he balances that with beautifully rendered soliloquies that (almost) feel like they could have been written today. That feeling is enhanced by some of Montana Levi Blanco's contemporary costume choices, including a hoodie worn by Hamlet. Other fresh touches include, yes, a cell phone. Katherine Akiko Day's set is just about as basic as they come, a small square area about the size of a boxing ring, where characters bring chairs and roll multipurpose boxes on- and offstage, creating an intimate atmosphere. The Mobile Unit production of Hamlet is a must-see for both newbies as well as Bard enthusiasts, a playful adaptation highlighted by a superior performance by Iwuji.