Manhattan Theatre Club
New York City Center Stage 1
Tuesday - Sunday through December 6, $90
212-581-1212
ripcordplay.com
www.nycitycenter.org
Pulitzer Prize winner David Lindsay-Abaire's sixth collaboration with Manhattan Theatre Club is a hilarious battle of wits between two unlikely combatants: a pair of elderly ladies in a suburban New Jersey nursing home. Abby Binder (Holland Taylor) is a nasty, mean-spirited, and spiteful woman filled with vitriol she pours on everyone and everything, just wanting to be left alone. Marilyn Dunne (Marylouise Burke) is a kind, sweet-natured soul who loves life and wants only happiness for all. Marilyn explains that she has reached a point in her life where she no longer gets angry. "There's really no point. It always leads to an ugly place. And I don't care for ugly places," she states. Meanwhile, Abby claims she doesn't get scared: "Haven't been in years. That's what happens when you live long enough. Things disappear. Just like my taste buds. Just like your anger. Everything goes eventually." Abby has chased off her previous roommates at the Bristol Place Assisted Living Facility and wants Marilyn gone as well, but Marilyn is determined to stay no matter what. So the two make a bet: If Abby can make Marilyn angry first, she gets the room to herself, but if Marilyn frightens Abby first, she gets the bed by the window, with a view of the park. So the gloves come off and the two go at it fiercely, with nothing off limits as they each try to win at any cost.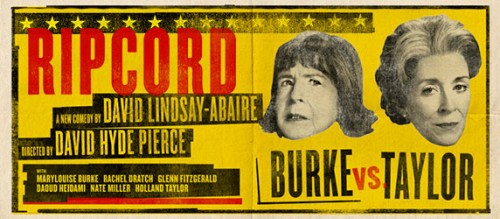 Lindsay-Abaire, whose previous works include Rabbit Hole, Fuddy Meers, and Good People, has written a tight, smartly crafted story that calls to mind both The Gin Game and The Odd Couple (with a wee bit of Jackass) while feeling wholly fresh. It's tons of fun, and it doesn't let up for the full two hours (with intermission). Alexander Dodge's (A Gentleman's Guide to Love and Murder, Present Laughter) sets change from the shared bedroom to a haunted house and an airplane, the latter two working surprisingly well. Tony nominee Taylor (Ann, Bosom Buddies) and Obie winner Burke, in her sixth Lindsay-Abaire play, are utterly delightful as the two very different senior citizens resorting to ever-dirtier tricks, ranging from very funny to very serious, determined to be the victor. Nate Miller (Of Good Stock, Love and Information) is charming as Scotty, the gentle, courteous nursing-home attendant. SNL veteran Rachel Dratch (Tail! Spin!, Love's Labour's Lost) does double duty as an actress portraying a creepy mother in a haunted house as well as Marilynn's daughter, Colleen, who gets involved in the bet despite the misgivings of her husband, Derek (Daoud Heidami). Heidami (American Hero, Aftermath) and Glenn Fitzgerald (Ivanov, Lobby Hero) play several small roles, including Heidami as a zombie butler and Fitzgerald as a killer clown in the house of horrors. Director David Hyde Pierce (It Shoulda Been You, Vanya and Sonia and Masha and Spike) keeps it all from getting too sitcom-y, something he knows a thing or two about; Ripcord had every right to turn into an expanded episode of The Golden Girls, but instead it's one of the best comedies of the season, a deliciously clever, and ultimately poignant, look at family, old age, and the human need for companionship.