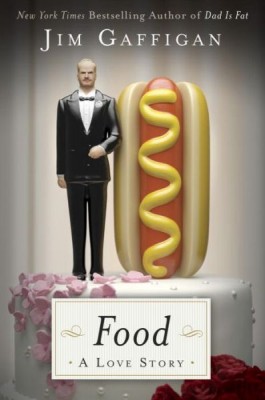 Barnes & Noble Union Square
33 East 17th St. between Broadway & Park Ave. S.
Monday, October 20, free, 7:00
212-253-0810
www.barnesandnoble.com
www.crownpublishing.com
"What are my qualifications to write this book? None, really," comedian Jim Gaffigan writes at the beginning of Food: A Love Story (Crown Archetype, October 21, $26), the follow-up to his 2013 bestseller, Dad Is Fat. "So why should you read it? Here's why: I'm a little fat. Okay, to some I might not be considered that fat, but the point is, I'm not thin. If a thin guy were to write about a love of food and eating, I'd highly recommend that you do not read his book. . . . First of all, how do you know they really feel passionately about food? Well, obviously, they are not passionate enough to overdo it. That's not very passionate. Anyway, I'm overweight." The stand-up comic and married father of five, who has appeared in such films as The Love Guru and on Broadway in That Championship Season and has publicly shared his desire for Hot Pockets and bacon, among other edibles, will be at the Union Square Barnes & Noble on October 20 at 7:00 to read from and discuss his new book, which features such chapters as "Not Slim Jim," "The Buffet Rule," "Cup of Gravy," "Salad Days," "Kobe Beef: The Decadent Meat," "French Fries: My Fair Potato," and "Hot Pockets: A Blessing and a Curse." Seating will begin at 5:00 on the fourth floor, with priority given to those who have purchased a copy of the book; the event will conclude with a signing.