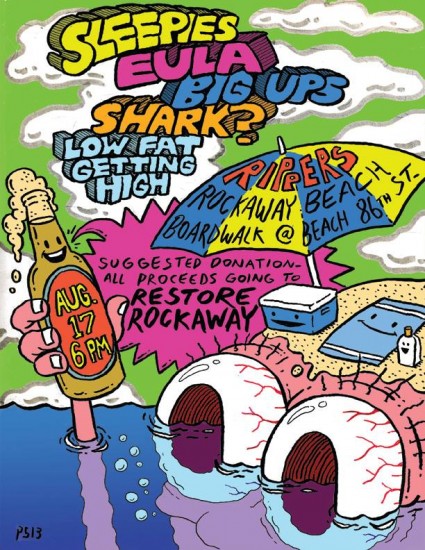 Rippers
Rockaway Beach
Beach 86th St @ the Boardwalk
Saturday, August 17, free with donation, 6:00
www.facebook.com/events
www.restorerockaway.org
In the wake of the devastation of Hurricane Sandy, Rockaway Beach has become the place to be to catch unique events that show that things are slowly but surely coming together. Last week, Creative Time hosted the second annual Artist Sandcastle Competition, and earlier this summer MoMA PS1 installed VW Dome 2 at Beach 94th St. and Shore Front Parkway as part of its "Expo 1: New York" exhibition. But there is still a lot of work to be done, of course, and much of that is being organized by the nonprofit Restore Rockaway, which is dedicated to helping small businesses get back on their feet and "making sure Rockaway doesn't lose the positive momentum and economic improvements it has seen over the last few years, [which] will be crucial to its long-term prosperity." On Saturday, August 17, five local bands will be playing — perhaps in their bathing suits — a benefit at Rippers, on the boardwalk at Beach 86th St., promising "gnarly tubeage" with punk trio Sleepies, wild art rockers Eula, nerdcore postpunk foursome Big Ups, garage rock quartet Shark? and grunge shredders Low Fat Getting High. Things get under way at 6:00, and it's pay-what-you-wish, with all proceeds going to Restore Rockaway, so reach deep and get ready for one crazy party.