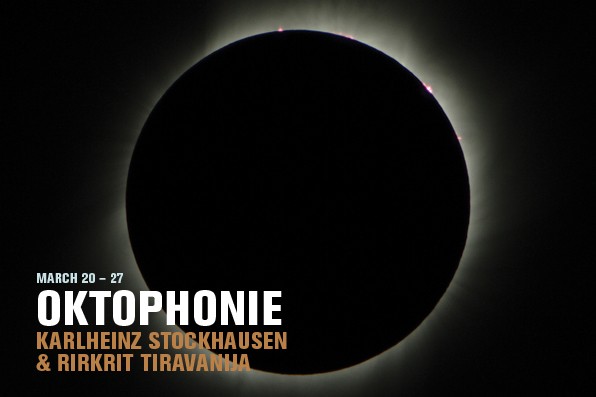 KARLHEINZ STOCKHAUSEN & RIRKRIT TIRAVANIJA
Park Avenue Armory, Wade Thompson Drill Hall
643 Park Ave. at 67th St.
March 20-27, $40
212-933-5812
www.armoryonpark.org
Since opening its doors as an arts venue in September 2007, the Park Avenue Armory has staged some of the city's best, and most unusual, productions, including memorable performances and installations by Ernesto Neto, the Trisha Brown Dance Company, Ann Hamilton, Ryoji Ikeda, Shen Wei Dance Arts, Tom Sachs, STREB, Peter Greenaway, and Christian Boltanski, often involving immersive, interactive environments. Its latest presentation is yet another unique, involving piece, Oktophonie, a reimagined audiovisual version of the eponymous composition by German electronic maestro Karlheinz Stockhausen (1928–2007), a sixty-nine-minute layer from Act II of Dienstag aus Licht, the Tuesday portion of Stockhausen's twenty-nine-hour opera cycle Licht: The Seven Days of the Week. The section follows the conflict between the archangel Michael and Lucifer, with yelling and bravery, tasting and devotion; the central color is red and the planetary object is Mars. The music will be led by Dutch musician Kathinka Pasveer, who contributed voice and flute to a 1992 recording of the work and has collaborated directly with the composer. The outer-space set is designed by internationally renowned artist and Hugo Boss Prize winner Rirkrit Tiravanija, whose work often involves interaction between creator and audience, perhaps most famously with him serving food to visitors. At the armory, ticket holders are encouraged to wear white and will be sitting on cushions against a lunar surface, surrounded by a cube of speakers. "The simultaneous movements — in eight layers — of the electronic music of 'Invasion — Explosion' with 'Farewell' demonstrate how — through 'Oktophonie' — a new dimension of musical space composition has opened," Stockhausen once explained. Yes, there should be quite an intersection of music and space at the armory, where Oktophonie runs March 20–27, with tickets going fast. There will be an Artist Talk on March 23 at 6:00 in the Veterans Room ($15), with Pasveer and musician Suzanne Stephens, moderated by new armory artistic director Alex Poots.