ATHENA FILM FESTIVAL
Barnard College
117th St. & Broadway
February 7-10, $12 per screening, $65 all access pass ($20 for students)
www.athenafilmfestival.com
The third annual Athena Film Festival returns to Barnard College this week, consisting of four days that celebrate women and leadership with film screenings, workshops, panel discussions, and other special events. Created by Kathryn "Kitty" Kolbert, director of the Athena Center for Studies at Barnard, and Melissa Silverstein, founder of Women and Hollywood, the festival runs February 7-10, presenting such shorts, features, and documentaries, primarily by and about women, as Sara Lamm and Mary Wigmore's Birth Story: Ina May Gaskin and the Farm Midwives, which examines birthing methods from the 1970s to the present; Cecilia Peck's Brave Miss World, about a former Miss World fighting for victims of physical and sexual abuse; Margarethe von Trotta's Hannah Arendt, a biopic about the highly influential political philosopher and writer; and Bonnie McFarlane's Women Aren't Funny, in which stand-up comedian McFarlane and her comedian husband, Rich Vos, explore the world of women in comedy. Most of the screenings will be followed by Q&As with the filmmakers, subjects, and experts in the field, including Fishman, Peck, McFarlane, Fran Drescher, and many others. Among the free, ticketed talks are "A Hollywood Conversation with Gale Anne Hurd," honoring this year's winner of the Laura Ziskin Lifetime Achievement Award, and "In Her Voice: Women Directors Talk Directing," with directors Gini Reticker, Agnieszka Vosloo, Aviva Kempner, Courtney Hunt, Jodie Markell, and Emily Abt. This year's Athena Award winners are director and distributor Ava DuVernay, film critic Molly Haskell, Film Society of Lincoln Center executive director Rose Kuo, and Paley Center for Media president and CEO Pat Mitchell. Kolbert and Silverstein recently discussed the festival and its growing impact via e-mail.
twi-ny: The third annual Athena Film Festival begins on February 7. What did you learn from the first two years, and how has that affected this year's event?
KK & MS: We learned that there was a real hunger for a conversation about women's leadership and that film is a wonderful media to jump-start that conversation. We learned how important it is for women and girls to have role models and also for men to see women leading in a wide variety of circumstances. We also learned that talking about women's leadership should not be like taking medicine, so we look for movies that get the point across with humor and with inspiration.
twi-ny: What has been the general reaction of the film industry to the festival? Do you see the overall attitude toward women, in all aspects of the business, changing, or is it still an old (white) boys network?
KK & MS: There are women working at all levels of the business, but most of the top leaders and decision makers continue to be men. Amy Pascal [of Sony] is still the only female studio chief. It's changing but very slowly.
twi-ny: Melissa, a few weeks ago you wrote on "Women and Hollywood" about the sexist treatment of Kathryn Bigelow in the media over various Zero Dark Thirty controversies, explaining that it "smells like shit." It's one thing to help develop more woman writers, editors, directors, actors, producers, techs, etc., but what can be done about the media's role in all of this?
MS: One of the things we need to do is to keep talking about these issues. Kathryn Bigelow is a unique situation, and her experience lends to a much-needed conversation about the status of women directors in Hollywood. When there is only one woman and she gets treated the way she does people notice.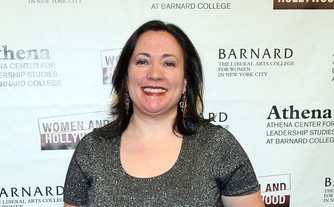 twi-ny: This year's Laura Ziskin Lifetime Achievement Award is going to Gale Anne Hurd. Are women like Ms. Hurd and the late Ms. Ziskin anomalies in the film world, or do you see a new generation of such talented women on the horizon?
KK & MS: Producing is one of the places where you see amazing women making movies at all levels of the business. Gale Anne is one of the best, and she has had an amazingly prolific career making films that break stereotypes. She's at the top of her class and other producers both male and female should learn from her, especially how she has been able to transition between TV and film because that is vital nowadays.
twi-ny: Kitty, along those lines, do you envision a time when leadership programs for women, such as the Athena Center, will be unnecessary?
KK: We have a very long way to go. In the U.S., women are leaders in only 18-22% of most industries. Among Fortune 500 companies and in Hollywood it is much less. And of course it varies considerably across the globe. I certainly believe that there will be plenty of work ahead for the next several generations.
twi-ny: What are some of the films at this year's festival that you're most looking forward to?
KK & MS: We have a particularly strong lineup this year. We are so unique because we have films that have wide distribution, such as Beasts of the Southern Wild and Brave, to films that many people would not be able to see. We hope your readers will come spend the weekend with us.