EXIT THROUGH THE GIFT SHOP (Banksy, 2010)
JCC in Manhattan
334 Amsterdam Ave. at 76th St.
Tuesday, February 21, $11, 7:30
646-505-5708
www.jccmanhattan.org/film?page=cat-content&progid=25238
www.banksyfilm.com

In 1999, L.A.-based French shopkeeper and amateur videographer Thierry Guetta discovered that he was related to street artist Invader and began filming his cousin putting up his tile works. Guetta, who did not know much about art, soon found himself immersed in the underground graffiti scene. On adventures with such famed street artists as Shepard Fairey, Swoon, Ron English, and Borf, Guetta took thousands of hours of much-sought-after video. The amateur videographer was determined to meet Banksy, the anarchic satirist who has been confounding authorities around the world with his striking, politically sensitive works perpetrated right under their noses, from England to New Orleans to the West Bank. Guetta finally gets his wish and begins filming the seemingly unfilmable as Banksy, whose identity has been a source of controversy for more than a decade, allows Guetta to follow him on the streets and invites him into his studio. But as he states at the beginning of his brilliant documentary, Exit Through the Gift Shop, Banksy—who hides his face from the camera in new interviews and blurs it in older footage—turns the tables on Guetta, making him the subject of this wildly entertaining film.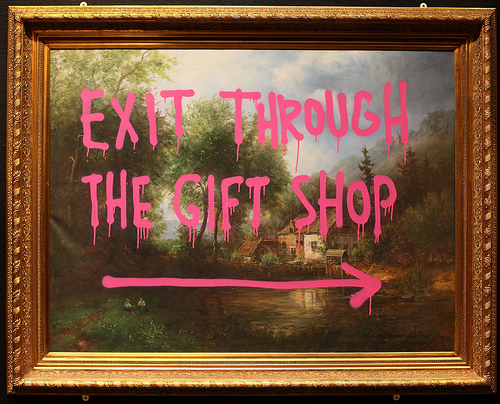 Guetta is a hysterical character, a hairy man with a thick accent who plays the jester in Banksy's insightful comedy of errors. Billed as "the world's first Street Art disaster movie," Exit, which is narrated by Welsh actor Rhys Ifans (Danny Deckchair) and features a soundtrack by Portishead's Geoff Barrow sandwiched in between Richard Hawley's declaratory "Tonight the Streets Are Ours," is all the more exciting and intriguing because the audience doesn't know what is actually true and what might be staged; although the film could be one hundred percent real and utterly authentic, significant parts of it could also be completely made up. Who's to say that's even Banksy underneath the black hood, talking about Guetta, who absurdly rechristens himself Mr. Brainwash? It could very well be Banksy's F for Fake from start to finish. No matter. Exit Through the Gift Shop is riotously funny, regardless of how you feel about street art, Banksy, and especially the art market itself (as the title so wryly implies). Exit Through the Gift Shop is screening on February 21 at 7:30 at the JCC in Manhattan in conjunction with the exhibit: "Community Portrait: A Gabriel Specter Installation."