Word Brooklyn
126 Franklin St. at Milton St.
Saturday, October 23, free, 7:30
718-383-0096
www.danbertnobacon.com
www.wordbrooklyn.com
www.exterminatingangel.com
Anarchist, writer, musician, comedian, and activist Danbert Nobacon might not be dumping ice buckets on British deputy prime ministers these days (as he famously did to John Prescott in 1998), but that doesn't mean the former Chumbawumba lead singer and keyboardist still isn't fighting the power. Born Nigel Hunter in Leeds in 1959, Nobacon, now a father of ten-year-old twins and living in the quiet, rustic environs of Washington State, will be at the Brooklyn indie bookstore WORD on Saturday night, reading from his brand-new book, 3 DEAD PRINCES (Exterminating Angel, October 2010, $13), and performing songs from his latest record, WOEBEGONE (Verbal Burlesque, October 2010). Billed as "An Anarchist Fairy Tale," 3 DEAD PRINCES follows the trials and tribulations of thirteen-year-old princess Alexandra Stormybald Wilson, who finds herself at the center of a potentially epic battle between the Oosarians and the Morainians after accidentally killing Mercurio, the future king of Morainia who, unfortunately for him, got way too fresh with the teenager known as Stormy. Ordered to protect her, the Fool takes Stormy on a magical adventure where she meets the Gricklegrack, the Witch in the Ditch, Giggle Monkeys, and various other smakobbed probbers, nymphemoms, quizzleprinks, blasfenemies, wangodmatists, and gatoriles with differing views on transkinkery, regaliocol, and other pompiffery. Accompanied by black-and-white illustrations by film director Alex Cox (SID & NANCY, REPO MAN), 3 DEAD PRINCES also manages to comment on religion, politics, evolution, and the environment in clever and playful ways and concludes with a fascinating Author's Response that delves into the anarchist theories of Peter Kropotkin and scientist E. O Wilson and David Sloan Wilson, making it a fun read for adults and children alike.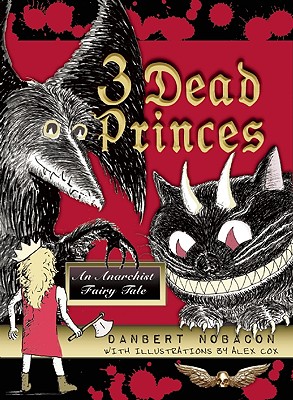 Nobacon creates a much darker fantasy world in WOEBEGONE, a song cycle for a futuristic noir novel he hasn't written yet. Traveling from 1620 Jamestown to 1993 Chicago to 2025 Leeds, Nobacon, joined by the Seattle Gothic folk band the Bad Things, tells the tale of poor Johnny Woebegone, who is "mixed up in the head" in a "natural world recoiling in horror," as Nobacon describes in a short story that comes in the twenty-four-page lyrics booklet. Constantly besieged by the devil and his minions, Johnny shares his sad tale of woe in such songs as "Frank Woebegone's Lament," "Lilithiana Red," and "Lost Lost Weekend," with Jimmy "Pickpocket" Berg, Gregory "Captain Panto" Miles, Beau Stanislov "the Gypsy" Herbert, Austin "Mad Wilcox" Quist, "Lord" Steve Kamke, and Funi "La Fantastica" McLaughlin joining him on mandolin, organ, banjo, dobro, saw, accordion, sousaphone, and other instruments, resulting in a compelling atmosphere that mixes Kurt Weill with Tom Waits, all built around Nobacon's gruff, throaty voice. But don't let all the darkness and devilry scare you off; Nobacon is an excellent live performer with a wry sense of humor, if you couldn't tell, so this rare appearance in Brooklyn should make for quite a night.