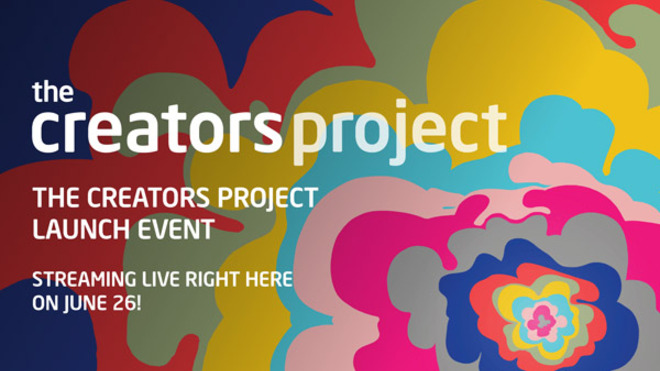 Milk Studios
450 West 15th St. between Ninth & Tenth Aves.
Admission: free with advance RSVP confirmation only
www.thecreatorsproject.com
A joint venture between Vice and Intel, the Creators Project seeks to redefine the future of creativity and culture for the twenty-first century through art, film, music, and digital technology. The ambitious global initiative launches today at Milk Studios in the Meatpacking District before heading to London July 17, São Paulo August 14, Seoul August 28, and Beijing September 17-19. Open only to those with confirmed RSVPs, which "sold out" almost immediately, today's hotly anticipated event features twelve hours of art installations, film screenings, panel discussions, DJ sets, and live performances spread across several floors, with works by such artists as Takeshi Murata, Danny Perez & Animal Collective, Spike Jonze, Nick Zinner & Martyn Ware, Graffiti Research Lab, the xx, Radical Friend, and many more, and live music from the Rapture, Gang Gang Dance, Sleigh Bells, Interpol, Neon Indian, MIA, and others. If you weren't lucky enough to receive an e-mail confirmation, you can watch the event streaming live at the above website, and of course twi-ny will be there to bring you all the action as well.
Follow-up: The much-touted launch of the Creators Project in the Meatpacking District on June 26 was a huge success. For some twelve hours, more than thirty-five hundred people got the opportunity to experience four floors of art, music, and film at Milk Studios, organized by Vice and Intel. Experience is the right word, as virtually every installation relied on human interaction of some kind, whether it be looking into a mirror that archives and melds together its previous gazers (United Visual Artists' "Hereafter"), participating in a Rock Band-type trio where videos play instead of music (LEGS' "Shred Master Pro"), entering a chamber pod where one's face merges with others in the creation of a new type of holographic being (Radical Friend's "The Digital Flesh"), setting off monolithic LED monitors that evoke space-age sound and vision (United Visual Artists' "Triptych"), using hand motion to make a 3D computer image ([z]ink's "DSP"), entering an Animal Collective album (Danny Perez's "ODDSAC"), or walking into a light sculpture that changes color and sound based on presence and movement (Muti Randolph's "Deep Screen").
Spike Jonze's piece included three sections: the screening of his charming short film about robot love, I'M HERE, followed by a live performance by ASKA, playing songs from the soundtrack, and then inviting the audience to share their reaction to the movie in a specially designed video booth that gives each person a watermarked printout of themselves. And we were absolutely mesmerized by Mira Calix's "My Secret Heart," a collaboration between composer Calix, Streetwise Opera, video artist Flat-e, and sound designer Dave Sheppard, projecting haunting images, which include the outlines of people, floating around a 360-degree screen, set to a rare performance of Gregorio Allegri's mysterious "Miserere Mei." Oh yeah, there were also some pretty hot bands taking over various stages as the afternoon flowed into night. It's really a shame that this marvelous project was here for only one day; it deserved to be seen — and experienced — by many more here in New York before it continues on its journey.