THE WILD, WILD EAST: AN AMERICAN ART CRITIC'S ADVENTURES IN CHINA (Timezone 8, May 2010, $24.95)
Tuesday, June 1, the Pace Gallery, 545 West 22nd St. between Tenth & Eleventh Aves., free, 6:00
Thursday, June 10, China Institute, 125 East 65th St., $15, 6:30
www.barbarapollack.com
Barbara Pollack is not your average art critic. The brash, funny, opinionated New Yorker has a law degree from Northeastern University, has been a professor at SVA for more than ten years, has worked in public relations, is a contributing editor for ARTnews, has written for such publications as Vanity Fair, the New York Times, and the Washington Post, and knows how to throw a New Year's Eve party. In addition, she is a visual artist with photography and video work in the collections of such institutions as the Brooklyn Museum, the Guggenheim, the Museum of Fine Arts in Houston, and the New York Public Library.
Pollack is also one of the world's leading authorities on Chinese art, covering the burgeoning scene since 1997. She's traveled to the mainland numerous times over the years, meeting with artists, collectors, dealers, and others involved in the exploding Asian art market as research for her just-published book, THE WILD, WILD EAST: AN AMERICAN ART CRITIC'S ADVENTURES IN CHINA. We recently accompanied Pollack on a walk through Chelsea, where gallery owners rushed out of their offices to hug her and share stories about art and life. She'll be back in Chelsea on June 1 for the official New York City launch of her book, taking place at the Pace Gallery at 6:00. The event is free and open to the public. And on June 10 she'll be giving a lecture at the China Institute. In between various other speaking engagements, Pollack took the time to answer a few of our questions via e-mail for our latest twi-ny talk.
twi-ny: You've traveled to China many times in researching this book and over the course of your career. How does the Chinese art world respond to you specifically, both in person and to the book itself, now that it's published?
Barbara Pollack: In New York, I am just another person trying to make a living by writing about art. But in China, I get treated like a star critic with a certain degree of power. This is because for a long time there were very few people really writing about the art. That is changing now. Generally, my book was met with excitement but a certain degree of surprise. The Chinese artists — always size queens — expected a bigger book. They are used to publishing these mammoth catalogues, too large to lift, and are not accustomed to this Calvin Tomkins style of reportage. Others, particularly some of the westerners portrayed in the book, thought I did not make them out to be important enough.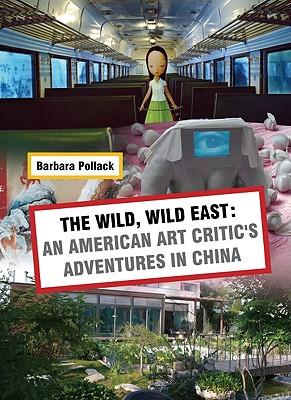 twi-ny: In the last twenty years, the Sixth Generation of Chinese filmmakers — Jia Zhangke, Wang Xiaoshuai, Zhang Yuan, and others — have gained international renown for their work, including making films that are at times critical of mainland China. Is there a similar type of group when it comes to the art world in China? Are they heavily censored, or do they have an evolving freedom of expression as compared with past decades?
BP: As opposed to Chinese filmmakers, Chinese artists are able to produce without the interference of the Ministry of Culture. Not all of their work gets shown in China, though most of it does, but they also are now international art stars producing for galleries and museums all around the world, so restrictions rarely impede their output. The youngest generation, those born after the Open Door Policy and new market economy were in effect, are not taking advantage of their freedom to make political work. Mostly, they reflect a global outlook, heavily influenced by Japanese animation and American pop culture, in what is often called the Me Generation or Spoiled Brat art.
twi-ny: Is the art market's current obsession with Asian art a fad, or do you think the work warrants it and is here to stay?
BP: Many Chinese artists, such as MacArthur award winner Xu Bing, Guggenheim star Cai Guo-Qiang, and outspoken renegade Ai Weiwei, have proven that they are worthy of international attention, even if there are Chinese artists who have been overhyped. Until the late 1990s, the art world was extremely narrow-minded and unwilling to think that a major talent could come from somewhere other than Europe or North America. That has changed forever, good riddance. So Asian art is not just a fad but the result of a growing awareness of art production throughout the world. Another reason Asian art, especially Chinese art, is not going to go away is that influx of Asian collectors into the international art market. They wield a lot of power and are willing to back artists from their home countries. In the end, they will boost careers of many artists even if we in the West disagree with their taste.
twi-ny: What is America's greatest misconception about China, especially following the 2008 Beijing Olympics.
BP: I can't even begin to answer this question. Sometimes, I don't recognize the China I know from news coverage of the country. Of course, the China that I have come to know is the one packed with new millionaires — both collectors and artists — who have definitely benefited from China's booming economy. I would have an entirely different understanding if I spent time away from Beijing and Shanghai, looking at the China that exists beyond its art world.
Barbara Pollack will be signing books on June 1 at the Pace Gallery in Chelsea, followed by a lecture at the China Institute on June 10.