Highline Ballroom
431 West 16th St. between Ninth & Tenth Aves.
Wednesday, March 24, $20, 7:00
212-414-5994
www.highlineballroom.com
www.myspace.com/gorevette
"I wanna be like Nikki Corvette," the Donnas declared on their 1998 song "Gimmie My Radio." A dozen years later, the Donnas find themselves on the same inspired bill as the Detroit rock-and-roller, who has teamed up with Amy Gore of the Gore Gore Girls to form Gorevette. Along with GGG bassist Lianna Castillo and Powertrane drummer Al King, Gorevette melds 1970s punk with 1990s garage rock on their debut EP, LUSTFULLY YOURS (Strange Girl, January 2010), consisting of seven songs that would make the Runaways jealous. The tunes fly by on a smooth sonic wave, from the Ramones-like "Baby Let's Rock," the shortest song on the album at 1:59, to the cool title track, the longest number at a mere 2:39. Radio Birdman's Deniz Tek adds a stirring guitar solo to album opener "Nothings Gonna Stop Me," a 1960s girl-group sound drives "Honey Don't You Know?," pretty background vocals lift "Fake It," and harder-edged guitars power "Brand New Lover" and "Candy Man." Gorevette will pull into the Highline Ballroom on March 24, playing with the Donnas and New York City indie band Russian Vogue.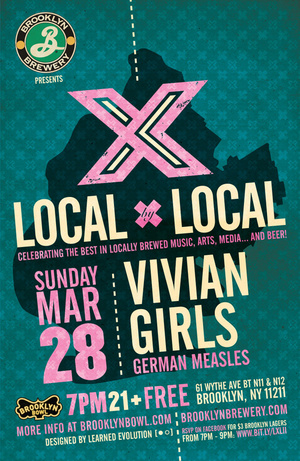 Also this week, the Black Lips and Box Elders are at the Bowery Ballroom on March 24, Jello Biafra and the Guantanamo School of Medicine, Witch Hunt, and Disaster Strikes are at the Brooklyn Masonic Temple on March 25, the Ruby Suns and Toro y Moi are at Brooklyn Bowl on March 26, Love Is All is at Maxwell's on March 27 with Crystal Stilts and Beachniks and at the Knitting Factory on March 28 with Beach Fossils and the Beets, and Vivian Girls and German Measles are at Brooklyn Bowl on March 28.