Twi-ny, This Week in New York
KAWS's colorful heads and more are on view at Gering & López (730 Fifth Ave.) through December 23
THE CATHEDRAL CHURCH OF ST. JOHN THE DIVINE
1047 Amsterdam Ave. at 110th St.
Suggested donation: $3
Public tours: Tuesdays through Saturday sat 11:00 am and 1:00 pm, Sundays at 2:00, $5
Vertical tours: Saturdays at 12 noon and 2:00, $15 (flashlight required)
212-316-7540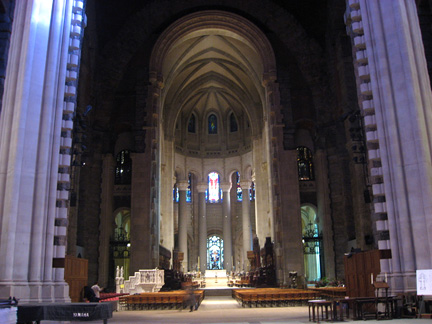 twi-ny/mdr
Cathedral is celebrating rededication after restoration

On December 27, 1892, Bishop Henry Codman Potter laid the cornerstone for what was going to be a huge Romanesque/Byzantine cathedral designed by the team of Heins & Lafarge. In 1911, however, Ralph Adams Cram took over, following the 1907 death of Heins, and Cram chose a more Gothic-style design. By the Great Choir you can see where the Romanesque turns into the Gothic. But we're getting ahead of ourselves.
First marvel at the gorgeous front facade, with intricate carved figures and Barbedienne of Paris's Great Bronze doors that depict stories from the Old and New Testaments, from Creation to the Apocalypse. Upon entering the church, to your left will be the visitors' center and the box office. Continue straight ahead through the fifteenth-century choir stalls. Behind you is the Great Rose window, which contains more than ten thousand pieces of glass. Turn back around and to your right are bays dedicated to All Souls, Missionary (with a harrowing Holocaust sculpture), Labor, Communication (with stained-glass windows that include Jack Benny and Mary Livingston), Medical (the National AIDS Memorial), Earth (Peter Gourfan's remarkable series of bas-reliefs depicting the "Fate of the Earth"), and Military. On your left are bays honoring Sports (try to find all twenty-eight sports in the stained-glass windows above the Native American buffalo sculpture), Arts (the Poets' Corner, with tributes to Twain, Poe, Hemingway, and others), Crusaders (the Millennium Sphere), Education, Law, Anglican History (with a two-hundred-million-year-old quartz crystal from Arkansas), and American History.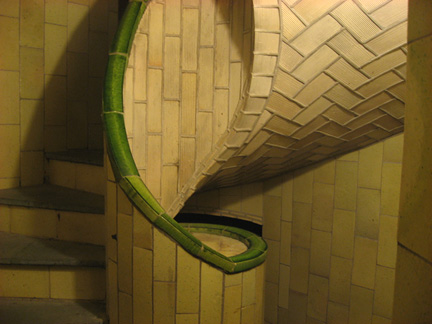 twi-ny/mdr
Colorful twisting stairway leads up to Aeolian pipe organ

As you walk through the crossing, look up at Rafael Guastavino's magnificent arched ceiling, in which the Statue of Liberty (which was designed by Barbedienne of Paris) could stand. Coming up on your left is the hand-carved white marble pulpit. Looming in front of you is the Great Choir, featuring wood-carved literary and music figures at the top of each aisle. To the left of the altar is one of the Chapels of the Seven Tongues, St. Ansgar's Chapel, which contains a Columbarian designed by Henry Vaughan. Leading to the altar is a Persian rug; near the altar is a pair of Creation menorahs donated by Adolph Ochs and a pair of Japanese vases from Emperor Hirohito. Around the back is a series of gated chapels, including one that features a white gold triptych by Keith Haring, designed shortly before his tragic death.

With the restoration finally complete following the devastating 2001 fire, St. John the Divine is celebrating with a series of programs, including "Close Reading: Spotlight on Cathedral Arts," which invites artists, curators, and thinkers to participate in a curatorial reexamination of the church as a work of art in and of itself. The series kicked off on November 30 with black-and-white shots by such photographers as Charles Crane Bradley and Antoinette B. Hervey, as well as from the cathedral archives dating back to the 1920s, offering close-ups of unique architectural elements of the Gothic structure.
twi-ny/mdr
Peace Fountain is highlight of sculpture garden
CHILDREN'S SCULPTURE GARDEN
Amsterdam Ave. at 111th St.
Open during daylight hours
Admission: free

No visit to St. John is complete without a walk through this lovely garden. At the center is sculptor-in-residence Greg Wyatt's massive "Peace Fountain," which depicts the "primordial chaos of Earth." The archangel Michael is at the center, holding St. Michael's sword, having successfully beheaded Lucifer, whose head is dangling upside down in a giant crab claw. On either side, large faces represent the moon and the sun. Nine giraffes circle Michael, along with a snail; meanwhile, a lion and a lamb rest together. And four pairs of clasped hands surround the Freedom Pedestal and its double-helix design. Wyatt occasionally gives workshops at the cathedral and can often be seen in the garden.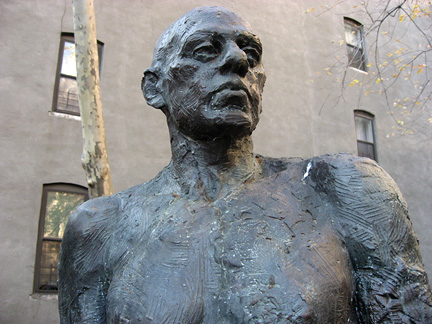 twi-ny/mdr
Statue stands across the street from cathedral, in the West 111th St. People's Garden

Don't hesitate to take up Clyde's offer to give you a tour of the sculpture; Wyatt trained Clyde, a neighborhood homeless man, over a series of months on all the details and hidden meanings of the work. The garden itself includes dozens of small sculptures created by students as part of the Fantasy Foundation Fund; standing plaques include quotes from everyone from Henry David Thoreau, Mark Twain, and Mahatma Gandhi to Ray Charles and Vincent van Gogh, all in open books. Another set of works features human figures with animals. Don't miss the awesome Noah's Ark sculpture, with the ark by Wyatt, the plaque by Hilary Carlson, and the animals by young students. (Wyatt also designed the much smaller but still engaging "Fantasy Fountain" in Gramercy Park.)
ST. NICHOLAS DAY: A DAY FOR EVERYONE
The Cathedral Church of St. John the Divine
1047 Amsterdam Ave. at 112th St.
Admission: free
212-316-7540
Saturday, December 6 Opening festivities, with a parade featuring Yoruba ceremonial drummers, the Big Apple Circus, Kotchegna Dance Company, Gong Master Don Contreaux, the FDNY Emerald Society of Pipes and Drums, and more, 9:45
Saturday, December 6 Kewulay "Finah" Kamara and Badenya: Epic Tales from West Africa, 10:30
Saturday, December 6 Slideshow Player Rachel Trachtenburg, Red Bastard the clown, Dzieci international theater company, storyteller Laura Simms, and Alesandra Belloni of I Giullari di Piazza Dance Company, 11:00 am
Saturday, December 6 Storyteller Master Lee, spoken word artist Brother Earl, and autoharpist Elizabeth Devlin, 12 noon
Saturday, December 6 Sandra Rivera and Mignon Gillen of Omega Dance Company, saw player and pianist Ching Chong Song, storyteller Mister Patrick, and Ivory Coast traditional dancers Vado Diamonde and Kotchegna, 1:00
Saturday, December 6 Musicians and parodists the Fools, performance artist Kelly Dwyer, comedian Ted Greenberg, singer Ann Bettison Enzminger, poet and musician Kasim Allah, poet Leticia Veloria, guitarists Erik & Erik, and musician and singer Debe Dalton, 1:45
Saturday, December 6 Science Around the Kitchen with Steve "the Dirtmeister" Tomecek, 2:00
Saturday, December 6 Yoruba Talking Drummers, 3:00
Saturday, December 6 Philippe Petit, magic circle drawing and street juggling, 3:15
Saturday, December 6 Music, storytelling, poetry, dance, and comedy from Mike Albo, Nadia Moussa & Company, Jayne Cortez, Steve Zeitlin, Shauna Lane, and others, 3:30
Saturday, December 6 Jaliya, poet Dr. Rashidah Ismaili-AbuBakr, musician M. Lamar, storyteller Master Lee and musician Larkin Grimm, flamenco dancers Sandra Rivera and Friends, composer and pianist Randy Weston, composer and pianist David Yazbeck, and singer-songwriter Jessy Carolina, 5:00
Saturday, December 6 The Great Organ, 7:30
CHRISTMAS AT THE CATHEDRAL
The Cathedral Church of St. John the Divine
1047 Amsterdam Ave. at 112th St.
212-316-7540
Friday, December 5
through
Sunday, December 7 Crafts at the Cathedral, featuring unique handcrafted holiday gifts, $6-$7
Saturday, December 6 A Baroque Christmas: Ballads, Carols, Noels & Villancicos, featuring Early Music New York performing anonymous English broadsides and works by Charpentier, Praetorius, Salazar, and Gagliano, $40, 8:00
Saturday, December 6 The Cathedral Christmas Concert, with the Choir of Girls, Boys, and Adults, performing holiday favorites as well as Britten's "A Ceremony of Carols" and Vaughan Williams's "Fantasy on Christmas Carols," with organist Timothy Brumfield and conductor Bruce Neswick, $35, 7:30
Sunday, December 14, 21 A Baroque Christmas: Ballads, Carols, Noels & Villancicos, featuring Early Music New York performing anonymous English broadsides and works by Charpentier, Praetorius, Salazar, and Gagliano, $40, 3:00
Thursday, December 18, 8:00
Friday, December 19, 8:00
and
Saturday, December 20, 2:00 & 8:00 Paul Winter's twenty-ninth annual Winter Solstice Celebrations, with Renato Braz, Theresa Thomason, Paul McCandless, and the Paul Winter Consort, $35-$75
Thursday, December 25 A Baroque Christmas: Ballads, Carols, Noels & Villancicos, featuring Early Music New York performing anonymous English broadsides and works by Charpentier, Praetorius, Salazar, and Gagliano, $40, 3:00 & 8:00
Wednesday, December 31 New Year's Eve Concert for Peace, with opera singer Lauren Flanigan, conductor Glen Barton Cortese, and host Harry Smith, some advance tickets sold, all other seats free on a first-come, first-served basis, 7:00
In the Neighborhood
twi-ny/mdr
Latino restaurant prepares for the holiday season
EL REY DE LA CARIDAD
973 Amsterdam Ave. at 108th St.
212-222-7383 / 212-222-2107
http://www.elreydelacaridad.com

This Latino restaurant and piano bar is just what the doctor ordered after a long afternoon walking around St. John the Divine. The staff is very friendly, though be prepared, because their English is not very good. Lunch specials are the thing here, beginning at only $5.99 but never going much above $10. We are big fans of the pescado en salsad e coco, a generous portion of shark in coconut sauce with yellow rice and a bowl of red beans. (Generous portions are the norm here.) We can also heartily recommend the bacalao, salty codfish, as well as the bistec parrilla, a thin, marinated steak smothered with grilled onions. Vegetarians can go for the four-dollar vegetales al vapor. Other choices include oxtail stew, BBQ spare ribs, macaroni with meat, goat stew, baked pork, chicken gizzards, tripe soup, pot roast, baked chicken, wild hen stew, and pig feet. Among the sandwiches are the Cubano, a cheeseburger, egg and bacon, and El Rey Espanol, which combines chicken, ham, and cheese. Wash it down with homemade lemonade, sugarcane juice, or a papaya shake and you have yourself quite a meal. El Rey de la Caridad also features live music, including such performers as El Maestro Benito Mercedes y Sus Invitados and Yinnette.
Dueling Exhibits of the Week
© Sue Coe, courtesy Galerie St. Etienne
Frederick W. Glasier, "Maude Banvard, the Catch, Brockton Fair," 1907
HEYDAY:
FREDERICK W. GLASIER'S AMERICAN CIRCUS, 1890-1925
UBS Gallery
1285 Sixth Ave. between 51st & 52nd Sts.
Monday — Friday 8:00 am — 6:00 pm through January 23
Admission: free
212-713-2885

Subtitled "Photographs and Posters from the Collections of the John & Mable Ringling Museum of Art," this splendid lobby exhibit details the life of the circus, as posters advertise the upcoming performance, the circus arrives in town, the tent is set up, tickets are sold, and the show goes on, supplemented with behind-the-scenes shots of the cast of characters, all lovingly taken by Frederick Whitman Glasier (1866-1950). In more than sixty black-and-white photos from the early twentieth century, Glasier brings visitors back to the time before movies and television, when towns couldn't wait for the arrival of the traveling sideshow, be it Barnum & Bailey, Buffalo Bill's Wild West, Ringling Bros., the Great Al G. Barnes Wild Animal Circus, or another troupe. Among the subjects captured by Glasier are the snake charmer Mademoiselle Octavia, master contortionists the Deike Sisters, Little Big Horn and Wounded Knee survivor Chief Iron Tail, strongwoman Charmion, smiling clown Pete Mardo, trapeze family the Flying Fishers, and a host of animals, including trained dogs, horses, and elephants. But perhaps the finest photograph, with the most lasting impact, is "Barnum & Bailey Big Top Interior," circa 1906, a panoramic shot of the empty tent, no performers, no crowd, just precarious-looking poles and vacant benches, impossible to tell whether the show has recently ended or hasn't yet begun.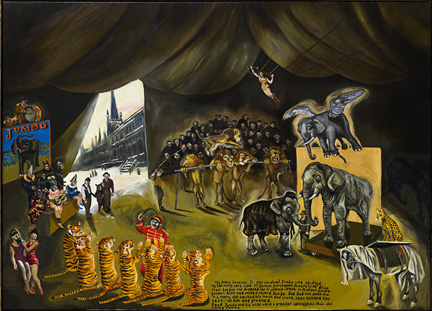 Frederick W. Glasier / © John & Mable Ringling Museum of Art
Sue Coe, "The Dress Rehearsal," oil on canvas, 2008
ELEPHANTS WE MUST NEVER FORGET:
NEW PAINTINGS, DRAWINGS, AND PRINTS BY SUE COE
Galerie St. Etienne
24 West 57th St. between Fifth & Sixth Aves., eighth floor
Tuesday — Saturday through December 20
Admission: free
212-245-6734

In fall 2005, Galerie St. Etienne presented Sue Coe's "Sheep of Fools," a provocative exhibit about the inhumane treatment of sheep used for food and clothing, featuring such works as "Newborn Lambs Are Put in the Mincer Onboard Ship" and "One World — Fleeced, 2005." Previously she had taken on the plights of abandoned dogs ("Pit's Letter") and pigs, chicken, and cows butchered for meat ("Porkopolis"). In her latest show at the Midtown gallery, Coe once again holds nothing back, examining the abusive treatment of circus elephants in a series that includes more than a dozen stunning oil paintings in addition to her more familiar use of graphite, gouache, and watercolor. An apocalyptic fire blazes in the background of "Four Elephants Being Shot by Men." A baby watches in horror as a man chops the tusk's off her lifeless mother, who is crying tears of blood, in "Baby Elephant Chained to Dead Mother." A captive elephant is chained in the dark as other elephants can be seen in the background performing tricks in the ring in "Chained Elephant." The famous circus elephant known as Topsy is dressed in the stars and stripes, performing in the four corners of "Side Splitting Fooleries: Edison Tests the Electric Chair on an Elephant" while he faces the electric chair in the middle, a proud Thomas Edison showing off his latest invention. Coe also details the tragic deaths of such other real-life elephants as Jumbo, King Tusko, and Mary alongside photos of the actual events. One of the most heartbreaking pieces is "The Dress Rehearsal," in which a stuffed Jumbo is on display while a former companion, dressed in widow's clothing, sniffs at him, the work of P. T. Barnum. As much as the works are about the cruel treatment of circus elephants, they are also about humanity's general inhumanity, to animals, to nature, and to humankind itself.
In the Neighborhood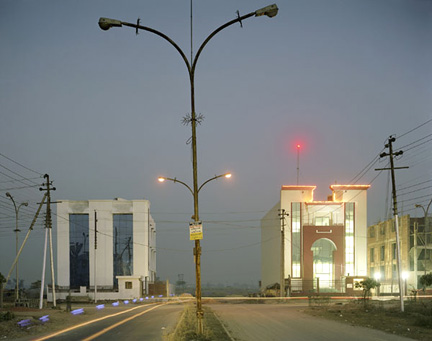 twi-ny/mdr
Peter Bialobrzeski, "Transition 25," C-print, 2005
KAWS, KIT, KAPOOR, AND MORE
Various locations around West 57th St.
Closed Sunday & Monday
Admission: free
In between the circus-related exhibits at the UBS Gallery and Galerie St. Etienne are many other fine spaces showing outstanding art. Don't be so quick to head down to Chelsea; take a few hours and wander through these vertical galleries that offer plenty of chills and thrills. Peter Bialobrzeski's "Lost in Transition" (Laurence Miller, 20 West 57th St., through December 24), consists of seven gorgeous large-scale photographs of unnamed locations undergoing various types of construction, the result both abstract and mysterious. Olivier Meriel's "Secrets and Shadows" (Candace Dwan, 24 West 57th St., Dec. 17) lines the walls with dozens of illuminating black-and-white images primarily from his native Normandy. "Molded, Folded & Found" (Greenberg Van Doren, 730 Fifth Ave., Dec. 23) features contemporary sculpture by an all-star cast that includes Louise Bourgeois, John Chamberlain, Anish Kapoor, Louise Nevelson, and Frank Stella; you have to ask to see the piece by Claes Oldenburg and Coosje van Bruggen, which is in a storage room. If you want to get really hungry, check out "La Dolce Vita" (Bernarducci Meisel, 37 West 57th St., Dec. 23), Luigi Benedicenti's large-scale photorealist paintings of Italian desserts (as well as tasty plates of pasta and eggs in dish frames).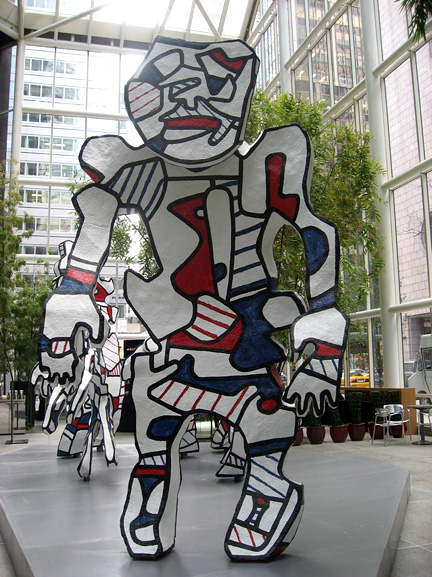 twi-ny/mdr
Jean Dubuffet's "Welcome Parade" has marched into the 590 Atrium in Midtown

Graffiti artist KAWS ONE, who has previously taken on the Simpsons and the Smurfs (and has done commissions for Levi's and Nike), turns his paintbrush on SpongeBob SquarePants in his latest show (Gering & López, 730 Fifth Ave., Dec. 23), which also includes a set of thirty-three busts of his head, each in a different color, making himself into a repetitive, disembodied cartoon figure. Kit Rank's bright new paintings (McKee, 745 Fifth Ave., Dec. 19) are filled with multiple scenes focusing on Asian imagery; we especially love "Opium Den" and "Mr. Tatebayahsi's Honorable Business." Linden Fredericks's "American Studies" (Forum, 745 Fifth Ave., Jan. 3) are wonderful depictions of Americana, concentrating on old-fashioned buildings — cabins, motels, trailers, and other places of (often temporary) residence -- he discovered while traveling across the country by bike, bus, and train. If you missed Jean Dubuffet's "Welcome Parade" when it was recently on display at PaceWildenstein in Chelsea, you can catch the vibrant monumental sculpture in the 590 Atrium (590 Madison Ave., no end date given), next to a neon piece by Keith Sonnier.
And for those of you who have been bombarded with advertisements for Ana Tzarev all over the city, the Croatian-born New Zealand artist (and former wife of luxury department-store magnate Robert Chandler) has taken over an enormous two-floor store at 24 West 57th St., where she is displaying her vanity — um, we mean, her paintings — along with books, notecards, and other merchandise about herself.
Mini-Film Festivals of the Week
FILMMAKER IN FOCUS: FERZAN ÖZPETEK
MoMA FILM
Roy and Niuta Titus Theaters
11 West 53rd St. between Fifth & Sixth Aves.
December 4-14
Tickets: $10, in person only, may be applied to museum admission within thirty days, same-day screenings free with museum admission, available at Film and Media Desk
212-708-9400
Turkish-born Italian filmmaker Ferzan Özpetek, who will turn fifty this January, makes intelligent and challenging heartfelt dramas about family within a larger community, dealing with such themes as honesty, tradition, friendship, love, chance, and sexuality. Özpetek, who is openly gay, has won awards at film festivals all over the world, including at many gay and lesbian festivals. MoMA celebrates his success with this midcareer retrospective of all seven of his feature films, from 1997's STEAM: THE TURKISH BATH to the U.S. premiere of his latest, A PERFECT DAY, the first film of his based on a novel. (The other six were original screenplays written by Özpetek, five with Gianni Romoli.) The director, actresses Isabella Ferrari and Margherita Buy, and author and critic Laura Delli Colli will be on hand to participate in various introductions and Q&As before and after specific screenings. If you've never seen any of Özpetek's work, this is a great opportunity to do some very necessary catching up.
Thursday, December 4 LE FATE IGNORANTI (HIS SECRET LIFE) (Ferzan Özpetek, 2001), introduced by Özpetek and actress Margherita Buy, 7:00
The Museum of Modern Art
Margherita Buy is in for quite a surprise in Özpetek drama
LE FATE IGNORANTI (HIS SECRET LIFE)
(Ferzan Özpetek, 2001)

Ferzan Özpetek's LE FATE IGNORANTI (THE IGNORANT FAIRY, aka BLIND FAIRIES and HIS SECRET LIFE) is a marvelous study of a woman whose husband dies suddenly, and she discovers that he had a completely different, rather alternative second life. Margherita Buy is wonderful as the surprised wife, at first disillusioned but then determined to find out what it was that drove her husband to this very odd, to her, community. Turkish-born Italian citizen Özpetek charmed us a few years earlier with the terrific STEAM: A TURKISH BATH, and he has done it again here. If you appreciated the splendid ALL ABOUT MY MOTHER (Pedro Almodóvar, 1999), you're gonna love this one. Özpetek and Buy will be on hand to introduce the December 4 screening.
Friday, December 5 UN GIORNO PERFETTO (A PERFECT DAY) (Ferzan Özpetek, 2008), introduced by Özpetek, actress Isabella Ferrari, and author Laura Delli Colli and followed by a Q&A with Özpetek and Ferrari, 6:00
Friday, December 5 LA FINESTRA DI FRONTE (FACING WINDOWS) (Ferzan Özpetek, 2003), introduced by Özpetek and author Laura Delli Colli and followed by a Q&A with Ozpetek, 8:15
Saturday, December 6 IL BAGNO TURCO/HAMAM (STEAM: THE TURKISH BATH) (Ferzan Özpetek, 1997), 3:00
IL BAGNO TURCO/HAMAM (STEAM: THE TURKISH BATH) (Ferzan Özpetek, 1997)

Writer-director Ferzan Özpetek's feature-film debut is a charming look at family and community. Francesco's (Alessandro Gassman) successful life in Rome as a married interior designer is suddenly disrupted when he inherits his aunt's hamam (a traditional steam bath) in Istanbul. Although the family running the old-fashioned bathhouse and the motley group of regulars are at first worried that Francesco will just dump the place, he instead decides to refurbish it to get a higher price, but soon he is lured into its spell as a warm, friendly respite that is a centerpiece for a small part of the local community. He is also lured by the caretaker's son, Mehmet (Mehmet Gunsur). STEAM is a wonderful study of the many different forms family can take, as well as suppressed desire and a changing world.
Saturday, December 6 CUORE SACRO (SACRED HEART) (Ferzan Özpetek, 2005), 5:00
Sunday, December 7 HAREM SUARÉ (HAREM) (Ferzan Özpetek, 1999), 3:00
Sunday, December 7 SATURNO CONTRO (BIR OMUR YETMEZ) (SATURN IN OPPOSITION) (Ferzan Özpetek, 2007), 5:00
Wednesday, December 10 SATURNO CONTRO (BIR OMUR YETMEZ) (SATURN IN OPPOSITION) (Ferzan Özpetek, 2007), 8:30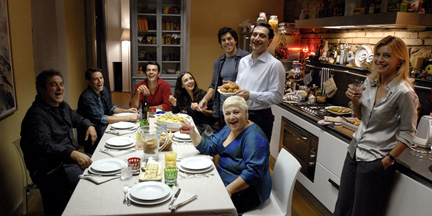 The Museum of Modern Art
A close-knit group of friends is about to face tragedy in another Özpetek gem
SATURN IN OPPOSITION (BIR OMUR YETMEZ) (SATURNO CONTRO) (Ferzan Özpetek, 2007)

Turkish-born writer-director Ferzan Özpetek continues to confirm his place as the Italian Pedro Almodóvar with SATURN IN OPPOSITION, a heart-wrenching drama of love and loss. Thirty-year-old Lorenzo (Luca Argentero) lives a charmed life, surrounded by a caring group of friends. He and his lover, Davide (Pierfrancesco Favino), enjoy bringing everyone together for special gatherings and regular dinner parties, including Lorenzo's drug-addicted, free-spirited business partner, Roberta (Ambra Angiolini, who won a David di Donatello award as Best Supporting Actress for the role); Paolo (Michelangelo Tomasso), a young and innocent medical student who wants to become a writer; Antonio (Stefano Accorsi) and Angelica (Margherita Buy), a married couple harboring dark secrets; and the older Neval (Serra Yilmaz), who is never afraid to speak her mind. But when Lorenzo suddenly collapses at a dinner party — just as he was looking around and wishing that things could stay like that forever — his extended family is forced to examine their own lives and relationships in a new and difficult way. As is his style, Özpetek keeps things simple, preferring calm, contemplative scenes over emotionally and physically overwrought melodrama. SATURN IN OPPOSITION is yet another compelling slice of alternative life from one of the world's most sensitive and talented filmmakers.
Thursday, December 11 HAREM SUARÉ (HAREM) (Ferzan Özpetek, 1999), 6:00
Friday, December 12 CUORE SACRO (SACRED HEART) (Ferzan Özpetek, 2005), 4:30
Friday, December 12 LE FATE IGNORANTI (HIS SECRET LIFE) (Ferzan Özpetek, 2001), 9:00
Saturday, December 13 UN GIORNO PERFETTO (A PERFECT DAY) (Ferzan Özpetek, 2008), 4:00
Sunday, December 14 LA FINESTRA DI FRONTE (FACING WINDOWS) (Ferzan Özpetek, 2003), 1:00
Sunday, December 14 IL BAGNO TURCO/HAMAM (STEAM: THE TURKISH BATH) (Ferzan Özpetek, 1997), 3:00

PAUL NEWMAN
BAMcinematek, BAM Rose Cinemas
30 Lafayette Ave. between Ashland Pl. & St. Felix St.
December 8-11
718-636-4100
The world lost one of its true gentlemen when Hollywood legend Paul Newman died on September 26, at the age of eighty-three. The son of a Jewish father and a Christian Scientist mother, Newman delighted audiences for more than fifty years, both onstage and on-screen. The WWII navy vet's career included such classic cinema as COOL HAND LUKE, THE STING, HUD, BUTCH CASSIDY AND THE SUNDANCE KID, SOMEBODY UP THERE LIKES ME, SWEET BIRD OF YOUTH, and THE VERDICT, among so many others. Nominated for eight Academy Awards (he finally won for Martin Scorsese's vastly overrated THE COLOR OF MONEY), the popcorn, salad dressing, and salsa philanthropist also starred on Broadway in such plays as PICNIC, THE DESPERATE HOURS, and, in his later years, OUR TOWN. BAM is paying tribute to the blue-eyed heartthrob with a brief series of four of his films, a bizarre quartet that includes new prints of the cult hit SLAP SHOT and the pool standard-bearer THE HUSTLER in addition to his lone Hitchcock flick, TORN CURTAIN, and the very strange THE EFFECTS OF GAMMA RAYS ON MAN-IN-THE-MOON MARIGOLDS, which he directed.
Monday, December 8 THE EFFECTS OF GAMMA RAYS ON MAN-IN-THE-MOON MARIGOLDS (Paul Newman, 1972), 6:50
Monday, December 8 SLAP SHOT (George Roy Hill, 1977), 9:15

Paul Newman is ready for action in classic hockey flick
SLAP SHOT (George Roy Hill, 1977)

One of the best sports films ever made, SLAP SHOT is a riotously bloody look at minor-league hockey. Paul Newman — who declared this one of his favorite pictures — stars as Reggie Dunlop, an aging loser serving as player-coach of the Charlestown Chiefs. When the general manager (Strother Martin) tells him that the team is being shut down at the end of the season, Dunlop decides to send it off with a bang. Lying to his team that if the Chiefs fill the seats and start winning they will move to Florida, he incorporates a different style of play into their game, led by the brutal, vicious, and utterly hilarious Hanson brothers (real-life brothers Jeff and Steve Carlson and their Johnstown Jets teammate Dave Hanson), who never met an opponent they wouldn't punch, trip, slash, spear, or slam face-first into the boards well after the whistle. Even Dunlop gets in on the fun, throwing his share of right hands. The only player not participating in the hijinks is Ned Braden (Michael Ontkean), who believes in sportsmanship and a more gentlemanly game of skill and beauty, not exactly what men like Ogie Oglethorpe (minor-league player Ned Dowd, whose sister, Nancy, wrote the book that the movie is based on, inspired by the real-life antics of the Johnstown Jets) have in mind. You don't have to be a hockey fan to love SLAP SHOT, which is really, when it comes right down to it, just a little film about the trials and tribulations of everyday life.
Tuesday, December 9 TORN CURTAIN (Alfred Hitchcock, 1966), 6:00, 9:00
Thursday, December 11 THE HUSTLER (Robert Rossen, 1961), 6:00, 9:00
Dance Season of the Week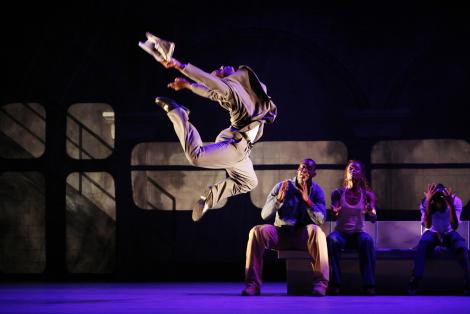 Camille A. Brown's "The Groove to Nobody's Business" is back
ALVIN AILEY AMERICAN DANCE THEATER
New York City Center
130 West 56th St. between Sixth & Seventh Aves.
December 3 — January 4
Tickets: $25-$160
212-581-1212

In 1958, the Alvin Ailey American Dance Theater made its public debut at the 92nd St. Y. Over the next half-century, the troupe, known as America's Cultural Ambassador to the World, has performed around the globe, bringing the glory of modern dance and African American cultural expression to old and young alike. As part of its golden anniversary, AADT returns to City Center for its annual end-of-year season, led by artistic director Judith Jamison and associate artistic director Masazumi Chaya. The month-long residency includes the world premieres of Mauro Bigonzetti's "Festa Barocca" and company member Hope Boykin's "Go in Grace" (with live music by Sweet Honey in the Rock) and new productions of Alvin Ailey's 1958 "Blues Suite," George Faison's "Suite Otis" (set to the music of Otis Redding), and Ailey's powerful 1969 piece "Masekela Langage" (with music by Hugh Masekela), which captivated audiences at the Brooklyn Academy of Music this past June, its first performance in more than a decade.
Among the first-season performances are Camille A. Brown's energizing and entertaining "The Groove to Nobody's Business," the always lovely "Pas de Duke," the sizzling "Night Creature," Twyla Tharp's thrilling "The Golden Section," and Elisa Monte's brilliant "Treading," along with Ulysses Dove's "Episodes," Ailey's "Reflections in D," Hans van Manen's "Solo" and "Vespers," and Robert Battle's "Unfold." In celebration of the company's fifty years, they will also present "Anniversary Highlights," which includes the classic "Revelations," still a genuine showstopper. In addition, from December 17 to 21 there will be six special performances, "Ailey & Ellington," featuring live music by the Jazz at Lincoln Center Orchestra with Wynton Marsalis, in honor of the many Ailey works that incorporate the sounds of Duke Ellington, with excerpts from "The River" and "The Road of the Phoebe Snow" to "Three Black Kings" and "The Mooche." And after each Saturday family matinee, the audience is invited to participate in a Meet the Dancers Q&A. Although the cast is extraordinary, keep a look out for such perennial favorites as Glenn Allen Sims, Olivia Bowman, Clifton Brown, and the exquisite Matthew Rushing and Linda Celeste Sims.
In the Thematic Neighborhood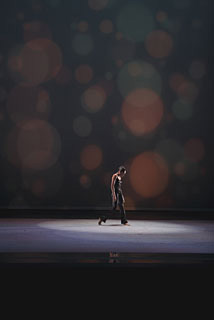 © Andrew Eccles
Linda Celeste Sims performs in
Alvin Ailey's "Pas de Duke"
AILEY ASCENDING: A PORTRAIT IN MOTION
The June Kelly Gallery
591 Broadway between Houston & Prince Sts.
Tuesday — Saturday 11:00 am — 6:00 pm
Admission: free
212-226-1660
http://www.junekellygallery.com
Through December 9 Exhibition of photographs from Andrew Eccles's new book, AILEY ASCENDING: A PORTRAIT IN MOTION, held in conjunction with Alvin Ailey's fiftieth anniversary season, which runs December 3 — January 4 at City Center
Sports Festival of the Week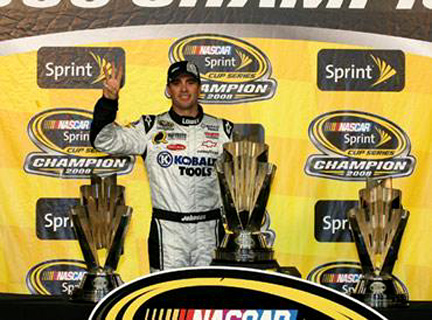 Jimmie Johnson finished fifteenth at Homestead but held on to overall championship
NASCAR CHAMPIONS WEEK
Multiple locations
December 2-6
Admission: free
It's been another hard-fought NASCAR season, as Jimmie Johnson took home the trophy for the third year in a row; the rest of the top twelve, in descending order, consisted of Carl Edwards, Greg Biffle, Kevin Harnick, Clint Bowyer, Jeff Burton, four-time victor Jeff Gordon, Denny Hamlin, 2002 and 2005 champ Tony Stewart, Kyle Busch, 2003 winner Matt Kenseth, and Dale Earnhardt Jr. While there still is no track in New York City, NASCAR will be speeding through Manhattan for a weeklong celebration of the just-completed season with a series of special events primarily in and around the Times Square area.
Tuesday, December 2
through
Saturday, December 6 The Pit Stop Tour will be pulling up in front of the Hard Rock Café, Madison Square Garden / Penn Station, SIRIUS XM Radio headquarters on Sixth Ave. between 48th & 49th Sts., the Tourneau Atrium on Madison Ave. at 56th St., and M&Ms World on Broadway at 46th St., 7:00 am — 7:00 pm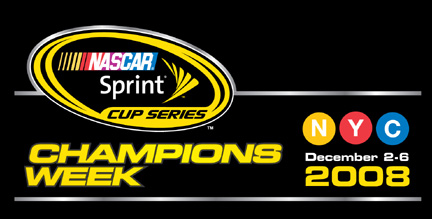 Thursday, December 4 NASCAR Tailgate City block party featuring season highlights, race simulators, special vehicles and show cars, tailgate games, trophy display, remote-control racecar track, the NASCAR Street Tour, Tire-Change Challenge, live entertainment, educational programming, Q&A sessions with drivers and crew members, food and beverages, ticket giveaways for the invite-only Gavin DeGraw concert at the Hard Rock Café, and much more, Times Square, 43rd St. between Seventh & Eighth Aves., 10:00 am — 6:00 pm
Thursday, December 4
through
Saturday, December 6 Fan Fest, featuring live entertainment, appearances by drivers and crew members, photo opportunities, season highlight videos, trophy display, giveaways, the Richard Petty Driving Experience Tire-Change Challenge, video games, book signings and Q&A sessions, children's activities, and more, Hard Rock Café, 12 noon — 8:00 pm (6:00 pm on December 4)
Museum Exhibits of the Week
© Gilbert & George, Tate, London
Gilbert & George, "Life, Death Hope Life Fear," a quadripartite picture, 1984
GILBERT & GEORGE
Brooklyn Museum of Art, Morris A. and Meyer Schapiro Wing and Iris and B. Gerald Cantor Gallery, fourth & fifth floors
200 Eastern Parkway
Wednesdays — Sundays through January 11
Suggested contribution: $8 (free the first Saturday of every month after 5:00)
718-638-5000

For more than forty years — since meeting as students at St. Martin's Art School in London in 1967 — Italian-born Gilbert Proesch and British native George Passmore have been working together using their favorite subjects: themselves. Liberally spread across two floors, "Gilbert & George: Complete Pictures," which was designed by the two men, consists of more than ninety drawings, photographs, videos, postcard art, and large-scale pictures, many with (multiple) images of the balder, bespectacled Gilbert and the smaller George, always seen in their trademark suits. Referring to themselves as living sculptures, Gilbert & George take on such issues as faith, politics, religion, sexuality, AIDS, terrorism, race, heaven and hell, and life and death in their elaborate pieces, primarily displayed in a complex rectangular grid pattern.
After using only black and white for their initial years, they added red in the mid-1970s, followed by blue, green, and yellow in the 1980s, resulting in brighter, bolder pictures that brought new life to their work and fill the galleries of the Brooklyn Museum with a playful, cheery air even in the more serious pieces. "Our Art is the friendship formed between the viewer and our pictures," they explain in their mission statement. In such pieces as "Apostasia," "Heterodoxy," and "Fingle-Fangle" and such videos as "A Portrait of the Artists as Young Men" and "The Singing Sculpture" they focus on at least one of the three life forces, defined by the austere gentlemen as "the head, the soul, and the sex." But as eye-catching as such monumental pictures as "Base," "Death Hope Life Fear," and "Fates" are, don't pass by such stunning black-and-white work as the Dusty Corners and Dead Boards series, sad, haunting multipaneled photographic pieces taken in their longtime home on Fournier St. in the East End of London. Gilbert & George have a unique way of looking at the world, and we're only too happy to share that with them.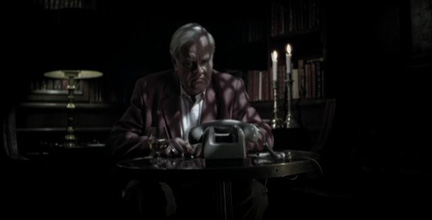 Courtesy of the artist and Perry Rubenstein Gallery
Jesper Just, "The Lonely Villa," Super 16 mm transferred to video, 2004
JESPER JUST: ROMANTIC DELUSIONS
Brooklyn Museum, Robert E. Blum Gallery, first floor
Through January 4

Back in December 2004, we wrote about Danish filmmaker Jesper Just's three-screen, two-space film installation at the Perry Rubenstein Gallery in Chelsea, consisting of "No Man Is an Island II," "Bliss & Heaven," and "The Lonely Villa." Brooklyn Museum associate curator Patrick Amsellem saw that same show and vowed to bring Just to Eastern Parkway, which he has now done with this four-film site-specific exhibition in the Blum Gallery. Visitors are first greeted by "Bliss and Heaven" (2005), in which a young man finds a sad, curious performance unfolding in the back of a truck. In the next room, the U.S. premiere of Just's three-screen "Romantic Delusions" (2008) stars Udo Kier, a veteran of films by Fassbinder and Lars von Trier, as a hermaphrodite wandering unhappily through the streets of Romania, seen from three different vantage points, shot live amid real crowds, not on a carefully choreographed set. In the third room, "No Man Is an Island" (2002) plays on a small monitor, as a boy watches a man dance crazily in an asphalt park. (There's plenty of room for you to dance along in the otherwise empty space.) And in the last room, in "The Lonely Villa" (2004), old men, seen primarily in shadows, wait for their phones to ring, hopefully promising something better. The short films feature old songs a la Dennis Potter (including the Ink Spots and Olivia Newton-John) that suddenly just burst out behind a wrenching sexual tension, often between two males, one significantly older than the other. Nothing is explained; Just, who at thirty-four has made nearly twenty shorts, leaves it up to viewers to form their own conclusions. Be sure to make time to watch all four works in the Brooklyn Museum's first all-film exhibition; the total running time is less than half an hour.
ALSO AT THE BROOKLYN MUSEUM
Brooklyn Museum,
Through March 29
Photographer Timothy Greenfield-Sanders and film critic Elvis Mitchell have teamed up for "The Black List Project: Timothy Greenfield-Sanders and Elvis Mitchell," on display in the Hall of the Americas on the first floor through March 29. The exhibit examines the black experience in America through a series of twenty-six portraits of successful men and women — including choreographer Bill T. Jones, tennis champion Serena Williams, writer Toni Morrison, entrepreneur and activist Russell Simmons, comedian Chris Rock, and artist Lorna Simpson — along with a documentary in which Mitchell interviews the subjects. Through April 5, the Elizabeth A. Sackler Center for Feminist Art will be presenting "Burning Down the House: Building a Feminist Art Collection," with painting, sculpture, photography, and video by Lorna Simpson, Kiki Smith, Carrie Mae Weems, Miriam Schapiro, Kara Walker, Cindy Sherman, Hannah Wilke, and others, investigating the role of women in art and the world at large. Also on temporary display are "Small Wonders from the American Collection," "From the Village to the Vogue: The Modernist Jewelry of Art Smith," "Votes for Women," and "Magic in Ancient Egypt: Image, Word, and Reality," in addition to such long-term installations as Judy Chicago's "Dinner Party," "Egypt Reborn," "The Arts of Africa," and "Rodin: The Cantor Gift to the Brooklyn Museum," among others.
Saturday, December 13 Sex Trafficking and the New Abolitionists, panel discussion with Taina Bien-Aime, Rachel Lloyd, and Dorchen Leidholt, moderated by Gloria Steinem, free with museum admission, 2:00
Sunday, December 14 Jennifer Cody Epstein, THE PAINTER FROM SHANGHAI, reading and signing, free with museum admission, 1:00
Sunday, December 14 Community Conversations: Gilbert & George, free with museum admission, 3:00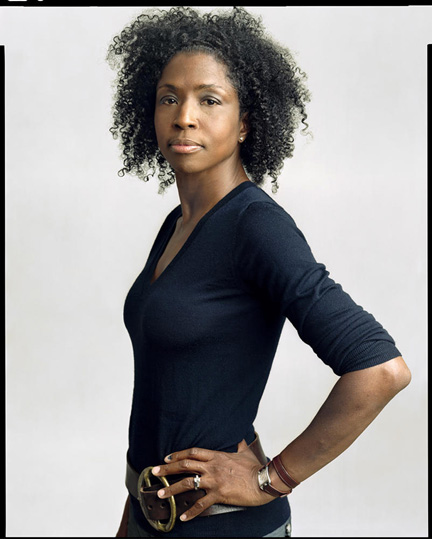 © Timothy Greenfield-Sanders, courtesy of Devin Borden Hiram Butler Gallery
Timothy Greenfield-Sanders, "Lorna Simpson," inkjet photograph, 2007; Greenfield-Sanders will give an artist talk on December 6 as part of the free First Saturdays program
LOVE YOUR WORLD! FIRST SATURDAYS
Brooklyn Museum of Art
200 Eastern Parkway
Free after 5:00 (*requires advance free tickets available an hour or two before showtime)
718-638-5000
Saturday, December 6 Music: the Welfare Poets, the Rubin Pavillion, first floor, 5:00 — 7:00
Saturday, December 6 Trunk Sale, Museum Shop, first floor, 5:00
5:00 p.m.
Saturday, December 6 Reading and Performance: Joan and Josh Levine, TOPSY TURVEY BEDTIME, including children's sing-along, Museum Shop, first floor, 5:00
*Saturday, December 6 Discussion: Diana Duarte, on women and HIV/AIDS, Elizabeth A. Sackler Center for Feminist Art, Forum, fourth floor, 6:00
*Saturday, December 6 Film: BORN INTO BROTHELS (Briski & Kauffman, 2005), followed by a Q&A with Zana Briski and a cast member, Iris and B. Gerald Cantor Auditorium, third floor, 6:00
*Saturday, December 6 Hands-On Art, Education Division, first floor, 6:30-8:30
*Saturday, December 6 Artist Talk: Stephen Sollins discusses his work in "Burning Down the House: Building a Feminist Art Collection," Elizabeth A. Sackler Center for Feminist Art, fourth floor, 7:00
*Saturday, December 6 Artist Talk: Timothy Greenfield-Sanders, "The Black List Project," Hall of the Americas, first floor, 7:30
*Saturday, December 6 Panel Discussion: Martha Diaz, president of the Hip-Hop Association, leads a panel of women social entrepreneurs, Elizabeth A. Sackler Center for Feminist Art, Forum, fourth floor, 8:00
Saturday, December 6 Young Voices Gallery Talk: Student Guides Zinia Rahman and Judith Barnes discuss "The Black List Project," Hall of the Americas, first floor, 8:30
*Saturday, December 6 Music: the Brian Jackson Quartet, Iris and B. Gerald Cantor Auditorium, third floor, 8:30
Saturday, December 6 Dance Party: DJs and live percussionist from Brooklyn Renaissance's Manjinga Party, Beaux-Arts Court, third floor, 9:00 — 11:00
Riff's Rants & Raves: Film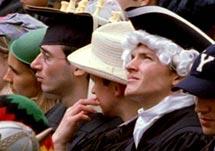 Special screening takes on new meaning
at end of Bush era
THE AMERICAN RULING CLASS (John Kirby, 2005)
The National Arts Club
15 Gramercy Park South
Thursday, December 4, 7:45
212-477-2389
http://theamericanrulingclass.org
http://www.nationalartsclub.org

Described by debut director John Kirby as the "world's first dramatic documentary musical," THE AMERICAN RULING CLASS, which screened at the 2005 Tribeca Film Festival, is a very funny and extremely fascinating search for America's ruling class. Former Harper's editor Lewis Lapham creates two very different Yale graduates — one from a wealthy background who is considering entering the maelstrom by going after the money at Goldman Sachs, the other from a poor family who decides to work as a waiter as he tries to get his writing career off the ground — and introduces them to all the right people to help determine if a ruling class exists and, if so, just what the heck it is and what the requirements are to sign on. Along the way advice is offered by a slew of guests, including Walter Cronkite, Bill Bradley, Pete Seeger, Barbara Ehrenreich, Vartan Gregorian, Robert Altman, Arthur Ochs Sulzberger Jr., James Baker, Kurt Vonnegut, William Howard Taft IV, Hodding Carter, Larry Summers, Mike Medavoy, and many others, not all of whom seem to know about the premise. For this special screening at the National Arts Club, the filmmakers will be on hand along with Lapham.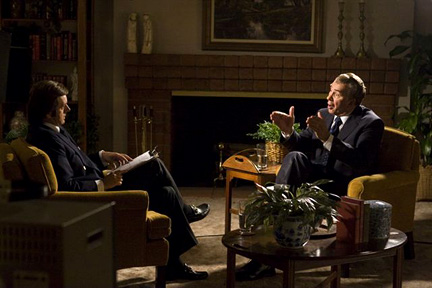 David Frost (Michael Sheen) and Richard Nixon (Frank Langella) get it on in Ron Howard drama
FROST/NIXON (Ron Howard, 2008)
Opens Friday, December 5

In 1977, the disgraced former president of the United States, Richard Nixon, sat down with British talk show host David Frost for a series of interviews, including the first time Nixon had agreed to discuss Watergate publicly; Frost was after a big payday and trying to resurrect his career in America, while Nixon was attempting to defend his legacy and reestablish his political credentials. Written by Peter Morgan (THE QUEEN) based on his play, FROST/NIXON is a compelling drama that turns into a thriller as Frost and Nixon get caught up in an intellectual game of cat and mouse. Frank Langella is absolutely brilliant as Nixon, capturing every nuance of the jowly president, while Michael Sheen (Tony Blair in THE QUEEN) is a bit too wide-eyed as Frost, although he's got the hair and the accent down pat; both actors are reprising the roles they originated in Morgan's London and Broadway hit. Director Ron Howard allows the story to unfold at its own pace as Nixon's team, which includes Chief of Staff Jack Brennan (Kevin Bacon), super-agent Swifty Lazar (Toby Jones), and a young Diane Sawyer (Kate Jennings Grant), prepares to go toe to toe with Frost's sidekicks, investigative journalist Jim Reston (Sam Rockwell), producers John Birt (Matthew MacFadyen) and Bob Zelnick (Oliver Platt), and love interest Caroline Cushing (Rebecca Hall). FROST/NIXON is a fascinating and thoroughly entertaining look at a critical time in America, when politics intersected with pop culture as the country held its collective breath, demanding closure.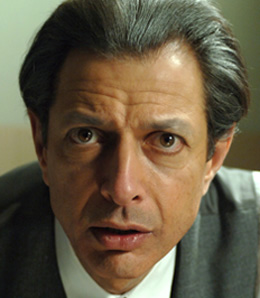 Schrader Holocaust flick is for the dogs
ADAM RESURRECTED (Paul Schrader, 2008)
Quad Cinema
Opens Friday, December 12
34 West 13th St. between Fifth & Sixth Aves.
212-255-8800

In 1972, Jerry Lewis starred in and directed THE DAY THE CLOWN DIED, in which a German clown is imprisoned in a Nazi concentration camp. The film has notoriously never been released, a fate, alas, not shared by Paul Schrader's misguided and misbegotten ADAM RESURRECTED. Based on the 1968 novel by Yoram Kaniuk, the film stars Jeff Goldblum as Adam Stein, a mysterious magical genius living in a special institute for Holocaust survivors run by Dr. Nathan Gross (Derek Jacobi) in the Israeli desert. Stein had been a well-known German clown and magician who was imprisoned in a Nazi concentration camp during WWII. Separated from his wife and daughter, he was taken in by Commandant Klein (Willem Dafoe) and forced to act like a dog in order to stay alive. The film goes back and forth between the past and the present as Schrader and screenwriter Noah Stollman slowly share Stein's tragic tale, but by the time they get to the bottom of it all, you won't care much — except that it's nearing the end of the movie. It's absurdly minor league all the way — there's even some extremely poor dialogue looping, and although Goldblum gives it his all, his accent sort of comes and goes. Amid a spate of end-of-year Nazi Holocaust dramas — including THE BOY IN THE STRIPED PAJAMAS, THE READER, DEFIANCE, and VALKYRIE — ADAM RESURRECTED should be left buried.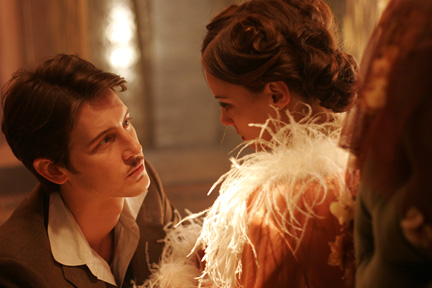 Gabriel Mann channels Keanu Reeves in noir musical
DARK STREETS (Rachel Samuels, 2008)
Opens Friday, December 12

DARK STREETS features an outstanding R&B soundtrack, with Etta James, Dr. John, Aaron Neville, Solomon Burke, Chaka Khan, and Natalie Cole performing songs by James Compton, Tim Brown, and Tony DeMeur written specifically for the film. Unfortunately, the movie itself falls far short of that musical coup, which also boasts an original score by George Acogny that includes fine guitar work by B. B. King. DARK STREETS, directed by Rachel Samuels (THE SUICIDE CLUB), is a smoky noir set in an unnamed L.A.-like city. Gabriel Mann, channeling Keanu Reeves, stars as Chaz Davenport, the son of a powerful electric power mogul who has just killed himself. Chaz, who is experiencing a power outage of his own as he starts taking money from dangerous loan sharks to keep his hot new nightclub up and running, is befriended by a mysterious lieutenant (Elias Koteas) who offers him protection in exchange for hiring his niece, Madelaine (Izabella Miko), to sing, leading Chaz's regular squeeze, Crystal (Bijou Phillips), to become rather jealous. The whole lurid affair, based on Glenn M. Stewart's Edinburgh Fringe Festival play THE CITY CLUB and unabashedly stolen right out from under Roman Polanski's CHINATOWN, is strangely narrated by Toledo as Prince Royale, making matters even more confusing.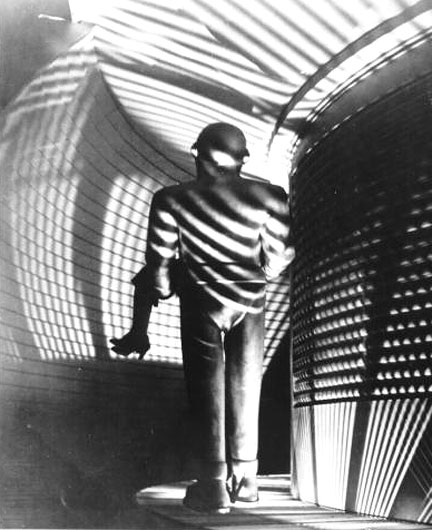 Gort is not getting too carried away about Keanu Reeves remake
THE DAY THE EARTH STOOD STILL (Robert Wise, 1951)
Available on DVD

This cold-war-era classic stars Michael Rennie as an alien who lands on earth with a very important message: No peace, no planet. He brings along with him one of the great robots in cinema history, Gort (Lock Martin), and later utters to Patricia Neal one of the ten best lines ever in film history: "Klaatu borada nikto." This science fiction fave works on a number of different and fascinating levels; during a 1998 UC Berkeley interview, director Robert Wise even noted, "Some people read a religious connotation into the thing, the resurrection and all. If you want to put a beard on Rennie and all, he could be a Christ figure." The film has now been remade with Keanu Reeves and Jennifer Connelly, with the theme changed from peace to global warming; it'll be hard to top the original, no matter how successful the remake might be ­— not that we're really expecting that much, although it's hard to beat Reeves as an alien.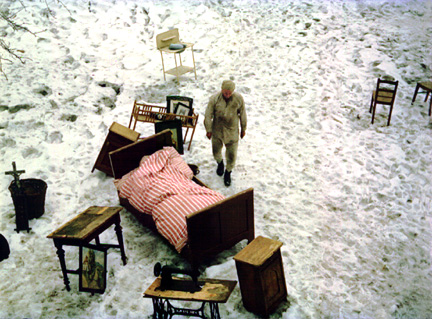 Milos Forman's absurdist comedy is being shown in a new print
THE FIREMEN'S BALL (Milos Forman, 1967)
BAMcinematek, BAM Rose Cinemas
30 Lafayette Ave. between Ashland Pl. & St. Felix St.
December 12-18
718-636-4100

Milos Forman's final Czechoslovakian film is an absurdist comedy about a local firemen's ball and lottery, featuring a group of grumpy old clueless men who struggle through selecting contestants for the beauty contest so the winner can give the eighty-six-year-old former chairman a present before he dies of cancer and all the lottery gifts are stolen. This fun film has a charming element of silent slapstick that will have audiences laughing out loud. Forman went on to make such English-language films as AMADEUS, RAGTIME, HAIR, ONE FLEW OVER THE CUCKOO'S NEST, MAN ON THE MOON, and VALMONT. The great director will be on hand for a Q&A following the 7:30 screening on December 12; the film is being shown by BAM in a new print.
In Theaters Now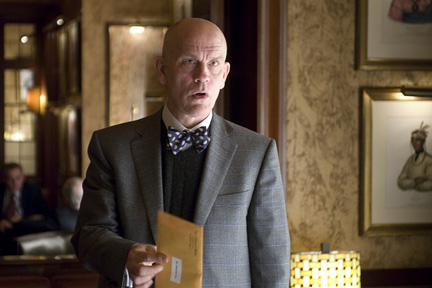 John Malkovich is a foul-mouthed riot in Coen brothers' latest
BURN AFTER READING (Joel & Ethan Coen, 2008)
Quad Cinema
34 West 13th St. between Fifth & Sixth Aves.
212-255-8800
http://www.burnafterreading.com

After delighting audiences with such outstanding indie fare as BLOOD SIMPLE (1984), FARGO (1996), and O BROTHER, WHERE ART THOU? (2000), brothers Joel and Ethan Coen hit a midcareer slump with the mediocre THE MAN WHO WASN'T THERE (2001), the much-maligned INTOLERABLE CRUELTY (2003), and the just plain awful remake of THE LADYKILLERS (2004). It was three years before they released their next film, the Oscar-winning monster hit NO COUNTRY FOR OLD MEN. Now they have toned things down again with the slight but entertaining BURN AFTER READING. John Malkovich is hysterical as Osborne Cox, an angry, bitter, foul-mouthed CIA agent who loses his job and decides to write a tell-all memoir, which bizarrely ends up in the hands of a pair of bumbling idiots, Chad Feldheimer (an extremely funny Brad Pitt) and Linda Litzke (Frances McDormand). Linda really wants to get a whole bunch of plastic surgery done, so she plans on squeezing a lot of money out of old Mr. Cox, who has no patience for anyone other than himself. Throw in a cold-as-ice wife (Tilda Swinton), a philandering G-man (George Clooney), a Russian ambassador named after Severn Darden's character in THE PRESIDENT'S ANALYST, and some shocking violence and — well, we've told you too much already. BURN AFTER READING might not be grade-A Coen brothers, but it's still a worthwhile endeavor from two of America's most ingenious filmmakers.
Angelina Jolie stars in latest Clint Eastwood drama
CHANGELING (Clint Eastwood, 2008)
http://www.changelingmovie.net

The opening-night selection at this year's New York Film Festival, Clint Eastwood's CHANGELING is an overblown melodrama about a mother's desperate search for her missing child. On a March day in 1928, Christine Collins (Angelina Jolie with perhaps the puffiest, reddest lips ever seen on-screen) comes home from work late to find her young son, Walter (Gattlin Griffith), gone. The corrupt Los Angeles Police Department, in need of some good publicity, is little help — until, months later, it claims to have found Walter. But the child they present to Christine is not her son — yet the police, led by the smug Captain Jones (a smug Jeffrey Donovan), do all they can to try to convince her that she is mistaken and that the boy is indeed her offspring, just to protect their reputation. A local pastor, Rev. Gustav Briegleb (John Malkovich), takes an interest in the case, thinking it is yet more evidence of the LAPD's incompetence. Unwilling to give up, Christine decides to take on the police, but she gets much more than she ever bargained for. Based on a true story, CHANGELING is a laboriously straightforward film with no nuance whatsoever; everything is black and white, good versus evil, with the only shades of gray the lovely cinematography by Tom Stern.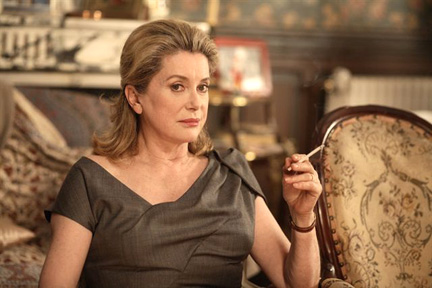 Catherine Deneuve stars as family matriarch in Desplechin holiday flick
A CHRISTMAS TALE (UN CONTE DE NOËL) (Arnaud Desplechin, 2008)
IFC Center
323 Sixth Ave. at West Third St.
212-924-7771
Lincoln Plaza Cinemas
1866 Broadway at 63rd St.
212-757-2280
http://www.lincolnplazacinema.com

One of the best films of 2008, A CHRISTMAS TALE (UN CONTE DE NOËL) is yet another extraordinary work from French filmmaker Arnaud Desplechin (LA SENTINELLE, ESTHER KAHN). Desplechin, who examined family dysfunction in the masterful KINGS AND QUEEN (one of the best films of 2006), brings back much of that film's cast in A CHRISTMAS TALE. Catherine Deneuve stars as Junon, the family matriarch who has just discovered she has leukemia and is in need of a bone-marrow transplant. Although it is rare for children to donate bone marrow to their mother (or grandmother), Junon insists that they all take the test to see if they are compatible. Soon they gather at Junon and Abel's (Jean-Paul Roussilon) house for the holidays: oldest daughter Elizabeth (Anne Consigny), a dark and depressed woman whose teenage son, Paul (Emile Berling), has been institutionalized with mental problems and whose husband, Claude (Hippolyte Girardot), is rarely home; Ivan (Melvil Poupaud), the youngest son, a carefree sort married to Sylvia (Chiara Mastroianni, Deneuve's real-life daughter), whom Junon strongly distrusts; and black sheep Henri (Mathieu Almaric), the middle child who was initially conceived primarily to save Abel and Junon's first son, Joseph, who ended up dying of the same leukemia that Junon has contracted. Henri, who shows up with a new girlfriend, the very direct Faunia (Emmanuelle Devos), is a philandering ne'er-do-well who is deeply estranged from Elizabeth and not close with his mother, leading to much strife as Christmas — and a possible transplant — nears. Desplechin, who wrote the script with Emmanuel Bourdieu, once again has created powerful, realistic characters portrayed marvelously by his extremely talented cast; despite the family's massive dysfunction, you'll feel that even spending more than two and a half hours with them is not enough. The IFC Center is warming up filmgoers with a series of all seven of Arnaud Desplechin's previous works, running November 5-13; see below for more info.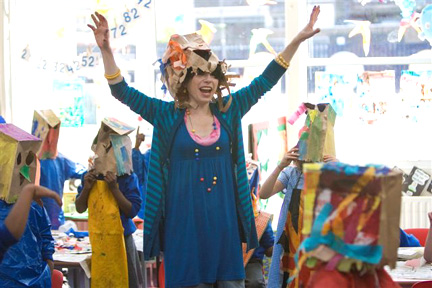 Simon Mein/ Courtesy of Miramax Films
Sally Hawkins is absolutely delightful in Mike Leigh's latest
HAPPY-GO-LUCKY (Mike Leigh, 2008)
Landmark Sunshine Cinema
143 East Houston St. between First & Second Aves.
212-330-8182
http://www.landmarktheatres.com
http://www.happygoluckythemovie.com

Writer-director Mike Leigh (SECRETS & LIES, NAKED, TOPSY-TURVY) has made the most charming film of his career with HAPPY-GO-LUCKY. Sally Hawkins gives a career-making performance as Poppy, the most delightful film character since Audrey Tatou's Amélie (in Jean-Pierre Jeunet's 2001 French comedy LE FABULEUX DESTIN D'AMÉLIE POULAIN). Poppy is a primary school teacher who has an endearing, seemingly limitless love of life; she talks playfully with strangers in bookstores, teases her sister (Kate O'Flynn) and best friend (Alexis Zegerman) with the sweetest of smirks, takes a flamenco lesson on a whim with a colleague, and, when her bicycle is stolen, simply starts taking driving lessons. However, her driving instructor, Scott (Eddie Marsan of the recently underappreciated SIXTY SIX), is a tense, angry man with numerous chips on his shoulder, trying to sour Poppy at every turn. But Poppy is no mere coquettish ingenue; when she senses a problem with one of her students, she is quick get to the bottom of the situation, with the appropriate serious demeanor. As with most Leigh films, much of the dialogue is improvised (following long rehearsal periods), adding to its freshness. But also as with most Leigh films, there are dramatic turning points, but even those can't wipe away Poppy's — or the audience's — endless smile.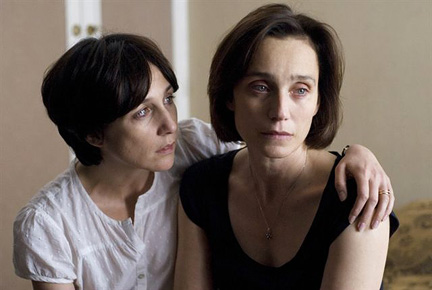 Sisters try to deal with the past in brilliant melodrama
I'VE LOVED YOU SO LONG (Philippe Claudel, 2008)
Angelika Film Center
18 West Houston St. at Mercer St.
212-995-2000
Lincoln Plaza Cinemas
1866 Broadway at 63rd St.
212-757-2280
http://www.lincolnplazacinema.com
http://www.sonyclassics.com/ivelovedyousolong

French novelist Philippe Claudel's directorial debut, I'VE LOVED YOU SO LONG, is a brilliant melodrama told by an expert storyteller. A never-better Kristin Scott Thomas stars as Juliette, an intensely private woman who has moved in with her younger sister, Léa (Elsa Zylberstein), after having been away for fifteen years. Léa's husband, Luc (Serge Hazanavicius), is clearly unhappy that Juliette has come to live with them; he particularly does not want her spending too much time with their two adopted daughters. As Juliette goes on job interviews and makes new friends — including Léa's fellow teacher, Michel (Laurent Grevill), who has more than a passing interest in her — her deep, dark pain is always bubbling just below the surface, ready to burst out. Through carefully constructed scenes of beauty, simplicity, honesty, and suppressed rage, Claudel slowly reveals the details of Juliette's missing years, spent in prison for an unspeakable crime. Thomas is absolutely breathtaking as Juliette, a tortured soul hiding a horrific secret as she tries to resurrect her once-promising life. Don't miss it.

MAN ON WIRE (James Marsh, 2008)
Landmark Sunshine Cinema
143 East Houston St. between First & Second Aves.
212-330-8182
http://www.landmarktheatres.com

Winner of the Audience Award at the Sundance, Edinburgh, and Los Angeles Film Festivals, MAN ON WIRE is a thrilling examination of Philippe Petit's attempt to walk on a wire connecting the two towers of the World Trade Center. Using archival footage, home movies, still photos, black-and-white re-creations, and new interviews with all the primary characters, director James Marsh (THE KING, WISCONSIN DEATH TRIP) sets up MAN ON WIRE like a heist film as Petit and his cohorts discuss the detailed planning that went into the remarkable event, including getting the wires and cable to the top of the South Tower and hiding under a tarp as a security guard has a smoke right next to them. Petit, who had previously — and illegally — traversed Notre Dame Cathedral in Paris and the Sydney Harbour Bridge in Australia, had become immediately obsessed with the Twin Towers as soon as he learned they were being built; Marsh intercuts scenes of the construction of the WTC as Petit puts together the seemingly impossible caper, leading to his August 7, 1974, walk between the two towers, more than a quarter mile above the ground. Petit has a relationship with the World Trade Center unlike anyone else's; interestingly, Marsh and Petit do not so much as even hint at the destruction of the towers on September 11, 2001, a questionable decision that leaves a gap in the film. (They could have at least mentioned it in the end captions.) Still, MAN ON WIRE is an exhilarating documentary; even though you know that Petit survives, you'll be breathless as he balances high above Lower Manhattan, one tiny step from death. BONUS: Petit will be making a rare NYC appearance on Tuesday, December 9, at 1:00, signing copies of the MAN ON WIRE DVD at the Wall St. Borders at 100 Broadway.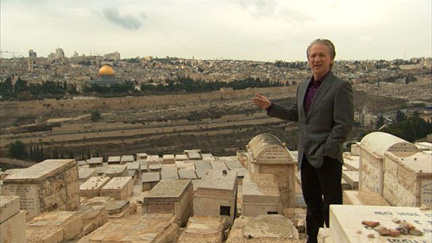 Bill Maher takes on organized religion and faith in comedy doc
RELIGULOUS (Larry Charles, 2008)
http://www.lionsgate.com/religulous

Bill Maher, who regularly shares his views on religion in his stand-up act, on his HBO show, and in books, takes on Christianity, Islam, Judaism, and other faiths in the very sharp, very funny documentary RELIGULOUS (a combination of "religious" and "ridiculous"). Taking a page out of Michael Moore's guerrilla filmmaking style, Maher and director Larry Charles (SEINFELD, CURB YOUR ENTHUSIASM, BORAT) go on the road, speaking with priests, rabbis, scientists, activists, doctors, ministers, politicians, and everyday plainfolk in Italy, Israel, England, the Netherlands, and across America, meeting some very strange characters with a wide array of religious beliefs, all of which the agnostic Maher, who doesn't believe in God and considers the Bible a fairy tale, thinks are idiotic. Among the most outrageous segments are Maher's visit to the Holy Land Experience theme park in Orlando, a bizarre battle with Jewish activist Yehuda Etzion, and Maher and his crew getting thrown out of the Vatican. Although RELIGULOUS primarily preaches to the choir and is unlikely to make many converts, Maher does bring up some cogent points about the history of religion and its eventual transcription, raising questions that will make you think about your own personal faith.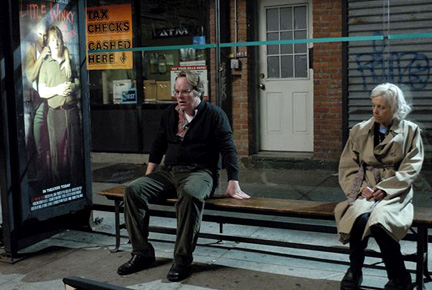 Caden Cotart (Philip Seymour Hoffman) is having a tough time in SYNECDOCHE
SYNECDOCHE, NEW YORK (Charlie Kaufman, 2008)
Landmark Sunshine Cinema
143 East Houston St. between First & Second Aves.
212-330-8182
http://www.landmarktheatres.com
http://www.sonyclassics.com/synecdocheny

In films such as BEING JOHN MALKOVICH (Spike Jonze, 1999), ADAPTATION (Spike Jonze, 2002), CONFESSIONS OF A DANGEROUS MIND (George Clooney, 2002), and ETERNAL SUNSHINE OF THE SPOTLESS MIND (Michel Gondry, 2004), writer Charlie Kaufman has created bizarre, compelling alternate views of reality that adventurous moviegoers have embraced, even if they didn't understand everything they saw. Well, Kaufman has done it again, challenging audiences with his directorial debut, the very strange but mesmerizing SYNECDOCHE, NEW YORK. Philip Seymour Hoffman stars as the bedraggled Caden Cotard, a local theater director in Schenectady mounting an inventive production of DEATH OF A SALESMAN. Just as the show is opening, his wife, avant-garde artist Adele Lack (Catherine Keener), decides to take an extended break in Europe with their four-year-old daughter, Olive (Sadie Goldstein), and Adele's kooky assistant, Maria (Jennifer Jason Leigh).
As Caden starts coming down with a series of unexplainable health problems (his last name, by the way — Cotard — is linked with a neurological syndrome in which a person believes they are dead or dying or do not even exist), he wanders in and out of offbeat personal and professional relationships with box-office girl Hazel (a nearly unrecognizable Samantha Morton), his play's lead actress, Claire Keen (Michelle Williams), his therapist, Madeleine Gravis (Hope Davis), and Sammy (Tom Noonan), a man who has been secretly following him for years. After winning a MacArthur Genius Grant, Caden begins his grandest production yet, a massive retelling of his life story, resulting in radical shifts between fantasy and reality that will have audiences laughing as they continually scratch their heads, hoping to stimulate their brain in order to figure out just what the heck is happening on-screen. Evoking such films as Federico Fellini's 8 1/2 and CITY OF WOMEN, Woody Allen's STARDUST MEMORIES, and Ingmar Bergman's WILD STRAWBERRIES as well as the labyrinthine tales of Argentine writers Jorge Luis Borges and Julio Cortazar, SYNECDOCHE, NEW YORK is the kind of work that is likely to become a cult classic over the years, requiring multiple viewings to help understand it all.
VICKY CRISTINA BARCELONA (Woody Allen, 2008)
Angelika Film Center
18 West Houston St. at Mercer St.
212-995-2000
http://www.city-cinemas.com/angelika.html
http://www.vickycristina-movie.com

After a trio of films made in England (the justly celebrated MATCH POINT, the disappointing SCOOP, and the underappreciated CASSANDRA'S DREAM), Woody Allen heads to Spain, setting his latest adult romantic comedy in the gorgeous city of Barcelona. The very serious Vicky (Rebecca Hall, channeling Mia Farrow) and the flirtatious free spirit Cristina (Scarlett Johansson) are best friends spending the summer at a villa owned by Judy (Patricia Clarkson) and Mark (Kevin Dunn). Vicky is about to get married to the very responsible and successful Doug (Chris Messina), while Cristina is just looking to have a wild time. When hot artist Juan Antonio (a gentle Javier Bardem) invites Vicky and Cristina to join him for wine and sex in Oviedo, Vicky thinks he is a pig, while Cristina wants to take him up on his offer. Further complicating the situation is Juan Antonio's homicidal, suicidal ex-wife, Maria Elena (an inspired Penelope Cruz), who forces herself back into his life. VICKY CRISTINA BARCELONA features one of Allen's best scripts in years. Hall, a young British actress who primarily works on stage and television, is captivating as Vicky; cinematographer Javier Aguirresarobe's camera falls in love with her charming face the moment it first lays eyes on her. Bardem and Cruz inject fire and ice into this complex relationship drama, which examines the nature of love in intelligent and intriguing ways. In addition to filming at such sites as Antoni Gaudi's Sagrada Familia, Parc Guell, and La Pedrera, Allen infuses the proceedings with a soundtrack of delightful Spanish music, structured around Gulia y Los Tellanini's "Barcelona."
Riff's Rants & Raves: Live Music, Dance & Theater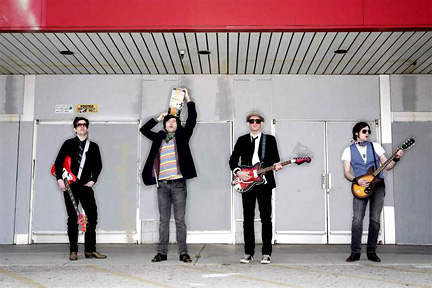 The Howlies are back in town for two shows
THE HOWLIES
Thursday, December 4, Mercury Lounge, 217 East Houston St. at Ave. A, $10-$12, 7:30
Saturday, December 13, Union Pool, 484 Union Ave. at Meeker Ave., $8, 8:00
http://www.myspace.com/unionpool
http://www.mercuryloungenyc.com
Atlanta, home of the amazing Black Lips and awesome Gringo Star, has also given birth to another frantic band, the Howlies, who will be playing two shows in New York as they tour behind the upcoming release of their debut CD, TRIPPIN' WITH THE HOWLIES, which was produced by Kim Fowley primarily because his name looks like it rhymes with the group's. (No, actually because he has produced such acts as the Runaways, Jonathan Richman and the Modern Lovers, and Warren Zevon.) Over the summer, the Howlies released a single/EP that contained "Sea Level" and "Dirty Woman," which will both appear on the upcoming full-length disc, as well as the B side "Baby Shakes (Acoustic Version)," displaying a loose, infectious sound that incorporates 1960s surf music with garage punk. These guys are so new, they don't even have a Wikipedia entry, so catch them now and write one yourself. On December 4 they'll be playing at the Mercury Lounge with the King Left and the Kiss Off, and on December 13 they'll be at Brooklyn's Union Pool with the King Left.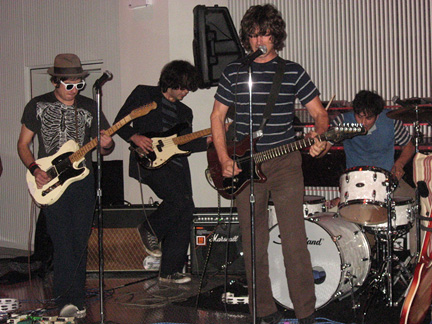 twi-ny/mdr
Gringo Star showcase opened the 2008 CMJ Music Marathon
GRINGO STAR
Wednesday, December 10, Santos Party House, 100 Lafayette St., 212-714-4646, $5, 7:00
Thursday, December 11, Don Pedro's, 90 Manhattan Ave. between Boerum & McKibben, 8:00
http://www.santospartyhouse.com
http://www.myspace.com/donpedrobarlounge
http://www.myspace.com/thegringostars
One of the standout bands at this October's CMJ Music Marathon, Atlanta's Gringo Star plays punk-injected southern garage rock with a twist. From the opening crunching guitar chords of the title track, ALL YALL (My Anxious Mouth, November 2008) is like the score for the hippest spaghetti Western never made, with a break for some trippy psychedelia ("Up and Down"), 1960s harmonic pop ("Come on Now"), and free jazz ("March of the Gringo"). Throughout the disc — as well as at their live shows — Pete DeLorenzo, Matt McCalvin, and brothers Pete and Nicholas Furgiuele switch off instruments and all take the mic, reminiscent of their Atlanta neighbors the Black Lips, but with not quite as much reckless abandon. On its first full-length album, U2 declared, "I Will Not Follow"; Gringo Star responds to that with their own declaratory "I Will Not Follow," in which DeLorenzo proclaims, "I will not let you cast your shadow over me / I will not let you mesmerize me / I will not let you hypnotize me / I will not buy into this damaged cult of personality." DeLorenzo also wears his heart on his sleeve at times, singing, "Resolve to make universal rights not a dream but an expression of your love of life," on "Eve of Your Expression." Fun background vocals lift "Don't Go" and "Black Night." In addition to its guitar mash-ups, Gringo Star also knows its way around a beautiful ballad, as they display to great effect on "Transmission." And they even cover Dino, Desi and Billy's "Rebel Kind" (Dino being the son of Dean Martin, Desi being the spawn of Desi Arnaz and Lucille Ball).
"Is it all worth while?" McCalvin asks on "Up and Down." "It is all worth while," he answers himself. Yes indeed, it is all worth while, resulting in one of the best albums of the year. Gringo Star will be playing songs from the new disc as well as, perhaps, such older tunes as "No Man," "Got to Be Free," "Not a Sound," and "Out of My Head" — which was famously interrupted in 2002 by Tony Clifton — at Santos Party House on December 10 with Golden Animals and Des Roar and December 11 at Don Pedro's with Golden Animals, Another Saturday Night, and Bad Credit No Credit.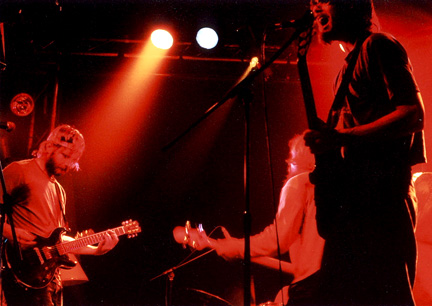 Annie Parisse
Less the Band seeks to save Coney Island in ASTROLAND
ASTROLAND: LESS THE BAND
The Kitchen
512 West 19th St. between Tenth & Eleventh Aves.
December 10-13 (December 10 performance reviewed)
Tickets: $15
212-255-5793
As new construction threatens to destroy the heart and soul of Coney Island, the multimedia indie-rock opera ASTROLAND tries to preserve its essence in an abstract apocalyptic tale. At center stage is the Brooklyn-based group Less the Band — Paul Sparks, playwright Adam Rapp, and Rob Beitzel on guitars, Michael Chernus on bass, and the heavily bearded Ray Rizzo on drums and sampler. Less the Band plays two hours of transcendent, absorbing music, ranging from acoustic ballads to sonic blasts of pure power pop; lead vocals are shared, and various backup singers and additional instruments appear. (Kimber Fuller is especially impressive on soprano sax.) The story is told obliquely; behind the band, Graham Waterston (whose father, Sam Waterston, was in the front row opening night) projects black-and-white videos excerpted from Tod Browning's FREAKS and George A. Romero's NIGHT OF THE LIVING DEAD along with old-time newsreel footage of Coney Island and other images, including sharks and bees. On two flanking screens, graphic novelist Danica Novgorodoff tells the story of Molly and Indiana Steve (voiced by Emily McDonnell and Christopher Denham, respectively), occasionally interpolating Annie Parisse's eerie photographs of haunting ceramic doll faces, in her tale of two people who meet on the F train and are soon sucked into a faceless crowd overrunning Coney Island.
ASTROLAND evokes the audible landscape of Coney Island with a funny, intuitive sound-effects rap by Zero Boy and calls up the glory of the sideshow with an awe-inspiring acrobatic rope dance by trapeze artist Miss Una. The libretto consists of such excellent songs as "Scream Across the Sky," "Plastic King," "Mary Magdalene," and "The Good, the Bad, and the Cosmetically Challenged (Surface Tension)"; in one of the show's most specific moments, in "Cyclone," Rapp sings, "Rusted unused and cold / There's no laughter anymore / There's only a hole / Goodbye to you, sweet Cyclone / Hello, Tornado," in reference to the old Tornado roller coaster as well as, perhaps, Vornado Realty, a onetime competitor in the battle to make over Coney Island. In "Hail the Whale" the band proclaims, "Apocalyptic nylon spies / In polyester-man disguises / They got silicon cyanide / They find their way inside." The narrative can often be hard to follow; the multiple layers of visual, musical, aural, and dramatic storytelling sometimes obscure the action, and the too-long second act includes several tunes that all seemingly would have worked as finales. And some technical glitches need to be worked out — in some seats, a spotlight shines right in the viewer's eyes, and the rattle of the air-conditioning nearly drowned out one of the slower, quieter numbers. Nevertheless, the world premiere of this fascinating, entertaining piece is an inspired success.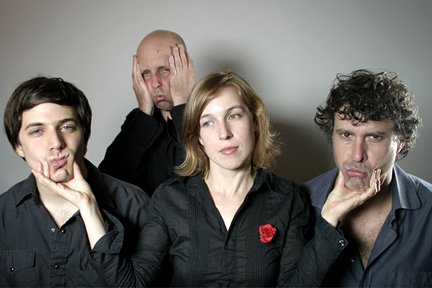 Liam Maloney
Angela Desveaux navigates a course to Union Hall in Brooklyn
ANGELA DESVEAUX
Union Hall
702 Union St. at Fifth Ave.
Thursday, December 11, $8, 7:30
212-220-1460
Canadian singer-songwriter Angela Desveaux has reached a career peak with her beautiful new album, THE MIGHTY SHIP (Thrill Jockey, September 2008). Evoking the bluesy country rock of Lucinda Williams and Gillian Welch, Desveaux leads her band — guitarist Mike Feuerstack, bassist Eric Digras, and drummer Gilles Castilloux — through ten songs on the disc, from the catchy pop of "Sure Enough" to the sweet guitar of "The Way You Stay" to the mournful ballad "Mighty Ship," a Titanic tale that also refers to her grandmother, whose first husband was taken by the sea. Desveaux changes tempo effortlessly in "Hide from You" and "For Design," while using her strong voice to great effect in such songs as "Shape You" and "Red Alert." On "Sure Enough," she sings, "Even though I know I'm not sure where I'm going / I'm going / I'm sure enough to know / it'll stay this way forever / stay this way for everyone." Angela Desveaux and the Mighty Ship will be going to Union Hall on December 11, on a bill with Steve Burns & the Struggle and Brookville. All aboard!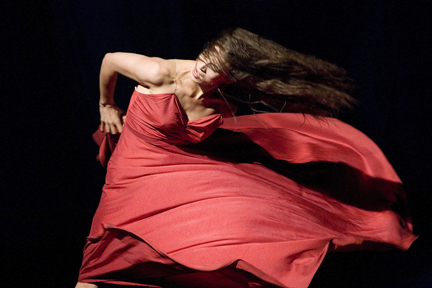 Clémentine Deluy by Angelos Giotopoulos
Pina Bausch brings India to Brooklyn in latest work
BAMBOO BLUES: PINA BAUSCH
Brooklyn Academy of Music Next Wave Festival
BAM Howard Gilman Opera House
30 Lafayette Ave. between Ashland Pl. & St. Felix St.
December 11-20
Tickets: $25-$85
718-636-4100

Artistic director and dance legend Pina Bausch has had ties to India for nearly thirty years, since 1979, when Tanztheater Wuppertal performed RITE OF SPRING there — and was shut down in Calcutta because of nudity. In 1988, she developed a lasting friendship with Indian dancer and choreographer Chandralekha, whose ideas about contemporary dance were as startling in India as Bausch's were in Germany. Bausch's latest evening-length piece, BAMBOO BLUES, currently in an exclusive U.S. engagement at the Brooklyn Academy of Music, incorporates Indian elements into yet another glorious Tanztheater Wuppertal production. The stage is one of Bausch's sparsest yet, consisting only of a billowing white curtain in the back, a black floor in the first half, a white floor in the second. The fifteen dancers — seven women wearing lush, brightly colored floor-length evening gowns and eight men in black pants and white shirts — move fluidly throughout the show, which is dominated by brief solos (ranging in mood from melancholy and yearning to angry and romantic) and intricate pairings mixed with Bausch's trademark slyly humorous bits. The performance — the troupe's eleventh appearance at BAM, dating back to 1984 — includes a hilarious mundu (saree) pageant, video projections of Bollywood stars, audience participation, and various treats for all five senses. Things do slow down and grow a bit repetitive in the middle of the second act before BAMBOO BLUES closes out beautifully. The eclectic score features music from the Bombay Dub Orchestra, Sunil Ganguly, Suphala, Talvin Singh, and Anoushka Shankar as well as Talk Talk, Cujo / Amon Tobin, 4Hero, and others. BAMBOO BLUES is yet another masterpiece from one of the world's most talented and innovative artists, following in the footsteps of such triumphs as MASURCA FOGO, NEFES, and DANZON.
Kieran Hebden and Steve Reid tear things up at (le) poisson rouge / video by twi-ny/mdr
WORDLESS MUSIC SERIES:
KIERAN HEBDEN AND STEVE REID
(le) poisson rouge
150 Bleecker St.
Friday, December 12, $15, 8:00
212-505-fish
http://www.kieranhebdenandstevereid.com
http://www.myspace.com/lepoissonrougenyc
Continuing a collaboration that began a few years back, electro-wizard Kieran Hebden (Four Tet) and jazz drummer Steve Reid (the Steve Reid Ensemble) are back together — they each have numerous solo projects and other gigs — touring in support of their latest release, NYC (Domino, December 2008). They have pooled their unique talents again (following THE EXCHANGE SESSIONS in 2006 and TONGUES in 2007) on this intoxicating sonic cityscape of a half dozen songs, ranging in length from 5:46 to 9:23, that come alive with the energy of New York City. Things get Lower East Side funky on "1st & 1st," kinda spacey on "Arrival," plenty groovy on "Between B & C," and downright trippy on the album closer, "Departure." ("Lyman Place," by the way, which opens the disc, is in the South Bronx; the song features an epic, soaring midsection.) Each song is its own suite of sounds — from hypnotic and trancelike to energetic and passionate — as Hebden and Reid bounce ideas off each other in a virtuoso back-and-forth game, working in and out of melody and dissonance. On December 12 at (le) poisson rouge, they featured new songs and old, as Reid, sweating behind his drum kit, picked up audio cues from Hebden, and Hebden, jutting out his head to the beat, played off of Reid's pulsating rhythm, each one challenging the other in a thrilling impromptu session of wordless music.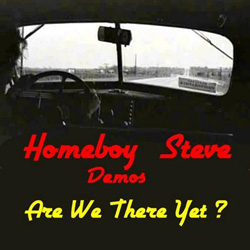 HOMEBOY STEVE SO LOW SHOW
Banjo Jim's
700 East Ninth St. at Ave. C
Saturday, December 13, free, 7:00
212-777-0869
Stephen B. Antonakos, son of the famous artist, has to be one of the busiest musicians in New York, currently playing in at least a half a dozen bands by our last count (and previously a member of the Blue Chieftains, the General Sherman Band, and 5 Chinese Brothers). He also goes by the name Homeboy Steve, having just released the fine solo disc ARE WE THERE YET? On the album, Homeboy Steve takes listeners on a lo-fi musical adventure through the twentieth century and beyond, with generous helpings of folk, jug band, pop, roots rock, country, Tin Pan Alley, swing, sea shanties, sing-alongs, and a wry sense of humor. "I got hopes and dreams / but all I get, it seems / is a whole lotta nothin'," he sings on the album's opener, but he's got a whole lot more than that. "Tommy" is a terrific whirlwind story-song in the style of Jim Carroll's "People Who Died" and the Nails' "88 Lines About 44 Women." On the melodious double shot of "Room 4 U" and "Tears of Joy," Liz Tormes takes the lead on the first, with Rebecca Turner nailing the latter. "Into this world / a stranger I came / anointed with fire / baptized in rain," Steve sings in the country blues "Baptized in Rain," which would have been great on the next Johnny Cash / Rick Rubin album.
He pays tribute to one of his usual haunts in "Banjo Jim's," about the Lower East Side bar where he often plays, and gives shout-outs to Tennessee Ernie Ford's "16 Tons" and Lee Dorsey's "Workin' in the Coal Mine." He also heads to Italy looking for love in "Tell Me Yes, Arno" (get the title pun?) and to Victoria searching for a gold-digger in "Go Go Go to Bendigo," the rockingest song on the disc. Throughout the album, Steve gets help from Susan Mitchell on violin, Bruce Martin on drums, Dave Hofstra on tuba, Trip Henderson on harmonica, Skip Ward on pennywhistle, Neil Thomas on accordion — and yes, that's a kazoo on "Nothin' Is Right." The album closes with the very funny self-deprecating love song "My Masterpiece," in which he puts everything into perspective. In addition to his December 13 solo gig at Banjo Jim's, Antonakos will be playing with Sean Kershaw and the Terrible Two on December 5 and 12 at Hill Country and December 6 at Pete's Candy Store, with Wanda Phipps on December 15 at La Mama, with Magges on December 20 at Otto's Shrunken Head, and with Sean Kershaw & the New Jack Ramblers on December 21 at Hank's Saloon. (And we always have our eyes and ears open for the next Love Camp 7 show.)
Riff's Rants & Raves: Art & Literature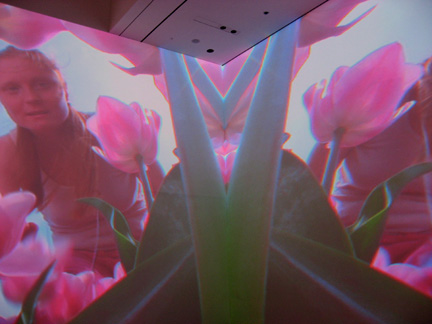 twi-ny/mdr
People will be jumping for joy all over MoMA on December 8
JUMPING IN ART MUSEUMS
Museum of Modern Art, Special Exhibitions Gallery, second floor
West 54th St. between Fifth & Sixth Aves.
Monday, December 8, 6:30
Admission: $20 (includes same-day film screening)
212-708-9400
http://jumpinginartmuseums.blogspot.com
There are plenty of reasons to jump for joy this holiday season at MoMA, what with such outstanding current exhibits as "Joan Miro: Painting and Anti-Painting 1927-1937," "Van Gogh and the Colors of the Night," "Batiste Madalena: Hand-Painted Film Posters for the Eastman Theatre, 1924-1928," and "Pipilotti Rist: Pour Your Body Out (7354 Cubic Meters)," among others. Allison Reimus, whose blog documents people jumping in art museums all over the world, is holding her latest flash-mob event, in conjunction with LVHRD, on December 8 at MoMA — taking advantage of MoMA's special holiday Monday hours, during which the museum remains open until 8:45 — asking all hoppers to meet in the Donald B. and Catherine C. Marron Atrium at 6:30, where everyone will begin pogoing in front of Pipilotti Rist's giant multiwall site-specific video installation. It's an interesting choice, as "Pour Your Body Out" is a slow-moving, meditative work about nature, animals, the production and consumption of food, and the female reproductive system. In fact, Rist has designed a comfy circular island where people can take off their shoes and lie down to experience the hallucinogenic film, so all the jumping will provide a sharp contrast conceptually, though it should really cool. But that's only the start of the night, with plenty more works of art to jump in front of in the following two-plus hours. Since the van Gogh exhibit requires a timed-entry ticket, we're not sure if you'll be able to jump in front of "The Starry Night," but we strongly recommend making your way over to the "Here Is Every. Four Decades of Contemporary Art" exhibit and jumping right in the middle of Bruce Nauman's "Cones Cojones" piece while Yvonne Rainer dances next to you in the large-screen film projection "Trio A." So go ahead and jump!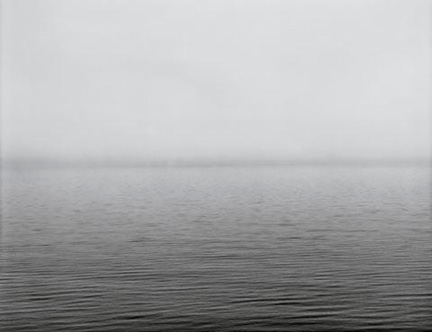 © Hiroshi Sugimoto / courtesy Gagosian Gallery
Hiroshi Sugimoto, "Lake Superior, Eagle River," gelatin silver print, 2003
HIROSHI SUGIMOTO: 7 DAYS / 7 NIGHTS
Gagosian Gallery
522 West 21st St. between Tenth & Eleventh Aves.
Closed Sunday & Monday
Through December 20
Admission: free
http://www.sugimotohiroshi.com

Photographer Hiroshi Sugimoto, whose remarkably lifelike portraits of historical wax figures thrilled us at the Guggenheim Museum SoHo in 2001 and whose "History of History" amazed us at the Japan Society in 2005-6, is back with a small but elegant show at Larry Gagosian's West 21st St. space in Chelsea, transforming the gallery into two large rooms. In the first, painted all white, hang seven gelatin silver prints side by side along one wall, each of the sea during daytime. Although one might assume the photographs are all of the same body of water — especially because the horizon line is consistent throughout — they are shots of the Bay of Sagami, the Aegean Sea, the Ligurian Sea, and otherss, taken over the course of thirteen years with extended exposure time. It's all very bright, but it takes on a deeper meaning when viewed in conjunction with what's on the other side of the wall — a second room, of the exact same size, except all black, with seven more seascapes hanging in similar position to the first seven.

In the second room, sort of a reverse negative of the first, are nighttime pictures of the Ionian Sea, the Mirtoan Sea, the Baltic, and others, bathed in darkness save for lights being projected directly on to them, illuminating them like windows in a beach house at evening. On quick glance it is difficult to see the soft waves, the clouds, the horizon line; at times they appear to be abstract paintings in the mode of Sean Scully and even Mark Rothko in grayscale, but let your eyes adjust to capture their wonder. After examining each work, take a seat against the back wall and breathe in their meditative beauty, allowing their contemplative nature to carry you away from the madness going on in the outside world. As a whole, the fourteen prints hearken back to the creation of the universe. "Mystery of mysteries, water and air are right there before us in the sea," Sugimoto writes about the series on his Web site. "Every time I view the sea, I feel a calming sense of security, as if visiting my ancestral home; I embark on a voyage of seeing."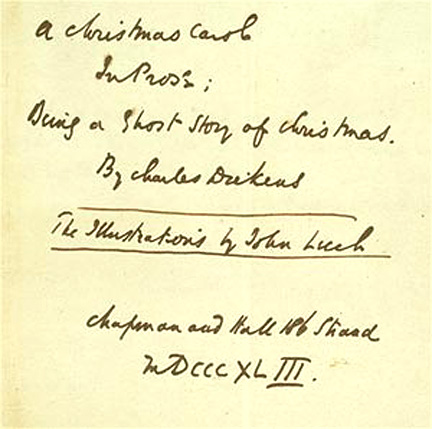 Morgan Library & Museum
Charles Dickens, "A Christmas Carol in Prose: Being a Ghost Story of Christmas" (detail), signed autograph manuscript, December 1843
CHARLES DICKENS'S A CHRISTMAS CAROL
The Morgan Library & Museum, McKim Building
225 Madison Ave. at 36th St.
Admission: $12
212-685-0008
Through Sunday, January 4 Original leather-bound manuscript of holiday classic by Charles Dickens, including revisions and deleted text; admission is free on Friday, December 7 & 14, after 6:30, when there will be holiday music performed by singers from the Mannes College of Music
Aurelio Amendola/FMF
Michelangelo's "Pieta," from sixty-one-pound book MICHELANGELO: LA DOTTA MANO
MICHELANGELO: LA DOTTA MANO
(MICHELANGELO: THE LEARNED HAND)
Bill Blass Public Catalog Room
Humanities and Social Sciences Library
Fifth Ave. at 42nd St.
Admission: free
Tuesday, December 2
through
Monday, December 8 Public display of sixty-one-pound book by Michelangelo Buonarotti valued at $130,000, featuring an exact scale replica of "Madonna della Scala (Madonna of the Steps)" carved in Polvaccio rock on the cover, drawing reproductions, original photography, essays, and more, measuring eighteen by twenty-eight inches to comply with the Fibonacci Sequence and Golden Ratio; FMR will be publishing a limited edition of ninety-nine copies
A LITERARY CHRISTMAS MISCELLANY FROM THE BERG COLLECTION
Humanities and Social Sciences Library
Enda Barnes Salomon Room, third floor
Fifth Ave. at 42nd St.
Closed December 7 & 25 and January 1
Admission: free
Saturday, December 5
through
Sunday, January 4 Display including the prompt copy of A CHRISTMAS CAROL that Charles Dickens used at public readings as well as Christmas books, letters, and greetings by James Joyce, Sean O'Casey, T. S. Eliot, Jack Kerouac, e.e. cummings, and Maurice Sendak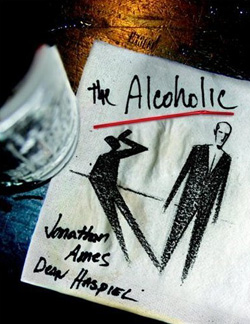 THE ALCOHOLIC, written by Jonathan Ames and illustrated by Dean Haspiel (Vertigo, October 2008, $19.99)

Raconteur Jonathan Ames, author of such offbeat novels as THE EXTRA MAN and WAKE UP, SIR!, winner of a Guggenheim Fellowship, and an occasional boxer, has collaborated with artist extraordinaire and FOT (friend of twi-ny) Dean Haspiel on THE ALCOHOLIC, a harrowing and humorous look at Ames's battle with the bottle as he tries to make a life for himself in New York City. The graphic novel opens in August 2001, with Ames wondering how he ended up in the front seat of a station wagon cluttered with cats and suitcases, about to have sex with a tiny old lady with ragged teeth. He then goes back to 1979, focusing on important life-changing events that led him to such a strange and awful fate, including getting drunk for the first time when he was fifteen; having to bury his parents after a tragic car accident; sharing an oddly close relationship with his great-aunt, Sadie; checking himself into rehab; losing his hair; and falling in love with a younger fan who keeps moving from city to city. But it is his dysfunctional and heartbreaking relationship with his childhood friend, Sal, that gives the book its emotional center and dominates Ames's thoughts and actions as he spirals downward toward that station wagon. Haspiel (the creator of Billy Dogma and OPPOSABLE THUMBS and the illustrator of Harvey Pekar's THE QUITTER) enhances Ames's tale with black-and-white drawings that don't merely depict the text but get inside Ames's head, poignantly capturing the raw energy of the story. In THE ALCOHOLIC, Ames doesn't get bogged down in trite confessionals that can often mar such deeply personal works and wisely lets all the sex, booze, vomit, and impending baldness be mere sidebars to what is really ailing him.

All contents copyright 2008 by Mark Rifkin and twi-ny. All rights reserved. Contents may not be reprinted without written permission. Please note that events, dates, and prices are subject to change.
Send all comments, suggestions, reviews, and questions to mark.rifkin@twi-ny.com.
Please note that some e-mail clients may wrap links, so be sure to enter them fully into your browser.
To subscribe to this list, please e-mail the administrator at admin@twi-ny.com with the word Subscribe in the Subject line; be sure to ask for back issues, which are free as well. To unsubscribe from this list, please think it over twice before e-mailing the same address. Please let us know what you didn't like about this forum and we'll do our best to correct it in the future -- if we agree with you. If you would like to see something covered in a future issue, please let us know. Without you, there is no need for us to exist.


twi-ny top two dozen (or so)
weekly reminders & special events
FILM AND LITERATURE: ANTONIO BANDERAS
Instituto Cervantes
211-215 East 49th St.
Admission: free
212-308-7720
Wednesday, December 3 Antonio Banderas in conversation with writer Antonio Soler, 6:00

STREET ART, STREET LIFE:
STREET AS SITE OF GLOBALIZATION
The New School, John Tishman Auditorium
66 West 12th St. between Fifth & Sixth Aves.
Admission: free
212-980-3942
Wednesday, December 3 Panel discussion related to the current exhibition at the Bronx Museum of the Arts, 6:30
TREE LIGHTING CEREMONY
Rockefeller Plaza West
West 48th & 51st Sts. between Fifth & Sixth Aves.
Tree will remain on view through January 9, daily from 5:30 am — 11:30 pm
Admission: free
212-632-3975
http://www.rockefellercenter.com
Wednesday, December 3 Seventy-sixth annual holiday event, featuring lighting of seventy-two-foot, eight-ton Norway spruce from Hamilton, NJ, with celebrity guests, 7:00
KEVIN COSTNER & THE MODERN WEST
Blender Theater at Gramercy
127 East 23rd St. at Lexington Ave.
Tickets: $34.50-$39
212-777-6800
http://www.myspace.com/kevincostnerandmodernwest
Wednesday, December 3 Actor Kevin Costner leads his band through songs from their new CD, UNTOLD TRUTHS, 8:00
KYLE ABRAHAM AND LAYARD THOMPSON
Dance Theater Workshop
219 West 19th St. between Seventh & Eighth Aves.
Tickets: $26
212-924-0077
http://www.dancetheaterworkshop.org
Wednesday, December 3
through
Saturday, December 6 An evening of world premieres, including Kyle Abraham.In.Motion's solo BRICK and ensemble piece THE DRIPPING KIND and Layard Thompson's CUP...PUC......K......OHHHH, BEAUTY, FULL, VESSEL, 7:30
TABLAO FLAMENCO IN ASTORIA
Centro Espanol
4101 Broadway at 41st St., Astoria
718-626-0872
http://www.centroespanolnyc.org
Saturday, December 5 The American Bolero Dance Company, led by dancer-choreographer Gabriela Granados, comes to Astoria, with special guests Basilio Georges, Aurora Reyes, and Alfonso Cid, 8:30 & 10:30
AFRICAN DIASPORA FILM FESTIVAL
Anthology Film Archives, 32 Second Ave. at Second St.
Clearview 62nd St., 1871 Broadway at 62nd St.
November 28 - December 10
VAP Pass: $250
Festival Pass: $160
212-505-5181 / 212-864-1760
This sixteenth annual festival features more than eighty documentaries, shorts, animated films, and full-length narratives. According to its mission statement, "In this world there are no boundaries around people because they are embraced in a universal understanding of humanity. This is the element of commonality that weaves through this annual event of images from Africa and the African Diaspora." Below are the special events, most of which include Q&As and after-parties.
Wednesday, December 3 A Night in Morocco: WHERE ARE YOU GOING MOSHE? (Hassan Benjelloun, 2007), followed by a Q&A and a catered reception at the Bowery Bar, Anthology, $25, 6:30
Thursday, December 4 Gala Screening: PRINCE OF BROADWAY (Sean Baker, 2008), followed by a Q&A and a catered reception at Josephina, Clearview, $25, 6:30
Friday, December 5 A Night in Ethiopia: 13 MONTHS OF SUNSHINE (Yehdego Abeselom, 2008), followed by a Q&A and a catered reception, Riverside Theatre, Riverside Church, 91 Claremont Ave. at 120th St., $25, 8:00
Saturday, December 6 Centerpiece: THE BLACK LIST (Timothy Greenfield-Sanders, 2007), followed by a panel discussion moderated by Farah Griffin and a catered reception, Cowin Center, 147 Horace Mann in Teachers College, Columbia University, 535 West 120th St., $25, 8:00
Sunday, December 7 A Night in Senegal: WRESTLING GROUNDS (Cheikh Amadou Ndiaye, 2006), followed by a Q&A and African dance party at the Bowery Bar, Anthology, $25, 5:00
Tuesday, December 9 A Night in Egypt: CHAOS (Youssef Chaine & Khaled Youssef, 2007), followed by a Q&A and a reception, Leonary Nimoy Thalia, Symphony Space, 2537 Broadway, $25, 8:00
Sunday, December 14 Closing Ceremony: screening of Best Film Directed by Woman of Color, followed by a performance by Gerald Alston of the Manhattan and a catered reception, hosted by John Hockenberry and Adaora Udoji, Cowin Center, 147 Horace Mann in Teachers College, Columbia University, 535 West 120th St., $50, 3:00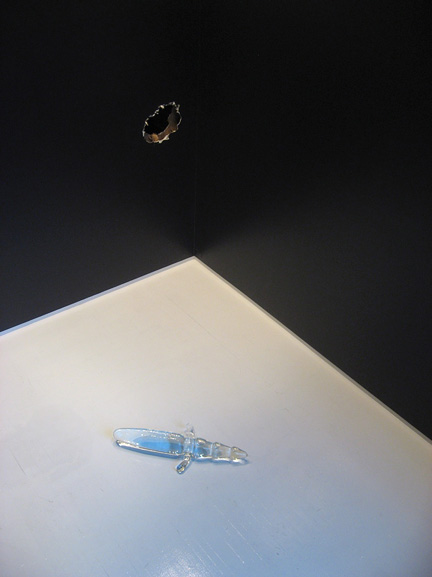 twi-ny/mdr
Something mysterious is going on at Rothstauffenberg's "It's Not About You It's About Them" at NYEHAUS (15 Gramercy Park South, through Dec. 20)
THE WRITERS STUDIO READING SERIES
Judson Memorial Church
55 Washington Square North
Suggested donation: $5
212-255-7075
Thursday, December 4 Guest readers Robert Pinsky, Tom Sleigh, and Rachel Dewoskin, followed by book signing and holiday party, 7:00
WINTER CONCERT
Saint Peter's Church
619 Lexington Ave. at 54th St.
Suggested donation: $15-$20
848-333-2203
http://www.downtowngleeclub.org
Thursday, December 4 Annual holiday concert featuring a special tribute to George Gershwin and a guest appearance by the Lighthouse Vocal Ensemble, 7:30
AN EVENING WITH DENNIS HOPPER
The Times Center
242 West 41 Street, Manhattan
Tickets: $25
718-784-4520
Thursday, December 4 Conversation, film clips, and more celebrating the career of Dennis Hopper, presented by the Museum of the Moving Image, introduced by Julian Schnabel, 7:30
TRIBECA DANCE: DREAMS AND VISIONS
TriBeCa Performing Arts Center
199 Chambers St. between Greenwich & West St.
Tickets: $25
212-220-1460
Thursday, December 4
through
Saturday, December 6 Multimedia piece performed by Christal Brown's Inspirit, featuring an original score by Fahari Malianga, 8:00
G3 BENEFIT ART SHOW
Galleria on Third
529 Third Ave. between 35th & 36th Sts.
Admission: free
212-683-2886
http://www.galleriaonthird.com
Thursday, December 4
through
Saturday, December 20 Fifth annual benefit art show raising funds for the Cancer Center at Bellevue Hospital, featuring works by Carson Kressley, Marc Tetro, Romero Britto, Cynthia Gordon, Myrto Glarou, Deborah Nolan, and cancer survivors from the Creative Center; Kressley and Tetro will be present at the opening on December 4 from 6:00 to 9:00
CARLOS MOORE
Multiple venues
Admission: free
http://www.theshabazzcenter.net
http://www.chicagoreviewpress.com
Thursday, December 4 Carlos Moore, PICHON: RACE AND REVOLUTION IN CASTRO'S CUBA: A MEMOIR (Lawrence Hill Books, November 2008, $26.95), reading, signing, and Q&A, Malcolm X & Dr. Betty Shabazz Memorial & Educational Center, 3940 Broadway, second floor, 212-568-1341, 6:30
Thursday, December 11 Carlos Moore, PICHON: RACE AND REVOLUTION IN CASTRO'S CUBA: A MEMOIR (Lawrence Hill Books, November 2008, $26.95), reading, signing, and Q&A, Schomburg Center for Research in Black Culture, 515 Malcolm X Blvd., 212-491-2200, 6:30
FIRST FRIDAYS: "CABIOSILE PA' SHANGO!"
Bronx Museum of the Arts
1040 Grand Concourse at 165th St.
Admission: free
RSVP for program: 718-681-6000 ext102
Friday, December 5 A musical tribute to the forces of fire and healing, with live music by Illu Aye, DJ Laylo, and hosts Marinieves Alba / the Zol Lab, 6:00 — 10:00
FLUX FACTORY BENEFIT AUCTION
Hungarian Cultural Center
447 Broadway
Tickets: $30
718-707-3362
Friday, December 5 Cocktails, hors d'oeuvres, live and silent auction, and more, featuring works by Stephen Westfall, Swoon, Julia Mandle, Ian Burns, Johanna Billing, and Paul Ramirez-Jonas, 7:00
BRIAN POSEHN
Comix
343 West 14th St. between Eighth & Ninth Aves.
Tickets: $25-$30 ($81.25 with dinner)
212-524-2500
Friday, December 5
and
Saturday, December 6 Stand-up by metal-loving deadpan comedian Brian Posehn, who is outrageously funny on THE SARAH SILVERMAN PROGRAM. and previously was a regular on JUST SHOOT ME and MR. SHOW, 8:00 & 10:30
LET ME PUT IT THIS WAY: THE STRAIGHT TALK PLAYS
Public Theater, the Anspacher
425 Lafayette St.
Admission: free but reservations required
212-642-5052
Friday, December 5
through
Sunday, December 7 The 52nd Street Project presents collaborations between children from the project and mentor-performers, including Peter Dinklage, Jessica Hecht, Celia Keenan-Bolger, Keira Naughton, and James Yaegashi
A FAMILY LUCIA
Scandinavia House
58 Park Ave. at 38th St.
Tickets: $10
212-847-9746
http://www.scandinaviahouse.org
Saturday, December 6 Classic Scandinavian holiday tale, with Swedish singer Eva Engman and a children's choir, ages five and up, 1:00
BEST OF CHRISTMAS REVELS
Church of the Holy Apostles
296 Ninth Ave. at 28th St.
Tickets: $35-$100
212-864-5400
Saturday, December 6 Benefit performance featuring music, song, dance, and drama from Christmas Revels past, 3:00 & 8:00
A CHRISTMAS CAROL
Old Stone House Historic Interpretive Center, J.J. Byrne Park
Fifth Ave between Third & Fourth Sts., Brooklyn
Tickets: $10
718-765-3195
http://www.theoldstonehouse.org
Saturday, December 6 Broadway actor and Park Slope resident Kevin Hogan will read Charles Dickens's A CHRISTMAS CAROL, for ages twelve and up, with hot cider, snacks, and Barbara Ensor's artwork in the Great Room, 7:00
NOW WE MAKE MERRY
Merkin Concert Hall at Kaufman Center
129 West 67th St.
Tickets: $25-$30
212-501-3330
http://www.stonewallchorale.org
Saturday, December 6 Stonewall Chorale annual holiday concert, featuring Bach's "Magnificat," wintry tunes by Rutter, Bassi, and Daley, and Hanukkah and Christmas songs, with a chamber orchestra conducted by artistic director Cynthia Powell, 8:00
HOLIDAYS AT BARTOW-PELL
Bartow-Pell Mansion Museum
895 Shore Rd, the Bronx
718-885-1461
http://www.bartowpellmansionmuseum.org
Saturday, December 6 Annual Winter Family Day, featuring puppet shows, craft projects, hay rides, music, food, and more, $20 per child, adults free, 10:00 am — 2:00 pm
Saturday, December 13 Candlelight Tour — A Celebration of Trees, with mansion decorated in the holiday spirit of the Bartow family, including warm cider and festive snacks, adults $12, children six and under free, 5:00 — 8:00
Saturday, December 13
and
Sunday, December 14 Bronx Art Ensemble — Holiday Music Concert, telling the story of Dutch Sinterklass, free tickets available by calling 718-601-7399, 12 noon & 2:00
CHRISTMAS IN LITTLE ITALY
Mulberry St. between Canal & Broome Sts.
Weekends December 6-21
Fridays & Saturdays 11:00 am — 10:00 pm
Sundays 11:00 am — 8:00 pm
Admission: free
212-302-0551
http://www.littleitalynyconline.com
Saturday, December 6 Tree lighting ceremony and concert, 5:00
Saturday, December 13 Live Nativity performance, 6:15
Saturday, December 20 Second annual East Meets West Christmas Parade, 2:00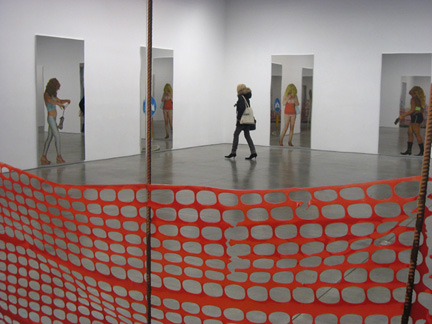 twi-ny/mdr
In "Trans border / Trans limit / Trans gression," Michelangelo Pistoletto's mirror paintings reconfigure the space at Lurhing Augustine (531 West 24th St., through Dec. 20)
SILENT CLOWNS: SILENT STOCKING STUFFERS
New-York Historical Society
170 Central Park West between 76th & 77th Sts.
Tickets: $10
212-712-SCFS
Sunday, December 7 THE COURTSHIP OF MILES SANDWICH (1923), THERE AIN'T NO SANTA CLAUS (1926), OLD SCROOGE (1913), GOOD CHEER (1926), BIG BUSINESS (1929), and more, with an introduction and Q&A with Bruce Lawton and Steve Massa and live piano accompaniment by Ben Model, 2:00
WINTER HOLIDAY LIGHTING
Charles A. Dana Discovery Center
Inside Central Park at 110th St. & Lenox Ave.
Admission: free
212-860-1370
Sunday, December 7 Twelfth annual event, with live music, holiday activities, refreshments, and more, 3:00 — 5:00
PARK AVE. MEMORIAL TREES
Park Ave. at 91st St.
Admission: free
212-289-4400
Sunday, December 7 Annual holiday lighting of trees between MetLife Building and 96th St. along Park Ave., with live music and more, 6:30
HOME FOR THE HOLIDAYS
Various locations in Central Park
Admission: free unless otherwise noted
Sunday, December 7 Twelfth annual Holiday Lighting, featuring arts & crafts, live music, hot chocolate, and more, Charles A. Dana Discovery Center, inside the part at 110th St. between Fifth & Lenox Aves., 212-860-1370, 3:00 — 5:00
Tuesday, December 9 Exploring Kwanzaa Through Film: THE BLACK CANDLE (M. K. Asante Jr.), part of the Harlem Meer Social Hour, Charles A. Dana Discovery Center, inside the part at 110th St. between Fifth & Lenox Aves., 212-860-1370, 6:30
Sunday, December 14 Christmas Bird Count, South Pump Station of the Reservoir, 85th St. & Fifth Ave., advance registration recommended, 8:00 am
CHRISTMAS IN RICHMOND TOWN
Historic Richmond Town
441 Clarke Avenue at Arthur Kill Road, Staten Island
S74 bus from Staten Island Ferry
718-351-1611
http://www.historicrichmondtown.org
Sunday, December 7 Ornament making, caroling, holiday shopping, a free village tour, and community tree lighting, 10:00 am — 4:00 pm
Saturday, December 13, 20 Candlelight Tours, with music, food, and holiday sounds, illuminated by candles, oil lamps, and hearth, adults $22, children under twelve $10, prepaid reservations required at 718-351-1611 ext281
WINTER AT THE FARMHOUSE
Dyckman Farmhouse Museum
4881 Broadway at 204th St.
Admission: free but reservations recommended
212-304-9422
http://www.dyckmanfarmhouse.org
Sunday, December 7
and
Saturday, December 27 Annual candlelight tour of nineteenth-century farmhouse, 4:00
CHILDREN'S HOLIDAY PARTY
Museum of the City of New York
1220 Fifth Avenue at 103rd St.
Tickets: $60-$1,000
Reservations required: 212-534-1672, programs@mcny.org
Monday, December 8 Annual celebration featuring face painting, art & crafts, clowns, magicians, carolers, a buffet supper, and Santa Claus, 3:00
BROOKLYN BOROUGH HALL TREE
209 Joralemon St. at Court St.
Admission: free
Monday, December 8 Annual lighting of balsam fir tree, with a live performance by Eriksen Translations, 5:30

CONVERSATIONS WITH CONTEMPORARY PHOTOGRAPHERS:
GREGORY CREWDSON AND CATHERINE OPIE
Solomon R. Guggenheim Museum
1071 Fifth Ave. at 89th St.
Tickets: $10
212-423-3500
Monday, December 8 Discussion with photographers Gregory Crewdson and Catherine Opie, moderated by Jennifer Blessing, 6:30
A NIGHT OF MUSIC, COMEDY, AND WEIRDNESS FOR THOSE F&CKED UP BY FORECLOSURES
The Knitting Factory
74 Leonard St. between Broadway & Church St.
Tickets: $20
212-219-3132
http://www.knittingfactory.com
Monday, December 8 Benefit for NY Cares, featuring David Cross, Marnie Stern, Conrad Keely, Leona Naess, and Despot, 7:00
LUX AETERNA
New York City Master Chorale
Tickets: $15-$35
917-326-1422
http://www.nycmasterchorale.org
Saturday, December 8 New York City Master Chorale performs Morten Lauridsen's "Lux Aeterna" and holiday favorites in nontraditional arrangements, conducted by Dr. Thea Kano, Church of St. Paul the Apostle, Columbus Avenue at 60th St., 8:00
Sunday, December 9 New York City Master Chorale performs Morten Lauridsen's "Lux Aeterna" and holiday favorites in nontraditional arrangements, conducted by Dr. Thea Kano, Holy Trinity Catholic Church, 213 West 82nd St., 3:00
MAD. SQ. HOLIDAY: EVERLASTING
Madison Square Park, Northern Plaza
Broadway & Madison Ave. and Twenty-third & Twenty-fifth Sts.
Admission: free
212-538-9310
https://www.madisonsquarepark.org
Tuesday, December 9 Annual tree lighting, featuring live performances by the New York Life Singers and Audra Rox, 4:30
McCOY TYNER 70th BIRTHDAY CELEBRATION
Blue Note
131 West Third St.
Tickets: table $45, bar $30
212-475-8592
Tuesday, December 9
through
Sunday, December 14 Jazz piano legend McCoy Tyner will be highlighting songs from his latest CD/DVD, GUITARS, with Gerald Cannon on bass, Eric Lamau-Gravatt on drums, and featuring special guests Savion Glover (December 9-14), Marc Ribot (December 9), Joe Lovano (December 10), Ravi Coltrane (December 11-12), Bill Frisell (December 13), and John Scofield (December 14), 8:00 & 10:30
THE McGARRIGLE CHRISTMAS HOUR
Carnegie Hall
Stern Auditorium / Perelman Stage
57th St. at Seventh Ave.
Tickets: $40-$100
212-247-7800
Wednesday, December 10 Annual holiday concert, featuring Kate and Anna McGarrigle, Rufus Wainwright, Martha Wainwright, and special guests Emmylou Harris, Lou Reed, Laurie Anderson, Jimmy Fallon, and Justin Bond, 8:00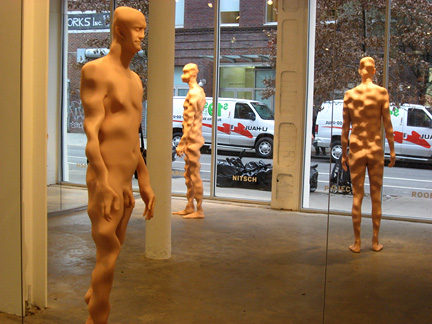 twi-ny/mdr
Richard Dupont's unique polyurethane figures confuse and delight at the Carolina Nitsch Project Room (534 West 22nd St., through Jan. 31)
HOLIDAY ON THE HUDSON
Chelsea Art Museum
556 West 22nd St. between Tenth & Eleventh Aves.
Tickets: $25-$100
212-757-0981 ext201
Thursday, December 11 Fourth annual event, featuring live music, festive food and drink, and more, 7:00 - 9:00
NIGHTS BEFORE (AND AFTER) CHRISTMAS
The Morgan Library & Museum
225 Madison Ave. at 36th St.
Tickets: $25-$35
212-685-0008
Friday, December 12 Robert White, tenor, and Philip Fisher, piano: works by Adams, Beach, Berlin, Coates, Debussy, Fauré, Franck, Gershwin, Loewe, Moore, Rodgers, Schubert, Suesse, Praetorious, and others, 7:00
TZADIK MUSIC LABEL SERIES IV: TRIBUTE TO TEIJI ITO
Japan Society
333 East 47th St. between First and Second Aves.
Tickets: $35
212-715-1258
Friday, December 12 Guy Klucevsek and Steve Gorn and their ensembles will play the music of Teiji Ito, divided into three sections — music for theater, for film, and for dance; the innovative Japanese American composer was married to avant-garde artist Maya Deren and composed scores for many of her works; the evening will also include a discussion with the performers and series curator John Zorn, 7:30 – 11:00
RAUL MALO'S ANNUAL CHRISTMAS PARTY
Highline Ballroom
431 West 16th St. between Ninth & Tenth Aves.
Tickets: $35 ($10 minimum per person at tables)
212-414-5994
http://www.highlineballroom.com
Friday, December 12 Former Mavericks leader Raul Malo hosts his annual Christmas show in seated event at the Highline Ballroom, 8:00
IN THE MOOD FOR LOVE (Wong Kar-Wai, 2002)
CabaretCinema, Rubin Museum of Art
150 West 17th St. at Seventh Ave.
Free with $7 bar minimum (includes admission to galleries)
212-620-5000 ext 344
Friday, December 12 Dennis Lim introduces one of the most beautifully shot films you're ever likely to see, starring Maggie Cheung and Tony Leung Chiu Wai, 9:30
THE SCARIEST DECADE: HORROR FILMS OF THE 80s
IFC Center
323 Sixth Ave. at West Third St.
Saturdays & Sundays at midnight
212-924-7771
Friday, December 12
and
Saturday, December 13 POLTERGEIST (Tobe Hooper, 1982), midnight
SWING SPACE: LA SUPERETTE
South Street Seaport
159 John St. at Front St.
Admission: free
Friday, December 12
through
Sunday, December 14 In holiday-themed site-specific installation, La Superette turns space into a seasonal extravaganza of shopping, baked treats, live performances, videos, and more, with functional and affordable art multiples on sale
HELLO ZEN! HOLIDAY MARKET 2008
Village Zendo Zen Buddhist Meditation Center
588 Broadway between Houston & Prince Sts., suite 1108
Suggested donation: $5 (includes raffle for Rodney Alan Musho Greenblat watercolor)
Saturday, December 13 Annual holiday market benefiting Village Zendo, featuring handmade jewelry, stationery, artwork, ceramics, books, prizes, hot cider, snacks, sandwiches, and plenty of Zen spirit, cash or checks only (no credit cards), 10:30 am - 6:00 pm
12 BARS OF CHRISTMAS
West Village
Donations: $20-$25
http://www.12barsofchristmas.org
Saturday, December 13 Pub crawl to a dozen bars, with each participant receiving a red Santa hat, a commemorative beer mug, and specialty drinks at such locations as the Slaughtered Lamb, Fat Black Pussycat, and the Four Faced Liar at the West Pole and the Peculier Pub, the Back Fence, and Slane at the East Pole, with all proceeds benefiting the Food Bank of NY, 1:00
HOLIDAY HACKSHOP
Eyebeam Art + Technology Center
540 West 21st St. between Tenth & Eleventh Aves.
Admission: free; materials: $5-$30
212-937-6580
Saturday, December 13 Sixth annual Holiday Hackshop, featuring artist-led workshops (including Extreme Weather Snowglobes), DIY activities (including a Reenactment of the Battle of the Pyramids with Talking Elmo dolls), and live entertainment, followed by a holiday party, 1:00 - 6:00
NIGHT OF 1,000 DRAWINGS
Artists Space
38 Greene St. at Grand St., third floor
Admission: $10 (open bar 6:00 ­- 7:30)
212-226-3970
Saturday, December 13 Drawings from more than eight hundred artists, including Nathan Carter, Willie Cole, Stefan Kürten, Robert Longo, and Kate Shepherd, will be on sale for $50 to $100 in this annual benefit for Artists Space, 3:00 ­- 8:00
VAN CORTLANDT BY CANDLELIGHT
Van Cortlandt House
Broadway at West 246th St.
718-543-3344
http://www.vancortlandthouse.org
Saturday, December 13
and
Sunday, December 14 Annual event featuring eighteenth-century holiday decorations, the legend of St. Nicholas, warm cider, and more, $10, 4:00 - 7:00
RONNIE SPECTOR'S XMAS PARTY
B.B. King Blues Club & Grill
237 West 42nd St. between Seventh & Eighth Aves.
Tickets: $30-$34
212-997-4144
Saturday, December 13, 9:00
and
Sunday, December 14, 8:00 Annual concert featuring Ronnie Spector singing classic versions of holiday favorites, with an all-star lineup,
PETER & THE WOLF
Solomon R. Guggenheim Museum
Peter B. Lewis Theater
1071 Fifth Ave. at 89th St.
Tickets: $35
212-423-3587
http://www.worksandprocess.org
Saturday, December 13
through
Sunday, December 21 Isaac Mizrahi and the Juilliard Ensemble perform Prokofiev classic, conducted by George Manahan and with sets by the Campana Brothers, as part of the Works & Process series, for children five and up
HANUKKAH FESTIVAL
92nd St. Y
1395 Lexington Ave. at 92nd St.
Tickets: $20 adults, $15 children
212-415-5500
Sunday, December 14 Annual international celebration featuring live performances, arts & crafts, festival food, a puppet show, music & dance, and more, 10:30 am
MUSEUM AT ELDRIDGE STREET FAMILY REUNION
The Eldridge Street Project
12 Eldridge St. between Canal & Division Sts.
Tickets: $
212-219-0888
Sunday, December 14 Celebration of the one-year anniversary of the restoration of the synagogue, featuring turn-of-the-century music, genealogy workshops, oral history activities, food demos, Yiddish lessons, a photo booth, storytelling, matchmaking, a memory booth, and more, 1:00 — 4:00

YESHIVA KETANA OF MANHATTAN'S PRE-CHANUKAH CONCERT
Symphony Space, Peter Jay Sharpe Theatre
2537 Broadway at 95th St.
Tickets: $25-$36
212-349-0330
Sunday, December 14 Starring the Yeshiva Boys Choir singing songs from their hit albums, 6:30
THE TRINITY CHOIR PERFORMAS MESSIAH
Trinity Church
Broadway at Wall St.
Tickets: $30-$50
212-602-0800
http://www.trinitywallstreet.org
Sunday, December 14, 3:00
and
Tuesday, December 16, 7:30 Trinity Choir performs Handel's MESSIAH, with the REBEL Baroque Orchestra, featuring special guest conductor Andrew Megill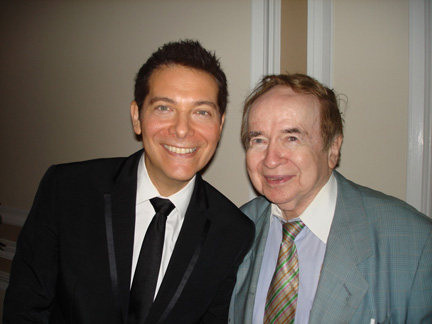 Steve Garrin, VideoActive Productions
Joe Franklin meets up with Michael Feinstein at Feinstein's at the Regency on December 15 to celebrate the success of Feinstein's THE SINATRA PROJECT CD
CHARITY : BALL
Metropolitan Pavilion
125 West 18th St.
Tickets: $200-$1,000
http://www.charitywater.org/charityball
Monday, December 15 Third annual holiday event, featuring live and silent auctions, live performances by Amos Lee and others, hosted by Adrian Grenier and Jessica Stam, benefiting charity: water, which builds wells around the world for communities in need of clean water, 7:00
MESSIAH SING
Church of St. Luke in the Fields
487 Hudson St. south of Christopher St.
212-517-1776
http://www.westvillagechorale.org
Monday, December 15 Audience Participation Sings, directed by Michael Conley, 7:30 — 9:45
THERE'S NO CHRISTMAS IN DARFUR
The Bell House
149 Seventh St. between Second & Third Aves., Brooklyn
Tickets: $25
718-643-6510
Monday, December 15 A comedy benefit for Save Darfur, featuring John Oliver, Greg Giraldo, Todd Barry, Eddie Brill, Andres Dubouchet, Kurt Braunohler, and others, with music by a Brief View of the Hudson, raffles, prizes, and more, hosted by Liam McEneaney, 7:30
HANDEL: MESSIAH
Carnegie Hall, Stern Auditorium / Perelman Stage
57th St. at Seventh Ave.
Tickets: $20-$75
212-247-7800
http://www.oratoriosocietyofny.org
Monday, December 15 Annual performance by the Oratorio Society of New York of Handel's MESSIAH, conducted by Kent Tritle, 8:00
TONY BENNETT: A SWINGIN' CHRISTMAS
Apollo Theater
253 West 125th St. between Adam Clayton Powell & Frederick Douglass Blvds.
Tickets: $79.50-$129.50
212-531-5305
Tuesday, December 16 Tony Bennett performs holiday tunes from his new album with the Count Basie Big Band, featuring such classics as "I'll Be Home for Christmas," "All I Want for Christmas Is You," and "Santa Claus Is Coming to Town," 8:00
JAMES MURPHY AND SAM LIPSYTE
Joe's Pub
425 Lafayette St. between East Fourth St. & Astor Pl.
Tickets: $30
212-539-8778
Tuesday, December 16 Artists in Music and Conversation: James LCD Murphy (of LCD Soundsystem and DFA Records) & Sam Lipsyte (author of HOME LAND and THE SUBJECT STEVE), promising conversation, consternation, and Ultimate Fighting, 7:30
AIMEE MANN'S CHRISTMAS SHOW
Nokia Theater Times Square
1515 Broadway at 44th St.
Tickets: $37.50-$150
212-930-1950
Thursday, December 18 Third annual holiday celebration, with Paul F. Tompkins, Morgan Murphy, Nellie McKay, and Grant Lee Phillips, 7:00