Twi-ny, This Week in New York
Larry Krone's "Forever and Ever" is on display as part of "Stage II" through February 6 at the Project at 37 West 57th St.
A CARNIVAL OF CHOCOLATE: THE CHOCOLATE BAR 2009
Ritz-Carlton New York, Battery Park, Rise, fourteenth floor
2 West St. at Battery Pl.
Friday and Saturday nights February 6-28, 7:30 and 9:30
Special seatings at 7:30 and 9:30 on Wednesday, February 14
Fee: $75, includes tax, tip, and bottomless Champagne
Advance reservations strongly suggested: 917-790-2600
http://ritzcarlton.com/batterypark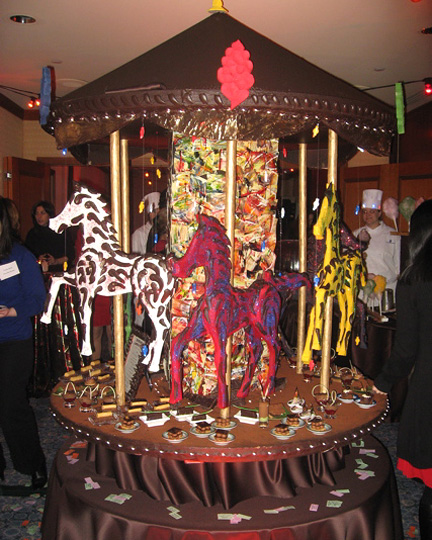 twi-ny/mdr
There's a carousel of confections to be had at the Chocolate Bar

Pastry chef extraordinaire Laurent Richard's annual chocolate extravaganza at the Ritz-Carlton is always a carnival of delights — and this time, it's an actual carnival. In previous years, Richard has paid tribute to Paris, New York landmarks, and classic art, with chocolate renderings of the Eiffel Tower, the Brooklyn Bridge, the Statue of Liberty, Impressionist paintings, and Arturo Di Modica's "Charging Bull" sculpture. This year, he turns his remarkable talents loose on endangered Coney Island, displaying his decadent desserts on the Cyclone, the Wonder Wheel, and a carousel. Richard, who hails from Maison Lafitte and lives in Brooklyn with his family -- and rides to work every day on his motorcycle — has dug into his endless bag of tricks to create such delightful dishes as a Chocolate Raider Bar, the best, biggest Twix you've ever had; a Chocolate Ganache Tower, topped with a trio of luscious, dusted chocolate cylinders; Extra Dark Black Forest Griotine Cake, its cherries soaked in liqueur, surrounded by a rich chocolate fence; an Orange & Raspberry "Martini," a mousse with sabayon and a treasure trove of fruit at the bottom; a Chocolate Financier, with drizzles of caramel fudge; a delicately balanced Buttery Chocolate Streusel Napoleon, oozing with creamy goodness underneath a strip of dark chocolate; and tasty Nutella Crepes bathed in Grand Marnier sauce. Be careful when trying to snatch one of these specialties from the moving Wonder Wheel.
twi-ny/mdr
Laurent Richard has once again created a dazzling array of decadent delights

Meanwhile, a cavalcade of chocolate appetizers, or mignardises, is spread out across the Cyclone, including Valrhona Chocolate Covered Strawberries, Fluffy Chocolate Chip Marshmallows, Chocolate Rice Crispy Treats, Chocolate & Caramel Covered Apple, French Mocha Macaroons, Dark Chocolate Cognac Truffle, Chocolate Drizzled Popcorn, and Chocolate Coconut Bonbons. Angela is back, serving Warm Chocolate Waffles a la Minute, with Nutella and banana ice cream; another station delivers cotton candy. You can wash it all down with Champagne or a Caramel Popcorn Martini (with such ingredients as liquid popcorn, heavy cream, and butterscotch Schnapps), a Cotton Candy Martini (with cola, Grenadine, and, yes, cotton candy), or the Chocolate Martini (with dark and light Godiva liqueur). Several miniature hot-air balloons hang by the windows, as if offering to take you for a trip across New York Harbor. The Chocolate Bar at Rise has been so successful, they've expanded, with seating across the entire space, but you still better make your reservations soon, as it books up faster than a few rides on the real Cyclone, Wonder Wheel, and carousel. For those looking to up the romance quotient, the Chocolate Lovers package includes a deluxe guest room or suite and reservations at the Chocolate Bar, starting at $475 a couple.
New Year Celebration of the Week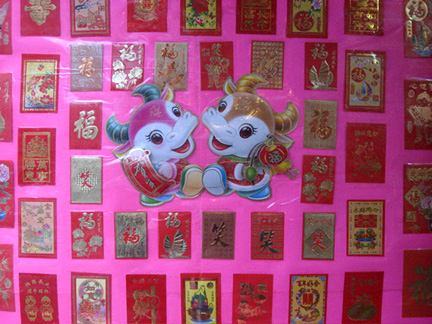 twi-ny/mdr
Chinatown is celebrating the Year of the Ox, 4707
THE YEAR OF THE OX: 4707
Multiple locations in Chinatown
Admission: free unless otherwise noted**
212-619-4785
http://www.explorechinatown.com
In late January through early February, Chinatown comes alive as it celebrates the Lunar New Year — in this case, the Year of the Earth Ox, 4707 — with parades, traditional dance and music, fabulous meals, special pastries, and lots of firecrackers. Attributes of the ox include patience, perseverance, steadfastness, stability, and a fiery temper; among those born in the Year of the Ox is Barack Obama. If everybody is Irish on St. Patrick's Day, then we're all Chinese during the Lunar New Year. We especially recommend following the lions as they make their way through all the shops and restaurants, clearing out the bad spirits to prepare for a prosperous new year.
Thursday, January 22 Lunar New Year Customs and Symbols, with Daria Ng, assistant curator of education, Museum of Chinese in America, Chelsea Recreation Center, 430 West 25th St. between Ninth & Tenth Aves., 7:00
Saturday, January 24 Traditional Chinese music and dance, P.S. 124 auditorium, the Yung Wing School, 40 Division St., 2:00 — 5:00
Saturday, January 24 Lunar New Year Papercutting, with artist Ting, materials provided, Columbus Park Pavilion, Bayard St. between Baxter & Mulberry Sts., 2:30
Saturday, January 24 Musical Journey to China, Humanities and Social Sciences Library, 42nd St. at Fifth Ave., 3:00
**Saturday, January 24
and
**Saturday, January 31 Preparing for the New Year Walking Tour, 70 Mulberry St. (second floor) between Mulberry & Bayard Sts., adults $15, children under five free, 1:00
Monday, January 26 New Year's Day Firecracker Ceremony & Cultural Festival, featuring local politicians, Lion, Dragon, and Unicorn dancers, traditional and contemporary performances, more than 600,000 rounds of firecrackers set off in one five-minute period, and hundreds of thousands of spectators and celebrants, Sara Delano Roosevelt Park, Canal St. at Forsyth St., 11:30 am — 3:30 pm
Monday, January 26
through
Sunday, February 8 Chanting Service: Dr. Ying and the Four Noble Truths, Mahayana Buddhist Temple, 133 Canal St.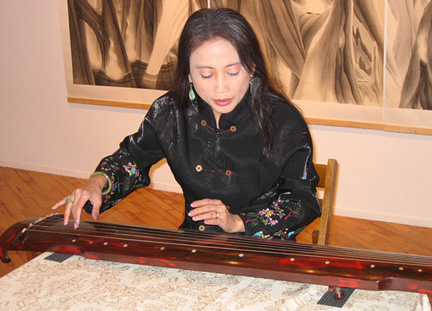 Courtesy mingmeiyip.com
Multitalented Mingmei Yip will play the qin and teach a workshop for New Year celebration

Thursday, January 29 Stories, Music, and Art of the Lunar New Year, with artist, writer, and musician Mingmei Yip, author of PEACH BLOSSOM PAVILION, musical performance and workshop featuring the qin, Seward Park Branch, New York Public Library, 192 East Broadway at Jefferson St., 4:00 — 5:30
Sunday, February 1 Tenth annual Lunar New Year Parade, featuring floats, marching bands, lion and dragon dancers marching through local stores to bring good luck in the new year, antique cars, beauty queens, Asian musical performers, magicians and acrobats, and hundreds of thousands of attendees, parade goes from Mott St. and Chatham Sq. to East Broadway and Allen, Grand, and Chrystie Sts., 12 noon — 3:00
Sunday, February 1 Cultural Festival sponsored by the Manhattan Arts & Columbus Music Association, Grand & Chrystie Sts., 11:30 am — 3:30 pm
**Sunday, February 1 A Lunar New Year Folk Arts Festival, featuring arts & crafts, calligraphy, live music, and more, with Chinese miniature dough figurine artist Ye Xun, Chinese calligrapher Lin Ying, Indian Mahendi hand painter Kavita Vyas, fortune-teller Duong Truong, er hu performer Kwok Kay Choey, and Tibetan folk singer Jampa Youden, Asian American Arts Centre, 26 Bowery (3F) south of Canal St., $12 adults, $6 children three to twelve, reservations strongly recommended, 646-831-9744, aaacinfo@artspiral.org, 3:00 — 5:30
Sunday, February 8 Closing New Year Celebration, featuring lion dances and more, 12 noon — 5:00 pm
Monday, February 9 Fifth annual Lantern Festival, Market St. between East Broadway & Henry St., 1:00
Film Festivals of the Week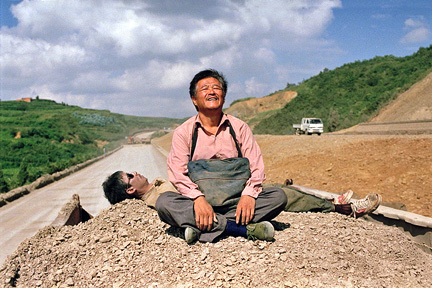 Zhao Benshan is on a personal mission in Zhang Yang's GOING HOME
GLOBAL LENS 2009
MoMA FILM
Roy and Niuta Titus Theaters
11 West 53rd St. between Fifth & Sixth Aves.
Through January 31
Tickets: $10, in person only, may be applied to museum admission within thirty days, same-day screenings free with museum admission, available at Film and Media Desk
212-708-9400
For the sixth year, MoMA has teamed with the Global Film Initiative to present some of the best works from countries with developing film communities, as per GFI's mission statement: "promoting cross-cultural understanding through the medium of cinema." Following the weeklong presentation of TERRA SONÂMBULA (SLEEPWALKING LAND) (Teresa Prata, 2007), the series continues with socially conscious films from China, Kazakhstan, Brazil, Argentina, Morocco, Indonesia, Macedonia, Ecuador, and Iran that examine the past, present, and future of those nations. The series starts off at MoMA before traveling around the country the rest of the year.
Wednesday, January 21
through
Monday, January 26 THE PHOTOGRAPH (Nan Triveni Achnas, 2007)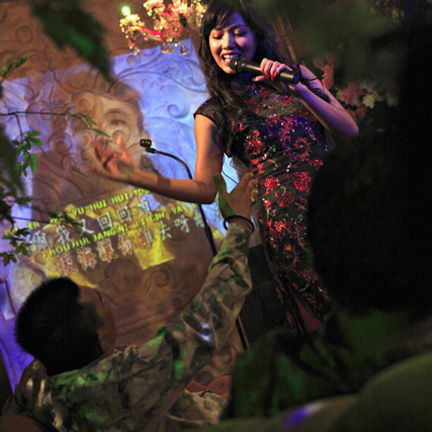 Sita (Shanty) doesn't have much to sing about in THE PHOTOGRAPH
THE PHOTOGRAPH (Nan Triveni Achnas, 2007)

To pay off her family's debts, Sita (former MTV VJ and popular Indonesian singer Shanty) works as a "hostess" at a karaoke bar, sending all her money back home to take care of her sick mother and the young daughter she hasn't seen in two years. Needing a place to live, she rents a room from Mr. Johan (Lim Kay Tong), an elderly photographer who lost his wife and child many years before. Believing he is going to die soon, Mr. Johan starts interviewing prospective apprentices to take over his business, with Sita by his side, doing whatever is necessary to help her family and Mr. Johan. Singapore-born writer-director Nan Achnas (WHISPERING SANDS) creates a fascinating relationship between these two sad, stubborn figures who have been dealt difficult, painful lives. THE PHOTOGRAPH is shrouded in a darkness, both metaphorical and visual, as two very different people have to face some hard truths. Unfortunately, the translation is rather poor, but try not to let that take away from the subtle power of this beguiling film.
Wednesday, January 21 JAS SUM OD TITOV VELES (I AM FROM TITOV VELES) (Teona Strugar Mitevska, 2007), 8:00
Thursday, January 22 CUANDO ME TOQUE A MI (MY TIME WILL COME) (Víctor Arregui, 2008), 6:00
Friday, January 23 AN SEH (THOSE THREE) (Naghi Nemati, 2007), 6:00
Saturday, January 24 LUO YE GUI GEN (GETTING HOME) (Zhang Yang, 2007), 4:30

LUO YE GUI GEN (GETTING HOME) (Zhang Yang, 2007)
Saturday, January 24, 4:30

Zhang Yang's GETTING HOME is a bittersweet tale of loyalty, friendship, and responsibility. Chinese comic actor Zhao Benshan (HAPPY TIMES) stars as Zhao, an aging, long-faced construction worker whose best friend, Liu (Hong Qiwen), drinks himself to death, and Zhao sets out to bring his corpse across the country to Liu's home in the Three Gorges region. But the trek is extremely difficult, with Zhao, who has very little money, having to carry his friend over his back or find other unique ways of transporting him, since most drivers tend not to give rides to dead people. His travels turn into an existential journey as he has a succession of strange, offbeat encounters and gets caught up in fascinating set pieces that are both funny and heart-wrenching, directed with a gentle touch by Yang (SHOWER, QUITTING). The film is kind of a bizarre melange of Zhang Yimou's THE ROAD HOME (1999) and RIDING ALONE FOR THOUSANDS OF MILES (2005) and, we kid you not, Ted Kotcheff's 1989 eternally stupid WEEKEND AT BERNIE'S, all brought down a notch by Dou Peng's sappy, overly sentimental score.
Sunday, January 25 JAS SUM OD TITOV VELES (I AM FROM TITOV VELES) (Teona Strugar Mitevska, 2007), 6:00
Wednesday, January 28 CUANDO ME TOQUE A MI (MY TIME WILL COME) (Víctor Arregui, 2008), 8:00
Thursday, January 29 WHAT A WONDERFUL WORLD (Faouzi Bensaïdi, 2006), 6:00
Friday, January 30 LAS VIDAS POSIBLES (POSSIBLE LIVES) (Sandra Gugliotta, 2007), 6:00
Friday, January 30 MUTUM (Sandra Kogut, 2007), 8:00
Saturday, January 31 PESN' JUZHNYKH MOREJ (SONG FROM THE SOUTHERN SEAS) (Marat Sarulu, 2008), 4:00
Saturday, January 31 AN SEH (THOSE THREE) (Naghi Nemati, 2007), 7:00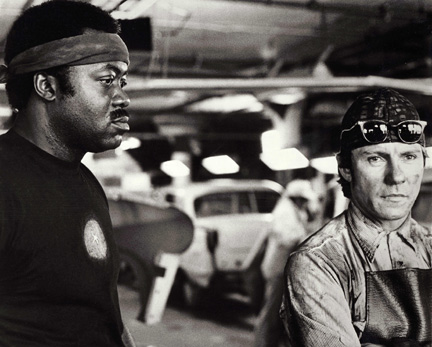 Film Society of Lincoln Center
Yaphet Kotto and Harvey Keitel star in Paul Schrader's BLUE COLLAR
MAVERICKS AND OUTSIDERS:
POSITIF CELEBRATES AMERICAN CINEMA
Walter Reade Theater
65th St. between Broadway & Amsterdam Aves.
January 30 - February 5
212-875-5050
In 1951, André Bazin, Jacques Doniol-Valcroze, and Joseph-Marie Lo Duca founded the influential French film magazine Cahiers du Cinema, which looked at the art of a film in a whole new light as the French New Wave beckoned. The next year, Bernard Chardère started Positif, a competing film journal that turned away from the French New Wave in favor of the burgeoning American cinema that eventually exploded on-screen in the 1970s. Film critic and current Positif editor Michel Ciment has teamed up with the Film Society of Lincoln Center to present nine underappreciated works that capture what the magazine believes to be the essence of American independent cinema, including Paul Schrader's little seen BLUE COLLAR, starring Richard Pryor, Harvey Keitel, and Yaphet Kotto; James Toback's FINGERS, with Keitel as a deeply troubled pianist; Jim McBride's revolutionary cinema vérité commentary DAVID HOLTZMAN'S DIARY; Leonard Kastle's creepy modern noir, THE HONEYMOON KILLERS, with Shirley Stoler and Tony Lo Bianco; and Barbara Loden's cult road picture WANDA. Ciment will be on hand to introduce several screenings and participate in discussions afterward.
Friday, January 30 FINGERS (James Toback, 1978), 2:00
Friday, January 30 BLUE COLLAR (Paul Schrader, 1978), 4:00
Friday, January 30 WANDA (Barbara Loden, 1970), followed by a discussion with cinematographer and editor Nicholas T. Proferes and Positif editor Michel Ciment, 6:15
Friday, January 30 THE HONEYMOON KILLERS (Leonard Kastle, 1970), introduced by Positif editor Michel Ciment, 9:00
Saturday, January 31 WANDA (Barbara Loden, 1970), introduced by Positif editor Michel Ciment, 2:00
Saturday, January 31 FINGERS (James Toback, 1978), introduced by Positif editor Michel Ciment, 4:30
Saturday, January 31 TRUE CONFESSIONS (Ulu Grosbard, 1981), followed by a discussion with director Ulu Grosbard and Positif editor Michel Ciment, 6:45
Saturday, January 31 ANOTHER DAY IN PARADISE (Larry Clark, 1997), 9:15
Monday, February 2 THE HONEYMOON KILLERS (Leonard Kastle, 1970), 1:00
Monday, February 2 KEANE (Lodge Kerrigan, 2004), 3:15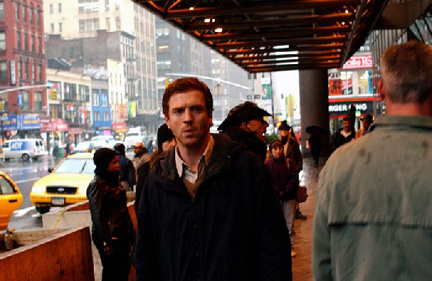 © Magnolia Pictures
Damian Lewis searches for a lost loved one in KEANE
KEANE (Lodge Kerrigan, 2004)
Monday, February 2, 3:15
Tuesday, February 3, 8:30

Simply remarkable. Lodge Kerrigan's third feature film is mesmerizing, always teetering on the brink of insanity. Damian Lewis (BAND OF BROTHERS) stars as William Keane, whom we first meet as he rants and raves in the Port Authority, filled with anger, paranoia, and a twitchiness that immediately sets you on edge and never lets up. He is trying to figure out what went wrong when his daughter was abducted from the area, but he now acts like just another crazy at the bus depot. As he befriends a desperate woman (GONE BABY GONE's Amy Ryan) and her daughter (LITTLE MISS SUNSHINE's Abigail Breslin), you'll feel a gamut of terrifying emotions rush through your body. Kerrigan, who made a big indie splash with 1994's CLEAN, SHAVEN, has created a brilliant psychological film centered on one man's obsession that will leave you emotionally and physically spent. Filmed on location in 35mm with a handheld camera and natural sound, KEANE, which screened at the 2004 New York Film Festival, has a taut realism that will knock you for a loop. You'll love this film, but it will also scare the hell out of you.
Monday, February 2 REUNION (Jerry Schatzberg, 1989), 8:45
Tuesday, February 3 TRUE CONFESSIONS (Ulu Grosbard, 1981), 1:00
Tuesday, February 3 REUNION (Jerry Schatzberg, 1989), 3:10
Tuesday, February 3 KEANE (Lodge Kerrigan, 2004), 8:30
Wednesday, February 4 DAVID HOLZMAN'S DIARY (Jim McBride, 1967), 2:00 and 6:15
Wednesday, February 4 ANOTHER DAY IN PARADISE (Larry Clark, 1997), 3:45
Wednesday, February 4 BLUE COLLAR (Paul Schrader, 1978), 8:00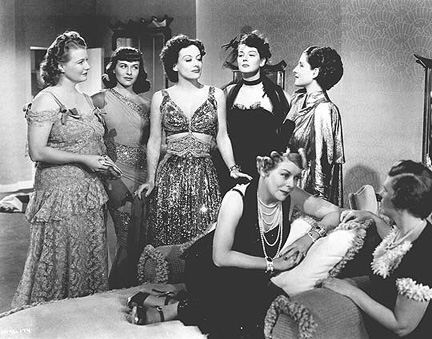 The women get chatty and catty in Cukor classic
GREAT FILMS OF 1939
Symphony Space, Peter Jay Sharpe Theatre
2537 Broadway at 95th St.
212-349-0330
Many people consider 1939 to be cinema's greatest single year. Symphony Space takes audiences back to that Golden Age with seven films from 1939, in addition to two related works. They'll be showing the epic GONE WITH THE WIND, which nabbed Oscars for Best Picture, Best Director (Victor Fleming), Best Actress (Vivien Leigh), and Best Supporting Actress (Hattie McDaniel), along with some of the films it edged out for the top award: John Ford's STAGEGOACH, which earned Thomas Mitchell a Best Supporting Actor award; Ernst Lubitsch's NINOTCHKA, in which Oscar nominee Greta Garbo speaks English — and laughs; and Frank Capra's MR. SMITH GOES TO WASHINGTON, in which Jimmy Stewart plays a Barack Obama-like figure. There's also George Cukor's splendid dishfest, THE WOMEN — the less said about the Queen Latifah remake, the better.
The year was so outstanding, here's what didn't make the cut at Symphony Space: BEAU GESTE, DESTRY RIDES AGAIN, THE FOUR FEATHERS, GUNGA DIN, THE RULES OF THE GAME, INTERMEZZO, WUTHERING HEIGHTS, and Best Picture nominees DARK VICTORY, LOVE AFFAIR, OF MICE AND MEN, THE WIZARD OF OZ, YOUNG MR. LINCOLN, and GOODBYE, MR. CHIPS. Each screening will be preceded by 1939 Newsreel footage to get you in the mood.
Sunday, February 1 NINOTCHKA (Ernst Lubitsch, 1939), 2:00 & 7:00
Sunday, February 1 THE CITY (Ralph Steiner & Willard Van Dyke, 1939) and LIMÓN, A LIFE BEYOND WORDS (Malachi Roth, 2001), 4:30
Sunday, February 8 THE LITTLE PRINCESS (Walter Lang, 1939), 4:00
Sunday, February 8 THE WOMEN (George Cukor, 1939), 6:30 pm
THE WOMEN (George Cukor, 1933)

Clare Boothe Luce's play was turned into a marvelously catty motion picture by George Cukor, featuring a women-only cast and a script written primarily by Anita Loos and Jane Murfin. The actresses are simply outstanding: Norma Shearer, Rosalind Russell, Paulette Goddard, Joan Fontaine, Hattie McDaniel, Marjorie Main, Hedda Hopper, and a deliciously devious Joan Crawford fight over men, money, and clothing, backstab their best friends, and gossip wildly, spreading scandal and chaos everywhere they go. The fast-paced, razor-sharp, witty dialogue is a treasure.
Sunday, February 15 MR. SMITH GOES TO WASHINGTON (Frank Capra, 1939), 1:00 & 8:30
Sunday, February 15 GONE WITH THE WIND (Victor Fleming, 1939), introduced by Molly Haskell, 4:00
Sunday, February 22 STAGECOACH (John Ford, 1939), 1:00 & 5:00
Sunday, February 22 THE WORLD OF TOMORROW (Lance Bird & Tom Johnson, 1984), 3:00
Antiques Shows of the Week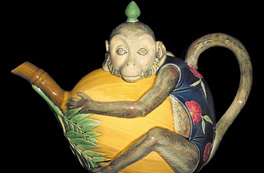 Ceramics fair is back for its tenth year
THE NEW YORK CERAMICS FAIR
The National Academy Museum and School of Fine Arts
1083 Fifth Ave. between 89th & 90th Sts.
January 21-25, $20 (includes catalog)
310-455-2886
The tenth annual New York Ceramics Fair will feature more than forty international exhibitors and the special loan exhibit "A Hidden Treasure: Chinese Export Porcelain from the Reeves Collection at Washington and Lee University," curated by Ron Fuchs II. Below is the schedule of lectures, which require an additional $10 payment.
Wednesday January 21 Early British Pots and the Remarkable Tools Used to Make Them, lecture by Don Carpentier, $10, 12 noon
Wednesday January 21 Dipped Wares: Good, Better, Best and Why, lecture by Jonathan Rickard, $10, 2:00
Wednesday January 21 German Stoneware & Earthenware: Their Influences on American Ceramics, lecture by Leslie B. Grigsby, $10, 4:00
Thursday January 22 Welsh Porcelains, lecture by Jonathan Gray, $10, 12 noon
Thursday January 22 New Discoveries in Southern Earthenware, lecture by Robert Hunter, $10, 2:00
Friday January 23 Josiah Wedgwood's Early Years, lecture by Miranda Goodby, $10, 12 noon
Saturday January 24 A Hidden Treasure: Chinese Export Porcelain from Washington and Lee University, lecture by Ron Fuchs II, $10, 12 noon
Saturday January 24 A Call to Arms: Understanding Heraldry on Chinese Export Porcelain, lecture by Angela Howard, $10, 2:00
THE AMERICAN ANTIQUES SHOW
Metropolitan Pavilion
125 West 18th St. between Sixth & Seventh Aves.
January 22-25
Admission: $18 one day, $30 two days, $45 three days
212-977-7170
http://www.theamericanantiquesshow.org
http://www.metropolitanevents.com
Nearly fifty vendors will be displaying Native American art, folk photography, early American clocks, out-of-print reference books, Mexican jewelry, snuff boxes, glass and bottles, outsider art, painted furniture, pottery, metalwork, and much more. On Thursday morning, there will be a preview tour with curator Stacy C. Hollander; the cost is $80, benefiting the American Museum of Folk Art.
Friday, January 23 Considering the Contemporary at TAAS: A Tour with Curator Brooke Davis Anderson, $55, 9:30 am
Saturday, January 24 A Dialogue and Tour of TAAS with Curator Lee Kogan, $55, 9:30 am
Saturday, January 24 What Is It? What Is It Worth? Appraisal Day, with Helaine Fendelman, David Gallager, and Jane Willis, $45, 9:30 am
Thurston Nichols, rare early
twentieth-century weathervane
ANTIQUES AT THE ARMORY
69th Regiment Armory
Lexington Ave. at 26th St.
January 23-25, $15
While the big Winter Antiques Show kicks off at the Park Avenue Armory, another antiques show will take place at the other armory, on Lexington Ave. and Twenty-sixth, featuring more than one hundred exhibitors displaying and selling folk art, period furniture, architectural artifacts, pottery, glass, ceramics, hooked rugs, flatware, mirrors, weathervanes, and more. A free shuttle service will move antiques lovers between the two armories.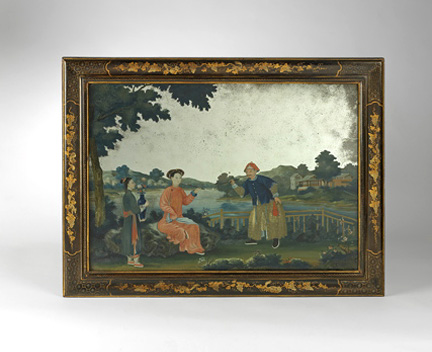 Courtesy Roger Keverne Limited
Reverse glass painting of a Manchu gentleman, young lady, and attendant, in a contemporary gilt-painted lacquer frame, ca. 1760
WINTER ANTIQUES SHOW
The Park Avenue Armory (Seventh Regiment Armory)
643 Park Ave. between 66th & 67th Sts.
January 23 — February 1
Admission: $20 (includes catalog)
http://www.winterantiquesshow.com
The fifty-fifth annual Winter Antiques Show features more than seventy-five exhibitors displaying furniture, paintings, books, silver, garden ornaments, medieval manuscripts, arms and armor, jewelry, clocks, textiles, and more, with proceeds benefiting East Side House Settlement. The opening night party will be held on January 22 ($300-$2500), while January 29 is Young Collectors' Night ($125-$175). Below are the special events, all free with show admission and sponsored by the Corning Museum of Glass.
Sunday, January 25 Goblet-making Techniques: The Middle Ages to Today, with William Gudenrath, glass historian and adviser to the Studio, 2:30
Monday, January 26 Glass Through the Ages, with Dr. David Whitehouse, executive director and curator of ancient and Islamic glass, 2:30
Tuesday, January 27 Reflecting Antiquity: Modern Glass Inspired by Ancient Rome, with Dr. David Whitehouse, executive director and curator of ancient and Islamic glass, 2:30
Wednesday, January 28 Dining with the President: White House Table Settings, with Jane Shadel Spillman, curator of American glass, 2:30
Thursday, January 29 Early American Glass, with Mary Cheek Mills, manager of education programs, 2:30
Friday, January 30 1950s Glass, with Tina Oldknow, curator of modern glass, 2:30
Riff's Rants & Raves: Film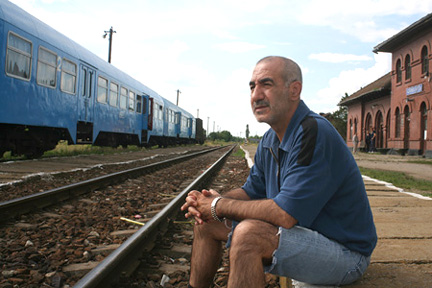 Doiaru won't let military train out of his station in CALIFORNIA DREAMIN'
CALIFORNIA DREAMIN' (NESFARS IT) (ENDLESS)
(Cristian Nemescu, 2007)
IFC Center
323 Sixth Ave. at West Third St.
Opens Friday, January 23
212-924-7771

The annual parade of outstanding Romanian films, which includes such recent works as Cristi Puiu's THE DEATH OF MR. LAZARESCU (2005), Doroteea Petre's HOW I CELEBRATED THE END OF THE WORLD (2006), and Cristian Mungiu's 4 MONTHS, 3 WEEKS AND 2 DAYS (2007), continues with Cristian Nemescu's CALIFORNIA DREAMIN'. Inspired by a true story, the absurdist, surreal black comedy is set in a small Romanian village in 1999, where a train carrying a battalion of U.S. Marines and Polish soldiers has been stopped by the sleazy stationmaster, Doiaru (Razvan Vasilescu). The train is transporting vital NATO equipment to help end the war in Kosovo, but Doiaru will not let it pass without the proper paperwork, even though the mission has the blessing of the prime minister himself. The mayor of the village (Ion Sapdaru) sniffs an opportunity to make some money and gain some fame, so he invites the soldiers to a party, where the men mingle with the local girls, angering the local boys. As Captain Jones (Armand Assante) grows more impatient with Doiaru and the Romanian bureaucracy, his right-hand man, Sergeant McClaren (Jamie Elman), falls for Doriau's daughter, Monica (Maria Dinulescu), who can't wait to get out of town.

The relationship between Jones and Doriaru forms the emotional core of the film, two strong-willed characters who make excellent adversaries, played with quiet dignity and restraint ready to explode by Assante and with appropriately quirky slobbishness by Vasilescu. Although not as broad and slapstick as Norman Jewison's cold war comedy THE RUSSIANS ARE COMING, THE RUSSIANS ARE COMING (1966), Nemescu's first and only feature-length film is a biting indictment of how America is viewed by foreign nations, especially when the U.S. gets involved in wars overseas. At 155 minutes, CALIFORNIA DREAMIN', winner of the Prix un Certain Regard at the 2007 Cannes Film Festival, is too long, but Nemescu and his sound designer, Andrei Toncu, died in a car accident before the editing was completed, and the film was released as it was at that time.
Yves Montand has a tough go of it in THE WAGES OF FEAR
LE SALAIRE DE LA PEUR (WAGES OF FEAR)
(Henri-Georges Clouzot, 1953)
CabaretCinema, Rubin Museum of Art
150 West 17th St. at Seventh Ave.
Friday, January 23, 9:30
Free with $7 bar minimum (includes admission to galleries)
212-620-5000 ext 344
http://www.rmanyc.org/cabaretcinema

In a very poor South American village, four men are needed to transport two truckloads of nitroglycerin to the scene of an industrial accident. The men jump at the chance to risk their lives for a small amount of cash because they have nothing else in their pitiful lives. Yves Montand stars in this endlessly tense, harrowing film that won the Golden Bear in Berlin, the BAFTA in England, and the Grand Prize at Cannes. The cast also includes Charles Vanet, Peter van Eyck, Folco Lulli, and Véra Clouzot, the wife of director Henri-Georges Clouzot (LES DIABOLIQUES, LES ESPIONS). It was remade as SORCERER by William Friedkin in 1977, starring Roy Scheider — a good film, but not nearly the cinematic experience the original still is. This presentation of the Rubin's Proverbial Pictureshow series will be introduced by artist Terry Winters.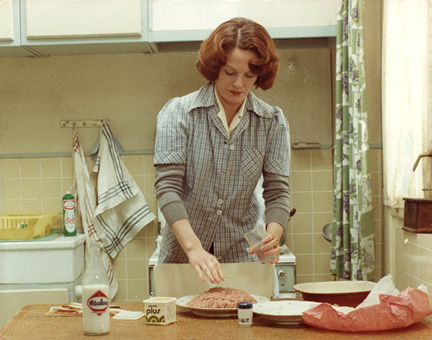 Delphine Seyrig is mesmerizing in feminist classic
JEANNE DIELMAN, 23 QUAI DU COMMERCE, 1080 BRUXELLES (Chantal Akerman, 1975)
Film Forum
209 West Houston St. between Sixth & Seventh Aves.
January 23-29
212-727-8110

Chantal Akerman's groundbreaking film, being screened in a new 35mm print at Film Forum, follows the drab life of the title character, a bored housewife who goes about her day nearly silently, moving agonizingly slowly, as she makes breakfast for her husband, sends him off to work, takes in a few johns, cleans the sink, etc. Just another ordinary day, not nearly as colorful as the one Séverine Serizy (Catherine Deneuve) experiences in BELLE DE JOUR (Luis Buñuel, 1967). Delphine Seyrig (STOLEN KISSES, THE DISCREET CHARM OF THE BOURGOISIE, THE DAY OF THE JACKAL) is mesmerizing as Jeanne Dielman — you won't be able to take your eyes off her, and with good reason. This ultimate feminist film was made with an all-female crew, and if it's anything, it's absolutely memorable, love it or hate it. Oh, actually, it's long too — nearly three and a half hours.
Jesper Just's new trilogy has world theatrical premiere at MoMA
MODERN MONDAYS: AN EVENING WITH JESPER JUST
Roy and Niuta Titus Theaters
11 West 53rd St. between Fifth & Sixth Aves.
Monday, January 26, 7:30
Tickets: $10, in person only, may be applied to museum admission within thirty days, same-day screenings free with museum admission, available at Film and Media Desk
212-708-9400
Late last year, the Brooklyn Museum mounted an exhibit featuring four short films by Danish filmmaker Jesper Just, including the U.S. premiere of the three-screen projection "Romantic Delusions," starring Udo Kier as a hermaphrodite wandering the streets of Romania. During a talk he gave at one of the museum's First Saturday presentations, Just was asked why all his films feature male protagonists and very few female characters at all (which is not quite true). He answers that question with his latest work, a trilogy that follows a female point of view through "A Voyage in Dwelling," "A Room of One's Own," and "A Question of Silence," which will have its world theatrical premiere at MoMA as part of the Modern Mondays series. Just makes avant-garde films that can be moody and mysterious, with moments of glee and gloom, with no clear narrative; we can't wait to see what this new trilogy has to offer. After the screening, Just will discuss his work with writer and Harvard professor Giuliana Bruno.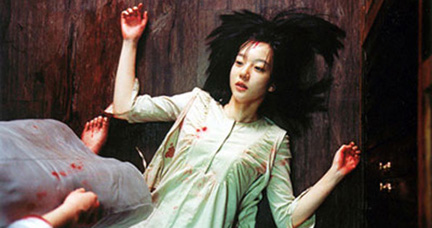 Korean horror hit is being remade by Hollywood
A TALE OF TWO SISTERS (Kim Jee-woon, 2003)
92YTribeca
200 Hudson St. at Canal St.
Wednesday, January 28, $12, 8:00
212-415-5500

Returning home after having been hospitalized for mental reasons, sisters Su-mi (Im Su-jeong) and Su-yeon (Moon Geun Young) find their house very different — in addition to their father (Kim Kap-su) and his second wife, Eun-joo (Yeom Jeong-ah), there appears to be an unexplained presence that seems particularly interested in the extremely vulnerable Su-yeon. As tensions mount between the girls and the wicked stepmother, more and more blood shows up, as well as far too many confusing twists and turns. Though there is a lot to admire in this gripping psychological thriller, you'll be scratching your head at the end, wondering just what the heck you have just seen. An Asian mix of THE SIXTH SENSE (M. Night Shyamalan, 1999), SISTERS (Brian DePalma, 1973), and the Cinderella fairy tale, Kim Jee-woon's film has plenty of creeps that unfortunately never come together. Still, it has been remade by Hollywood as THE UNINVITED, opening in theaters January 30, directed by Charles and Thomas Guard and starring David Strathairn and Elizabeth Banks.
NEW IN TOWN (Jonas Elmer, 2009)
Opens Friday, January 30

Originally titled CHILLED IN MIAMI, Danish director Jonas Elmer's NEW IN TOWN, his first English-language film, is a frozen fish-out-of-water romantic comedy that never thaws out, lacking both romance and comedy. Oscar winner Renée Zellweger (COLD MOUNTAIN) stars as Lucy Hill, a South Beach corporate-ladder climber who is sent to the small town of New Ulm, Minnesota, to restructure a dairy plant by cutting the staff in half. Her short, tight skirts and high heels do not exactly fit in well with the fierce climate or the deeply knit community, where frumpy women gather to work on their scrapbooks and gossip in an accent made famous by Frances McDormand, as the unforgettable Marge Gunderson in the Coen brothers' FARGO. NEW IN TOWN even has the nerve to use that same last name for one of its main characters, Blanche Gunderson (Siobhan Fallon Hogan), who becomes Lucy's nosy, Jesus-loving secretary. Lucy immediately butts heads with the factory foreman, Stu Kopenhyafer (J. K. Simmons), an old-fashioned hard-ass who has no time for executives, and Ted Mitchell (Harry Connick Jr.), the hunky union rep who doesn't want a single job to be lost — you see, each job is a person with a family and stuff, not just a number in a PowerPoint presentation. There's absolutely nothing new or original in this utterly predictable, homogenized tale, just sour milk from start to finish.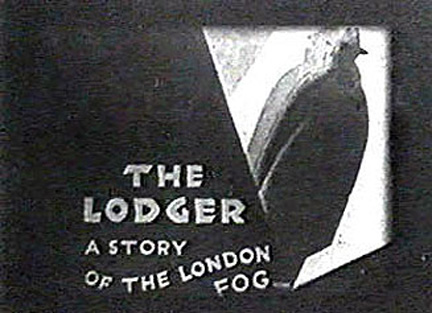 Early Hitchcock silent film will be getting a Hollywood makeover
THE LODGER: A STORY OF THE LONDON FOG
(Alfred Hitchcock, 1926)
Available on DVD

For seven successive Tuesday nights, a serial killer who calls himself the Avenger has murdered a golden-haired woman. When a lodger (Ivor Novello) comes to rent a room from Mr. and Mrs. Bunting (Arthur Chesney and Marie Ault), the landlady soon suspects that the curious character might just be the murderer, especially when he shows an interest in their daughter, a golden-haired fashion model named Daisy (the one-named June), which angers Daisy's beau, Joe (Malcolm Keen), a cop just assigned to the case. Based on a novel and play by Marie Belloc Lowndes, THE LODGER is one of Alfred Hitchcock's first films; he uses very few title cards in the silent work, allowing the story to tell itself. He serves up a heavy dose of red herrings in the Jack the Ripper-like tale, which drags on for quite a bit before shifting gears in the later scenes. The mediocre picture is most notable for the groundwork it lays for Hitchcock's future films, investigating such themes as sexual obsession and innocent men on the run while displaying the director's never-ending — and rather frightening — cinematic relationship with blondes. David Ondaatje's remake is being released January 30, starring Simon Baker, Alfred Molina, Hope Davis, and Rachael Leigh Cook, and a theater production of the story is running at the WorkShop on West 36th St. through February 1.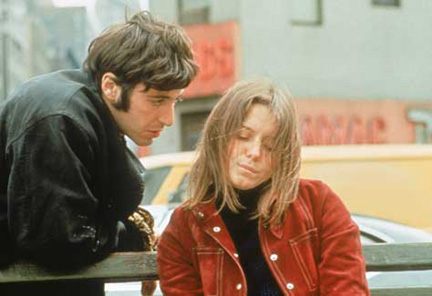 Al Pacino and Kitty Winn fight the dragon in harrowing NYC flick
THE PANIC IN NEEDLE PARK (Jerry Schatzberg, 1971)
Film Forum
209 West Houston St. between Sixth & Seventh Aves.
January 30 — February 5
212-727-8110

Al Pacino burst onto the cinematic landscape in THE PANIC IN NEEDLE PARK, his first starring role. Pacino is fabulously unsettling as Bobby, a junkie always looking to score around Sherman Square at 72nd St. and Broadway, known then as Needle Park. Bobby hooks up with Helen (Kitty Winn), and the two of them do whatever is necessary to stay high as they wander the streets of the city. Director Jerry Schatzberg (SCARECROW, THE SEDUCTION OF JOE TYNAN, STREET SMART) uses natural sound and light to give the film a more realistic feel, as if you are walking through the streets with Bobby and Helen. Several scenes will break your heart, including the one on the Staten Island Ferry. The film launched Pacino's stellar film career; his next five movies were THE GODFATHER, SCARECROW, SERPICO, THE GODFATHER PART II, and DOG DAY AFTERNOON, arguably the best start to an acting career ever. Schatzberg, Winn (who won the Best Actress award at the 1971 Cannes Film Festival), and co-screenwriter Joan Didion (who wrote the film with her husband, John Gregory Dunne, based on James Mills's book) will be at the 7:40 show on January 30. (Film Forum is screening THE PANIC IN NEEDLE PARK in a new 35mm print.)
In Theaters Now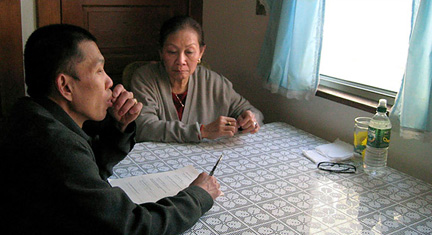 Thavisouk "Thavi" Phrasavath searches for the truth about his family in THE BETRAYAL
THE BETRAYAL (NERAKHOON)
(Ellen Kuras & Thavisouk Phrasavath, 2008)
Cinema Village
22 East 12th St. between University Pl. & Fifth Ave.
212-924-3363
http://www.thebetrayalmovie.com

Famed cinematographer Ellen Kuras (ETERNAL SUNSHINE OF THE SPOTLESS MIND, HEART OF GOLD) makes her directorial debut with the heart-wrenching documentary THE BETRAYAL (NERAKHOON), which she and Thavisouk "Thavi" Phrasavath, her co-director and primary subject, shot over the course of twenty-three years, from 1984 to 2007. In 1973, Thavi's father was recruited by the CIA to help fight the spread of Communism in Laos during the Vietnam War — even though the United States still denies its involvement in that country — and after America left and the Pathet Lao took over, Thavi's father was arrested and sent to a reeducation camp, where it was feared he had become one of the disappeared ones. Just thirteen years old, Thavi led his mother and siblings on a dangerous escape to Thailand and then to Brooklyn, where they try to become a family again — despite leaving some behind in Laos — but find roadblocks of all kinds every step of the way, leading them to question whether America is really the land of opportunity. Mixing archival footage with re-created scenes and interviews with many of the family members — mostly Thavi's proud, bitter mother — THE BETRAYAL, which has been nominated for a Best Documentary Oscar, is a moving story of the search for home and reconciling with the past.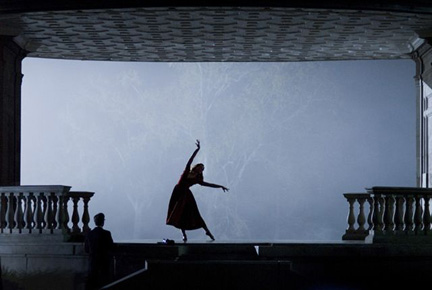 Brad Pitt and Cate Blanchett play age-crossed lovers in BUTTON
THE CURIOUS CASE OF BENJAMIN BUTTON
(David Fincher, 2008)

Based on the short story by F. Scott Fitzgerald, THE CURIOUS CASE OF BENJAMIN BUTTON is an unusual love story for the ages. As Benjamin (Brad Pitt) grows younger, everyone around him gets older, creating fascinating intersections among various characters, but primarily with Daisy Fuller (Cate Blanchett). It's August 2005 in New Orleans, as Hurricane Katrina approaches. In her hospital room, an elderly, dying woman (an unrecognizable Blanchett) gives her daughter, Caroline (Julia Ormond), a diary that she begins reading out loud. It was written by a man named Benjamin Button, who was born an old man in 1918 and tells his life story as the years pass by and he ages backward, sort of a reverse Jack Crabb (Dustin Hoffman) in the great LITTLE BIG MAN (Arthur Penn, 1970), with a bit of the overrated FORREST GUMP (Robert Zemeckis, 1994) thrown in as well. The film lags a bit as Benjamin and Daisy approach similar ages — actually, the closer they get to their actor selves — but the beginning is marvelous, with Fincher working magic as Pitt plays a tiny, withered old man, and the ending is heart-wrenching. Fincher (FIGHT CLUB, ZODIAC) and writer Eric Roth — who won a Best Adapted Screenplay Oscar for FORREST GUMP — wisely choose not to turn Benjamin into a human oddity that confounds the medical profession; instead, he just goes about his life, trying to do the best he can with a positive outlook and a lust for living. Alexandre Desplat's score is among the best of the year, supported by a soundtrack filled with New Orleans jazz. The cast also includes Tilda Swinton as a diplomat's wife who takes a romantic interest in Benjamin, Jared Harris as the randy captain of a tugboat who teaches Benjamin about the sea (and booze and sex), Taraji P. Henson as Queenie, the woman who raises the baby Benjamin after he is abandoned by his father (Jason Flemyng), and the man with perhaps the longest name in the history of show business, Mahershalalhashbaz Ali, as Queenie's husband, Tizzy.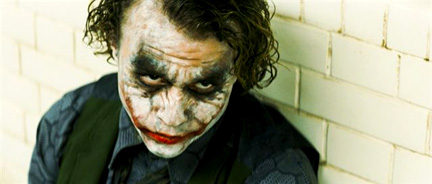 Heath Ledger is a scary scream in THE DARK KNIGHT
THE DARK KNIGHT (Christopher Nolan, 2008)
http://www.thedarkknight.warnerbros.com

Christopher Nolan's follow-up to his 2005 hit BATMAN BEGINS is one of the most brilliant superhero films ever made. Christian Bale is back as billionaire bachelor Bruce Wayne, who spends his evenings fighting crime in Gotham City, which is under siege, victim to a brutal crime spree led by the vicious Joker (Oscar-nominated Heath Ledger in a massive, spectacular performance). As the madman with the wild hair and evil clown face starts knocking off public officials, mob bosses, ordinary citizens, and even his own minions, Wayne is also beset by the blossoming relationship between Rachel Dawes (Maggie Gyllenhall), the woman he loves and who knows his secret, and the new DA, Harvey Dent (Aaron Eckhart), who has come into his high-profile job with both arms swinging, determined to make Gotham City safe. The Bat-Man is joined once again by his faithful butler, Alfred (Michael Caine), Wayne Industries exec Lucius Fox (Morgan Freeman), and police lieutenant Jim Gordon (Gary Oldman); the film also features Anthony Michael Hall as a television talk-show host who finds himself in danger, Eric Roberts as a smooth-talking gangster, and Cillian Murphy as Scarecrow in a brief cameo. THE DARK KNIGHT is a carefully constructed tale of good and evil, love and death, and everything in between, working as both a thrilling action movie as well as a psychoanalytic examination of what lurks deep in the soul. Although there are special effects aplenty, it is primarily a very intimate, personal film about one man's tortured existence. In the summer of the high-octane superhero flick (IRON MAN, THE INCREDIBLE HULK, HELLBOY II, HANCOCK), THE DARK KNIGHT towered above them all.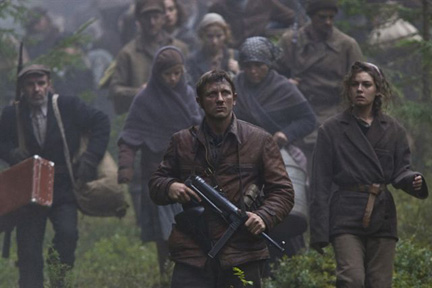 Daniel Craig leads a band of Jews not afraid to take up arms in WWII drama
DEFIANCE (Edward Zwick, 2008)

December has seen the release of a spate of Holocaust-related dramas, examining the Nazis and the persecution of the Jews from many different angles — with various degrees of success. Among the best of the films — and one that tells a seldom-told tale — is Edward Zwick's DEFIANCE. Zwick, whose GLORY looked at the contribution of African Americans fighting for the North in the Civil War, now turns to WWII, following the Bielski clan as it fights back against the Germans and the local constabulary in Russia. Based on a true story detailed in the book of the same name by Nechama Tec, DEFIANCE stars Daniel Craig as Tuvia, Liev Schreiber as Zus, and Jamie Bell as Asael, three brothers who have left their farm and take refuge in the vast forest they have been playing in since they were kids. As more and more Jews hear about the small community they are establishing in the forest, they flock there. But while Tuvia feels he cannot send anyone away, Zus believes such foolish generosity will result in a lack of food and a greater chance that they will be found and killed. With Tuvia as the group's reluctant leader, adamant that they should remain in the forest, Zus takes off to join the Russian resistance. "Each day of freedom is a victory," Tuvia proclaims. "And if we die trying to live, at least we die like human beings." But as the Germans get closer and the winter grows harsher, the chances of survival seem bleaker and bleaker. Although DEFIANCE does lapse into soap-opera territory and pulls at the emotional heartstrings too often — Zwick and executive producer Marshall Herskovitz were, after all, the creators of THIRTYSOMETHING — it is a powerful drama that reveals a rarely shown side of the Holocaust as a group of working-class Jewish men and women refuse to give in or give up, taking up arms and fighting back against impossible odds.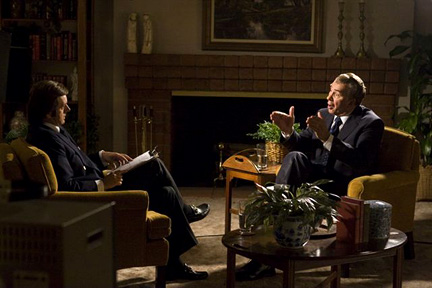 David Frost (Michael Sheen) and Richard Nixon (Frank Langella) get it on in Ron Howard drama
FROST/NIXON (Ron Howard, 2008)

In 1977, the disgraced former president of the United States, Richard Nixon, sat down with British talk show host David Frost for a series of interviews, including the first time Nixon had agreed to discuss Watergate publicly; Frost was after a big payday and trying to resurrect his career in America, while Nixon was attempting to defend his legacy and reestablish his political credentials. Written by Peter Morgan (THE QUEEN) based on his play, FROST/NIXON is a compelling drama that turns into a thriller as Frost and Nixon get caught up in an intellectual game of cat and mouse. Frank Langella is absolutely brilliant as Nixon, capturing every nuance of the jowly president, while Michael Sheen (Tony Blair in THE QUEEN) is a bit too wide-eyed as Frost, although he's got the hair and the accent down pat; both actors are reprising the roles they originated in Morgan's London and Broadway hit. Director Ron Howard allows the story to unfold at its own pace as Nixon's team, which includes Chief of Staff Jack Brennan (Kevin Bacon), super-agent Swifty Lazar (Toby Jones), and a young Diane Sawyer (Kate Jennings Grant), prepares to go toe to toe with Frost's sidekicks, investigative journalist Jim Reston (Sam Rockwell), producers John Birt (Matthew MacFadyen) and Bob Zelnick (Oliver Platt), and love interest Caroline Cushing (Rebecca Hall). FROST/NIXON is a fascinating and thoroughly entertaining look at a critical time in America, when politics intersected with pop culture as the country held its collective breath, demanding closure.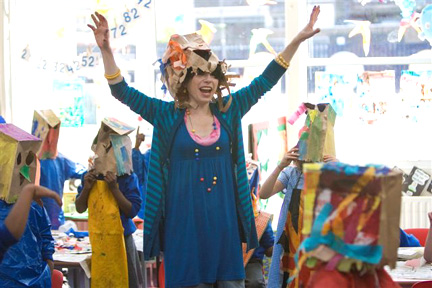 Simon Mein/ Courtesy of Miramax Films
Sally Hawkins is absolutely delightful in Mike Leigh's latest
HAPPY-GO-LUCKY (Mike Leigh, 2008)
Quad Cinema
34 West 13th St. between Fifth & Sixth Aves.
212-255-8800
http://www.happygoluckythemovie.com

Writer-director Mike Leigh (SECRETS & LIES, NAKED, TOPSY-TURVY) has made the most charming film of his career with HAPPY-GO-LUCKY. Golden Globe award winner Sally Hawkins gives a career-making performance as Poppy, the most delightful film character since Audrey Tatou's Amélie (in Jean-Pierre Jeunet's 2001 French comedy LE FABULEUX DESTIN D'AMÉLIE POULAIN). Poppy is a primary school teacher who has an endearing, seemingly limitless love of life; she talks playfully with strangers in bookstores, teases her sister (Kate O'Flynn) and best friend (Alexis Zegerman) with the sweetest of smirks, takes a flamenco lesson on a whim with a colleague, and, when her bicycle is stolen, simply starts taking driving lessons. However, her driving instructor, Scott (Eddie Marsan of the recently underappreciated SIXTY SIX), is a tense, angry man with numerous chips on his shoulder, trying to sour Poppy at every turn. But Poppy is no mere coquettish ingenue; when she senses a problem with one of her students, she is quick get to the bottom of the situation, with the appropriate serious demeanor. As with most Leigh films, much of the dialogue is improvised (following long rehearsal periods), adding to its freshness. But also as with most Leigh films, there are dramatic turning points, but even those can't wipe away Poppy's — or the audience's — endless smile.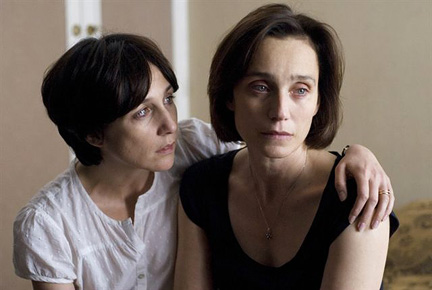 Sisters try to deal with the past in brilliant melodrama
I'VE LOVED YOU SO LONG (Philippe Claudel, 2008)
Village East
181 Second Ave. at 12th St.
212-529-6998
http://citycinemas.moviefone.com
http://www.sonyclassics.com/ivelovedyousolong

French novelist Philippe Claudel's directorial debut, I'VE LOVED YOU SO LONG, is a brilliant melodrama told by an expert storyteller. A never-better Kristin Scott Thomas stars as Juliette, an intensely private woman who has moved in with her younger sister, Léa (Elsa Zylberstein), after having been away for fifteen years. Léa's husband, Luc (Serge Hazanavicius), is clearly unhappy that Juliette has come to live with them; he particularly does not want her spending too much time with their two adopted daughters. As Juliette goes on job interviews and makes new friends — including Léa's fellow teacher, Michel (Laurent Grevill), who has more than a passing interest in her — her deep, dark pain is always bubbling just below the surface, ready to burst out. Through carefully constructed scenes of beauty, simplicity, honesty, and suppressed rage, Claudel slowly reveals the details of Juliette's missing years, spent in prison for an unspeakable crime. Thomas is absolutely breathtaking as Juliette, a tortured soul hiding a horrific secret as she tries to resurrect her once-promising life. Don't miss it.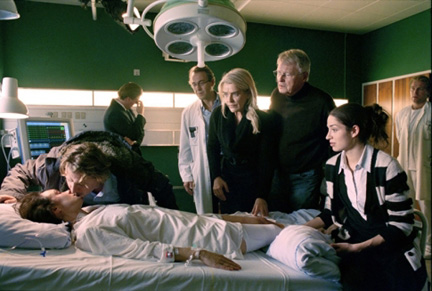 Jonas becomes part of a new family in Danish film noir
JUST ANOTHER LOVE STORY (Ole Bornedal, 2008)
Cinema Village
22 East 12th St. between University Pl. & Fifth Ave.
212-759-7525

Growing bored with his life as a husband, father of two, and crime scene photographer, Jonas (Anders W. Bertelsen) suddenly finds a surprising way out of the doldrums following a devastating car accident set off because the old car he was driving finally gave out in the middle of the road. A young woman, Julia (Rebecka Hemse), lies in a coma in the hospital. Feeling partly responsible, Jonas visits her, telling a nurse that he is her boyfriend so he can see her. Julia's family then gathers around him, believing him to be Sebastian, the mystery man Julia met while traveling in Southeast Asia. As Julia begins making a remarkable recovery — except for some memory loss and blindness — Jonas begins to spend more time with her and her family than with his own, both excited and confused by the new adventure. But trouble — and the truth — lurks around every corner, and when it finally comes…. JUST ANOTHER LOVE STORY is a suspenseful modern noir written and directed by Danish filmmaker Ole Bornedal (NIGHTWATCH) with plenty of panache. The twists and turns, especially in the climactic scenes, come fast and furious, including a tense psychological game of cat and mouse. The film does suffer a bit from too much self-referential posturing, but audiences will have fun squirming on the edge of their seat.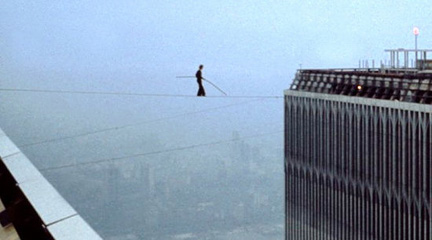 MAN ON WIRE is on the short list for a Best Documentary Oscar nod
MAN ON WIRE (James Marsh, 2008)
Landmark Sunshine Cinema
143 East Houston St. between First & Second Aves.
212-330-8182
http://www.landmarktheatres.com

Winner of the Audience Award at the Sundance, Edinburgh, and Los Angeles Film Festivals, MAN ON WIRE is a thrilling examination of Philippe Petit's attempt to walk on a wire connecting the two towers of the World Trade Center. Using archival footage, home movies, still photos, black-and-white re-creations, and new interviews with all the primary characters, director James Marsh (THE KING, WISCONSIN DEATH TRIP) sets up MAN ON WIRE like a heist film as Petit and his cohorts discuss the detailed planning that went into the remarkable event, including getting the wires and cable to the top of the South Tower and hiding under a tarp as a security guard has a smoke right next to them. Petit, who had previously — and illegally — traversed Notre Dame Cathedral in Paris and the Sydney Harbour Bridge in Australia, had become immediately obsessed with the Twin Towers as soon as he learned they were being built; Marsh intercuts scenes of the construction of the WTC as Petit puts together the seemingly impossible caper, leading to his August 7, 1974, walk between the two towers, more than a quarter mile above the ground. Petit has a relationship with the World Trade Center unlike anyone else's; interestingly, Marsh and Petit do not so much as even hint at the destruction of the towers on September 11, 2001, a questionable decision that leaves a gap in the film. (They could have at least mentioned it in the end captions.) Still, MAN ON WIRE is an exhilarating documentary; even though you know that Petit survives, you'll be breathless as he balances high above Lower Manhattan, one tiny step from death.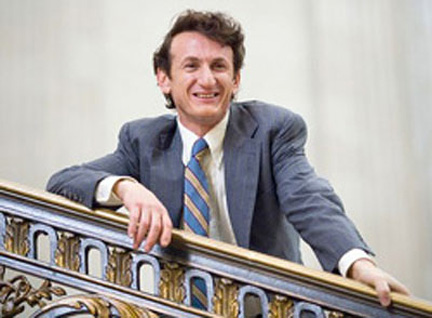 Sean Penn stars as Harvey Milk in look at gay activist and politician
MILK (Gus Van Sant, 2008)
http://www.filminfocus.com/focusfeatures/film/milk

Gus Van Sant's MILK is a solid if surprisingly standard biopic focusing on the last eight years in the life of Harvey Milk, the gay activist and politician who was assassinated in 1978. Van Sant (DRUGSTORE COWBOY, TO DIE FOR, GOOD WILL HUNTING) follows the eventual unofficial Mayor of Castro Street (Sean Penn) as he moves to San Francisco with his much younger partner, Scottie Smith (James Franco), and sets up a camera shop that soon becomes an important meeting ground for the local gay community, fighting for equal rights and supporting Milk as he continually campaigns for public office. The battle hits its high point in 1978 when Milk takes on John Briggs and the Briggs Initiative, also known as Proposition 6, which sought to take away existing employment rights from gays and lesbians in the California public school system, eerily reminiscent of the recent passage of Proposition 8 there. Although Milk was a rallying figure — his opening mantra was always "My name is Harvey Milk, and I am here to recruit you!" — the film never quite takes off the way it wants to, instead becoming too reverential and melodramatic. Penn is good but subdued in the lead role; the best performance comes from Josh Brolin as Dan White, Milk's main adversary among the SF supervisors.
Jamal Woolard hits the big-time in rap biopic
NOTORIOUS (George Tillman Jr., 2009)

In NOTORIOUS, Christopher Wallace, like Buddy Holly, Ritchie Valens, Patsy Cline, and Jim Morrison before him, is immortalized on film, yet another prodigiously talented young musician who died too soon. In this case, it's Brooklyn-born rapper Biggie Smalls (Wallace), or the Notorious B.I.G., who was gunned down at the age of twenty-four in 1997 at the height of his popularity, amid the so-called East Coast / West Coast rap rivalry of the nineties that also claimed the life of his onetime friend and rival Tupac Shakur. Produced by Wallace's mother, Voletta, his two managers, and his producer, Sean "Puffy" Combs, this well-made biopic, directed by George Tillman Jr. (SOUL FOOD) and written by Reggie Rock Bythewood (DANCING IN SEPTEMBER) and Cheo Hodari Coker, holds no surprises but packs a punch nevertheless, thanks to the amazing, gritty, brilliant, street-true music of Biggie. Rapper Jamal Woolard, a newcomer to the screen, inhabits Biggie's character with swagger, charm, intonation, and size, nailing his mannerisms, but after a four-month acting "boot camp" he impersonates rather than portrays Biggie. The incomparable Angela Bassett, as Voletta, has acting chops to spare, and both rival Tupac (Anthony Mackie) and producer Combs (Derek Luke) are played by pros, providing some much-needed acting ballast to balance the production. The gorgeous Antonique Smith, incandescent as Biggie's wife, R&B star Faith Evans, amps the glamour quotient, while Biggie's protégée and former girlfriend Lil Kim is played with sass and verve by Naturi Naughton. But the music, with its jaw-dropping wordplay and irresistible drive, is the real star here.
THE READER (Stephen Daldry, 2008)
http://www.thereader-movie.com

A surprise Best Picture Oscar nominee, THE READER is a cold and disappointing film focusing on a pair of cold, overly secretive — and intensely frustrating — characters. In 1958 Germany, thirty-five-year-old Hanna (Kate Winslet) begins a steamy affair with fifteen-year-old Michael (David Kross); the matronly woman, who calls the young boy "kid," gets in the mood by having him read great works of literature to her as they lay naked together in bed. The film switches between that year and 1995 (as well as several years in between), when a grown-up Michael (Ralph Fiennes) is still having trouble dealing with one obvious secret, although another, shocking one, revealed while he was in law school, has changed the course of his life and his ability to maintain close relationships, including with his daughter. Director Stephen Daldry (BILLY ELLIOT, THE HOURS) manipulates the rather emotionless story — written by David Hare (PLENTY), based on the novel by Bernard Schlink — teasing the audience unnecessarily to keep things moving, albeit at a snail's pace. Although it's always great to see Bruno Ganz and Lena Olin, the main stars — Winslet, Kross, and especially Fiennes — are oddly dispassionate in this overblown and underplayed melodrama. The film's success during awards season might be primarily because two of the executive producers, Anthony Minghella and Sydney Pollack, passed away last year, and this is their final project.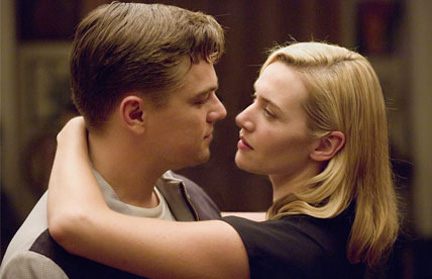 Leonardo DiCaprio and Kate Winslet reunite in REVOLUTIONARY ROAD
REVOLUTIONARY ROAD (Sam Mendes, 2008)
http://www.revolutionaryroadmovie.com

Sam Mendes's REVOLUTIONARY ROAD, based on the novel by Richard Yates, is a brilliant dissection of suburban life in 1950s America. The film reunites the two stars of TITANIC (James Cameron, 1997), with Leonardo DiCaprio and Kate Winslet playing the Wheelers, a young couple who have just moved into suburban Connecticut. Frank works for the same machine company his father did, having to make the commute into the city on the train every day, while April, a onetime aspiring actress, stays at home and takes care of their son. But each of them dreams of something more, something different — something better — so they suddenly decide to rekindle their romance and build a new life in Paris. But not everything goes as planned, as suburbia's overwhelming hopelessness threatens to destroy them. Mendes's fourth film, following AMERICAN BEAUTY (1999), ROAD TO PERDITION (2002), and JARHEAD (2005), is a marvelously constructed tale that hits home time and time again. Winslet (Mendes's wife), who won a Golden Globe for her performance, is spectacular as April, her every movement filled with raw emotion, while DiCaprio is sensational as Frank, a man who is not sure what he wants out of life. The cast also includes David Harbour and Kathryn Hahn as the Wheelers' best friends and neighbors, the Campbells; Kathy Bates as Helen Givings, the local Realtor; Richard Easton as her hard-of-hearing husband, Howard; and Michael Shannon as their mentally challenged adult son, John, who seems to know just how to get to the heart of the matter. REVOLUTIONARY ROAD is a masterful look at life.
Reygadas film is a unique cinematic experience
SILENT LIGHT (STELLET LICHT) (Carlos Reygadas, 2008)
Film Forum
209 West Houston St. between Sixth & Seventh Aves.
212-727-8110

Carlos Reygadas's SILENT LIGHT is a gentle, deeply felt, gorgeously shot work of intense calm and beauty. The film opens with a stunning sunrise and ends with a glorious sunset; in between is scene after scene of sublime beauty and simplicity, as Reygadas uses natural sound and light, a cast of mostly nonprofessional actors, and no incidental music to tell his story, allowing it to proceed naturally. In a Mennonite farming community in northern Mexico where Plautdietsch is the primary language, Johan (Cornelio Wall Fehr) is torn between his wife, Esther (Miriam Toews), and his lover, Marianne (Maria Pankratz). While he loves Esther, he finds a physical and spiritual bond with Marianne that he does not feel with his wife and their large extended family. Although it pains Johan deeply to betray Esther, he is unable to decide between the two women, even after tragedy strikes. Every single shot of the spare, unusual film, which tied for the Jury Prize at the 2007 Cannes Film Festival (with Vincent Paronnaud and Marjane Satrapi's PERSEPOLIS), is meticulously composed by Reygadas (JAPON, BATTLE IN HEAVEN) and cinematographer Alexis Zabe, as if a painting. Many of the scenes consist of long takes with little or no camera movement and sparse dialogue, evoking the work of Japanese minimalist master Yasujiro Ozu. The lack of music evokes the silence of the title, but the quiet, filled with space and meaning, is never empty. And the three leads — Fehr, who lives in Mexico; Toews, who is from Canada; and Pankratz, who was born in Kazakhstan and lives in Germany — are uniformly excellent in their very first film roles. SILENT LIGHT is a mesmerizing, memorable, and very different kind of cinematic experience.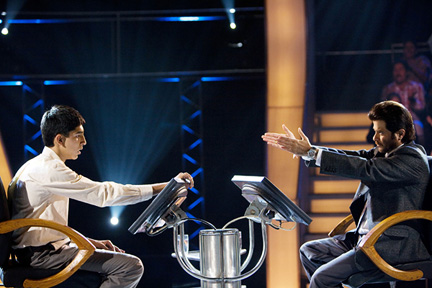 Jamal goes for the big bucks in SLUMDOG MILLIONAIRE
SLUMDOG MILLIONAIRE (Danny Boyle, 2008)
http://www.foxsearchlight.com/slumdogmillionaire

In modern-day Mumbai, Jamal Malik (Dev Patel) is being brutally interrogated by a police inspector (Irrfan Khan) who is certain that Jamal is cheating on the popular game show WHO WANTS TO BE A MILLIONAIRE? The cop won't even consider that a young, uneducated chaiwalla, a lowly tea server at a call center, could possibly know enough to be successful on the program. But through a series of harrowing flashbacks, Jamal recounts his difficult, miserable life growing up on the streets with his brother, Salim (Madhur Mittal), explaining how his experiences with extreme poverty, bigotry, child abuse, and gang violence led him to know certain answers in fascinating, bizarre, and mostly sad ways. As he approaches the final question, everything he's ever loved and believed in hangs in the balance. SLUMDOG MILLIONAIRE is extremely well directed by Danny Boyle (TRAINSPOTTING, 28 DAYS LATER), with a smart script by Simon Beaufoy (THE FULL MONTY) based on Vikas Swarup's novel Q AND A. Freida Pinto makes a strong debut as Latika, the girl who comes between the two brothers, and Bollywood star Anil Kapoor is wonderfully smarmy as Prem Kumar, the Indian Regis Philbin. A mesmerizing, edge-of-your-seat tale, SLUMDOG MILLIONAIRE was the sleeper hit of 2008 until it won four Golden Globe awards, including Best Screenplay, Best Original Score, Best Director, and Best Drama, putting it in the forefront of the Oscar race.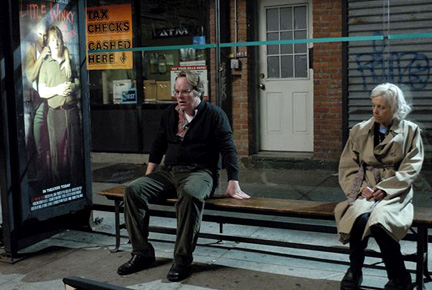 Caden Cotart (Philip Seymour Hoffman) is having a tough time in SYNECDOCHE
SYNECDOCHE, NEW YORK (Charlie Kaufman, 2008)
Landmark Sunshine Cinema
143 East Houston St. between First & Second Aves.
212-330-8182
http://www.landmarktheatres.com
http://www.sonyclassics.com/synecdocheny

In films such as BEING JOHN MALKOVICH (Spike Jonze, 1999), ADAPTATION (Spike Jonze, 2002), CONFESSIONS OF A DANGEROUS MIND (George Clooney, 2002), and ETERNAL SUNSHINE OF THE SPOTLESS MIND (Michel Gondry, 2004), writer Charlie Kaufman has created bizarre, compelling alternate views of reality that adventurous moviegoers have embraced, even if they didn't understand everything they saw. Well, Kaufman has done it again, challenging audiences with his directorial debut, the very strange but mesmerizing SYNECDOCHE, NEW YORK. Philip Seymour Hoffman stars as the bedraggled Caden Cotard, a local theater director in Schenectady mounting an inventive production of DEATH OF A SALESMAN. Just as the show is opening, his wife, avant-garde artist Adele Lack (Catherine Keener), decides to take an extended break in Europe with their four-year-old daughter, Olive (Sadie Goldstein), and Adele's kooky assistant, Maria (Jennifer Jason Leigh).
As Caden starts coming down with a series of unexplainable health problems (his last name, by the way — Cotard — is linked with a neurological syndrome in which a person believes they are dead or dying or do not even exist), he wanders in and out of offbeat personal and professional relationships with box-office girl Hazel (a nearly unrecognizable Samantha Morton), his play's lead actress, Claire Keen (Michelle Williams), his therapist, Madeleine Gravis (Hope Davis), and Sammy (Tom Noonan), a man who has been secretly following him for years. After winning a MacArthur Genius Grant, Caden begins his grandest production yet, a massive retelling of his life story, resulting in radical shifts between fantasy and reality that will have audiences laughing as they continually scratch their heads, hoping to stimulate their brain in order to figure out just what the heck is happening on-screen. Evoking such films as Federico Fellini's 8 1/2 and CITY OF WOMEN, Woody Allen's STARDUST MEMORIES, and Ingmar Bergman's WILD STRAWBERRIES as well as the labyrinthine tales of Argentine writers Jorge Luis Borges and Julio Cortazar, SYNECDOCHE, NEW YORK is the kind of work that is likely to become a cult classic over the years, requiring multiple viewings to help understand it all.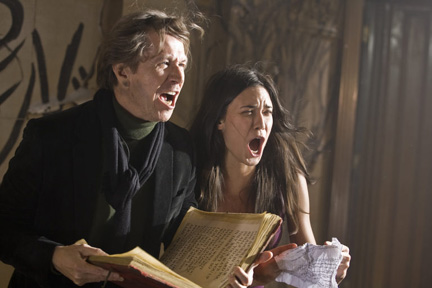 Some ideas are better left unhatched
THE UNBORN (David S. Goyer, 2009)

Liberally borrowing from THE EXORCIST, THE OTHER, JACOB'S LADDER, THE OMEN, and other horror favorites, writer-director David S. Goyer (BLADE: TRINITY, THE INVISIBLE) infuses THE UNBORN with its share of legitimate scares that will have audiences covering their eyes and jumping in their seats. Unfortunately, the story is so misguided and convoluted that those chills ultimately can't save the movie from its deserved place in the minor leagues. Odette Yustman (CLOVERFIELD) stars as Casey Beldon, a college student who is being tormented by frightening dreams and the creepy kid down the street (Atticus Shaffer, the creepy kid from that AIG commercial), who keeps telling her that Jumby wants to be born now. As people around her start dropping like flies, Casey investigates her past, getting vital information from her late mother (Carla Gugino, who can't say no to a job offer these days), her father (James Remar, who hopefully thought his part would be bigger when he signed on), and grandmother (Jane Alexander, who used to be a bit more selective with her roles) while turning to a rabbi (Gary Oldman, who looks bewildered most of the time) for a potential exorcism. There might just be a good movie in here somewhere, but as soon as Goyer brings in the Nazis and the Holocaust, it never has a chance.
VICKY CRISTINA BARCELONA (Woody Allen, 2008)
Village East
181 Second Ave. at 12th St.
212-529-6998
http://citycinemas.moviefone.com
http://www.vickycristina-movie.com

After a trio of films made in England (the justly celebrated MATCH POINT, the disappointing SCOOP, and the underappreciated CASSANDRA'S DREAM), Woody Allen heads to Spain, setting his latest adult romantic comedy in the gorgeous city of Barcelona. The very serious Vicky (Rebecca Hall, channeling Mia Farrow) and the flirtatious free spirit Cristina (Scarlett Johansson) are best friends spending the summer at a villa owned by Judy (Patricia Clarkson) and Mark (Kevin Dunn). Vicky is about to get married to the very responsible and successful Doug (Chris Messina), while Cristina is just looking to have a wild time. When hot artist Juan Antonio (a gentle Javier Bardem) invites Vicky and Cristina to join him for wine and sex in Oviedo, Vicky thinks he is a pig, while Cristina wants to take him up on his offer. Further complicating the situation is Juan Antonio's homicidal, suicidal ex-wife, Maria Elena (an inspired, Oscar-nominated Penelope Cruz), who forces herself back into his life. VICKY CRISTINA BARCELONA features one of Allen's best scripts in years. Hall, a young British actress who primarily works on stage and television, is captivating as Vicky; cinematographer Javier Aguirresarobe's camera falls in love with her charming face the moment it first lays eyes on her. Bardem and Cruz inject fire and ice into this complex relationship drama, which examines the nature of love in intelligent and intriguing ways. In addition to filming at such sites as Antoni Gaudi's Sagrada Familia, Parc Guell, and La Pedrera, Allen infuses the proceedings with a soundtrack of delightful Spanish music, structured around Gulia y Los Tellanini's "Barcelona."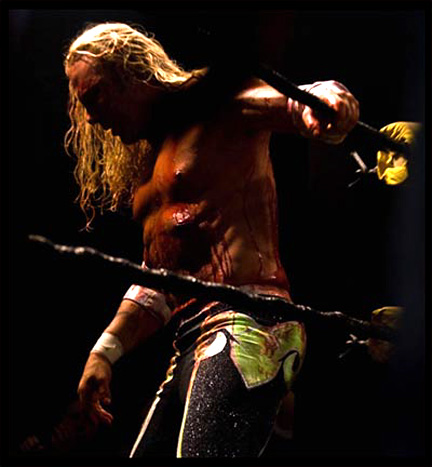 Mickey Rourke wrestles his demons in comeback flick
THE WRESTLER (Darren Aronofsky, 2008)
http://www.thewrestlermovie.com

Brooklyn native Darren Aronofsky, writer-director of the brilliant PI (1998) and REQUIEM FOR A DREAM (2000) and the muddled mess THE FOUNTAIN (2006), scores a major takedown with the marvelous comeback film THE WRESTLER. Former boxer Mickey Rourke, who made a name for himself in such 1980s films as DINER, RUMBLE FISH, THE POPE OF GREENWICH VILLAGE, 9 1/2 WEEKS, and BARFLY, stars as the Christ-like figure Randy "the Ram" Robinson, an aging professional wrestler who was the sport's biggest name in the 1980s but is now a washed-up has-been living in a trailer park wrestling for embarrassingly small paydays at tiny local venues, still lured by the love of the sparse crowds and the respect of his opponents. After suffering a heart attack following one of his matches, the fifty-something Ram is suddenly faced with a life outside the ring. He tries to get back in his daughter's (Evan Rachel Wood) life, attempts a relationship with stripper Cassidy (Marisa Tomei), and even gets a regular job in a supermarket, but the possibility of returning to the ring for the twentieth anniversary of his biggest match ever, his 1989 battle against the Ayatollah (Ernest Miller) in Madison Square Garden, weighs hard on his mind. Winner of the Golden Lion at the Venice Film Festival, THE WRESTLER, shot in an arresting grainy style, is a masterfully told tale with multiple layers, with the Ram's potential comeback mimicking Rourke's own return to his acting glory days. Rourke, who won a Golden Globe for his effort, is such a natural in the role that it is hard to believe it was not written specifically for him; in fact, Nicolas Cage was first attached to the project. (Bruce Springsteen's title song, which plays over the closing credits, took home the Golden Globe for Best Original Song.) The film is set in the real-life world of Combat Zone Wrestling and the Ring of Honor, featuring such actual wrestlers as the Necro Butcher, who has a thing for barbed wire and staple guns. THE WRESTLER is a heart-wrenching, beautiful, and brutal film.
Riff's Rants & Raves: Theater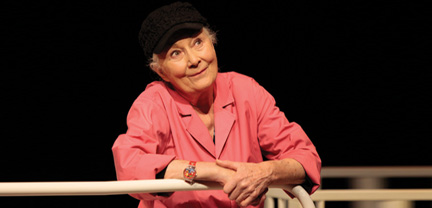 © T. Charles Erickson
Rosemary Harris returns to the NYC stage in one-woman show at FIAF
OSCAR AND THE PINK LADY
French Institute Alliance Française
Florence Gould Hall
55 East 59th St. between Park & Madison Aves.
Through February 1
Tickets: $45
212-307-4100

It's a genuine thrill to have Rosemary Harris back on the New York stage; would that it be in a better play. Harris, who is still a whirlwind at the age of eighty-one, roams around the set — a child's hospital room — while taking on several characters but primarily ten-year-old Oscar, who has leukemia, and his best friend, an old candy striper he calls Granny Pink. With Christmas approaching, Granny Pink tells Oscar that he should write to God, so the bulk of the play consists of Oscar reading his letters, which examine life and death, faith and love. Harris, who has won a Tony, several Drama Desks, an Emmy, a Golden Globe, and an Obie, is exceptional playing the multiple characters, moving among them with just a slight shift of the body or a flash of the eyes, then a change of accent, sounding like Audrey Hepburn as Oscar and a much tougher dame as Granny Pink. Unfortunately, the play itself, directed by Frank Dunlop and adapted by Eric-Emmanuel Schmitt (based on his French novella OSCAR ET LA DAME ROSE), lacks any irony or real conflict; it is instead a straightforward, treacly, Hallmark-like piece of saccharine sappiness that Harris continually manages to rise above. The play was first performed in Paris in 2003 (in French), with legendary actress Danielle Darrieux, who was in her mid-eighties at the time, and has since been staged in more than two dozen countries around the world.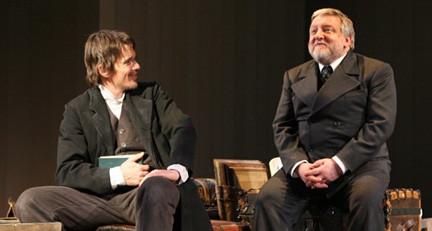 Joan Marcus
Ethan Hawke and Simon Russell Beale share a laugh in THE CHERRY ORCHARD
THE BRIDGE PROJECT: THE CHERRY ORCHARD
BAM Harvey Theater
651 Fulton Street between Ashland Pl. & Rockwell Pl.
THE CHERRY ORCHARD: through March 8
THE WINTER'S TALE: February 10 — March 8
Tickets: $30-$90
718-636-4100

As part of its three-year, three-way partnership with the Old Vic, headed by Kevin Spacey, and Neal Street Productions, led by Caro Newling and Sam Mendes, BAM is presenting two exciting theatrical events, starting with a new version of Anton Chekhov's THE CHERRY ORCHARD, adapted by Tom Stoppard. Chekhov's final play — the writer of THE SEAGULL, UNCLE VANYA, and THREE SISTERS died shortly after its publication, at the age of forty-four in 1904 — deals with the end of the Russian aristocracy as a once-wealthy family must consider selling off its lush cherry orchard as summer shares or face bankruptcy. Sinéad Cusack is excellently airheaded as Ranevskaya, the matriarch of the estate who refuses to see reality by listening to Lopakhin (the scene-stealing Simon Russell Beale), a successful landowner begging her and her blustery brother, Gaev (Paul Jesson) to sell. Ranevskaya doesn't get much help from her daughters, who are also hesitant to part with the orchard: Varya (Rebecca Hall) is hoping to be betrothed to Lopakhin, while seventeen-year-old Anya (Morven Christie) is exploring romance with perpetual student Trofimov (Ethan Hawke), who is looking ahead to the social revolution that is overtaking the country. Stoppard's version of the play walks the fine line between comedy and tragedy, although it does occasionally get a bit unsure of which way to go.
Mendes (AMERICAN BEAUTY, REVOLUTIONARY ROAD) directs the solid cast — which also includes a fine comic turn by Richard Easton as the elderly servant Firs and Josh Hamilton as Yasha, a young valet who believes that all he and Ranevskaya's chambermaid, Dunyasha (Charlotte Parry), need to survive on is their love — with few missteps, but the production never quite reaches the emotional heights it strives for. Anthony Ward's set design and Paul Pyant's lighting shines, especially at the beginning of the second act, when huge shadows are cast onto the white backdrop as the family hosts a fancy party while awaiting its fate. On February 10, THE CHERRY ORCHARD will be joined in repertory by William Shakespeare's THE WINTER'S TALE, both at the BAM Harvey Theater and featuring the same cast. There will be several pre- and postshow artist talks, including with the entire company on February 19 and 25, Stephen Greenblatt speaking on THE WINTER'S TALE on February 15 at 1:00 in the BAMcafé, and Sam Mendes and Francine Prose discussing THE CHERRY ORCHARD on February 26 at 5:30 in the Hillman Attic Studio.
Riff's Rants & Raves: Live Music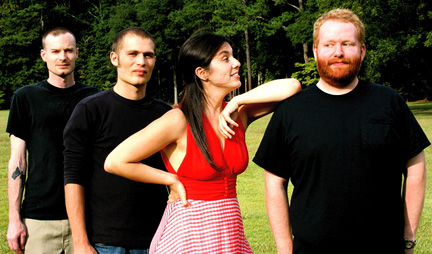 DC's Junior League Band seeks to warm up cold NYC night at Village jam
WINTER JAM
Sullivan Hall
214 Sullivan St.
Saturday, January 24, $10, 6:30
866-468-7619
http://www.sullivanhallnyc.com
Headlining the third annual Winter Jam at Sullivan Hall in Greenwich Village, D.C foot-stompers the Junior League Band hits New York City on the heels of a year of heavy touring and festival appearances. With a revamped lineup and a new album, expect the League to come out swinging, literally, with their solid mix of country and blues twang. The band's latest release, the cryptically titled MITCHELL WILLIAMS FO GOVENA (September 30, 2008), features crisp yet down-home production, faux-Jon Langford-esque cover art, and twelve original tunes showcasing the lyrics of lead chanteuse Lissy Rosemont. The diverse styles in evidence allow the League to stretch out stylistically, bringing out the best in Rosemont's vocals and bumping up against the barricades of the designated "alt-country" ghetto the group has been lumped into. Still, the jumping-off point of their live performances is a rootsy and swinging vibe, with banjo and fiddle providing the bricks and mortar for the JLB's lively, infectious spirit. A cold winter's night with the Junior League, who will be taking the stage at 11:30, is guaranteed to leave the listener's soul a little bit warmer. Also on the bill are Hot Lava (10:30), the Stemms (9:30), Paul Hudson and Hunter Jones (8:30), and Wendy St. Kitts (6:30).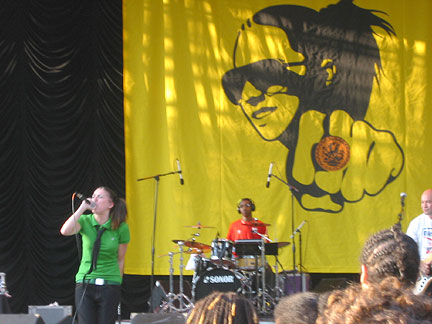 twi-ny/mdr
Lady Sovereign will be packing a punch at Piano's
LADY SOVEREIGN
Piano's
158 Ludlow St. between Stanton & Rivington Sts.
Monday, January 26, $10, 8:00
212-505-3733
http://www.myspace.com/ladysovereign
"You wanna dance? I'll bet you do. You wanna move? I'll bet you do," Lady Sovereign challenges on her new single, "I Got You Dancing." The vertically challenged English rapper born Louise Harman has been getting people dancing and moving since 2003 with such club hits as "Random," "Hoodie," and "Love Me or Hate Me." The feisty singer, who only just turned twenty-three, scored a knockout punch with her full-length debut, 2006's PUBLIC WARNING, and is readying her highly anticipated follow-up, JIGSAW, due this April. The foul-mouthed, very funny feminist is not afraid to speak her mind onstage, regularly attacking the male-dominated record industry. We've seen her at Webster Hall, Central Park SummerStage, and other venues, and she never fails to get us in the groove. She'll be playing what should be a rousing show January 26 at Piano's on the Lower East Side, where it's a mere ten bucks to get bowled over by the Lady's fiery bravado.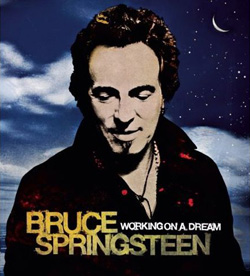 WORKING ON A DREAM by Bruce Springsteen
(Sony, January 27, 2009)
http://www.brucespringsteen.net

If THE RISING (2002) was Bruce Springsteen's dramatic take on the 9/11 tragedy, DEVILS & DUST (2004) displayed his reaction to the Iraq war, and MAGIC (2007) demonstrated his anger and frustration with the policies of George W. Bush, WORKING ON A DREAM is his emotional and heartfelt response to the hope and promise of a potential Barack Obama administration. (The album was recorded prior to Obama's election.) Springsteen, who stumped heavily for the Illinois senator, seems happier than ever on the new record, proclaiming on "Surprise Surprise," "Well, surprise, surprise, come on, open your eyes / And let your love shine down." The "Lonesome Day" of THE RISING has turned into the uplifting "My Lucky Day," a superbly crafted song that shows off the many strengths of the E Street Band. Bruce is so in love with life and positive about the future that he even has a crush on a cashier in a grocery store in "Queen of the Supermarket," a song that manages to overcome such lyrics as "With my shopping cart I move through the heart / Of a sea of fools so blissfully unaware." He gets downright loungy on "This Life," which recalls MAGIC's "Girls in Their Summer Clothes," while he turns to the Delta blues on "Good Eye," which he sings through a bullet mic. The soft, bouncy "Tomorrow Never Knows" is one of the sweetest little ditties Springsteen's ever penned. ("Tomorrow Never Knows" is one of many Beatles references in song titles and lyrics throughout the album.)
Bruce borrows KISS's killer riff from "I Was Made for Loving You" in the album's opener, the eight-minute Western epic "Outlaw Pete," which is reminiscent of such early Springsteen tales as "Visitation at Fort Horn" and "Zero and Blind Terry." The disc closes with "The Last Carnival," a gorgeous, bittersweet farewell to Danny Federici, Springsteen's childhood friend and longtime keyboard player who died from melanoma in 2008; "We'll be riding the train without you tonight," Springsteen sings as he hearkens back to 1973's "Wild Billy's Circus Story" (which featured Federici on the accordion). "Hanging from the trapeze / My wrists waiting for your wrists / Two daredevils high upon the wall of death," Bruce remembers. Brendan O'Brien, who has produced each Springsteen disc this decade (while also working on records by Tom Morello, the Bravery, AC/DC, Incubus, Audioslave, and others), again gets the most out of the music, adding just the right touches on the gentle love song "Kingdom of Days," the celebratory "Surprise, Surprise," and the closing moments of "Outlaw Pete." WORKING ON A DREAM also includes a bonus tracks, the haunting, Golden Globe-winning "The Wrestler" from the Mickey Rourke film. This month, Springsteen will be taking the reins of Sirius XM's E Street Radio, DJ'ing two special programs with Dave Marsh that will air daily through January 31, leading up to his performance with the E Street Band at halftime of Super Bowl XLIII, February 1 in Tampa Bay.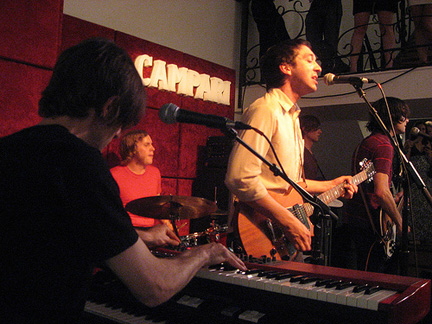 twi-ny/mdr
Robbers on High Street will lead great show in Williamsburg
ROBBERS ON HIGH STREET
Music Hall of Williamsburg
66 North Sixth St.
Tickets: $12-$14
212-260-4700
http://www.musichallofwilliamsburg.com
Saturday, January 31 Robbers on High Street play with Jukebox the Ghost, Takka Takka, and Lowry, 7:00
DAVID BROMBERG BIG BAND
B.B. King Blues Club & Grill
237 West 42nd St. between Seventh & Eighth Aves.
Wednesday, February 4, $45, 8:00
212-997-4144
Guitar virtuoso and violin master David Bromberg brings his big band back to B.B. King's for what should be another killer night of fun folk and blues. Although Bromberg plays solo gigs, in a quartet, and with the Angel Band (which is opening this show), he's perhaps at his glorious best with his Big Band, which includes Jeff Wilson on violin and mandolin, Butch Amiot on bass, Bobby Tangrea on fiddle, mandolin, and guitar, Richard Crooks on drums, and John Firmin, Peter Ecklund, and Curt Linberg on horns. We last caught Bromberg and the Big Band a few years back at the Town Hall, where they opened with "Don't Let Your Deal Go Down," finger-picked through such fineries as "Keep on Drinkin', "Send Me to the 'Lectric Chair," and "Spanish Johnny," then closed with "Sweet Home Chicago" and "Kaatskill Serenade." But in whatever format, Bromberg knows how to put on a show, and always has a great time doing it.
Riff's Rants & Raves: Art & Literature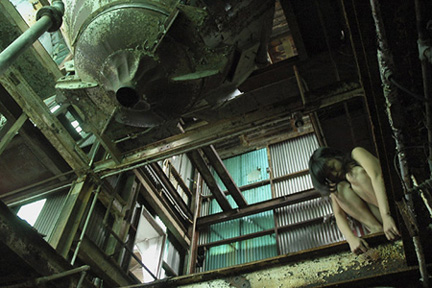 © Miru Kim
Miru Kim's tour of abandoned spaces comes to the Cell Theatre
NAKED CITY SPLEEN + BLIND DOOR
The Cell Theatre
338 West 23rd St. between Eighth & Ninth Aves.
Thursday, January 22, free, 5:00 — 8:00
Born in Massachusetts, raised in South Korea, and now living and working in New York City, Miru Kim visits abandoned buildings, subway stations, construction sites, and other mysterious areas, photographing herself naked, often running through the scene like a ghost or huddling in a fetal position. The effect is both haunting and entrancing, daring and provocative, beguiling and mesmerizing. At the Cell Theatre, her photos will be accompanied by BLIND DOOR, a ten-minute black-and-white short by Kim and artist and activist Isidore Roussel that follows Kim as she wanders her way through desolate spaces like an animal finding its way in the jungle. Over the summer at the Gestarc Gallery in Red Hook, Kim turned the photography display, BLIND DOOR, and a second short, BLIND VIDEO, into a performance piece as she moved around the gallery, naked, with the audience watching through a peephole in the front door, transforming the art gallery itself into yet another empty, abandoned space. Although that it not scheduled to be part of the program at the Cell Theatre, her openings are always a lot of fun.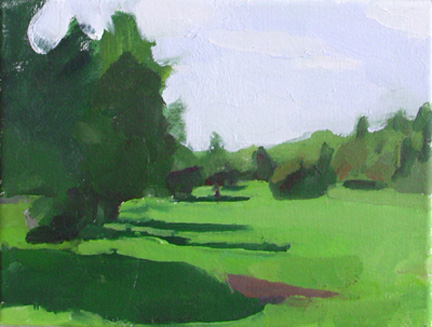 Courtesy Lori Bookstein Fine Art
John Dubrow, "Weaver's Farm 10," oil on linen, 2008
JOHN DUBROW: SMALL LANDSCAPES
Lori Bookstein Fine Art
37 West 57th St. between Fifth & Sixth Aves.
Through February 7
Closed Sunday & Monday
Admission: free
212-750-0949
http://www.loribooksteinfineart.com

Last spring, Lori Bookstein Fine Art held an exhibition of abstract cityscapes and intimate portraits — including a stunning self-portrait — by American artist John Dubrow. Born in Salem, Massachusetts, in 1958 and based in New York City for more than twenty-five years, Dubrow is an exceptional painter with a marvelous eye and a splendid hand. His fourth solo show, set up in the small room at the right of the Midtown gallery, consists of twenty-eight small oil-on-linen plein-air landscapes painted in Umbria and upstate New York near Hudson in 2008. The works are wonderfully arranged across the space, with eight of the Italy paintings facing the other seven on opposite walls, and seven of the Weaver's Farm pieces facing the other six upstate canvases. As you stand in the middle and turn slowly around, you'll get lost in the gorgeous greenery while noticing some very clear distinctions between the two series: the upstate paintings are seen more in close-up, with deeper, more lush greens focusing on trees and shadows, whereas the paintings from Umbria are of vast, abstract mountainous spaces seen from farther away, their colors muted by the blazing sun. On display in Gallery I is "Personal Geometry," a collection of paintings and sculpture that incorporate geometric shapes and patterns, including pieces by Louise Nevelson, Burgoyne Diller, Al Held, Willard Boepple, Richard Diebenkorn, and Alfred Jensen.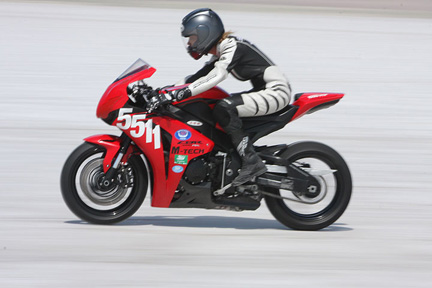 Courtesy Claire Oliver Gallery
Leslie Porterfield is after the speed record in Janet Biggs's video
JANET BIGGS — VANISHING POINT
Claire Oliver Gallery
513 West 26th St. between Tenth & Eleventh Aves.
Through February 7
Closed Sunday & Monday
Admission: free
212-929-5949
In Richard C. Sarafian's 1971 film VANISHING POINT, Barry Newman starred as Kowalski, a man with nothing left to live for who goes on a high-speed chase in a white Dodge Challenger, racing the cops from Denver to San Francisco in an existential attempt to escape the world. American artist Janet Biggs, who has previously used horses in her exhibitions, gets out of the saddle for her latest installation, a ten-minute video inspired by the Sarafian cult classic. In the new video, Biggs combines footage of Leslie Porterfield going after the world motorcycle record in the Bonneville Salt Flats with a performance of an original song by Harlem's Addicts Rehabilitation Center Gospel Choir, examining identity and freedom, perhaps not unlike what Kowalski was running from — or to.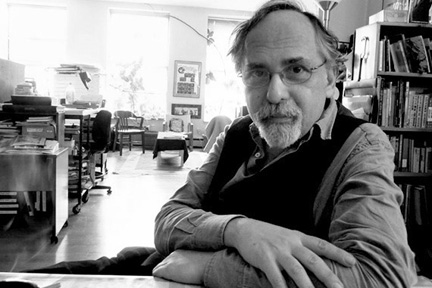 Art Speigelman by Nadja Spiegelman
At Spigelman should be a fine dinner companion at BAM
EAT, DRINK & BE LITERARY:
DINNER & A READING AT BAMcafé
Brooklyn Academy of Music Opera House Café
30 Lafayette Ave. between Ashland Pl. & St. Felix St.
All events begin at 6:30 and are moderated by Daniel Menaker
Tickets: $50 (includes dinner, wine, tax, and tip)
January 22 - April 23
718-636-4100
BAM's Eat, Drink & Be Literary series returns with another all-star lineup of authors discussing their life and work with Daniel Menaker, with each night featuring dinner music by students of the Juilliard School. The buffet menu for the January 22 event with Nathan Englander (THE MINISTRY OF SPECIAL CASES) includes cannellini bean, red onion, and arugula salad with balsamic-lime vinaigrette; artichoke, Portobello mushroom, and potato casserole; roast salmon on a bed of rice pilaf; and herb-grilled flank steak with chimichurri sauce. Wine comes with the meal.
Thursday, January 22 Nathan Englander, with dinner music by pianist Di Wu
Thursday, February 5 Art Spiegelman, with dinner music by harpist Kristen Agresta
Thursday, February 19 Jimmy Breslin, with dinner music by five-string cellist Rufus Cappodocia
Thursday, March 12 A. M. Homes, with dinner music by pianist Carl Riehl
Thursday, April 2 Germaine Greer, with dinner music by cellist Matthew Zalkind and pianist Evan Shinners
Thursday, April 23 Richard Price, with dinner music by guitarist Mattias Jacobsson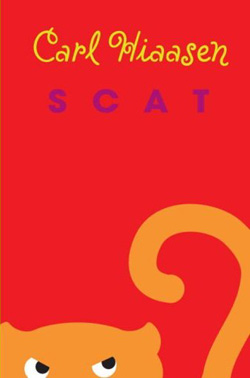 SCAT by Carl Hiaasen (Alfred A.Knopf Books for Young Readers, January 27, 2009, $16.99)
Bank Street College of Education, Tabas Auditorium
610 West 112th St., first floor
Wednesday, January 28, free, 6:00
212-875-4552

After their stern, old-fashioned teacher, Mrs. Starch, disappears on a field trip in the Black Vine Swamp, Truman School students Nick Waters and Marta Gonzalez soon become enmeshed in a dangerous mystery involving a panther, illegal oil drilling, an unidentified crazy man in a black ski mask, a Ticonderoga No. 2 pencil, an antacid-popping corporate operative, taxidermied endangered species, and the hunt for a young pyromaniac in Carl Hiaasen's third novel for young adults, SCAT (following FLUSH and the Newbery Honor Book HOOT). Hiaasen, a columnist for the Miami Herald who has written such adult novels as SKIN TIGHT, LUCKY YOU, SICK PUPPY, and NATURE GIRL, sets his environmental tale in the Florida Everglades, where just about everyone believes that Duane Scrod Jr., a tough kid known as Smoke, set a fire in the Black Vine Swamp. But Nick, who is trying to deal with his father's serious Iraq war injuries, believes Smoke just might be innocent, but proving it is going to be no easy task, especially with oil men Drake McBride and Jimmy Lee Bayliss up to no good. Hiaasen fills SCAT with wonderfully drawn characters, particularly Mrs. Bunny Starch and Smoke's buffoon of a father, Duane Scrod Sr., a classical-music-loving schlemiel with a randy macaw. The plot is too simplistic at times, convoluted at others, but SCAT turns out to be a solid mystery with plenty of surprises. Hiaasen will be in New York City on January 28 for a special presentation, Q&A, and book signing at the Bank Street College of Education on 112th St.

All contents copyright 2009 by Mark Rifkin and twi-ny. All rights reserved. Contents may not be reprinted without written permission. Please note that events, dates, and prices are subject to change.
Send all comments, suggestions, reviews, and questions to mark.rifkin@twi-ny.com.
Please note that some e-mail clients may wrap links, so be sure to enter them fully into your browser.
To subscribe to this list, please e-mail the administrator at admin@twi-ny.com with the word Subscribe in the Subject line; be sure to ask for back issues, which are free as well. To unsubscribe from this list, please think it over twice before e-mailing the same address. Please let us know what you didn't like about this forum and we'll do our best to correct it in the future — if we agree with you. If you would like to see something covered in a future issue, please let us know. Without you, there is no need for us to exist.

twi-ny top two dozen (or so) weekly reminders & special events
WINTER RESTAURANT WEEK 2009
Monday through Friday, January 18-23, January 25-30
Lunch: $24.07; dinner: $35
Reservations being accepted now
Sunday, January 18
through
Friday, January 23 More than one hundred eateries will be offering prix-fixe lunches and/or dinners, including 21 Club, Artisanal, Asiate, Café Boulud, Devi, Eleven Madison Park, Gotham Bar & Grill, Gramercy Tavern, I Trulli, Inagiku, Le Cirque, Megu, Petrossian, River Café, Tabla, Tao, the Palm, Town, Union Square Café, Water's Edge, and more, continuing Sunday, January 25, through Friday, January 30
READINGS ON THE 4th FLOOR
P.S. 107, John W. Kimball School
1301 Eighth Ave. between 13th & 14th Sts., Brooklyn
Tickets: $15 in advance, $20 at the door, all proceeds go toward building and stocking a library for the school
Advance tickets available online and at the Community Bookstore, 143 Seventh Ave., Park Slope, 718-783-3075
718-330-9340
Wednesday, January 21 Plugging into the Green Movement, discussion of community-changing strategies on going green, with Elizabeth Royte, Helen Coronato, and Steve Vartan, moderated by Mark Spellun, 7:30

CULTUREMART 2009
HERE Arts Center
145 Sixth Ave. at Dominick St.
Through February 4
Tickets: $15-$20, festival pass $35
212-352-3101
Billed as an "Annual Festival of Hybrid Performances," Culturemart features seventeen multimedia works and works in progress by HERE's resident artists, a melange of dance, theater, opera, video, live music, and much more, several of which will be followed by the Meet the Culturemart Composers discussion series. Kamala Sankaram creates a deadly game show in LET'S WATCH. Johari Mayfield riffs on the Venus Hottentot in VENUS RIFF. Geoff Sobelle, Trey Lyford, and Steve Cuiffo turn to magic for AMAZINGLAND. Erin Off and Rima Fond make over Federico Garcia Lorca with puppets in DON CRISTOBAL, BILLY-CLUB MAN. Barbara Weichmann and Jeffrey Mousseau tell scary stories for the younger set in AUNT LEAF. And Sheila Callaghan and Daniella Topol will present an excerpt from their six-hour epic, WATER (OR THE SECRET LIFE OF OBJECTS). In addition, Culturemart has teamed up with Under the Radar to present Corey Dargel's REMOVABLE PARTS, a musical about love and amputation, and Ray Lee's SIREN, an electronic examination of light, sound, and movement.
ELISA MONTE DANCE
Joyce Theater
175 Eighth Ave. at 19th St.
Tickets: $19-$49
212-645-2904
http://www.elisamontedance.org
Wednesday, January 21
through
Sunday, January 25 Elisa Monte Dance performs the Joyce commission SLOPE OF ENLIGHTENMENT, the New York premiere of ZYDECO, ZARE, the world premiere of a new duet, ARROW'S PATH, featuring music by Kevin Keller, and the revival of AUDENTITY
2009 NEW YORK JEWISH FILM FESTIVAL
Walter Reade Theater (unless otherwise noted)
65th St. between Broadway & Amsterdam Aves.
January 14-29
212-875-5050
http://www.thejewishmuseum.org
Wednesday, January 21 FORGOTTEN TRANSPORTS: TO ESTONIA (ZAPOMENUTÉ TRANSPORTY: DO ESTONSKA) (Lukás Pribyl, 2008), 1:30
Wednesday, January 21 OUR DISAPPEARED (NUESTROS DESAPARECIDOS) (Juan Mandelbaum, 2008), 3:45
Wednesday, January 21 EMPTY NEST (EL NIDO VACÍO) (Daniel Burman, 2008), 8:30
EMPTY NEST (EL NIDO VACIO) (Daniel Burman, 2008)
Wednesday, January 21, 8:30

Writer-director Daniel Burman makes his third visit to the New York Jewish Film Festival (following 2002's WAITING FOR THE MESSIAH and 2005's LOST EMBRACE) with EMPTY NEST, a drama about a successful Argentine writer who starts examining his life when he suddenly suspects his wife might be having an affair and his daughter is out on an overnight date. Oscar Martinez is wonderfully moody as Leonardo, a solace-loving author who has no time for his wife's chatty, gossiping friends — especially Fernando (Jean Pierre Noher), who shares secret moments with Oscar's still-vivacious wife, Martha (ALL ABOUT MY MOTHER's Cecilia Roth). After Alzheimer's specialist Dr. Sprivak (Arturo Goetz) tells Oscar about certain mental and physical exercises men can do to combat the onset of the disease — which includes the inability to discern fantasy from reality — Leonardo starts performing these strange activities, desperate to maintain his sanity. Meanwhile, he is also contemplating whether to make a play for his beautiful young orthodontist, Violeta (Eugenia Capizzano), not caring whether it's fantasy or reality. It all comes to a head when he and Martha and their two sons all go to Israel to visit their daughter, Julia (Ines Efron), and her husband, Ianib (Ron Richter). EMPTY NEST, which screened at the San Sebastian and Toronto International Film Festivals and is making its U.S. premiere here, is a bittersweet look at the trials and tribulations of middle-aged life, when the kids have all left home and there is less time in the future than there was in the past.
Wednesday, January 21 A ROAD TO MECCA: THE JOURNEY OF MUHAMMAD ASAD (DER WEG NACH MEKKA — DIE REISE DES MUHAMMAD ASAD) (Georg Misch, 2008), 6:15
Thursday, January 22 YOUNG FREUD IN GAZA (UNGE FREUD I GAZA)(PeÅ Holmquist & Suzanne Khardalian, 2008), 1:30
Thursday, January 22 THE WEDDING SONG (LE CHANT DES MARIÉES) (Karin Albou, 2008), 3:45 & 8:30
Saturday, January 24 CAMP GIRLS (Gay Block, 2008) and DRIVING MEN (Susan Mogul, 2008), 6:30
**Saturday, January 24 THE WEDDING SONG (LE CHANT DES MARIÉES) (Karin Albou, 2008), 92Y Tribeca, 200 Hudson St. at Canal St., 9:00
Saturday, January 24 THE GIFT TO STALIN (PODAROK STALINU) (Rustem Abdrashev, 2008), 9:15
Sunday, January 25 THE RETURN OF NATHAN BECKER (NOSN BECKER FORT AHEYM (Boris Shpis & Rokhl M. Milman, 1932), 5:15
Sunday, January 25 BEING JEWISH IN FRANCE (COMME UN JUIF EN FRANCE) (Yves Jeuland, 2007), 7:15
Monday, January 26 THE GIFT TO STALIN (PODAROK STALINU) (Rustem Abdrashev, 2008), 1:15 & 6:15
Monday, January 26 CAMP GIRLS (Gay Block, 2008) and DRIVING MEN (Susan Mogul, 2008), 3:30
Monday, January 26 EVERY MOTHER SHOULD KNOW (TEDA KOL EM IVRIYA) (Nir Toib, 2008), 8:30
Tuesday, January 27 EVERY MOTHER SHOULD KNOW (TEDA KOL EM IVRIYA) (Nir Toib, 2008), 1:00
**Tuesday, January 27 IN SEARCH OF THE BENE ISRAEL (Sadia Shepard, 2008) and THE FIRE WITHIN: JEWS IN THE AMAZONIAN RAINFOREST (Lorry Salcedo Mitrani, 2008), the Jewish Museum, 1109 Fifth Ave. at 92nd St., 3:00
Tuesday, January 27 MR. RAKOWSKI (Jan Diederen, 2007), 4:00
**Tuesday, January 27 IN SEARCH OF THE BENE ISRAEL (Sadia Shepard, 2008) and THE FIRE WITHIN: JEWS IN THE AMAZONIAN RAINFOREST (Lorry Salcedo Mitrani, 2008), the Jewish Museum, 1109 Fifth Ave. at 92nd St., 6:30
Wednesday, January 28 WAITING FOR ARMAGEDDON) (Kate Davis, David Heilbroner & Franco Sacchi, 2008), 2:00
WAITING FOR ARMAGEDDON (Kate Davis, David Heilbroner & Franco Sacchi, 2008)
Wednesday, January 28, 2:00
Thursday, January 29, 8:30
http://waitingforarmageddon.com

In WAITING FOR ARMAGEDDON, which is making its world premiere as the closing-night selection of the New York Jewish Film Festival, directors Kate Davis, David Heilbroner, and Franco Sacchi talk to Christian Evangelicals about their Zionism — they believe in the defense and protection of Israel not for political or humanistic reasons but because that is where they believe Jesus will return and lead them into the next world. The seventy-four-minute film is divided into four parts — Rapture, Tribulation, Armageddon, and the Millennium — as families such as the New England Baggs and the Edwards clan of Oklahoma and religious and community leaders including Dr. Robert L. Dean Jr. of the West Houston Bible Church, Dr. David Hunt of the Berean Call Ministry, Phillip Goodman of Prophecy Watch Television, and Dr. Thomas Ice of Liberty University detail the importance of Israel and the Jews to the coming Apocalypse. There is also footage of Jerry Falwell and John Hagee, evangelists who have had a significant impact on the political system of the United States, especially during the administration of George W. Bush. The film is at its best when it follows Dr. H. Wayne House, professor of biblical studies and apologetics at Faith Seminary in Washington State, as he leads one of his Christian Study Tours of the Holy Land, reading from his Bible as he takes the group to such sites as the Dome of the Rock and explains its importance in prophecy. Much of the rest of the film lacks proper perspective and balance — while the directors do talk to several experts who do not believe in biblical prophecy and Armageddon, it feels like they were added just to make the documentary seem more balanced. It might have been better had Davis, Heilbroner, and Sacchi simply let the Evangelicals share their stories without any so-called experts and let viewers decide for themselves. Still, WAITING FOR ARMAGEDDON examines a very complicated topic that deserves far more investigation in the media. The January 29 screening will be followed by a reception.
Wednesday, January 28 KREDENS (Jacob Dammas, 2007) and STUMBLING STONE (STOLPERSTEIN) (Dörte Franke, 2007), 4:15 & 8:30
Wednesday, January 28 MR. RAKOWSKI (Jan Diederen, 2007), 6:15
Thursday, January 29 DARLING! THE PIETER-DIRK UYS STORY (Julian Shaw, 2006) and THE WOMAN FROM SARAJEVO (Ella Alterman, 2007), 1:00 & 6:00
Thursday, January 29 IN SEARCH OF THE BENE ISRAEL (Sadia Shepard, 2008) and THE FIRE WITHIN: JEWS IN THE AMAZONIAN RAINFOREST (Lorry Salcedo Mitrani, 2008), 3:30
Thursday, January 29 WAITING FOR ARMAGEDDON (Kate Davis, David Heilbroner & Franco Sacchi, 2008), 8:30
AMAZING FILMS FROM THE 80s & BEYOND: DREAM SCREENINGS
MOCO Global Dining
516A Third Ave. between 34th & 35th Sts.
Admission: free
212-685-3663
http://web.mac.com/sugarmediagroup
Thursday, January 22 MULHOLLAND DRIVE (David Lynch, 2001), 8:00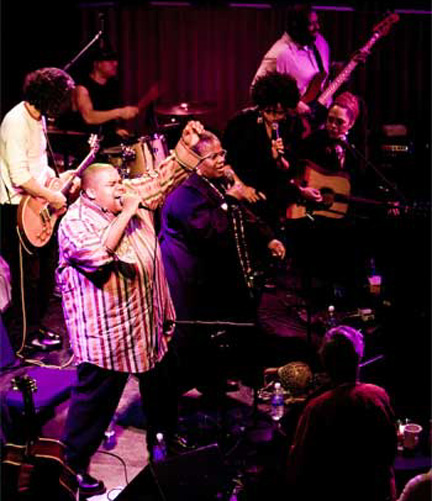 Bernie DeChant
Toshi Reagon celebrates last year's birthday at Joe's Pub
TOSHI REAGON AND BIGlovely BIRTHDAY CONCERTS 2009
Joe's Pub
425 Lafayette St. between East Fourth St. & Astor Pl.
Tickets: $25
212-539-8778
Thursday, January 22
through
Sunday, January 25 Toshi Reagon celebrates her birthday with rotating guests, 7:30
MY LORDS
Brooklyn Arts Exchange
421 Fifth Ave. near Eighth St.
Tickets: $15
718-349-0008
Friday, January 23
and
Saturday, January 24 Construction Company presents production choreographed by Jeffrey Bauer / Cedric Neugebauer, with music by Nat Drake, costumes by Vincent McCloskey, and performers Scott Caywood, Alwyn McCormick, and McCloskey, 8:00
MOS DEF
Blue Note
131 West Third St.
Tickets: table $55, bar $35
212-475-8592
Friday, January 23
through
Sunday, January 25 Mos Def serves as musical director, vocalist, MC, and spoken-word artist, with Robert Glasper on keyboards, Chris Dave on drums, Derrick Hodge on bass, and Casey Benjamin on horns, 8:00 & 10:30

FOCUS! 2009 — CALIFORNIA: A CENTURY OF NEW MUSIC
The Juilliard School, Peter Jay Sharp Theater
155 West 65th St. at Broadway
January 23-31
Admission: free but advance tickets required
212-769-7406
Friday, January 23 New Juilliard Ensemble: Works by Henry Cowell, Pablo Ortiz, Roger Reynolds, Robert Erickson, and John Adams, 8:00
Monday, January 26 New Juilliard Ensemble: Works by Anthony Gnazzo, Dane Rudhyar, Paul Chihara, Kurt Rohde, Wayne Peterson, Pauline Oliveros, Laurie San Martin , Chinary Ung — Grand Alap, 8:00
Tuesday, January 27 Pre-Concert Forum, with John Adams, Gabriela Lena Frank, Pauline Oliveros, Morton Subotnick, and Pamela Z, moderated by Joel Sachs, 7:00
Tuesday, January 27 New Juilliard Ensemble: Works by James Tenney, John Cage, Gabriela Lena Frank, Charles Amirkhanian, Morton Subotnick, and Terry Riley and two tributes to Nathan Schwartz for cello solo (Elinor Armer and Andrew Imbrie), 8:00
Wednesday, January 28 New Juilliard Ensemble: Works by William Kraft, Pamela Z, Henry Cowell, Olly Wilson, and Mason Bates, 8:00
Thursday, January 29 St. Lawrence String Quartet: Works by Andrew Norman, Ingram Marshall, Lou Harrison, andJohn Adams, 8:00
Saturday, January 31 Juilliard Singers and the Juilliard Orchestra: John Adams, THE DEATH OF KLINGHOFFER, concert version, 8:00
VIEWPOINTS: ANOUSHKA SHANKAR AND THE ORPHEUS ORCHESTRAASIA SOCIETY AND MUSEUM
725 Park Ave. at 70th St.
Admission: free, but advance registration required
212-517-ASIA
Saturday, January 24 Open rehearsal and panel discussion, with Asia Society president Vishakha Desai and Anoushka Shankar, 12 noon
TASTE AND TERROIRS: A WINE TOUR DE FRANCE
French Institute Alliance Française
Le Skyroom
22 East 60th St. between Park & Madison Aves.
Monthly through June 8
Tickets: free - $25
Monday, January 26 Burgundy: Côte de Nuits, with sommelier Raj Vaidya of Cru Restaurant, 7:00
(CLL) PHN-LCKN '09
TriBeCa location to be announced four hours before event
Tickets: $30
212-995-1652
Monday, January 26 Join a flash mob as you battle Severe Micro-Cellulotamination with protective clothing and an sms ID system, with free Scotch and beer, live music by YACHT, and more, 8:00
"I'M ON MY WAY": BLACK HISTORY AT CITY OPERA
The Schomburg Center for Research in Black Culture
515 Malcolm X Blvd.
Tickets: $10
212-491-2206
http://www.schomburgcenter.org
Wednesday, January 28 First of a three-part series celebrating African American contributions to City Opera, featuring discussion, live performance, audiovisual programs, and more, highlighting Harlem's Opera Noire, with excerpts from Anthony Davis's X: THE LIFE AND TIMES OF MALCOLM X, Leroy Jenkins's THE MOTHER OF THREE SONS, Kurt Weill's LOST IN THE STARS, and Richard Danielpour and Toni Morrison's MARGARET GARNER, 7:00
GOLDEN GLOVES OPENING NIGHT
B.B. King Blues Club & Grill
237 West 42nd St. between Seventh & Eighth Aves.
Tickets: $25 (includes $10 P.C. Richard & Son coupon)
212-997-4144
Wednesday, January 28 The eighty-second Golden Gloves tournament kicks off at B.B. King's
THE ANNUALS
Bowery Ballroom
6 Delancey St. at Bowery
Tickets: $13
212-533-2111
http://www.myspace.com/annuals
Wednesday, January 28 The Annual take the stage, with Jessica Lea Mayfield and What Laura Says Thinks and Feels, 7:30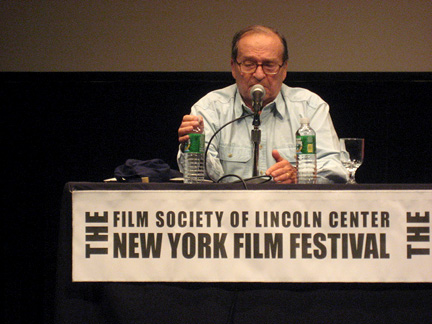 twi-ny/mdr
Sidney Lumet will discuss his remarkable career at the 92nd St. Y
AN EVENING WITH SIDNEY LUMET
92nd St. Y, Kaufmann Concert Hall
1395 Lexington Ave. at 92nd St.
Tickets: $27
212-415-5500
Wednesday, January 28 Award-winning NYC-based director of such films as DOG DAY AFTERNOON, NETWORK, and BEFORE THE DEVIL KNOWS YOU'RE DEAD discusses his life and career, with moderator Thane Rosenbaum, 8:00
THE DAILY SHOW & FRIENDS
Comix
343 West 14th St. between Eighth & Ninth Aves.
Tickets: $15-$20
212-524-2500
Wednesday, January 28 Watch DAILY SHOW writers and on-air reporters Adam Lowitt, Rory Albanese, John Oliver, Wyatt Cenac, and Rob Riggle try to explain how the next four years will provide enough comic material to keep them on the roll they've been on during the Bush administration, 8:00
NEW YORK HOWL
Vanishing Point
240 Meserole St.
646-644-4988
http://www.myspace.com/thenewyorkhowl
http://www.myspace.com/vanishingpointstudio
Thursday, January 29 New York Howl play with NinjaSonik, Adira Amram, Cold Hands Collective, 9:00
MING DYNASTY YELLOW TIGER RELEASE PARTY
Arlene's Grocery
95 Stanton St. between Orchard & Ludlow Sts.
Admission: $8
212-995-1652
Thursday, January 29 Ming Dynasty, led by Ming Chan on bass and Eric Miranda on guitar, celebrates the release of YELLOW TIGER, featuring such songs as "Twisted Flower," "From Below," and "Thought It Was You," 10:00, followed by an after-party at China 1 on Ave. B
COMPANY EAST: HAMLET
La MaMa Experimental Theatre
74A East Fourth St. between Bowery & Second Ave.
Tickets: $20-$25
212-475-7710
Thursday, January 29
through
Sunday, February 8 Japanese theater company presents multimedia seventy-five-minute production of HAMLET, starring Hiroshi Jin and directed and choreographed by Kenji Kawarasaki
JEANETTE STONER & DANCERS
83 Leonard St. between Broadway & Church St.
Tickets: $15
212-226-1576
Thursday, January 29
through
Sunday, February 1 Downtown dance company presents DARK SIDE OF THE PASSAGE, LADDER, WHEEL, BACK CLOSET, and excerpts from ASUNDER,
DANCE CONCERT AND POW-WOW
Theater for the New City
155 First Ave. at Tenth St.
Fridays at 8:00; Saturdays at 2:00 & 8:00; Sundays at 3:00
Tickets: $10 (children under twelve accompanied by a ticket-bearing adult $1.00 for 2:00 matinees)
212-254-1109
http://www.theaterforthenewcity.net
Friday, January 30
through
Thursday, February 8 Thirty-fourth annual event featuring the Thunderbird American Indian Dancers, with all proceeds benefiting the Native American scholarship fund
A BENEFIT FOR THE DRUPKA TRUST
The Cutting Room
19 West 24th St. between Sixth Ave. & Broadway
Tickets: $100-$250
212-691-1900
http://www.thecuttingroomnyc.com
Saturday, January 31 Featuring Donovan, the Dream Band (Jimmy Vivino, Will Lee, Richard Barone, Paul Shaffer, Steve Holley, Jack Petruzelli, and Julia Kent), Garth Hudson, and Steve Ewing, 8:00
WHITNEY LIVE: MEREDITH MONK MUSIC @ THE WHITNEY
Whitney Museum of American Art
745 Madison Ave. at 75th St.
Admission: $15
212-570-7715
Sunday, February 1 Whitney Live: Meredith Monk Music @ the Whitney, third-floor galleries, free with museum admission, no advance reservations taken, 2:00
CÉSAR FRANCK: ORGAN WORKS
Brick Presbyterian Church
62 East 92nd St. at Park Ave.
Tickets: $20
212-685-0008 ext560
Monday, February 2 Preconcert talk with Emory Fanning at 7:00, followed by Charles Callahan on the church organ, playing works by Franck and Dupré at 7:30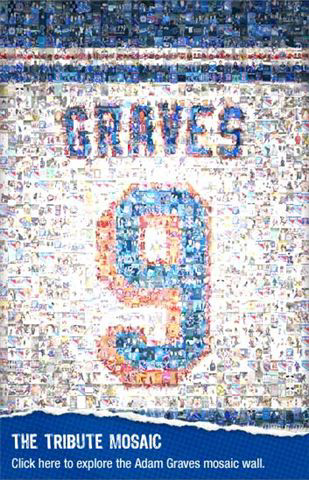 HEART OF A RANGER: TRIBUTE TO ADAM GRAVES
WaMu Theater
31st — 33rd Sts. between Seventh & Eighth Aves.
Tickets: $29.50
1-800-745-3000
Tuesday, February 3 The Rangers will be raising Adam Graves's number 9 to the rafters, joining Stanley Cup-winning teammates Mark Messier, Brian Leetch, and Mike Richter; although the game against the Atlanta Thrashers is sold out, there will be a viewing party in the WaMu Theater, with a special appearance by Graves, Rangers alumni, giveaways, raffles, and more
TIBET HOUSE U.S. ANNUAL BENEFIT CONCERT
Carnegie Hall
154 West 57th St. at Seventh Ave.
Tickets: $30-$85
212-807-563
Tuesday, February 3 Nineteenth annual, with the National, Vampire Weekend, Philip Glass, Patti Smith & Jesse Smith, and others, 7:00
AN EVENING OF CHANTING WITH KRISHNA DAS
The Town Hall
123 West 43rd St. between Sixth Ave. & Broadway
Tickets: $36
212-608-0555
http://www.the-townhall-nyc.org
Wednesday, February 4 Indian singer Krishna Das brings the kirtans down at special performance, 8:00