Twi-ny, This Week in New York
The Saks window display is all smiles, hoping for lots of happy shoppers this holiday season
CATHERINE OPIE: AMERICAN PHOTOGRAPHER
Solomon R. Guggenheim Museum
1071 Fifth Ave. at 89th St.
Through January 7 (closed Thursday)
Admission: $18 (includes audio; pay-what-you-wish Friday 5:45-7:15)
212-423-3500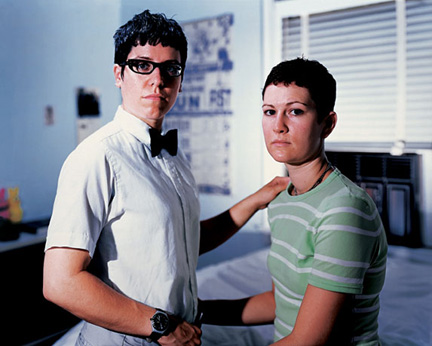 © 2008 Catherine Opie / courtesy the artist and Regen Projects
Catherine Opie, "Melissa & Lake, Durham, North Carolina, C-print, 1998

While the relatively mundane exhibit "theanyspacewhatever" winds its way up the Guggenheim rotunda, the real joy is to be found in the annex galleries on levels 2, 4, 5, 7, where "Catherine Opie: American Photographer" redefines family and community. Comprising ten different series of works dating back to 1991, this midcareer retrospective reveals Opie's unique examination of the American landscape, from suburban mini-malls, gated residences, and winding freeways to full-length portraits and intimate photos of so-called alternative lifestyles. In "Being and Having" and "Portraits," Opie takes photographs of members of her predominantly lesbian, gay, and transgendered community in South Central Los Angeles and San Francisco, set against rich, colorful backgrounds evoking the portraiture of Hans Holbein the Younger. This "royal family," as she calls it, consists of subjects with significant body modification and names and faces that do not identify them as male or female, something that much of society deems deeply disturbing and absolutely necessary. The show includes three striking self-portraits, one in which a topless Opie looks down at her young son, cradled in her arms, as he sucks at her nipple, Opie's tattooed arm matching the ornate backdrop, the word "pervert" carved into her chest. The ambiguous nature of that word is at the heart of much of Opie's work; is it meant for the viewer, staring at Opie's large breasts? For Americans who have branded her such because of her homosexuality? Or maybe for herself, unashamed of her lifestyle? Opie doesn't provide obvious answers in any of her work, although it's clear that where many will find truth and beauty, others will see ugliness and depravity.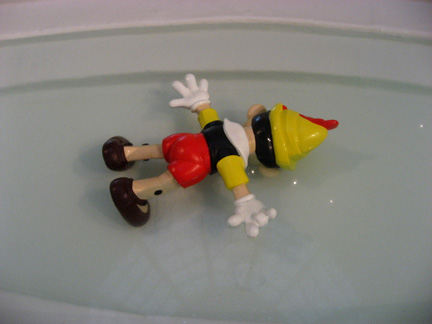 twi-ny/mdr
Pinocchio seems to have had a little trouble at the Guggenheim in Maurizio Cattelan's "Daddy Daddy," part of "theanyspacewhatever," which runs through January 7

In the show's most contemplative room, Opie's "Icehouses" and "Surfers" are arranged on facing walls, the narrow space featuring fourteen photographs of Minnesota ice-fishing structures on one side and the same number of shots of Malibu surfers in the ocean, waiting for that next wave, on the other. The "Icehouses" photos, which all share the same horizon line and are devoid of people, begins with brightly colored houses in the distance, slowly becoming more blurred and abstract as the wind whips up snow and the small community virtually disappears. Meanwhile, across the way, Opie doesn't photograph the surfers, seen in the distance almost like the houses in the companion series, in action, riding waves; instead, they are shown gathered together like a temporary family, waiting for that next rise to take them away in the surging waters. The two series are fascinatingly linked, dealing with similar elements that reveal themselves in quiet meditation (vastly different lifestyles, comparing houses to people, thc changing nature of water). Be sure to pick up the free audio, on which Opie discusses seeing these two series together for the first time in addition to Opie, and several of her subjects, talking more intimately about her work in general.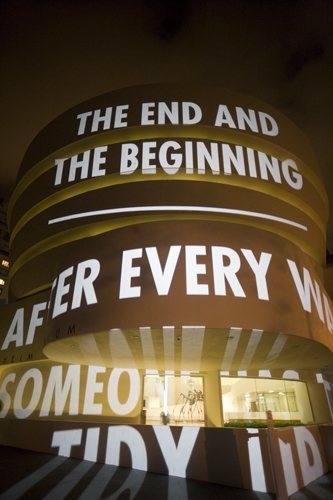 Courtesy of Lili Holzer-Glier
Jenny Holzer's "For the Guggenheim" projects the words of
Wislawa Szymborska on the museum's outdoor facade on
Friday nights through the end of the year and on New Year's Eve

Friday, December 19 Gallery Talk: Curator's Eye, with Joan Young, assistant curator, "theanyspacewhatever," free with museum admission, 2:00
Sunday, December 21
and
Monday, December 22 Free Holiday Concert, featuring the Vox Vocal Ensemble and the Graham Ashton Brass Ensemble, conducted by George Steel, performing sixteenth- and seventeenth-century works and a newly commissioned piece by Nico Muhly, Guggenheim rotunda, free, 6:00
Tuesday, January 6 Douglas Gordon, 24 HOUR PSYCHO BACK AND FORTH AND TO AND FRO, full-day split-screen projection of PSYCHO (Alfred Hitchcock, 1960) running backward and forward at the same time, free with museum admission, 10:00 am — 10:00 pm
Tuesday, January 6
and
Wednesday, January 7 24-Hour Program on the Concept of Time, multisciplinary event organized by Nancy Spector and Hans Ulrich Obrist, 6:00 pm — 6:00 am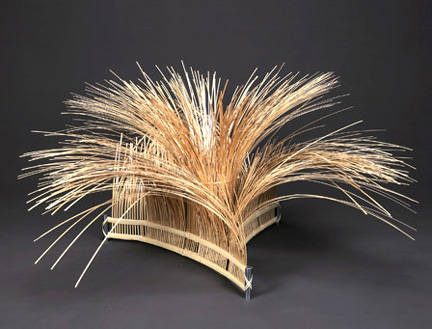 Collection of the artist
Shono Tokuzo, "Illusion," bamboo and steel, 2007
NEW BAMBOO: CONTEMPORARY JAPANESE MASTERS
Japan Society
333 East 47th St. between First and Second Aves.
Through January 11 (closed Monday; free Fridays 6:00 — 9:00)
Admission: $12
212-715-1258

Nearly one hundred works by twenty-two Japanese artists and one American add a whole new dimension to the traditional nature of bamboo in this beautiful, uplifting exhibit at the Japan Society Gallery. Divided into "Vessel to Sculpture," "Regional Masters," "Individual Voices," and "New Directions," the show redefines the craft of basket making as contemporary artists create intricate sculptures using the elegant, lightweight material. Kawana Tetsunori's "Kakoi (Enclosure)" wraps around the Japan Society's pond. You'll want to pick up such apparently weightless objects as Shono Tokuzo's "Illusion" and Uematsu Chikuyu's "Wind," but no touching is allowed. Kawashima Shigeo's "Drawing to the Sky" includes intricately designed pieces of cotton, while Nagakura Kenichi's eerie "Face I" and "Face II" is made with powdered polishing stone. Honma Hideaki's "Double Swirling Winds" is sleek and alluring. Nakatomi Hajime's "Prism" looks like a wire construction but is indeed made of bamboo. The titles alone give visitors an overwhelming sense of calm and gentleness, Honma Kazuaki's "Breath," Torii Ippo's "Spring Song," Fujisuka Shosei's "Rose," Ueno Masao's "Memories from the Sea," Morigami Jin's "Harmony," and Mimura Chikuho's "Continuous Breeze" among them. The exhibit offers a mix of more traditional techniques as well as newer works made using digital technology, moving the art and craft of bamboo ahead to the next generation.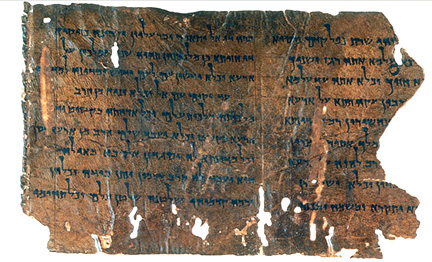 Israel Antiquities Authority
"Aramaic Apocryphon of Daniel" offers valuable insight at Jewish Museum
THE DEAD SEA SCROLLS:
MYSTERIES OF THE ANCIENT WORLD
The Jewish Museum
1109 Fifth Ave. at 92nd St.
Through January 4
Admission: $12 (closed Friday; free Saturday 11:00 am — 5:45 pm, but some exhibits closed)
212-423-3337
http://www.thejewishmuseum.org

Discovered in a cave in the Judean Desert in 1947, the Dead Sea Scrolls were a revelation, one of the great archaeological finds of the twentieth century. Some nine hundred scrolls were eventually uncovered, dating from the late third century BCE to the first century CE, containing biblical writings that offer invaluable insight into the belief systems of ancient communities. The Jewish Museum is displaying small fragments of six of the scrolls, along with other period artifacts (scroll jars, lids, wrappers, an inkwell, shekels, sandals, and Tefillin) and a seven-minute documentary that put it all in perspective -- and also highlight the scrolls' continuing mystery, as scholars still debate over many of the details behind the history and meaning of the treasured documents. The exhibition examines who might have used the scrolls and for what purposes, as well as their importance to early Judaism and Christianity. The six encased fragments, each of which has been translated as best possible, includes a section from the Book of Jeremiah and one from the Book of Tobit, "The Words of the Luminaries," "Aramaic Apocryphon of Daniel," and writings on community rule and war rule. "In songs of thanksgiving I will open [ ] my mouth and my tongue shall recount the righteous acts of God continuously, as well as the faithlessness of men, until their sinful rebellion comes to an end," the section identified as "Community Rule" proclaims. "His kingdom will be an eternal kingdom and all His paths in truth," the "Aramaic Apocryphon of Daniel" spells out. Don't miss this remarkable opportunity to experience real history. (Also on display at the Jewish Museum is "Chagall and the Artists of the Russian Jewish Theater, 1919-1949," "Susan Hiller: The J. Street Project," "Theaters of Memory: Art and the Holocaust," "1942 [Poznan]: A Video by Uriel Orlow," "Otiyot," and, beginning December 21, "The Hanukkah Project: The Sound of Light by Julianne Swartz.")
Outdoor Exhibit of the Week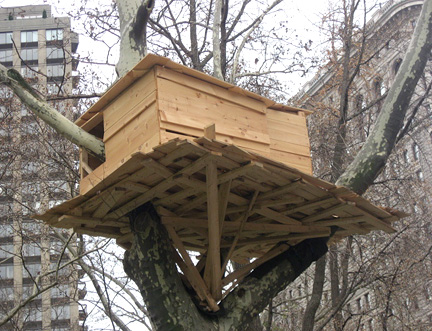 twi-ny/mdr
Tadashi Kawamata's "Tree Huts" are precariously out of reach in Madison Square Park
TREE HUTS BY TADASHI KAWAMATA
Madison Square Park
Broadway & Madison Ave. and Twenty-third & Twenty-fifth Sts.
Through December 31
Admission: free
212-538-9310
http://www.madisonsquarepark.org
http://madsqhuts.wordpress.com

For nearly thirty years, Tadashi Kawamata has been creating site-specific installations that are part art, part architecture, commenting on their surroundings in socially and environmentally conscious ways. In his latest work — his first in New York City since 1992's "Project on Roosevelt Island" — Kawamata has constructed eighteen tree houses in Madison Square Park. Made out of raw lumber and in no way harming the trees — there has been no carving, cutting, scraping, or hammering of nails into any bark — the installation continues the Japanese artist's longtime investigation of public and private spaces, primarily in urban landscapes. Upon first inspection, the huts seem calm and inviting, but there is no way to actually get up the tree and enter them. In fact, many of the glass-free windows have thick branches going through them, barring all comers. Especially in a city with so many homeless people, these living structures are precariously out of reach. And they take on added meaning in light of the current mortgage crisis that has helped plummet the nation into a recession. In addition, it is fascinating to look at the crudely assembled structures in the shadow of the Flatiron Building, one of the most famous buildings in the world.
In the Neighborhood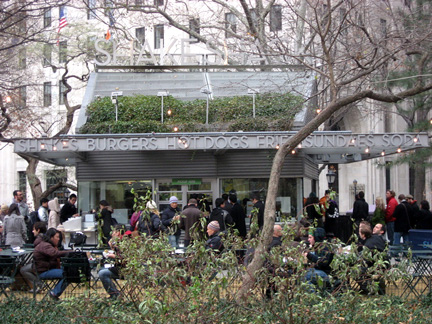 twi-ny/mdr
Even in the cold weather, you can expect long lines at the Shake Shack
THE SHAKE SHACK
Madison Square Park
Southeast corner
Open 11:00 am — 11:00 pm
212-889-6600

Danny Meyer's Shake Shack offers parkgoers Chicago and Taxi dogs, pretty darn good burgers, fries, frozen custard, the Arnold Palmer (a mix of lemonade and iced tea), Shackapalooza sundaes, creamsicles, beer and wine, and more, a great lunch respite in the Flatiron District. The ivy-covered kiosk was designed by James Wines of SITE, incorporating the park's greenery as well as the Flatiron Building, which looms over the southwest corner. Despite the cold weather, people are still lining up to grab a Shack Stack, cheese fries, and a Concrete Jungle and chow down (although there is an express lane for certain menu items — but not, of course, dogs, burgers, concretes, or shakes). In fact, the lines are so long that, a few years back, controversy surfaced when it was rumored that a businessman paid one of the Shake Shack employees for his cell-phone number so the businessman could call in his order and have it waiting for him. The Union Square Hospitality Group responded by saying that not only is that kind of behavior strictly prohibited, but even Meyer's own family has to wait in line to get their food. Regardless, going to the Shake Shack has become a rite of passage for New Yorkers.
Church of the Week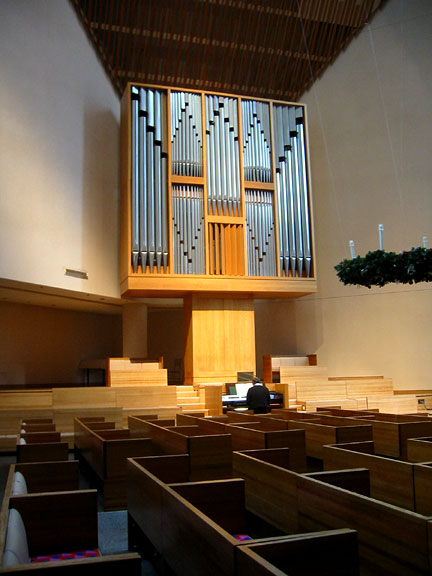 twi-ny/mdr
St. Peter's is home to many special holiday programs this season
SAINT PETER'S CHURCH
619 Lexington Ave. at 54th St.
Admission: free
212-935-2200

Not many people are familiar with this small, modern-looking church that hides some treasures inside and outside of its hallowed halls. Arnoldo Pomodoro's striking abstract bronze cross sculpture greets you near the Lexington Ave. entrance. Nearly every inch of the Erol Beker Chapel of the Good Shepherd, an airy room of natural-colored and white-painted wood, frosted glass, and an abstract white cross on a gold background, was designed by Louise Nevelson, who entitled the east wall "Frieze of the Apostles" and the west wall "Sky Vestment — Trinity." Kiki Smith designed the cast-aluminum processional crucifix. Ann Sherwin Bromberg wove the dossal curtain, "Ascension," behind the altar in the spare main chapel. The chapel itself can be seen from the outside. Filled with natural light and red oak, the space was designed by Massimo and Lella Vignelli.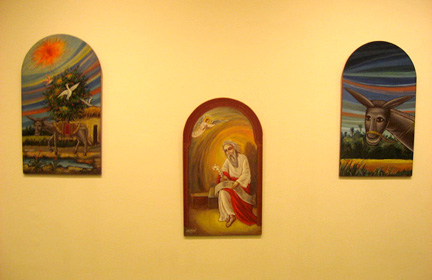 twi-ny/mdr
Adel Nassief's panels from FIRST CHRISTMAS are on view in St. Peter's
FIRST CHRISTMAS
Saint Peter's Church
Through January 8
Admission: free
212-935-2200
Six original gold-leaf-decorated votive-shaped panels by Coptic Christian artist Adel Nassief from the new book FIRST CHRISTMAS by Alastair Macdonald (Welcome, September 2008, $22.50) are on display in the narthex gallery at St. Peter's. Winner of the 2008 Moonbeam Children's Books Awards Gold Medal in the Holiday category, FIRST CHRISTMAS tells the story of the birth of Jesus from the perspective of Zeke, Joseph's hardworking donkey.
MY VAUDEVILLE MAN
York Theatre Company at Saint Peter's
Tickets: $20-$57.50
212-935-5820
Through January 4 Shonn Wiley stars as tap-dancer Jack Donahue, directed by Lynne Taylor-Corbett

HOLIDAY MUSIC
Saint Peter's Church
Admission: free
212-935-2200
http://www.saintpeters.org/index.html
Wednesday, December 17 Jazz at Midday: A Yuletide Celebration with Joyce Breach, Saundra Silliman, and Daryl Sherman, 1:00
Friday, December 19 Carol Singing in CitiGroup Plaza, 5:30
Friday, December 19 Sing We Enchanted: Wreaths and Garlands, 8:00
Sunday, December 21, 28 Jazz Vespers, 5:00
Sunday, January 4 Jazz Vespers, 5:00
Monday, January 5 International Women in Jazz, 7:15
In the Neighborhood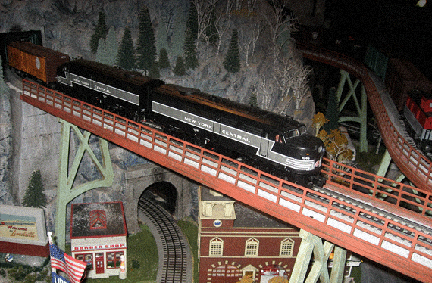 tw-ny/mdr
Midtown model trains will be going around the tracks for the last time
THE FINAL SEASON: THE STATION AT CITIGROUP CENTER
Atrium at 153 East 53rd St. at Lexington Ave.
Through Friday, January 2
Monday through Saturday, 10:00 am — 6:00 pm
Sunday, 12 noon — 5:00 pm
Closed Christmas Day
Admission: Free
212-559-1747

Citicorp's model train display has been wowing kids and adults in Midtown since 1987, but this will be your last year to check it out, since Dunham Studios, which manages the amazing station, has announced that Citigroup has pulled its funding. Start out in Weehawken in 1940, then make your way through the quaint 1955 town of Generak in the Catskills, the 1945 Hudson Valley, and the 1955 Adirondacks. Hop aboard the Boston & Maine Diesel, the Milwaukee Road "Hiawatha" Locomotive, the Pennsylvania RR, the Southern Crescent Limited, the North Pole Express, and the Great American Circus train. Stop for a bite at Porky's BBQ or Arnold's Drive-In. Beware of spending a night at the Bates Motel. Hang out with farmers and fishermen, Boy Scouts and construction workers, sledders and the brand-new pumpkin party. Marvel at more than five dozen old billboards. Take in the illuminated Manhattan skyline and visit a carnival. Catch a scene from HIGH NOON (Fred Zinnemann, 1952) at the Starlite Drive-In. (We're not kidding — the film is actually screened there.) Walk through all four seasons. Count more than a thousand people and nearly a thousand feet of track, with more than two dozen (O, S, and H-O gauge) trains moving at any given moment. Make sure you allow for plenty of time, because you and your kids will want to take in every cool detail. But get on over there before it all ends on January 2.
CHANUKAH CANDLE LIGHTING
Central Synagogue Community House
123 East 55th St. at Lexington Ave.
Admission: free
212-838-5122
http://www.centralsynagogue.org
Monday, December 22
and
Tuesday, December 23 Communal Chanukah candle lighting, Stern lobby, Community House, 4:00 — 4:15
New Music Venue of the Week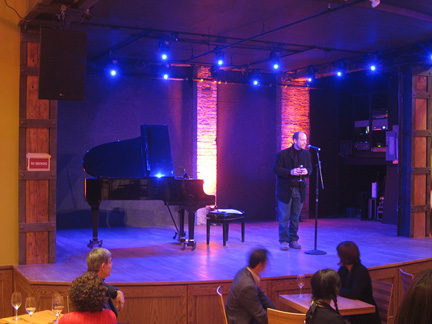 twi-ny/mdr
Michael Dorf takes the stage to introduce his latest venue, City Winery
CITY WINERY
143 Varick St. between Spring & Vandam Sts.
Admission: free
VinoFile Membership Program: $50 per year
212-608-0555
Music impresario Michael Dorf, who in 1987 cofounded the Knitting Factory (which is shutting its doors on Leonard St. at the end of the year) and has put together such great programs as the Music Downtown Series, Jewzapalooza, and multi-artist UJA benefits paying tribute to such legends as Bruce Springsteen, Joni Mitchell, Bob Dylan, and Elton John (R.E.M. is next up, March 11 at Carnegie Hall), has just opened a very different kind of venue in TriBeCa, City Winery. "It's meshuggeh," he told us at the November 19 opening as he described what it's all about. "It's for serious people who are passionate about wine and music." At City Winery, oenophiles have the opportunity to participate in the making of their own private vintage (Cabernet, Pinot Noir, Riesling, or Chardonnay), working with head winemaker David Leconte in selecting and crushing grapes and then monitoring the fermentation process in state-of-the-art stainless-steel tanks and wooden barrels on premises. (It costs between $1,500 and $8,000 to own all or part of a barrel.) City Winery will also offer more than five hundred vintages by the bottle and fifty by the glass to VinoFiles who have paid an annual membership fee of $50 to eat and drink there and gain access to ticketed events — and also track their wine preferences online. (The fee includes a $15 credit for any purchase and a $35 credit for any class or tasting.)
City Winery, housed in the old El Diario space on Varick St., also turns things around when it comes to food; instead of having a sommelier choose wines to go with dinner orders, executive chef Andres A. Barra prepares small courses to accompany the wine selections, which are made first. On most Sundays, City Winery will host a klezmer brunch, featuring bagels and lox and live performances by klezmer bands. On Wednesday nights, Stars of the Wine World offers winemaker dinner and tastings with international chefs and sommeliers. And on Thursday nights, the Pairings series brings together an excellent roster of musicians (including Steve Earle, Raul Midón, Suzanne Vega, Jill Sobule, and Philip Glass) with fine wine, with different-priced seating at reserved tables, VIP tasting seats, and barstools. It's an intriguing venture and, given Dorf's track record, should be pretty exciting. See below for the full schedule through April 11.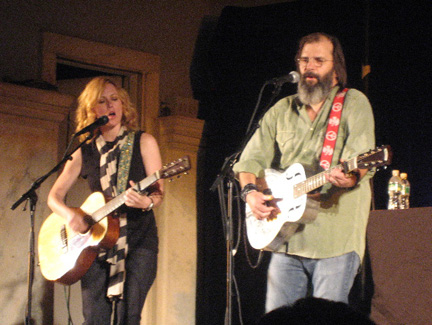 twi-ny/mdr
Steve Earle & Allison Moorer will be among special pairings at City Winery
Wednesday, December 24 Midnight Mess, with Todd Barry, Jackie Hoffman, Leah Siegel, Anthony Coleman's Sephardic Tinge, and Diwon, hosted by the Rebetzin Hadassah Gross, $25, 8:00
Wednesday, December 31 New Year's Eve with Joan Osborne, $75-$125, 10:00
Thursday, January 8 Pairing Series: Steve Earle and Allison Moorer, $45-$125, 9:00
Friday, January 9 Special Pairings Event: Raul Midón and Sonya Kichekk, $45-$125, 10:00
Sunday, January 11 Klezmer Bruch: Margot Leverett & the Klezmer Mountain Boys, $25 per person (includes ($15 food and drink credit), $50 per family (two adults and kids under thirteen, includes $30 food and drink credit), 11:00 am — 2:00 pm
Sunday, January 11 Boz Scaggs Greatest Hits Band: An Evening to Benefit Save the Music, $35-$65, 10:00
Thursday, January 15 Pairing Series: Suzanne Vega and Lenny Kaye, $30-$100, 9:00
Sunday, January 18 Klezmer Bruch: Gustavo Bulgach, $25 per person (includes ($15 food and drink credit), $50 per family (two adults and kids under thirteen, includes $30 food and drink credit), 11:00 am — 2:00 pm
Thursday, January 22 Pairing Series: Mike Doughty and the Tony Scherr Trio, $20-$75, 9:00
Sunday, January 25 Klezmer Bruch: Klezmer Juice CD release party, $25 per person (includes ($15 food and drink credit), $50 per family (two adults and kids under thirteen, includes $30 food and drink credit), 11:00 am — 2:00 pm
Wednesday, January 28 Stars of the Wine World: Tasting and Food Pairing with Martin Foradori Hofstatter, $75, 7:00
Thursday, January 29 Pairing Series: Jill Sobule and Julia Sweeney, $20-$75, 9:00
Tuesday, February 3 Stars of the Wine World: Tasting and Food Pairing with Ales Kristancic (Movia, Brda, Slovenia), $75, 7:00
Wednesday, February 11 Stars of the Wine World: Pairing Dinner with Amanda Jaffe and Richard Parsons (Il Palazzone, Brunello, Italy), $110, 7:00
Saturday, February 21 Special Pairings Event: Steve Nieve & Friends B-Day Show, $30-$125, 9:00
Sunday, February 22 Klezmer Bruch: Michael Winograd CD release party, $25 per person (includes ($15 food and drink credit), $50 per family (two adults and kids under thirteen, includes $30 food and drink credit), 11:00 am — 2:00 pm
Sunday, March 1 Klezmer Bruch: Klezmer Unfettered,with Alicia Svigals and Marilyn Lerner, $25 per person (includes ($15 food and drink credit), $50 per family (two adults and kids under thirteen, includes $30 food and drink credit), 11:00 am — 2:00 pm
Wednesday, March 4 Stars of the Wine World: Tasting and Food Pairing with Dider Seguier (Willian Fevre, Chablis, France), $75, 7:00
Wednesday, March 11 Stars of the Wine World: Tasting and Food Pairing with Amanda Jaffe and Francesco Cosulich (Poggio Mandarlo and Tenuta Oliveto, Tuscany, Italy), $75, 7:00
Wednesday, March 15 Philip Glass & Friends, with Wendy Sutter, $30-$100, 9:00
Wednesday, March 18 Stars of the Wine World: Pairing Dinner with Laurent Drouhin (Domaine Drouhin, Burgundy, France), $110, 7:00
Wednesday, March 22 Philip Glass & Friends, with Foday Musa Suso, $30-$100, 9:00
Monday, March 27
and
Tuesday, March 28 Marianne Faithfull, $45-$125, 9:00
Wednesday, March 29 Philip Glass & Friends, $30-$100, 9:00
Thursday, April 11 Pairing Series: Dan Wilson and Rachael Yamagata, $18-$35, 10:00
Mini-Film Festivals of the Week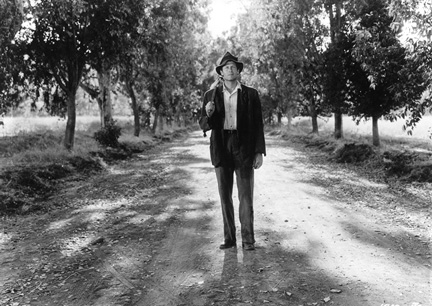 Film Forum
Joel McCrea learns a few lessons in Sturges classic
ESSENTIAL STURGES
Film Forum
209 West Houston St. between Sixth & Seventh Aves.
December 24 — January 1
212-727-8110
Born in Chicago in 1989 to a gallivanting mother, Preston Sturges was a signal corps pilot, a cartoonist, an inventor (of kiss-proof lipstick), a salon manager, an unsuccessful songwriter, a playwright, the owner of an engineering company and a restaurant, a boat racer, and, ultimately, one of Hollywood's first feature-film writer-directors. From 1940 to 1950, he had one of the most successful runs in movie history, helming such beloved hits as THE GREAT McGINTY, SULLIVAN'S TRAVELS, THE LADY EVE, THE MIRACLE OF MORGAN CREEK, and HAIL THE CONQUERING HERO. Film Forum is presenting eight of the works, alongside two films he wrote for Mitchell Leisen, in this Christmas-week retrospective that should offer unending laughs as you battle to maintain your sanity through the crazy holiday season and the end of yet another bizarre year.
Wednesday, December 24
and
Thursday, December 25 CHRISTMAS IN JULY (Preston Sturges, 1940), 2:45, 6:00, 9:15, and REMEMBER THE NIGHT (Mitchell Leisen, 1940), 4:10, 7:25
Friday, December 26
and
Saturday, December 27 SULLIVAN'S TRAVELS (Preston Sturges, 1941), 2:40, 6:05, 9:30, and THE GREAT McGINTY (Preston Sturges, 1940), 4:30, 7:55
SULLIVAN'S TRAVELS (Preston Sturges, 1941)

When successful Hollywood director John L. Sullivan (Joel McCrea) decides to make a socially conscious film instead of his usual fluff comedies, he gets more than he bargained for in this classic Preston Sturges comedy. Sullivan initially embarks with a crew following him, but a series of events soon finds him on the dole with an aspiring actress played by blonde beauty Veronica Lake. "I want this picture to be a commentary on modern conditions, stark realism, the problems that confront the average man," he tells his producer (Robert Warwick). Ultimately, that's what Sturges has done in a film that is as relevant as ever, given the current state of the country. Bonus fact: The title of the film Sullivan wants to make is O BROTHER, WHERE ART THOU?, which was later used by the Coen brothers in a very direct homage.
Sunday, December 28
and
Monday, December 29 THE MIRACLE OF MORGAN'S CREEK (Preston Sturges, 1944), 2:40, 6:30 (Sunday show introduced by Dolly Hall), 10:20, and HAIL THE CONQUERING HERO (Preston Sturges, 1944), 4:35, 8:25
Tuesday, December 30 EASY LIVING (Mitchell Leisen, 1937), 2:40, 6:20, 10:00, and UNFAITHFULLY YOURS (Preston Sturges, 1948), 4:20, 8:00
Wednesday, December 31
and
Thursday, January 1 THE LADY EVE (Preston Sturges, 1941), 2:40, 6:15, 10:00, and THE PALM BEACH STORY (Preston Sturges, 1942), 4:30, 8:10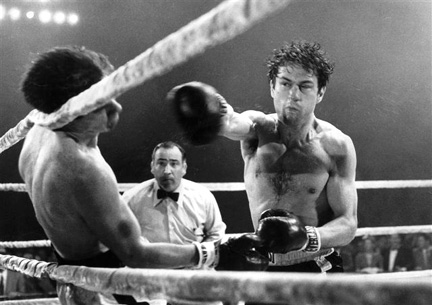 Film Society of Lincoln Center / United Artists / the Kobal Collection
Robert De Niro scores a knockout in Scorsese classic RAGING BULL
SCORSESE CLASSICS: A VERY MARTY HOLIDAY
Walter Reade Theater
65th St. between Broadway & Amsterdam Aves.
December 26-31
Series pass: $40 for any five films
212-875-5050
The Film Society of Lincoln Center rings in the new year with six masterworks by quintessential New York film director Martin Scorsese. The series opens with Scorsese's debut feature, 1967's WHO'S THAT KNOCKING AT MY DOOR, the gritty and compelling predecessor to the grittier and even more compelling MEAN STREETS, made six years later. Also on the agenda are such magnificent films as GOODFELLAS, TAXI DRIVER, THE KING OF COMEDY, and the unforgettable boxing drama RAGING BULL. Scorsese has also made several documentaries, three of which are on view here, including 1974's personal look at his family, ITALIANAMERICAN, as well as NO DIRECTION HOME, a three-and-a-half-hour examination of the life and career of Bob Dylan.
Friday, December 26 WHO'S THAT KNOCKING AT MY DOOR (Martin Scorsese, 1967), 2:00
Friday, December 26 MEAN STREETS (Martin Scorsese, 1973), 3:50
Friday, December 26 RAGING BULL (Martin Scorsese, 1980), 6:15
Friday, December 26 GOODFELLAS (Martin Scorsese, 1990), 8:45
Saturday, December 27 TAXI DRIVER (Martin Scorsese, 1976), 1:00
Saturday, December 27 ITALIANAMERICAN (Martin Scorsese, 1974) and AMERICAN BOY: A PROFILE OF STEPHEN PRINCE (Martin Scorsese, 1978), 3:15
Saturday, December 27 GOODFELLAS (Martin Scorsese, 1990), 5:30
Saturday, December 27 CASINO (Martin Scorsese, 1995), 8:20
Sunday, December 28 NO DIRECTION HOME (Martin Scorsese, 2005), 12:00
Sunday, December 28 NEW YORK, NEW YORK (Martin Scorsese, 1977), 3:45
Sunday, December 28 THE KING OF COMEDY (Martin Scorsese, 1982), 6:45
Sunday, December 28 TAXI DRIVER (Martin Scorsese, 1976), 9:00
Monday, December 29 CASINO (Martin Scorsese, 1995), 1:00
Monday, December 29 GOODFELLAS (Martin Scorsese, 1990), 4:20
Monday, December 29 WHO'S THAT KNOCKING AT MY DOOR (Martin Scorsese, 1967), 7:15
Monday, December 29 RAGING BULL (Martin Scorsese, 1980), 9:10
Tuesday, December 30 THE KING OF COMEDY (Martin Scorsese, 1982), 1:00
Tuesday, December 30 ITALIANAMERICAN (Martin Scorsese, 1974) and AMERICAN BOY: A PROFILE OF STEPHEN PRINCE (Martin Scorsese, 1978), 3:15
Tuesday, December 30 MEAN STREETS (Martin Scorsese, 1973), 5:30
Tuesday, December 30 NO DIRECTION HOME (Martin Scorsese, 2005), 7:45
Wednesday, December 31 RAGING BULL (Martin Scorsese, 1980), 1:00
Wednesday, December 31 NEW YORK, NEW YORK (Martin Scorsese, 1977), 3:30
Wednesday, December 31 TAXI DRIVER (Martin Scorsese, 1976), 6:30
Wednesday, December 31 NEW YORK, NEW YORK (Martin Scorsese, 1977), 8:45
Merrick Morton / Paramount / Warner Bros.
David Fincher on the set of THE CURIOUS CASE OF BENJAMIN BUTTON
UNDER THE SIGN OF FINCHER
Walter Reade Theater
65th St. between Broadway & Amsterdam Aves.
Back2Back: two films for the price of one
January 1-4
212-875-5050
Longtime music-video and commercial director David Fincher burst onto the Hollywood hit-making scene in 1995 with the cop drama SE7EN, his second film (following 1992's ALIEN 3). Well known for his ability to shock audiences, he did so masterfully in his gutsy adaptation of Chuck Palahniuk's novel FIGHT CLUB. ZODIAC, his thrilling retelling of a series of California murders in the late-1960s, was one of the best films of 2007. Upon the release of his latest feature, THE CURIOUS CASE OF BENJAMIN BUTTON, the Film Society of Lincoln Center is honoring Fincher by screening SE7EN, FIGHT CLUB, and ZODIAC, along with three works chosen by Fincher as major influences, including such safe choices as CHINATOWN and BUTCH CASSIDY AND THE SUNDANCE KID and the much stranger selection of MARY POPPINS. On January 4, Fincher will be at Rose Hall in conversation with Kent Jones, focusing on the innovative technical process behind BENJAMIN BUTTON.
Thursday, January 1 SE7EN (David Fincher, 1995), 2:40 & 8:00
Thursday, January 1 MARY POPPINS (Robert Stevenson, 1964), 5:15
Friday, January 2 FIGHT CLUB (David Fincher, 1999), 3:15 & 8:15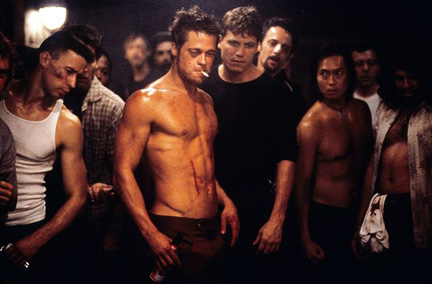 Fox / the Kobal Collection / Merrick Morton
Brad Pitt likes it rough in FIGHT CLUB

Friday, January 2 BUTCH CASSIDY AND THE SUNDANCE KID (George Roy Hill, 1969), 6:00
Saturday, January 3 Director's Cut: ZODIAC (David Fincher, 2007), 2:00 & 8:00
Saturday, January 3 CHINATOWN (Roman Polanski, 1974), 5:15
Sunday, January 4 THE CURIOUS CASE OF BENJAMIN BUTTON (David Fincher, 2008), 3:00
Sunday, January 4 Behind Button: David Fincher on the Making of His Newest Curiosity, David Fincher in discussion with Kent Jones, Frederick P. Rose Hall, 7:30
Dance Season of the Week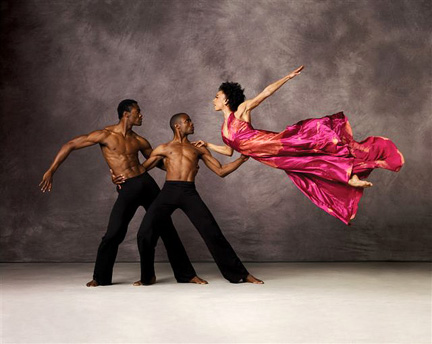 Photo by Paul Kolnik
Linda Celeste Sims and Matthew Rushing in Ulysses Dove's "Episodes"
ALVIN AILEY AMERICAN DANCE THEATER
New York City Center
130 West 56th St. between Sixth & Seventh Aves.
Through January 4
Tickets: $25-$160
212-581-1212

In 1958, the Alvin Ailey American Dance Theater made its public debut at the 92nd St. Y. Over the next half-century, the troupe, known as America's Cultural Ambassador to the World, has performed around the globe, bringing the glory of modern dance and African American cultural expression to old and young alike. As part of its golden anniversary, AADT returns to City Center for its annual end-of-year season, led by artistic director Judith Jamison and associate artistic director Masazumi Chaya. The month-long residency includes the world premieres of Mauro Bigonzetti's "Festa Barocca" and company member Hope Boykin's "Go in Grace" (with live music by Sweet Honey in the Rock) and new productions of Alvin Ailey's 1958 "Blues Suite," George Faison's "Suite Otis" (set to the music of Otis Redding), and Ailey's powerful 1969 piece "Masekela Langage" (with music by Hugh Masekela), which captivated audiences at the Brooklyn Academy of Music this past June, its first performance in more than a decade.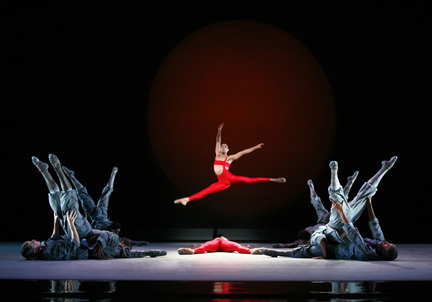 Photo by Paul Kolnik
"Firebird" is part of Alvin Ailey's fiftieth anniversary season

Among the first-season performances are Camille A. Brown's energizing and entertaining "The Groove to Nobody's Business," the always lovely "Pas de Duke," the sizzling "Night Creature," Twyla Tharp's thrilling "The Golden Section," and Elisa Monte's brilliant "Treading," along with Ulysses Dove's "Episodes," Ailey's "Reflections in D," Hans van Manen's "Solo" and "Vespers," and Robert Battle's "Unfold." In celebration of the company's fifty years, they will also present "Anniversary Highlights," which includes the classic "Revelations," still a genuine showstopper. In addition, from December 17 to 21 there will be six special performances, "Ailey & Ellington," featuring live music by the Jazz at Lincoln Center Orchestra with Wynton Marsalis, in honor of the many Ailey works that incorporate the sounds of Duke Ellington, with excerpts from "The River" and "The Road of the Phoebe Snow" to "Three Black Kings" and "The Mooche."
The December 20 matinee began with Maurice Béjart's 1970 piece FIREBIRD, restaged by Shonach Mirk Robles and featuring glorious music by Igor Stravinsky. Antonio Douthit, his body glistening with sweat, his impossibly long legs reaching for the sky, dances the central role of the magical phoenix that rises from the ashes, surrounded by eight other dancers who worship his every move, like moons revolving around a blazing sun. FIREBIRD is one of the company's most classically driven works; it was originally presented in 1910 by Sergei Diaghilev for Ballets Russes and later, in 1949, by George Balanchine for the New York City Ballet. FIREBIRD was followed by a pulse-pounding performance of EPISODES, Ulysses Dove's 1989 piece set to a techno-electronic score by Robert Ruggieri and thrillingly restaged by Masazumi Chaya. It's a battle of the sexes as solos, duos, and trios fight it out with passion and aggression, the men led by Matthew Rushing and Clifton Brown, the women by Linda Celeste Sims and Gwynenn Taylor Jones, whose sculpted, muscular legs emit a beautiful magic. All nine dancers get to show off just how talented and athletic the Ailey cast is, running, jumping, tossing, throwing, and, for the women, furiously twirling their long locks, leaving the audience breathless. Unfortunately, LOVE STORIES, an original Ailey piece from 2004 choreographed by Judith Jamison with Robert Battle and Rennie Harris, couldn't live up to its predecessors. The work is divided into three sections, the first two of which — a rehearsal scene and an informal hip-hop dance-off — fall flat. However, the third part, set to Little Stevie Wonder's "Fingertips," gets things moving again but can't quite save it as a whole. And the less said about the costuming the better. And after each Saturday family matinee, the audience is invited to participate in a Meet the Dancers Q&A. (FIREBIRD is scheduled to be performed again the evenings of December 27 and January 3, with EPISODES on for December 23 and the January 3 matinee.)
Riff's Rants & Raves: Film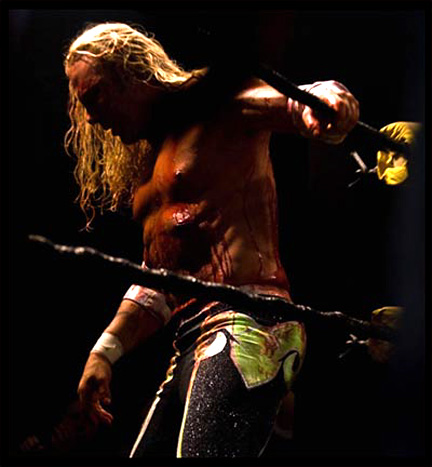 Mickey Rourke wrestles his demons in comeback flick
THE WRESTLER (Darren Aronofsky, 2008)
Opens Wednesday, December 17
Landmark Sunshine Cinema
143 East Houston St. between First & Second Aves.
212-330-8182
Lincoln Plaza Cinemas
1866 Broadway at 63rd St.
212-757-2280
http://www.lincolnplazacinema.com
http://www.landmarktheatres.com
http://www.thewrestlermovie.com

Brooklyn native Darren Aronofsky, writer-director of the brilliant PI (1998) and REQUIEM FOR A DREAM (2000) and the muddled mess THE FOUNTAIN (2006), scores a major takedown with the marvelous comeback film THE WRESTLER. Former boxer Mickey Rourke, who made a name for himself in such 1980s films as DINER, RUMBLE FISH, THE POPE OF GREENWICH VILLAGE, 9 1/2 WEEKS, and BARFLY, stars as the Christ-like figure Randy "the Ram" Robinson, an aging professional wrestler who was the sport's biggest name in the 1980s but is now a washed-up has-been living in a trailer park wrestling for embarrassingly small paydays at tiny local venues, still lured by the love of the sparse crowds and the respect of his opponents. After suffering a heart attack following one of his matches, the fifty-something Ram is suddenly faced with a life outside the ring. He tries to get back in his daughter's (Evan Rachel Wood) life, attempts a relationship with stripper Cassidy (Marisa Tomei), and even gets a regular job in a supermarket, but the possibility of returning to the ring for the twentieth anniversary of his biggest match ever, his 1989 battle against the Ayatollah (Ernest Miller) in Madison Square Garden, weighs hard on his mind. Winner of the Golden Lion at the Venice Film Festival, THE WRESTLER, shot in an arresting grainy style, is a masterfully told tale with multiple layers, with the Ram's potential comeback mimicking Rourke's own return to his acting glory days. Rourke is such a natural in the role that it is hard to believe it was not written specifically for him; in fact, Nicolas Cage was first attached to the project. The film is set in the real-life world of Combat Zone Wrestling and the Ring of Honor, featuring such actual wrestlers as the Necro Butcher, who has a thing for barbed wire and staple guns. THE WRESTLER is a heart-wrenching, beautiful, and brutal film.
American Zoetrope
Mishima's fictional creations come to life in brilliant biopic
MISHIMA: A LIFE IN FOUR CHAPTERS (Paul Schrader, 1985)
Film Forum
209 West Houston St. between Sixth & Seventh Aves.
December 17-23
212-727-8110

Paul Schrader's MISHIMA: A LIFE IN FOUR CHAPTERS, now in a limited one-week run at Film Forum in a sparkling new 35mm print, is a masterpiece of filmmaking, a bold, wildly inventive biopic that gets inside the mind of deeply troubled Japanese writer Yukio Mishima. Over the course of four 30-minute segments — "Beauty," "Art," "Action," and "Harmony of Pen and Sword" — Schrader alternates between three themes: Mishima's own memories of his past, dramatic interpretations of three of his works, and a re-creation of the bizarre events of November 25, 1970, that led to his death. Each of the themes is shot in a different style; the memory sequences in gorgeous black and white (reminiscent of the golden age of Japanese film), the staged excerpts from THE TEMPLE OF THE GOLDEN PAVILION, KYOKO'S HOUSE, and RUNAWAY HORSES in lush, surreal, oversaturated colors centering around a fiery orange, and the last day of Mishima's life in a more documentary-like fashion. Philip Glass's stunning score similarly changes emotional temperature and style for each section.
Mishima was a tortured soul constantly battling contradiction; for example, he dreamed about joining the military but then lied about his health so he'd be rejected, and he married and had children despite spending time in the company of men at gay bars. Schrader's film often blurs the line between fact and fiction, much as the highly principled Mishima, portrayed with an overpowering sense of calm by Ken Ogata, did in his own life and fictional creations. A playwright, novelist, and film director, Mishima searched without compromise for purity and truth and investigated the beauty of the human body. Fiercely loyal to the emperor and the way of the samurai, Mishima was a man out of time, unable to live in the modern society of the real world. This enhanced version of the film includes a deleted scene and never-before-heard narration by Ogata, taken directly from Mishima's writings. (The 1985 original American release featured English narration by Roy Scheider.) Don't miss this opportunity to see one of the most innovative biopics ever made — and, as a bonus, Schrader (HARDCORE, AMERICAN GIGOLO, AFFLICTION) will be on hand for the 7:00 screenings on December 17 and 19.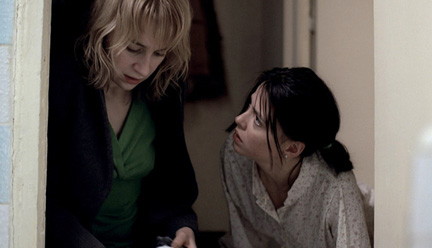 Harrowing drama is screening as part of special series
WORLD CINEMA SHOWCASE:
4 MONTHS, 3 WEEKS AND 2 DAYS (Cristian Mungiu, 2007)
La Guardia Performing Arts Center
31-10 Thomson Ave., Long Island City
Friday, December 19, 7:00
7187-482-5151
http://www.lagcc.cuny.edu/lpac

Winner of the Palme D'Or at the 2007 Cannes Film Festival, Cristian Mungiu's 4 MONTHS, 3 WEEKS AND 2 DAYS is a harrowing look at personal freedom at the end of the Ceausescu regime in late-'80s Romania. Anamaria Marinca gives a powerful performance as Otilia, a young woman risking her own safety to help her best friend, Gabita (Laura Vasiliu), out of a difficult, dangerous situation. Their lives get even more complicated when they turn to Bebe (Vlad Ivanov) to take care of things. Cinematographer Oleg Mutu, who shot Cristi Puiu's brilliant THE DEATH OF MR. LAZARESCU, keeps the camera relatively steady for long scenes, without cuts, pans, dollies, or zooms, as the actors walk in and out of view, giving the film a heightened level of believability without looking like a documentary. Set in a restrictive era with a burgeoning black market, 4 MONTHS goes from mystery to psychological drama to thriller with remarkable ease — and the less you know about the plot, the better. This special screening is part of the Museum of the Moving Image's monthly World Cinema Showcase; next up is So Yong Kim's IN BETWEEN DAYS on January 23.
DOLLS (Takeshi Kitano, 2001)
CabaretCinema, Rubin Museum of Art
150 West 17th St. at Seventh Ave.
Friday, December 19, 9:30
Free with $7 bar minimum (includes admission to galleries)
212-620-5000 ext 344

Takeshi Kitano, who is best known for such violent films as SONATINE, BROTHER, and ZATOICHI, has also made family dramas and romances as well (KIKUJIRO, A SCENE AT THE SEA), and DOLLS might be his most emotional, introspective picture to date. DOLLS opens with a Bunraku puppet theater excerpt from Monzaemon Chikamatsu's THE COURIER FOR HELL before delving into the dark story of Matsumoto (Hidetoshi Nishijima) and Sawako (Miho Kanno). Matsumoto dumps Sawako so he can marry the boss's daughter, but when Sawako tries to kill herself and ends up in a mental hospital, Mastumoto decides to take care of the speechless, frightened shell of a woman she has become. He leads her through the seasons, tied to her by a red cord, a pair of bound beggars. Two subplots, which we're not sure were absolutely necessary, also deal with love and loss, obsession and desire. Joe Hisaishi's music is gorgeous, as is Katsumi Yanagijima's cinematography. Kitano, who wrote, directed, and edited DOLLS, mixes in sensational colors to balance out black-and-white tuxedos or long patches of snow: You'll be mesmerized by the red rope, a purple-and-black butterfly, Sawako's pink child's toy, a glowing blue bridge, Matsumoto's bright yellow car, a green public phone, a blue drink, twirling pinwheels, a shockingly blue umbrella, a park filled with cherry blossoms, and Yohji Yamamoto's sparkling costumes. The film is bleak, slow-paced, and heart-tuggingly pure, a rewarding experience that will stay with you for a long time. This special screening at the Rubin will be introduced by Alexandra Munroe, the senior curator of Asian Art at the Guggenheim.
HABLA CON ELLA (TALK TO HER) (Pedro Almodóvar, 2002)
Walter Reade Theater
65th St. between Broadway & Amsterdam Aves.
Friday, December 19, 2:00
Sunday, December 21, 2:00
Wednesday, December 24, 6:00
212-875-5050

Pedro Almodóvar followed up the remarkable Oscar-winning TODO SOBRE MI MADRE (ALL ABOUT MY MOTHER) with this remarkable story of two men who become friends as they take care of two female coma patients in a private facility. You won't be able to take your eyes off wide-eyed Javier Cámara as the simple-minded and oddly dedicated male nurse Benigno, who oversees the needs of patient-dancer Alicia (Leonor Watling), and Darío Grandinetti is outstanding as writer Marco Zuloaga, who falls hard for bullfighter and eventual patient Lydia (Rosario Flores). There are long stretches of little or no dialogue, including a riotous silent film-within-the-film and two performances by Pina Bausch's TanzTheater, and a very clever Almodóvar slyly continues the theme by hiring a Spanish-speaking Geraldine Chaplin, daughter of the great silent-film star. HABLA CON ELLA, which is screening at the Film Society of Lincoln Center as part of the Spotlight on Javier Cámara tribute in the Spanish Cinema Now festival, is yet another treasure from one of the world's most inventive filmmakers.
THE CURIOUS CASE OF BENJAMIN BUTTON (David Fincher, 2008)
Opens Thursday, December 25

Based on the short story by F. Scott Fitzgerald, THE CURIOUS CASE OF BENJAMIN BUTTON is an unusual love story for the ages. As Benjamin (Brad Pitt) grows younger, everyone around him gets older, creating fascinating intersections among various characters, but primarily with Daisy Fuller (Cate Blanchett). It's August 2005 in New Orleans, as Hurricane Katrina approaches. In her hospital room, an elderly, dying woman (an unrecognizable Blanchett) gives her daughter, Caroline (Julia Ormond), a diary that she begins reading out loud. It was written by a man named Benjamin Button, who was born an old man in 1918 and tells his life story as the years pass by and he ages backward, sort of a reverse Jack Crabb (Dustin Hoffman) in the great LITTLE BIG MAN (Arthur Penn, 1970), with a bit of the overrated FORREST GUMP (Robert Zemeckis, 1994) thrown in as well. The film lags a bit as Benjamin and Daisy approach similar ages — actually, the closer they get to their actor selves — but the beginning is marvelous, with Fincher working magic as Pitt plays a tiny, withered old man, and the ending is heart-wrenching. Fincher (FIGHT CLUB, ZODIAC) and screenwriter Eric Roth (FORREST GUMP) wisely choose not to turn Benjamin into a human oddity that confounds the medical profession; instead, he just goes about his life, trying to do the best he can with a positive outlook and a lust for living. Alexandre Desplat's score is among the best of the year, supported by a soundtrack filled with New Orleans jazz. The cast also includes Tilda Swinton as a diplomat's wife who takes a romantic interest in Benjamin, Jared Harris as the randy captain of a tugboat who teaches Benjamin about the sea (and booze and sex), Taraji P. Henson as Queenie, the woman who raises the baby Benjamin after he is abandoned by his father (Jason Flemyng), and the man with perhaps the longest name in the history of show business, Mahershalalhashbaz Ali, as Queenie's husband, Tizzy.
THE SECRET OF THE GRAIN (LE GRAINE ET LA MULET) (Abdellatif Kechichi, 2007)
IFC Center
323 Sixth Ave. at West Third St.
Opens Friday, December 26
212-924-7771

After being cut back at his shipyard job of thirty-five years, Slimane (Habib Boufares) decides to pursue a seemingly impossible dream — to turn a dilapidated boat into a fish couscous restaurant. A North African immigrant living and working in the French port town of Sete, the soft-spoken, slow-moving Slimane is surrounded by his family, including his sons, Riadh (Mohamed Benabdeslem) and Majid (Sami Zitouni), daughters Karima (Faridah Benkhetache) and Olfa (Sabrina Ouzani), and even his ex-wife, Souad (Bouraouia Marzouk). After getting little help from the local government and banks, the sixty-one-year-old Slimane receives support from his close-knit clan as well as his girlfriend, Latifa (Hatika Karaoui), and, primarily, her twenty-year-old daughter, Rym (Hafsia Herzi, who steals the movie). But as he prepares for a special event that will make or break the future of his bold endeavor, a series of unexpected calamities threatens to end his dream. A kind of French-Arabic BIG NIGHT (Campbell Scott & Stanley Tucci, 1996), THE SECRET OF THE GRAIN is an involving drama made with care and love, although it gets too caught up in sitcom-like plot twists and soap-opera turns, mostly based around Majid, who works as a tour guide and is cheating on his wife, Julia (Alice Houri), with a married Frenchwoman (Violaine de Carné). It's also way too long at 151 minutes; numerous scenes should have been cut much shorter. However, it is still a fascinating examination of people trapped between two worlds, as an aging man with two families that do not get along tries to thrive and survive in an Arabic community in France. A hit at film festivals all over the world, THE SECRET OF THE GRAIN won four Cesar Awards, the French equivalent of the Oscars, including Best Picture, Best Director and Best Original Screenplay (both Kechiche), and, perhaps most deservingly, Most Promising Actress (the extraordinary Herzi).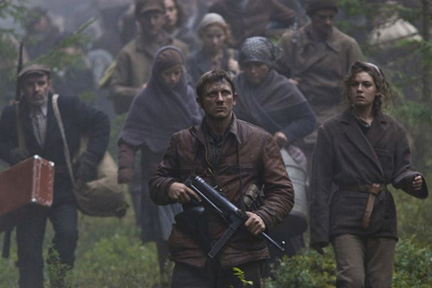 Daniel Craig leads a band of Jews not afraid to take up arms in WWII drama
DEFIANCE (Edward Zwick, 2008)
Opens Wednesday, December 31

December has seen the release of a spate of Holocaust-related dramas, examining the Nazis and the persecution of the Jews from many different angles — with various degrees of success. Among the best of the films — and one that tells a seldom-told tale — is Edward Zwick's DEFIANCE. Zwick, whose GLORY looked at the contribution of African Americans fighting for the North in the Civil War, now turns to WWII, following the Bielski clan as it fights back against the Germans and the local constabulary in Russia. Based on a true story detailed in the book of the same name by Nechama Tec, DEFIANCE stars Daniel Craig as Tuvia, Liev Schreiber as Zus, and Jamie Bell as Asael, three brothers who have left their farm and take refuge in the vast forest they have been playing in since they were kids. As more and more Jews hear about the small community they are establishing in the forest, they flock there. But while Tuvia feels he cannot send anyone away, Zus believes such foolish generosity will result in a lack of food and a greater chance that they will be found and killed. With Tuvia as the group's reluctant leader, adamant that they should remain in the forest, Zus takes off to join the Russian resistance. "Each day of freedom is a victory," Tuvia proclaims. "And if we die trying to live, at least we die like human beings." But as the Germans get closer and the winter grows harsher, the chances of survival seem bleaker and bleaker. Although DEFIANCE does lapse into soap-opera territory and pulls at the emotional heartstrings too often — Zwick and executive producer Marshall Herskovitz were, after all, the creators of THIRTYSOMETHING — it is a powerful drama that reveals a rarely shown side of the Holocaust as a group of working-class Jewish men and women refuse to give in or give up, taking up arms and fighting back against impossible odds.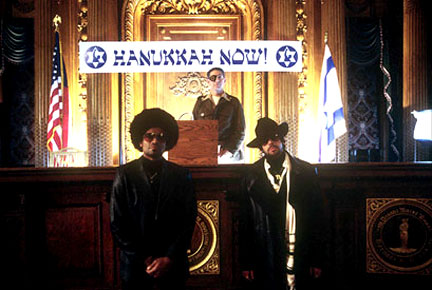 The Hebrew Hammer is out to save Hanukkah
THE HEBREW HAMMER (Jonathan Kesselman, 2003)
Available on DVD

Adam Goldberg (SAVING PRIVATE RYAN, A BEAUTIFUL MIND) stars in this riotous low-budget laugh-fest that is as hysterically politically incorrect as possible. Goldberg is Mordechai Jefferson Carver, a "circumcised dick" who is hired by the Jewish Justice League, headed by Bloomenbergensteinthal (Peter Coyote), to save Chanukah, which Damian Claus (Andy Dick), Santa's evil spawn, wants to destroy forever. The Semitic Stud gets help from Mohammad Ali Paula Abdul Rahim (Mario Van Peebles), head of the Kwanzaa Liberation Front, and Bloomenbergensteinthal's sexy daughter, Esther (Judy Greer), who is a "nice piece of tuchus." This is one funny self-described Jewxploitation flick that will bring knowing chuckles and guffaws to anyone who has ever attended Hebrew school or has an overbearing mother. With all the glut of Christmas movies, both new and old, every season, we'll continue to recommend this crazy romp each Hanukkah.
In Theaters Now
John Malkovich is a foul-mouthed riot in Coen brothers' latest
BURN AFTER READING (Joel & Ethan Coen, 2008)
Quad Cinema
34 West 13th St. between Fifth & Sixth Aves.
212-255-8800
http://www.burnafterreading.com

After delighting audiences with such outstanding indie fare as BLOOD SIMPLE (1984), FARGO (1996), and O BROTHER, WHERE ART THOU? (2000), brothers Joel and Ethan Coen hit a midcareer slump with the mediocre THE MAN WHO WASN'T THERE (2001), the much-maligned INTOLERABLE CRUELTY (2003), and the just plain awful remake of THE LADYKILLERS (2004). It was three years before they released their next film, the Oscar-winning monster hit NO COUNTRY FOR OLD MEN. Now they have toned things down again with the slight but entertaining BURN AFTER READING. John Malkovich is hysterical as Osborne Cox, an angry, bitter, foul-mouthed CIA agent who loses his job and decides to write a tell-all memoir, which bizarrely ends up in the hands of a pair of bumbling idiots, Chad Feldheimer (an extremely funny Brad Pitt) and Linda Litzke (Frances McDormand). Linda really wants to get a whole bunch of plastic surgery done, so she plans on squeezing a lot of money out of old Mr. Cox, who has no patience for anyone other than himself. Throw in a cold-as-ice wife (Tilda Swinton), a philandering G-man (George Clooney), a Russian ambassador named after Severn Darden's character in THE PRESIDENT'S ANALYST, and some shocking violence and — well, we've told you too much already. BURN AFTER READING might not be grade-A Coen brothers, but it's still a worthwhile endeavor from two of America's most ingenious filmmakers.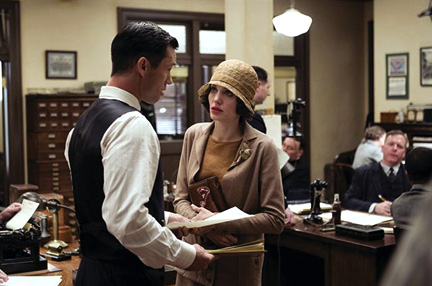 Angelina Jolie stars in latest Clint Eastwood drama
CHANGELING (Clint Eastwood, 2008)
Quad Cinema
34 West 13th St. between Fifth & Sixth Aves.
212-255-8800
http://www.changelingmovie.net
The opening-night selection at this year's New York Film Festival, Clint Eastwood's CHANGELING is an overblown melodrama about a mother's desperate search for her missing child. On a March day in 1928, Christine Collins (Angelina Jolie with perhaps the puffiest, reddest lips ever seen on-screen) comes home from work late to find her young son, Walter (Gattlin Griffith), gone. The corrupt Los Angeles Police Department, in need of some good publicity, is little help — until, months later, it claims to have found Walter. But the child they present to Christine is not her son — yet the police, led by the smug Captain Jones (a smug Jeffrey Donovan), do all they can to try to convince her that she is mistaken and that the boy is indeed her offspring, just to protect their reputation. A local pastor, Rev. Gustav Briegleb (John Malkovich), takes an interest in the case, thinking it is yet more evidence of the LAPD's incompetence. Unwilling to give up, Christine decides to take on the police, but she gets much more than she ever bargained for. Based on a true story, CHANGELING is a laboriously straightforward film with no nuance whatsoever; everything is black and white, good versus evil, with the only shades of gray the lovely cinematography by Tom Stern.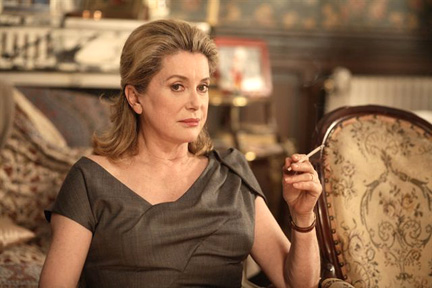 Catherine Deneuve stars as family matriarch in Desplechin holiday flick
A CHRISTMAS TALE (UN CONTE DE NOËL) (Arnaud Desplechin, 2008)
IFC Center
323 Sixth Ave. at West Third St.
212-924-7771

One of the best films of 2008, A CHRISTMAS TALE (UN CONTE DE NOËL) is yet another extraordinary work from French filmmaker Arnaud Desplechin (LA SENTINELLE, ESTHER KAHN). Desplechin, who examined family dysfunction in the masterful KINGS AND QUEEN (one of the best films of 2006), brings back much of that film's cast in A CHRISTMAS TALE. Catherine Deneuve stars as Junon, the family matriarch who has just discovered she has leukemia and is in need of a bone-marrow transplant. Although it is rare for children to donate bone marrow to their mother (or grandmother), Junon insists that they all take the test to see if they are compatible. Soon they gather at Junon and Abel's (Jean-Paul Roussilon) house for the holidays: oldest daughter Elizabeth (Anne Consigny), a dark and depressed woman whose teenage son, Paul (Emile Berling), has been institutionalized with mental problems and whose husband, Claude (Hippolyte Girardot), is rarely home; Ivan (Melvil Poupaud), the youngest son, a carefree sort married to Sylvia (Chiara Mastroianni, Deneuve's real-life daughter), whom Junon strongly distrusts; and black sheep Henri (Mathieu Almaric), the middle child who was initially conceived primarily to save Abel and Junon's first son, Joseph, who ended up dying of the same leukemia that Junon has contracted. Henri, who shows up with a new girlfriend, the very direct Faunia (Emmanuelle Devos), is a philandering ne'er-do-well who is deeply estranged from Elizabeth and not close with his mother, leading to much strife as Christmas — and a possible transplant — nears. Desplechin, who wrote the script with Emmanuel Bourdieu, once again has created powerful, realistic characters portrayed marvelously by his extremely talented cast; despite the family's massive dysfunction, you'll feel that even spending more than two and a half hours with them is not enough.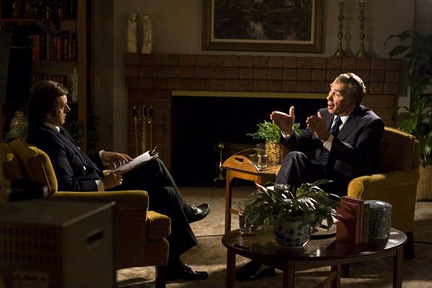 David Frost (Michael Sheen) and Richard Nixon (Frank Langella) get it on in Ron Howard drama
FROST/NIXON (Ron Howard, 2008)

In 1977, the disgraced former president of the United States, Richard Nixon, sat down with British talk show host David Frost for a series of interviews, including the first time Nixon had agreed to discuss Watergate publicly; Frost was after a big payday and trying to resurrect his career in America, while Nixon was attempting to defend his legacy and reestablish his political credentials. Written by Peter Morgan (THE QUEEN) based on his play, FROST/NIXON is a compelling drama that turns into a thriller as Frost and Nixon get caught up in an intellectual game of cat and mouse. Frank Langella is absolutely brilliant as Nixon, capturing every nuance of the jowly president, while Michael Sheen (Tony Blair in THE QUEEN) is a bit too wide-eyed as Frost, although he's got the hair and the accent down pat; both actors are reprising the roles they originated in Morgan's London and Broadway hit. Director Ron Howard allows the story to unfold at its own pace as Nixon's team, which includes Chief of Staff Jack Brennan (Kevin Bacon), super-agent Swifty Lazar (Toby Jones), and a young Diane Sawyer (Kate Jennings Grant), prepares to go toe to toe with Frost's sidekicks, investigative journalist Jim Reston (Sam Rockwell), producers John Birt (Matthew MacFadyen) and Bob Zelnick (Oliver Platt), and love interest Caroline Cushing (Rebecca Hall). FROST/NIXON is a fascinating and thoroughly entertaining look at a critical time in America, when politics intersected with pop culture as the country held its collective breath, demanding closure.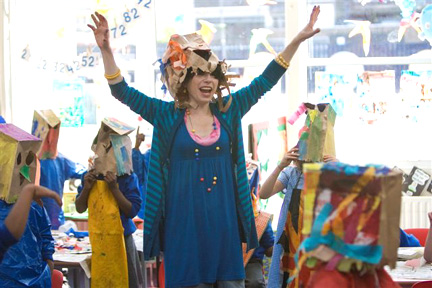 Simon Mein/ Courtesy of Miramax Films
Sally Hawkins is absolutely delightful in Mike Leigh's latest
HAPPY-GO-LUCKY (Mike Leigh, 2008)
Quad Cinema
34 West 13th St. between Fifth & Sixth Aves.
212-255-8800
http://www.happygoluckythemovie.com

Writer-director Mike Leigh (SECRETS & LIES, NAKED, TOPSY-TURVY) has made the most charming film of his career with HAPPY-GO-LUCKY. Sally Hawkins gives a career-making performance as Poppy, the most delightful film character since Audrey Tatou's Amélie (in Jean-Pierre Jeunet's 2001 French comedy LE FABULEUX DESTIN D'AMÉLIE POULAIN). Poppy is a primary school teacher who has an endearing, seemingly limitless love of life; she talks playfully with strangers in bookstores, teases her sister (Kate O'Flynn) and best friend (Alexis Zegerman) with the sweetest of smirks, takes a flamenco lesson on a whim with a colleague, and, when her bicycle is stolen, simply starts taking driving lessons. However, her driving instructor, Scott (Eddie Marsan of the recently underappreciated SIXTY SIX), is a tense, angry man with numerous chips on his shoulder, trying to sour Poppy at every turn. But Poppy is no mere coquettish ingenue; when she senses a problem with one of her students, she is quick get to the bottom of the situation, with the appropriate serious demeanor. As with most Leigh films, much of the dialogue is improvised (following long rehearsal periods), adding to its freshness. But also as with most Leigh films, there are dramatic turning points, but even those can't wipe away Poppy's — or the audience's — endless smile.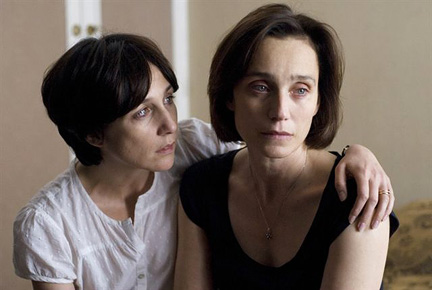 Sisters try to deal with the past in brilliant melodrama
I'VE LOVED YOU SO LONG (Philippe Claudel, 2008)
Angelika Film Center
18 West Houston St. at Mercer St.
212-995-2000
http://www.sonyclassics.com/ivelovedyousolong

French novelist Philippe Claudel's directorial debut, I'VE LOVED YOU SO LONG, is a brilliant melodrama told by an expert storyteller. A never-better Kristin Scott Thomas stars as Juliette, an intensely private woman who has moved in with her younger sister, Léa (Elsa Zylberstein), after having been away for fifteen years. Léa's husband, Luc (Serge Hazanavicius), is clearly unhappy that Juliette has come to live with them; he particularly does not want her spending too much time with their two adopted daughters. As Juliette goes on job interviews and makes new friends — including Léa's fellow teacher, Michel (Laurent Grevill), who has more than a passing interest in her — her deep, dark pain is always bubbling just below the surface, ready to burst out. Through carefully constructed scenes of beauty, simplicity, honesty, and suppressed rage, Claudel slowly reveals the details of Juliette's missing years, spent in prison for an unspeakable crime. Thomas is absolutely breathtaking as Juliette, a tortured soul hiding a horrific secret as she tries to resurrect her once-promising life. Don't miss it.

MAN ON WIRE (James Marsh, 2008)
Landmark Sunshine Cinema
143 East Houston St. between First & Second Aves.
212-330-8182
http://www.landmarktheatres.com

Winner of the Audience Award at the Sundance, Edinburgh, and Los Angeles Film Festivals, MAN ON WIRE is a thrilling examination of Philippe Petit's attempt to walk on a wire connecting the two towers of the World Trade Center. Using archival footage, home movies, still photos, black-and-white re-creations, and new interviews with all the primary characters, director James Marsh (THE KING, WISCONSIN DEATH TRIP) sets up MAN ON WIRE like a heist film as Petit and his cohorts discuss the detailed planning that went into the remarkable event, including getting the wires and cable to the top of the South Tower and hiding under a tarp as a security guard has a smoke right next to them. Petit, who had previously — and illegally — traversed Notre Dame Cathedral in Paris and the Sydney Harbour Bridge in Australia, had become immediately obsessed with the Twin Towers as soon as he learned they were being built; Marsh intercuts scenes of the construction of the WTC as Petit puts together the seemingly impossible caper, leading to his August 7, 1974, walk between the two towers, more than a quarter mile above the ground. Petit has a relationship with the World Trade Center unlike anyone else's; interestingly, Marsh and Petit do not so much as even hint at the destruction of the towers on September 11, 2001, a questionable decision that leaves a gap in the film. (They could have at least mentioned it in the end captions.) Still, MAN ON WIRE is an exhilarating documentary; even though you know that Petit survives, you'll be breathless as he balances high above Lower Manhattan, one tiny step from death.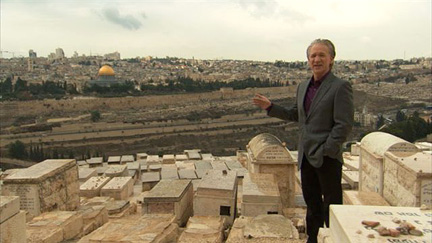 Bill Maher takes on organized religion and faith in comedy doc
RELIGULOUS (Larry Charles, 2008)
Quad Cinema
34 West 13th St. between Fifth & Sixth Aves.
212-255-8800
http://www.lionsgate.com/religulous

Bill Maher, who regularly shares his views on religion in his stand-up act, on his HBO show, and in books, takes on Christianity, Islam, Judaism, and other faiths in the very sharp, very funny documentary RELIGULOUS (a combination of "religious" and "ridiculous"). Taking a page out of Michael Moore's guerrilla filmmaking style, Maher and director Larry Charles (SEINFELD, CURB YOUR ENTHUSIASM, BORAT) go on the road, speaking with priests, rabbis, scientists, activists, doctors, ministers, politicians, and everyday plainfolk in Italy, Israel, England, the Netherlands, and across America, meeting some very strange characters with a wide array of religious beliefs, all of which the agnostic Maher, who doesn't believe in God and considers the Bible a fairy tale, thinks are idiotic. Among the most outrageous segments are Maher's visit to the Holy Land Experience theme park in Orlando, a bizarre battle with Jewish activist Yehuda Etzion, and Maher and his crew getting thrown out of the Vatican. Although RELIGULOUS primarily preaches to the choir and is unlikely to make many converts, Maher does bring up some cogent points about the history of religion and its eventual transcription, raising questions that will make you think about your own personal faith.
SLUMDOG MILLIONAIRE (Danny Boyle, 2008)
http://www.foxsearchlight.com/slumdogmillionaire

In modern-day Mumbai, Jamal Malik (Dev Patel) is being brutally interrogated by a police inspector (Irrfan Khan) who is certain that Jamal is cheating on the popular game show WHO WANTS TO BE A MILLIONAIRE? The cop won't even consider that a young, uneducated chaiwalla, a lowly tea server at a call center, could possibly know enough to be successful on the program. But through a series of harrowing flashbacks, Jamal recounts his difficult, miserable life growing up on the streets with his brother, Salim (Madhur Mittal), explaining how his experiences with extreme poverty, bigotry, child abuse, and gang violence led him to know certain answers in fascinating, bizarre, and mostly sad ways. As he approaches the final question, everything he's ever loved and believed in hangs in the balance. SLUMDOG MILLIONAIRE is extremely well directed by Danny Boyle (TRAINSPOTTING, 28 DAYS LATER), with a smart script by Simon Beaufoy (THE FULL MONTY) based on Vikas Swarup's novel Q AND A. Freida Pinto makes a strong debut as Latika, the girl who comes between the two brothers, and Bollywood star Anil Kapoor is wonderfully smarmy as Prem Kumar, the Indian Regis Philbin. A mesmerizing, edge-of-your-seat tale, SLUMDOG MILLIONAIRE is the sleeper hit of 2008.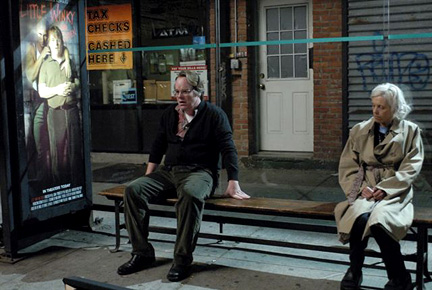 Caden Cotart (Philip Seymour Hoffman) is having a tough time in SYNECDOCHE
SYNECDOCHE, NEW YORK (Charlie Kaufman, 2008)
Landmark Sunshine Cinema
143 East Houston St. between First & Second Aves.
212-330-8182
http://www.landmarktheatres.com
http://www.sonyclassics.com/synecdocheny

In films such as BEING JOHN MALKOVICH (Spike Jonze, 1999), ADAPTATION (Spike Jonze, 2002), CONFESSIONS OF A DANGEROUS MIND (George Clooney, 2002), and ETERNAL SUNSHINE OF THE SPOTLESS MIND (Michel Gondry, 2004), writer Charlie Kaufman has created bizarre, compelling alternate views of reality that adventurous moviegoers have embraced, even if they didn't understand everything they saw. Well, Kaufman has done it again, challenging audiences with his directorial debut, the very strange but mesmerizing SYNECDOCHE, NEW YORK. Philip Seymour Hoffman stars as the bedraggled Caden Cotard, a local theater director in Schenectady mounting an inventive production of DEATH OF A SALESMAN. Just as the show is opening, his wife, avant-garde artist Adele Lack (Catherine Keener), decides to take an extended break in Europe with their four-year-old daughter, Olive (Sadie Goldstein), and Adele's kooky assistant, Maria (Jennifer Jason Leigh).
As Caden starts coming down with a series of unexplainable health problems (his last name, by the way — Cotard — is linked with a neurological syndrome in which a person believes they are dead or dying or do not even exist), he wanders in and out of offbeat personal and professional relationships with box-office girl Hazel (a nearly unrecognizable Samantha Morton), his play's lead actress, Claire Keen (Michelle Williams), his therapist, Madeleine Gravis (Hope Davis), and Sammy (Tom Noonan), a man who has been secretly following him for years. After winning a MacArthur Genius Grant, Caden begins his grandest production yet, a massive retelling of his life story, resulting in radical shifts between fantasy and reality that will have audiences laughing as they continually scratch their heads, hoping to stimulate their brain in order to figure out just what the heck is happening on-screen. Evoking such films as Federico Fellini's 8 1/2 and CITY OF WOMEN, Woody Allen's STARDUST MEMORIES, and Ingmar Bergman's WILD STRAWBERRIES as well as the labyrinthine tales of Argentine writers Jorge Luis Borges and Julio Cortazar, SYNECDOCHE, NEW YORK is the kind of work that is likely to become a cult classic over the years, requiring multiple viewings to help understand it all.
VICKY CRISTINA BARCELONA (Woody Allen, 2008)
Angelika Film Center
18 West Houston St. at Mercer St.
212-995-2000
http://www.city-cinemas.com/angelika.html
http://www.vickycristina-movie.com

After a trio of films made in England (the justly celebrated MATCH POINT, the disappointing SCOOP, and the underappreciated CASSANDRA'S DREAM), Woody Allen heads to Spain, setting his latest adult romantic comedy in the gorgeous city of Barcelona. The very serious Vicky (Rebecca Hall, channeling Mia Farrow) and the flirtatious free spirit Cristina (Scarlett Johansson) are best friends spending the summer at a villa owned by Judy (Patricia Clarkson) and Mark (Kevin Dunn). Vicky is about to get married to the very responsible and successful Doug (Chris Messina), while Cristina is just looking to have a wild time. When hot artist Juan Antonio (a gentle Javier Bardem) invites Vicky and Cristina to join him for wine and sex in Oviedo, Vicky thinks he is a pig, while Cristina wants to take him up on his offer. Further complicating the situation is Juan Antonio's homicidal, suicidal ex-wife, Maria Elena (an inspired Penelope Cruz), who forces herself back into his life. VICKY CRISTINA BARCELONA features one of Allen's best scripts in years. Hall, a young British actress who primarily works on stage and television, is captivating as Vicky; cinematographer Javier Aguirresarobe's camera falls in love with her charming face the moment it first lays eyes on her. Bardem and Cruz inject fire and ice into this complex relationship drama, which examines the nature of love in intelligent and intriguing ways. In addition to filming at such sites as Antoni Gaudi's Sagrada Familia, Parc Guell, and La Pedrera, Allen infuses the proceedings with a soundtrack of delightful Spanish music, structured around Gulia y Los Tellanini's "Barcelona."
Riff's Rants & Raves: Theater Openings & Closings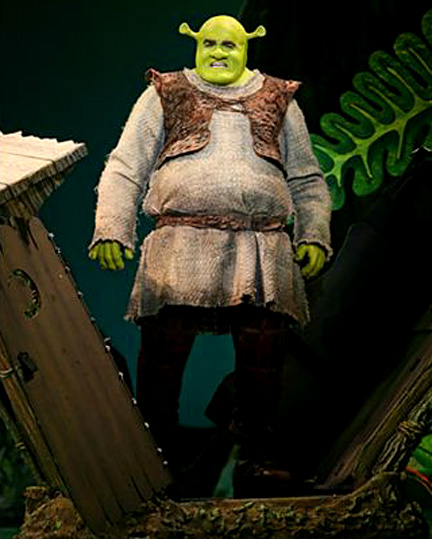 Joan Marcus
Brian D'Arcy stomps around Broadway stage in SHREK THE MUSICAL
SHREK THE MUSICAL
Broadway Theatre
1681 Broadway at 53rd St.
Friday, December 5, performance reviewed; opened December 14
Tickets: $41.50-$121.50

In 1994, Disney turned its animated hit BEAUTY AND THE BEAST into a Broadway musical. During the show's thirteen-year run, the company also brought THE LION KING, TARZAN, and THE LITTLE MERMAID to the Great White Way. DreamWorks, which was founded in 1997 by Steven Spielberg, David Geffen, and former Disney executive Jeffrey Katzenberg, has been chasing the Mouse's tail for more than ten years and now follows Disney's lead by bringing to Broadway its successful Shrek franchise, based on the children's book by William Steig. Looks like they still have some catching up to do. SHREK THE MUSICAL is a somewhat amiable show that too often feels more like a local production than the Broadway extravaganza it aims to be. (Granted, the Disney films had a head start since they were musicals to begin with.) In a magical land, the evil and very short Lord Farquaad (Christopher Sieber) has banished all fairy-tale characters from the kingdom of Duloc (including Disney veterans Peter Pan, the White Rabbit, and Pinocchio, who is really annoying). They end up gathering in a swamp that is the domain of a big green ogre named Shrek (Briann D'Arcy James), who wants them all gone so he can continue his solitary life. But they convince him to head to Duloc to free the imprisoned Princess Fiona (Sutton Foster) and get Lord Farquaad to change his mind and let them all come back. Along the way, Shrek is joined by a wise-ass donkey (Daniel Breaker) who has trouble keeping his mouth shut. The three Shrek movies made nearly $400 million domestically and plenty more on DVD because they appealed to both adults and children (the first one more so than the last two); the musical is simply for the kinder. Adults will quickly tire of the show's self-deprecating humor, riffs on Disney and Broadway, and fart jokes. Even more important, there are no memorable songs by lyricist David Lindsay-Abaire and composer Jeanine Tesori. However, Sieber kneels away with the show, playing Lord Farquaad on his knees in a special costume with fake legs that are a hoot.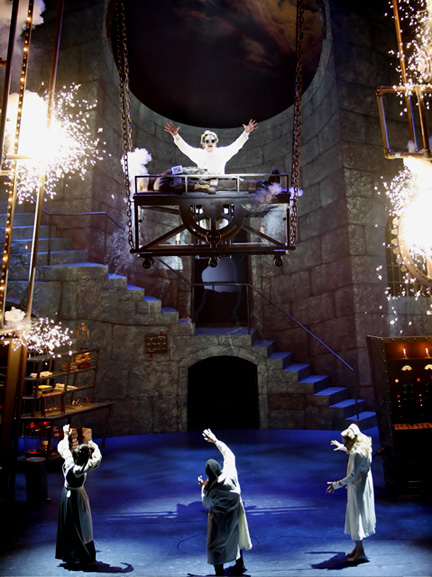 Time is running out to catch YOUNG FRANKENSTEIN on Broadway
THE NEW MEL BROOKS MUSICAL YOUNG FRANKENSTEIN
Hilton Theatre
213 West 42nd St. between Broadway & Eighth Ave.
Closes January 4; November 15, 2007, performance reviewed with original cast
Tickets: $50-$120 ($450 Premier Seating)
212-556-4750
http://www.youngfrankensteinthemusical.com

Written by Gene Wilder and Mel Brooks and directed by Brooks, YOUNG FRANKENSTEIN is one of the funniest films ever made. Following the huge success of THE PRODUCERS on Broadway, Brooks and director-choreographer Susan Stroman have transformed the horror-movie spoof into a lavish musical that is better than the sum of its parts, sort of like the monster himself. Roger Bart, who was nominated for a Tony as Carmen Ghia in THE PRODUCERS, plays the Frederick Frankenstein role made famous by Wilder, but he lacks vocal power. The songs are mostly average at best, there is barely a thrilling choreographic move, there are far too many (and often too brief) set changes, and the supporting cast – save for a brilliant turn by Andrea Martin, who steals the show as (cue horses) Frau Blücher – does its job, but without much oomph. But even with all that, THE NEW MEL BROOKS MUSICAL YOUNG FRANKENSTEIN is extremely likable, filled with an uplifting spirit and cool special effects. Brooks cherry-picks gags from the film, leaving some in ("What knockers!") and many out (what, no scalpel in the thigh?), so the less you remember about the movie the better.
twi-ny/mdr
Potential theatergoers hang out on TKTS steps in Times Square watching for openings and closings

When Victor Frankenstein dies, his only living relative, Frederick Frankenstein, is summoned to Transylvania to inherit Victor's estate. Although he is determined not to follow in the family business, he is soon constructing a creature (Shuler Hensley) out of a dug-up corpse and an abby normal brain. He is helped by Igor (Christopher "What hump?" Fitzgerald), the very sexy Inga (Sutton "Roll in the Hay" Foster), and Frau ("Ovaltine") Blücher while Inspector Kemp (Fred Applegate, who also plays the blind hermit) and the local townspeople suspect he is up to no good and Frankenstein's fiancée, Elizabeth (a far-too-over-the-top Megan Mullally), won't let him touch her. The musical shines whenever SCTV alum Martin is onstage, the scene in which the monster comes to life is cheesy and exciting, and the "Puttin' on the Ritz" number is appropriately glitzy and spectacular – but alas, it's the only number that will stay with you after the show. Still, YOUNG FRANKENSTEIN is a fun night at the theater, but you better hurry, because the show is scheduled to close on January 4, with Hensley, Fitzgerald, and Bart continuing in their roles.
MONTY PYTHON'S SPAMALOT
Sam S. Shubert Theatre
225 West 44th St. between Broadway & Eighth Ave.
Closes January 11; March 14, 2005, performance reviewed with original cast
Tickets: $101.25-$201.25
http://www.montypythonsspamalot.com

Eric Idle and John Du Prez have teamed up to bring the treasured classic MONTY PYTHON AND THE HOLY GRAIL (Terry Jones & Terry Gilliam, 1975) to Broadway, under the direction of Mike Nichols. The not-very-mobile Tim Curry stars as King Arthur, who is on a divine quest with his Knights of the Round Table, including brave brave brave Sir Robin (David Hyde Pierce), the gallant Sir Lancelot (Hank Azaria), the peasant Sir Dennis Galahad (Christopher Sieber), the well-mustachioed Sir Bedevere (Steve Rosen), the underappreciated not-sir Patsy (Michael McGrath), and the memorable Sir Not Appearing in This Production (Kevin Covert). Christian Borle nearly steals the show from the very start, uttering the immortal line, "But I'm not dead yet," and later as the rather effeminate Prince Herbert, who is dying to be rescued by a gorgeous knight. Azaria is a standout as Lancelot, the French Taunter, Tim the Enchanter, and the chief Ni-sayer, and Sara Ramirez sparkles as the Lady of the Lake, who wants more stage time. Idle also cleverly gives a wink and a nudge to various non-GRAIL Python inside jokes and even has the gaul — er, gall — to feature LIFE OF BRIAN's "Always Look on the Bright Side of Life." The show does suffer from too many self-referential gags and songs about Broadway and divas; the ornate production numbers are fun, but we would have preferred more Pythonism and less glitz and glamour. But Python fans will love it, from fisch schlapping and killer rabbits to flesh wounds and the curtains, even if the ending pretty much bites — and now the ending for the show itself has been announced, as the Broadway run is closing on January 11, currently featuring Michael Siberry as King Arthur, Merle Dandridge as the Lady of the Like, and AMERICAN IDOL star Clay Aiken as Sir Robin.
Riff's Rants & Raves: Live Music & Dance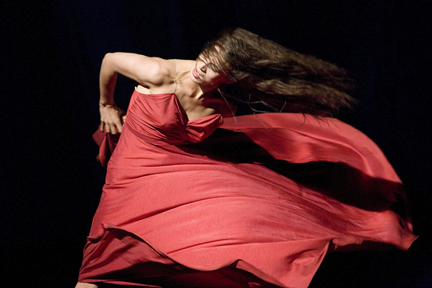 Clémentine Deluy by Angelos Giotopoulos
Pina Bausch brings India to Brooklyn in latest work
BAMBOO BLUES: PINA BAUSCH
Brooklyn Academy of Music Next Wave Festival
BAM Howard Gilman Opera House
30 Lafayette Ave. between Ashland Pl. & St. Felix St.
Through December 20
Tickets: $25-$85
718-636-4100

Artistic director and dance legend Pina Bausch has had ties to India for nearly thirty years, since 1979, when Tanztheater Wuppertal performed RITE OF SPRING there — and was shut down in Calcutta because of nudity. In 1988, she developed a lasting friendship with Indian dancer and choreographer Chandralekha, whose ideas about contemporary dance were as startling in India as Bausch's were in Germany. Bausch's latest evening-length piece, BAMBOO BLUES, currently in an exclusive U.S. engagement at the Brooklyn Academy of Music, incorporates Indian elements into yet another glorious Tanztheater Wuppertal production. The stage is one of Bausch's sparsest yet, consisting only of a billowing white curtain in the back, a black floor in the first half, a white floor in the second. The fifteen dancers — seven women wearing lush, brightly colored floor-length evening gowns and eight men in black pants and white shirts — move fluidly throughout the show, which is dominated by brief solos (ranging in mood from melancholy and yearning to angry and romantic) and intricate pairings mixed with Bausch's trademark slyly humorous bits. The performance — the troupe's eleventh appearance at BAM, dating back to 1984 — includes a hilarious mundu (saree) pageant, video projections of Bollywood stars, audience participation, and various treats for all five senses. Things do slow down and grow a bit repetitive in the middle of the second act before BAMBOO BLUES closes out beautifully. The eclectic score features music from the Bombay Dub Orchestra, Sunil Ganguly, Suphala, Talvin Singh, and Anoushka Shankar as well as Talk Talk, Cujo / Amon Tobin, 4Hero, and others. BAMBOO BLUES is yet another masterpiece from one of the world's most talented and innovative artists, following in the footsteps of such triumphs as MASURCA FOGO, NEFES, and DANZON.

FOOD FOR THOUGHT
Danspace Project
131 East Tenth St. at Second Ave.
Admission: $5 plus two cans of food or $10
212-674-8112
http://www.danspaceproject.org
Danspace Project presents three evenings of dance samplers featuring some of today's most exciting up-and-coming dancers and choreographers, divided into three themes: Freelance, Refresh, and In Character. Attendees are asked to bring cans of food for entry, with all food proceeds benefiting the AIDS Service Center.
Thursday, December 18 "Freelance" curated by Abby Harris, with
JERK, Paradizo Dance (David Paris & Zoë Klein, Steven Reker, and Jenny Seastone Stern., 8:30
Friday, December 19 "Refresh" curated by Kate Garroway, with Laura Diffenderfer/Oh Dear Dance Theatre, Colleen Hooper, Shannon Hummel/Cora Dance, and Kathy Westwater, 8:30
Saturday, December 20 "In Character" curated by Sarah Maxfield, with Andrew Dinwiddie, fivefour dances, T. Lang, and Jillian Sweeney, 8:30
MOVE: THE COMPANY
Joyce SoHo
155 Mercer St. between Houston & Prince Sts.
Tickets: $22
212-431-9233
Thursday, December 18
through
Saturday, December 20 Vancouver troupe presents U.S. premiere of artistic director Josh Beamish's TRAP DOOR PARTY, an evening-length piece for six dancers contained with lighted squares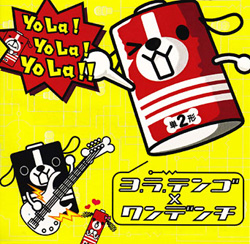 Mr. Asami of San-X
THE 8 NIGHTS OF HANUKKAH
Maxwell's
1039 Washington St., Hoboken
December 21-28, 8:30
Tickets: $30
201-653-1703
Hoboken's Yo La Tengo — drummer Georgia Hubley, singer-guitarist Ira Kaplan, and bassist James McNew, who joined the band in 1992 — have been mainstays of the local music scene for nearly twenty-five years. Longtime critical darlings, Yo La Tengo has released such well-regarded albums as ELECTR-O-PURA, I CAN HEAR THE HEART BEATING AS ONE, THE SOUNDS OF THE SOUNDS OF SCIENCE, and I AM NOT AFRAID OF YOU AND I WILL BEAT YOUR ASS. Their live shows feature spacey guitar noodling, electronic noise, and fun covers, from the Ramones and BTO to Bob Dylan and Paper Lace. They also do a mean version of "Meet the Mets," perhaps in homage to the derivation of their name; Yo La Tengo is Spanish for "I have it," a phrase that Mets center fielder Richie Ashburn had to learn to avoid crashing into shortstop Elio Chacon. Georgia, Ira, and James will be hosting eight nights of shows at Maxwell's in celebration of Hanukkah, the Festival of Lights.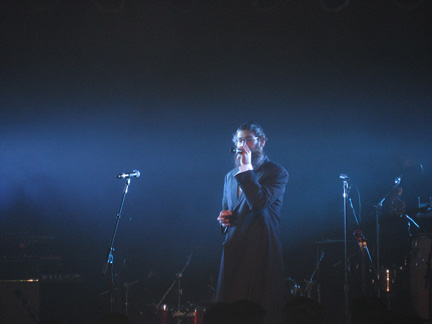 twi-ny/mdr
Matisyahu celebrates Hanukkah with eight nights of special shows
FESTIVAL OF LIGHTS
Webster Hall
125 East Eleventh St. between Third & Fourth Aves.
Music Hall of Williamsburg
66 North 6th St. between Wythe & Kent
December 21-30
Tickets: $35
http://www.musichallofwilliamsburg.com
Hasidic reggae rapper Matisyahu is back for his third annual Hanukkah celebration, December 21-27 at Webster Hall and December 28-30 at the Music Hall of Williamsburg. We caught the show the first year at the Hammerstein Ballroom and last year at Warsaw, both of which included not only such great live songs as "Youth," "King Without a Crown," and "Jerusalem" but also the lighting of the Hanukkah menorah. While the former Matthew Paul Miller pogo'd around the stage like crazy in 2006, an injury had him using a cane in 2007. For this year's Hanukkah party, Matisyahu will be joined by a changing cast of opening acts, with the Crystal Method, LeeVees, U-Melt, Easy Star All_Stars, and Asher Roth joining him at Webster Hall and Assembly of Dust, Little Jackie, and Brett Dennen at the Music Hall of Williamsburg.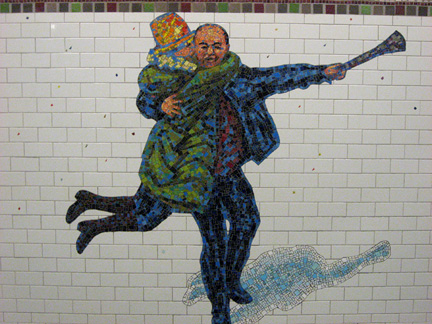 twi-ny/mdr
Jane Dickson's Revelers are already celebrating in the Times Square subway station
NEW YEAR'S EVE 2008
Multiple venues
Among the hundreds of choices to ring in 2009 with live music in the metropolitan area are Patti Smith & Her Band and Amanda Palmer at the Bowery Ballroom, My Morning Jacket at Madison Square Garden, a Place to Bury Strangers, the Vandelles, and Mr. Brownstone at the Mercury Lounge, Electrical Umbilical Cord, French Horn Rebellion, Soundscapes, Zambri, and Hooray for Earth at Lit, the Crystal Castles at the Music Hall of Williamsburg, Blonde Redhead and Islands at Terminal 5, Yo La Tengo, the Feelies, and Vivian Girls at the Wellmont Theatre, the Figgs, Heap, and Sub Rosa at Trash Bar, Mike Doughty at Maxwell's, Sandra Bernhard at Joe's Pub, Mike Doughty and Jennings at Maxwell's, Mike Stern Band featuring special guests Kenny Garrett and Dennis Chambers at Iridium, the Crimea and Brando Skirts at Pete's Candy Store, Bill Malchow and the Go Cup All Stars at the Rodeo Bar, the Mingus Big Band at Blue Smoke, the Damned at the Blender Theater, and a final night at the Knitting Factory, which will be closing its doors after a blowout curated by Akron/Family with Deerhoof, Dirty Proejctors, Deer Tick, Megafaun, and others.
Riff's Rants & Raves: Art & Literature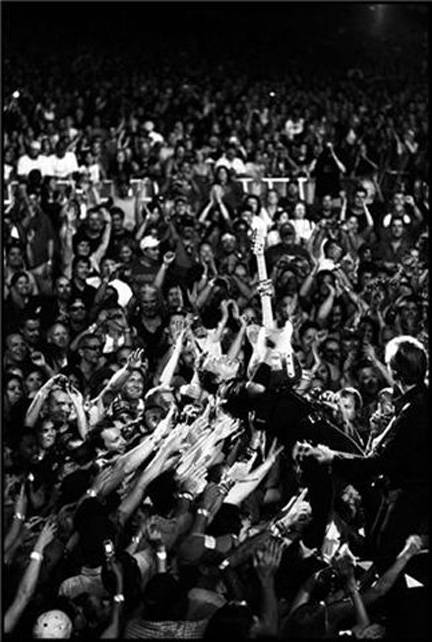 © 2008 by Danny Clinch
Danny Clinch, "Bruce Springsteen, Milwaukee, WI, 2008," silver gelatin
DANNY CLINCH
Morrison Hotel Gallery, Bowery
313 Bowery at Bleecker St.
Tuesdays — Sundays through December 31
Admission: free
212-677-2253
http://www.morrisonhotelgallery.com
Rock-and-roll photographer Danny Clinch, who works in Hell's Kitchen and lives on the Jersey Shore, has spent the last fifteen years taking photos, primarily in black and white, of such iconic performers as Johnny Cash, Lucinda Williams, Neil Young, Joan Jett, Tupac Shakur, Radiohead, Michael Stipe, and James Brown as well as such relatively newer acts as My Morning Jacket, Norah Jones, and Kanye West. Clinch often captures his subjects in private moments of reflection that are as revealing as they are subtle. Jeff Tweedy sits quietly on a landing, playing his guitar next to two bright windows. Only Jay Z's head is visible as he pauses in deep contemplation in a darkened studio. The sun casts a glow around Ani DiFranco on a New York rooftop. The Beastie Boys form a silly circle backstage in Los Angeles. Eddie Vedder stands alone with an acoustic guitar over his shoulder in an empty, ancient Italian amphitheater. Patti Smith clutches a vinyl copy of John Coltrane's A LOVE SUPREME in a record shop. A doo-rag'd Eminem takes notes at a studio console. Tom Waits takes aim with a toy gun while riding a merry-go-round. Jimmy Cliff is caught in silhouette inside a Central Park tunnel. Dave Matthews accepts a kiss from Trey Anastasio in a New York City restaurant. Bob Dylan has his feet up, reading Spanish-language classifieds. And there are several shots of Bruce Springsteen, including one in which the Boss is being held aloft by the crowd at a 2008 show in Milwaukee. (Clinch was nominated for a Best Long-Form Video Grammy for his work on Springsteen's DEVILS & DUST CD/DVD.)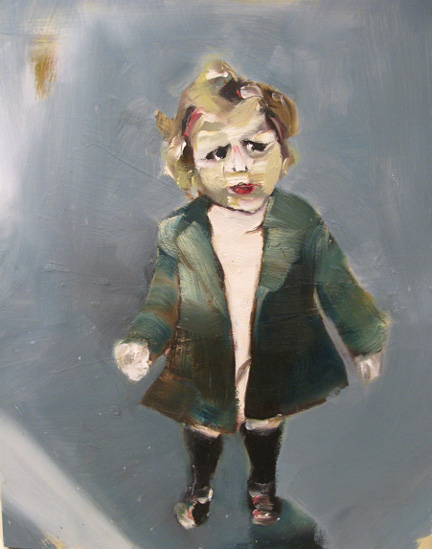 Courtesy the artist and Bowman Studio
Melora Griffis, "Morphanelle," oil on wood panel
THE BEAST IN ME
Bowman / Bloom Gallery
95 East Seventh St. between First Ave. & Ave. A
Friday — Sunday 2:00 — 6:00
Through January 11
203-952-9025 / 917-860-9869
Artists let their inner beasts out in this group show at the Bowman / Bloom Gallery in the East Village. Among those holding nothing back are Tom Burckhardt, Kembra Pfahler, Lisa Bowman, Melora Griffis, Toxic, Richard Hell, and others.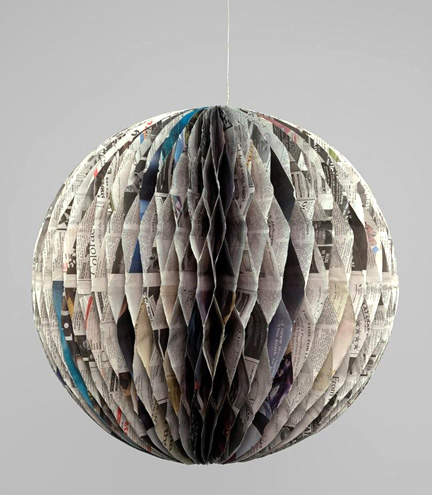 Courtesy the artist
Virginia Poundstone, "Sunday, October 5th, 2008," Sunday New York Times, 2008
WITHOUT WALLS
Museum 52
95 Rivington St.
Wednesday — Saturday 11:00 am — 6:00 pm
Through January 17
Admission: free
212-228-3090
Museum 52 kicks off its second year on Rivington St. with a group show in which fifty sculptors were asked to create works that were two feet high, one foot wide, and one foot deep and could not touch the walls. Among the artists participating in the exhibit are Lucky DeBellevue, Matthew Day Jackson, Jon Kessler, Virginia Poundstone, and Dustin Yellin.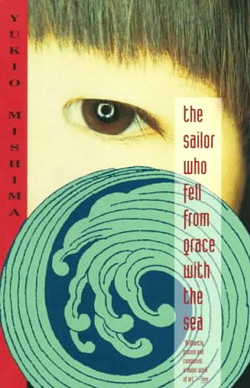 THE SAILOR WHO FELL FROM GRACE WITH THE SEA by Yukio Mishima (Vintage, $13.95)

In post-WWII Japan, thirteen-year-old Noboru lives with his widowed mother, Fusako, who runs a business selling European imports. Locked in his room every night, Noboru often watches his mother through a hole in the wall as she performs her evening rituals, including gently perfuming her naked body. But when she brings a man home for the first time since the death of her husband five years earlier and takes him to bed, Noboru is both intrigued and horrified. "Fathers and teachers, by virtue of being fathers and teachers, were guilty of a grievous sin," the boy believes. "Therefore," Mishima writes, "his own father's death, when he was eight, had been a happy incident, something to be proud of." When the man, a sailor named Ryuji, starts spending more time with Fusako and considers leaving the sea behind, Noburu is outraged by his heresy and brings charges against him in his small but potentially very dangerous group of friends. THE SAILOR WHO FELL FROM GRACE WITH THE SEA is one of Mishima's breezier novels, often young-adult-like, but that doesn't make it any less dark or fascinating. He writes about the inherent dichotomy between life and death, summer and winter, day and night, childhood and adulthood with a compelling matter-of-factness that echoes his own tortured life. The book was turned into a well-known 1976 film directed by Lewis John Carlino and starring Kris Kristofferson, Sarah Miles, and Jonathan Kahn, with the story moved from Japan to England.

All contents copyright 2008 by Mark Rifkin and twi-ny. All rights reserved. Contents may not be reprinted without written permission. Please note that events, dates, and prices are subject to change.
Send all comments, suggestions, reviews, and questions to mark.rifkin@twi-ny.com.
Please note that some e-mail clients may wrap links, so be sure to enter them fully into your browser.
To subscribe to this list, please e-mail the administrator at admin@twi-ny.com with the word Subscribe in the Subject line; be sure to ask for back issues, which are free as well. To unsubscribe from this list, please think it over twice before e-mailing the same address. Please let us know what you didn't like about this forum and we'll do our best to correct it in the future -- if we agree with you. If you would like to see something covered in a future issue, please let us know. Without you, there is no need for us to exist.


twi-ny top two dozen (or so)
weekly reminders & special events
CHARLES DICKENS'S A CHRISTMAS CAROL
The Morgan Library & Museum, McKim Building
225 Madison Ave. at 36th St.
Admission: $12
212-685-0008
http://www.themorgan.org/public
Through Sunday, January 4 Original leather-bound manuscript of holiday classic by Charles Dickens, including revisions and deleted text; admission is free on Friday, December 7 & 14, after 6:30, when there will be holiday music performed by singers from the Mannes College of Music
A LITERARY CHRISTMAS MISCELLANY FROM THE BERG COLLECTION
Humanities and Social Sciences Library
Enda Barnes Salomon Room, third floor
Fifth Ave. at 42nd St.
Closed December 7 & 25 and January 1
Admission: free
Through Sunday, January 4 Display including the prompt copy of A CHRISTMAS CAROL that Charles Dickens used at public readings as well as Christmas books, letters, and greetings by James Joyce, Sean O'Casey, T. S. Eliot, Jack Kerouac, e.e. cummings, and Maurice Sendak
AIMEE MANN'S CHRISTMAS SHOW
Nokia Theater Times Square
1515 Broadway at 44th St.
Tickets: $37.50-$150
212-930-1950
Thursday, December 18 Third annual holiday celebration, with Paul F. Tompkins, Morgan Murphy, Nellie McKay, and Grant Lee Phillips, 7:00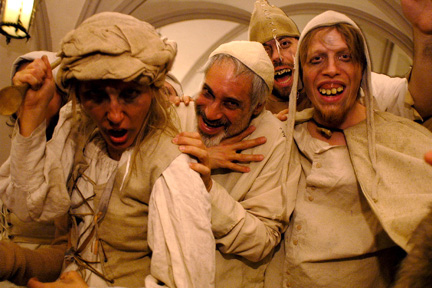 Theatre Group Dzieci celebrates FOOLS MASS at various city churches
FOOLS MASS
Multiple venues
Suggested donation: $15
718-638-6037
Thursday, December 18
through
Sunday, December 21 Theatre Group Dzieci presents the tenth anniversary of its signature piece, featuring comic buffoonery and audience participation, choral singing and chants, set in medieval times, December 18 at 7:00 at Union Theological Seminary in the Lapman Chapel (3041 Broadway at 121st St.), December 19 at 7:00 at St. John St. Matthew-Emanuel Lutheran Church (283 Prospect Ave. between Fifth & Sixth Sts.), December 20 at 7:00 at John Street Church (44 John St.), December 21 at 11:00 am at the Cell Theatre (338 West 23rd St.), and December 21 at 7:00 in St. Ansgar's Chapel at the Cathedral Church of St. John the Divine (1047 Amsterdam Ave.)
TRADICIONES LATINAS EN NAVIDAD 2008
Queens Museum of Art, New York City Building
Flushing Meadows Corona Park
December 18-23
Suggested donation: $5
718-592-9700
Thursday, December 18 Peru, Guatemala, and Chile, 5:00 — 9:00
Friday, December 19 Cuba and Puerto Rico, 5:00 — 9:00
Saturday, December 20 España and Ecuador, 5:00 — 9:00
Sunday, December 21 Republica Dominicana, 5:00 — 9:00
Monday, December 22 México, 5:00 — 9:30
Tuesday, December 23 Colombia and Latinos in the United States, 12 noon — 6:00 pm
CHRISTMAS AT THE CATHEDRAL
The Cathedral Church of St. John the Divine
1047 Amsterdam Ave. at 112th St.
212-316-7540
Thursday, December 18, 8:00
Friday, December 19, 8:00
and
Saturday, December 20, 2:00 & 8:00 Paul Winter's twenty-ninth annual Winter Solstice Celebrations, with Renato Braz, Theresa Thomason, Paul McCandless, and the Paul Winter Consort, $35-$75
Sunday, December 21 A Baroque Christmas: Ballads, Carols, Noels & Villancicos, featuring Early Music New York performing anonymous English broadsides and works by Charpentier, Praetorius, Salazar, and Gagliano, $40, 3:00
Thursday, December 25 A Baroque Christmas: Ballads, Carols, Noels & Villancicos, featuring Early Music New York performing anonymous English broadsides and works by Charpentier, Praetorius, Salazar, and Gagliano, $40, 3:00 & 8:00
Wednesday, December 31 New Year's Eve Concert for Peace, with opera singer Lauren Flanigan, conductor Glen Barton Cortese, and host Harry Smith, some advance tickets sold, all other seats free on a first-come, first-served basis, 7:00
CAROLING AT THE MORGAN
The Morgan Library & Museum
225 Madison Ave. at 36th St.
Admission: free
212-685-0008
Friday, December 19 Holiday songs throughout the museum, performed by singers from the Mannes College — the New School for Music, 6:30 - 8:30
DR. HORRIBLE'S SING-ALONG BLOG
Paley Center
25 West 52nd St. between Fifth & Sixth Aves.
Admission: $10
212-621-6800
Friday, December 19 Screening of Joss Whedon's Internet hit, starring Neil Patrick Harris, 7:30
DFA HOLIDAY PARTY
(le) poisson rouge
150 Bleecker St.
Tickets: $5
212-505-fish
http://www.myspace.com/lepoissonrougenyc
Friday, December 19 James Murphy, Pat Mahoney, the Juan Maclean, Shit Robot, Matt Cash, Invisible Conga People, 10:00
CHAOS & CANDY 7: FULL FATHOM FIESTA
Abrons Arts Center
466 Grand St. at Pitt St.
Tickets: $20
212-352-3101
Friday, December 19
and
Saturday, December 20 Seventh annual theatrical extravaganza from Adam Dugas featuring the S.S. St. Nicholas, 8:30
WINTER SUN: A FESTIVAL OF NEW ARTS AND TRADITION
Ukrainian Institute of America
2 East 79th St. between Fifth & Madison Aves.
Tickets: $15 Friday, $25 Saturday, $30 both days
212-475-6474
http://www.brama.com/yara/koliada-08.html
http://www.ukrainianinstitute.org
Friday, December 19
through
Sunday, December 21 Yara Arts Group presentation, with live music, art exhibition, video, site-specific installations, workshops, a gala concert, and more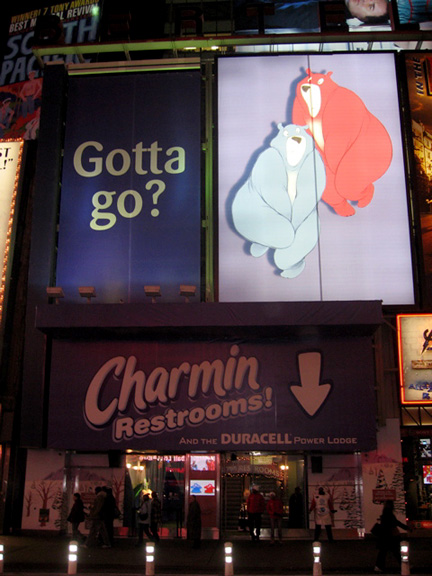 twi-ny/mdr
Charmin and Duracell team up for all those who must go in Times Square
CHRISTMAS IN LITTLE ITALY
Mulberry St. between Canal & Broome Sts.
Weekends December 6-21
Fridays & Saturdays 11:00 am — 10:00 pm
Sundays 11:00 am — 8:00 pm
Admission: free
212-302-0551
http://www.littleitalynyconline.com
Saturday, December 20 Second annual East Meets West Christmas Parade, 2:00
CHRISTMAS IN RICHMOND TOWN
Historic Richmond Town
441 Clarke Avenue at Arthur Kill Road, Staten Island
S74 bus from Staten Island Ferry
718-351-1611
http://www.historicrichmondtown.org
Saturday, December 20 Candlelight Tours, with music, food, and holiday sounds, illuminated by candles, oil lamps, and hearth, adults $22, children under twelve $10, prepaid reservations required at 718-351-1611 ext281
A CHARLIE BROWN CHRISTMAS
B.B. King Blues Club & Grill
237 West 42nd St. between Seventh & Eighth Aves.
Tickets: $45-$50
212-997-4144
Saturday, December 20 The David Benoit Quartet, 7:30 & 10:00

MARTY GOETZ: PSALM ENCHANTED EVENING
Multiple venues
Admission: free
Saturday, December 20 Hanukkah-Christmas Concert, Congregation Sha'ar Adonai, 2 West 64th St., 11:00 am
Sunday, December 21 Hanukkah-Christmas Concert, Calvary Baptist Church, 123 West 57th St., 6:00
HOME FOR THE HOLIDAYS
Various locations in Central Park
Admission: free unless otherwise noted
Saturday, December 20 Hanukkah Menorah-Making, Belvedere Castle, 12 noon — 3:00
Sunday, December 21
and
Tuesday, December 23 Santa Claus Is Coming to the Castle, Belvedere Castle, 11:00 am — 1:00 pm
SCROOGE & MARLEY: A READING
Trinity Church
74 Trinity Pl., second floor
Admission: free
212-602-0800
http://www.trinitywallstreet.org
Sunday, December 21 Theater at Trinity presents the annual reading of Israel Horvitz's A CHRISTMAS CAROL: SCROOGE AND MARLEY, 1:00
RIVERSIDE CHRISTMAS CONCERT
Riverside Church
490 Riverside Dr. between 120th & 122nd Sts.
Tickets: $10-$25
212-870-6784
http://www.theriversidechurchny.org
Sunday, December 21 Candlelight Carol Festival, with the Riverside Choir, Soloists, and Instrumentalists, the Riverside Chamber Singers, the Riverside Ringers, the Riverside Inspirational Choir, and the Children's Choir, the Nave, 3:30 & 6:00
HOLIDAY CONCERT 2008
Performing Arts Theater at Queensborough Community College
222-05 56th Ave., Bayside
Tickets: $20-$25
718-460-0726
Sunday, December 21 The Oratorio Society of Queens and the Orchestral Arts Ensemble of Queens perform Christmas and Chanukah songs, directed by Maestro David Close, 4:00
THE AMERICAN CHRISTMAS CAROL IN CONCERT
Carnegie Hall, Weill Recital Hall
57th St. at Seventh Ave.
Tickets: $45-$60
212-247-7800
Sunday, December 21 Holiday program featuring the Tim Janis Ensemble, with guest artists the Unsung Heroes of 9/11, the Brooklyn Contemporary Chorus, the Creation Band, Jim Cole, and Chandler Lutz, 8:30
SPIN THE DREIDEL TOURNAMENT
Fontana's
105 Eldridge St. between Broome & Grand Sts.
Donation: $10 (includes gold dreidel and chocolate gelt)
212-334-6740
Sunday, December 21 Second annual competition, with proceeds benefiting the Survivor Mitzvah Project, hors d'oeuvres at 7:00, Hanukkah Gone Metal with Gods of Fire at 7:30, and MLD tournament and party at 8:30
AVRAM PENGAS AND THE NOGA GROUP WITH MAGDA FISHMAN
World Financial Center Winter Garden
225 Vesey St.
Admission: free
212-945-2600
http://www.worldfinancialcenter.com
Monday, December 22 Middle Eastern music as part of the World Financial Center's Holiday 2008 programming, 12:30
THE LASCIVIOUS BIDDIES HOLIDAY SHOW
Joe's Pub
425 Lafayette St. between East Fourth St. & Astor Pl.
Tickets: $15
212-539-8778
Monday, December 22 Holiday show by all-female cocktail pop quartet, 7:30
A HOLIDAY CELEBRATION
Jazz at Lincoln Center
Dizzy's Club Coca-Cola
Broadway at 60th St.
Tickets: $20-$35
212-721-6500
http://www.jazzatlincolncenter.org
Monday, December 22
through
Sunday, December 28 Barbara Carroll Trio with Ken Peplowski
CHRIS BOTTI
Blue Note
131 West Third St.
Tickets: table $65, bar $40
212-475-8592
Tuesday, December 23
through
Sunday, January 4 Special two-week residency featuring trumpeter Chris Botti, guitarist Mark Whitfield, pianist Billy Childs, bassist Robert Hurst, and drummer Billy Kilson, 8:00 & 10:30
DAVID BROZA, VOCALS & GUITAR
92nd St. Y, Kaufmann Concert Hall
1395 Lexington Ave. at 92nd St.
Tickets: $50-$65
212-415-5500
Wednesday, December 24 David Broza will be playing with saxophonist Jay Beckenstein, guitarist Julio Fernandez, bassist Francisco Centeno, and percussionist Cyro Baptista, 8:00
A VERY JEWISH CHRISTMAS
Gotham Comedy Club
208 West 23rd St. between Seventh & Eighth Aves.
Cover charge: $30, with two-drink minimum
212-367-9000
http://www.gothamcomedyclub.com
Wednesday, December 24 With Jon Fisch, Marion Grodin, Todd Barry, Gregg Rogell, and more, 7:30 & 9:30
JEWLTIDE 6
Brooklyn Southpaw
125 Fifth Ave., Brooklyn
Tickets: $10-$15
718-230-0236
Wednesday, December 24 JDub Records presents DeLeon plus special guests, 8:00
BEN HOLMES' COINCIDENTAL NIGHT OF KLEZMER
Barbes
376 Ninth St. at Sixth Ave., Park Slope
347-422-0248
Admission: $10 per set
Wednesday, December 24 Klezmer party with trumpeter Ben Holmes, bassist Reuben Radding, accordionist Patrick Farrel, viola player Karen Waltuch, and vocalist Judith Berkson, 8:00 & 10:00
THE BALL 2008
Multiple venues
Jewniversal Pass: $25-$30
Wednesday, December 24 Annual Christmas Eve party for Jewish singles, at Hiro Ballroom, Marquee, the Park, the Cabanas, and Earth, with DJs, dancing, lounging, aerialists, outdoor garden, outdoor roofdeck, penthouse, and more, 8:00 pm — 4:00 am
MATZO BALL
Capitale
130 Bowery
Tickets: $30
Wednesday, December 24 Annual Christmas Eve party for Jewish singles, 9:00 pm — 2:00 am
MATZO BALL NIGHT
SideBar
118 East 15th St. at Irving Pl.
Admission: $40
Wednesday, December 24 Oy! to the World: A Night of Vodka & Latkes, 9:00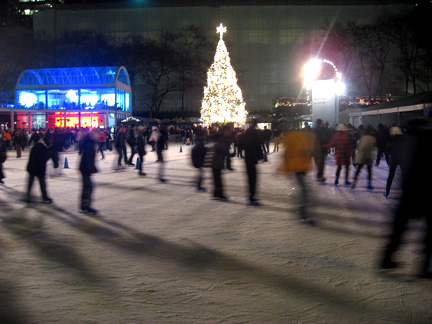 twi-ny/mdr
Skaters make their way across the Pond during holiday season in Bryant Park
OPEN SING: ZAMIR CHORAL FOUNDATION
JCC in Manhattan
334 Amsterdam Ave. at 76th St.
Tickets: $18
646-505-5708
Thursday, December 25 Audience members are invited to sing along with the Zamir Choral Foundation, featuring conductors Mathew Lazar, Natasha Hirschhorn, and Zalmen Mlotek, 1:00
CHALLAH-LUJAHL: THE TRADITION CONTINUES
Museum of Jewish Heritage — A Living Memorial to the Holocaust
36 Battery Pl.
Tickets: $35
646-437-4200
Thursday, December 25 Annual holiday celebration with Joshua Nelson, Frank London, Cissy Houston, and the Kosher Gospel Choir, 1:00 & 3:30
CHINESE & A MOVIE: MONTY PYTHON DOUBLE FEATURE
92YTribeca
200 Hudson St. at Canal St.
Tickets: $25-$30
212-415-5500
Thursday, December 25 All-you-can-eat Chinese buffet and screenings of MONTY PYTHON'S LIFE OF BRIAN and MONTY PYTHON AND THE HOLY GRAIL, 2:00
A JEW-EL TIDE CHRISTMAS
Highline Ballroom
431 West 16th St. between Ninth & Tenth Aves.
Tickets: $19.77-$20
212-414-5994
http://www.highlineballroom.com
Thursday, December 25 The Kosher King Jelvis presents a special holiday program, taking care of bupkiss, 8:00
BASEMENT BHANGRA: X-MAS EDITION
SOBs
204 Varick St. at West Houston St.
Admission: $13-$16
212-252-2392
http://www.basementbhangra.com
Thursday, December 25 Special holiday edition of Basement Bhangra, with DJ Rekha, DJ Eddie Stats, and DJ Concerned, with visuals by Fictive, 10:00
HANUKKAH AT CJH
Center for Jewish History
15 West 16th St. between Fifth & Sixth Aves.
212-294-6160
Thursday, December 25 YUM presents Hanukkah Spectacular, with Ramon Tasat and the Fiesta Sepharad Ensemble playing songs in Hebrew, Italian, Ladino, and Aramaic, $12, 1:30 & 3:00
Sunday, December 28 AJHS and ASJM present Annual Hanukkah Concert, with Eleanor Reissa and her band and stories by Isaiah Sheffer, followed by a reception and candle lighting, $25, 3:00
HOLIDAY FAMILY FILMS
Metropolitan Museum of Art
Bonnie J. Sacerdote Lecture Hall, Uris Center for Education
1000 Fifth Ave. at 82nd St.
Free with museum admission
212-650-2833
Friday, December 26 ZEA, FOOD ON HAND, THE GREAT FROST, and A CHILD'S CHRISTMAS IN WALES, 12:30
JEWMONGOUS
The Cutting Room
19 West 24th St. between Sixth Ave. & Broadway
Tickets: $20
212-691-1900
http://www.thecuttingroomnyc.com
Friday, December 26 Jewmongous continues to tour behind his debut album, 2007's TALLER THAN JESUS, with Cindy Kaplan and Tammy Faye Starlite, 7:30 & 9:30
FESTIVAL OF LIGHT
Brooklyn Children's Museum
145 Brooklyn Ave. at St. Marks Ave.
Free with museum admission of $7.50
718-735-4400
Friday, December 26
through
Wednesday, December 31 Six days of programming celebrating holiday-themed light and culture, 10:00 am
WINTER AT THE FARMHOUSE
Dyckman Farmhouse Museum
4881 Broadway at 204th St.
Admission: free but reservations recommended
212-304-9422
http://www.dyckmanfarmhouse.org
Saturday, December 27 Annual candlelight tour of nineteenth-century farmhouse, 4:00
STILL THE RIVER FLOWS: CELEBRATIONS OF WINTER RITUAL FROM THE CARPATHIANS
La MaMa Experimental Theatre
74A East Fourth St.
Tickets: $10-$25
212-475-7710
Friday, December 26
through
Sunday, December 28 Traditional winter music, including the Koliada ritual and a shadow puppet play, with Yara Arts Group, singers and musicians from the Carpathian Mountains, Ivan Zelenchuk, Julian Kytasty, Antonio Ermilenko, Natalia Honcharenko, Svitanya, the Eastern European Women's Vocal Ensemble, photographs by Alexander Khantaev, videos by Andrea Odezynska, and others,
KWANZAA CELEBRATION: REGENERATION NIGHTS
Apollo Theater
253 West 125th St. between Adam Clayton Powell & Frederick Douglass Blvds.
Tickets: $15
212-531-5305
Saturday, December 27 Holiday concert featuring Forces of Nature Dance Theatre & Friends, with special guest artist the Music of DK Dyson, and the Songs of Solomon Inspirational Ensemble, hosted by Hazelle Goodman, 7:30
A BAROQUE CHRISTMAS
St. Bartholomew's Church
109 East 50th St. at Park Ave.
Tickets: $20-$40
212-378-0200
Saturday, December 27 Seventeenth & eighteenth-century Italian and Spanish baroque music, performed by ARTEK, 8:00
DICK SWIZZLE'S SUDDEN DEATH GAME & HOLIDAY KARAOKE SPECTACULAR
Union Hall
702 Union St. at Fifth Ave.
Tickets: $5 to play, free to watch
212-220-1460
Saturday, December 27 Special holiday celebration, 8:00
KWANZAA FEST 2008
American Museum of Natural History
Free with museum admission
Sunday, December 28 All-day celebration begins with African marketplace
Sunday, December 28 Umoja (Unity), Kujichagulia (Self-determination), and Ujima (Collective Work / Responsibility): A Call for Unity, We Dance!, We Sing!, We Celebrate Life!, with African drummers, the LaRocque Bey School of Dance Theatre, the New York African Chorus Ensemble, and Balance Dance Theatre, 1:00 — 3:00
Sunday, December 28 Nia (Purpose), Kuumba (Creativity), and Imani (Faith): We Are…! and Believe in Yourself, with the Allen Liturgical Dance Ministry of the Greater Allen Cathedral and Vy Higginsen's Gospel for Teen Choirs, 3:30 — 5:00
SHALOM SESAME: CHANUKAH
Sony Wonder Technology Lab
Sony Atrium
56th St. at Madison Ave.
Admission: free
212-833-8100
http://www.sonywondertechlab.com
Sunday, December 28 Children's screening of SHALOM SESAME: CHANUKAH, starring Jeremy Miller, Levana White, and Moishe Oofnik, 1:00 & 2:00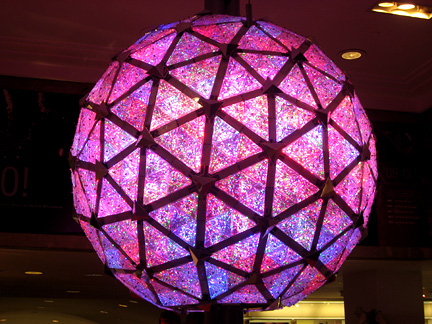 twi-ny/mdr
The Times Square ball is ready to drop to announce 2009
VOODOO CULTURE CLASH NEW YEAR'S EVE
LOVE
179 MacDougal St. at West Eighth St.
Tickets: $25 in advance, $35 at the door
http://www.geminiandscorpio.com
Wednesday, December 31 A Night of Witchy Devilry for Globetrotting Vagabonds, with GlobeSonic Sound System's Fabian Alsultany, Parashakti & the GateKeepers, Subatomic Sound System, Eclectic Method, Painteresse Elyzabeth, and more, costumes strongly suggested, 8:00 pm - 4:00 am
NEW YEAR'S EVE MIDNIGHT YOGA BASH
Laughing Lotus Yoga Center
59 West 19th St. between Fifth & Sixth Aves., third floor
Admission: $35
212-414-2903
Wednesday, December 31 Favorite tunes, favorite poses, cake, a sparkling toast, and the joy of breath and movement, with Edward, 10:00 pm - 12 midnight
MIDNIGHT RUN
Central Park
Naumburg Bandshell and Mall Concert Ground
Midpark from 66th to 72nd Sts.,
Registration: $35-$45
212-860-4455
Wednesday, December 31 DJ music and dancing, 10:00; costume parade and contest, 11:00; fireworks countdown and four-mile race, 12 midnight
NEW YEAR'S EVE FIREWORKS
Prospect Park, Grand Army Plaza
Flatbush Ave., Eastern Parkway, and Prospect Park West
Admission: free
718-965-8999
Monday, December 31 Annual fireworks show, 12 midnight
COME CALLING: NEW YEAR'S DAY OPEN HOUSE
Merchant's House Museum
29 East Fourth St. between Lafayette St. and the Bowery
Admission: $20
212-777-1089
Thursday, January 1 Pay respect to your neighbors as you celebrate the New Year elegantly with oysters, traditional hors d'oeuvres and cookies, champagne, punch, Old Dutch New Year's cakes, and more, 3:00 — 6:00
NEW YEAR'S DAY MARATHON READING
St. Mark's Church-in-the-Bowery
Second Ave. and Tenth St.
Admission: $8
212-674-0910
Thursday, January 1 Thirty-fifth annual event, with Anselm Berrigan, Edmund Berrigan, Justin Bond, Donna Brook, Steve Cannon, Yoshiko Chuma, Geoffrey Cruickshank-Hagenbuckle, Steve Dalachinsky, Mónica de la Torre, Steve Earle, Foamola, Merry Fortune, John Giorno, Sylvia Gorelick, John S. Hall, Bob Holman, Lenny Kaye, David Kirschenbaum, Taylor Mead, Jonas Mekas, Dael Orlandersmith, Wanda Phipps, Kristin Prevallet, Lee Ranaldo, Citizen Reno, Elliott Sharpe, Hal Sirowitz, Patti Smith, Anne Waldman, Emily XYZ, and dozens more, 2:00
POETRY MARATHON
Bowery Poetry Club
308 Bowery at Bleecker St.
Admission: free
212-614-0505
Thursday, January 1 Fifteenth annual Alternative New Year's Day Spoken Word / Performance Extravaganza, with more than 150 participants, 2:00 pm — 12 midnight
CHARLES BUKOWSKI TRIBUTE READING
Cornelia Street Café
29 Cornelia St.
Admission: $7 (includes house drink)
212-989-9319
http://www.corneliastreetcafe.com
Friday, January 2 Second annual event, presented as part of the Son of a Pony Reading Series, with video, prizes, and readings by Peter Carlaftes, Angelo Verga, Ryan Buynak, and others, hosted by Kat Georges; attendees are encouraged to bring their own favorite Bukowski poem or share an original poem inspired by him, 6:00
DANCING WITH THE ARTS: FIRST SATURDAYS
Brooklyn Museum of Art
200 Eastern Parkway
Free after 5:00 (*requires advance free tickets available an hour or two before showtime)
1st fans membership: $20 per year
718-638-5000
Saturday, January 3 Music: Flamenco Latino, the Rubin Pavilion, first floor, 5:00 — 7:00
Saturday, January 3 Community Dance Circle: Contra Dance with Carl Levine, Beaux-Arts Court, third floor, 6:00
* Saturday, January 3 Dance: From Stage to Page, featuring Lori Belilove & the Isadora Duncan Dance Company and Sabrina Jones, author of ISADORA DUNCAN: A GRAPHIC BIOGRAPHY, followed by a Q&A and book signing, Iris and B. Gerald Cantor Auditorium, third floor, 6:30
* Saturday, January 3 Hands-On Art, Education Division, New Year's fabric sash or belt, first floor, 6:30-8:30
Saturday, January 3 Young Voices Gallery Talk, "American Identities," fifth Floor, 7:00
Saturday, January 3 Community Dance Circle, with Ifetayo Cultural Arts, Beaux-Arts Court, third floor, 6:00
Saturday, January 3 Young Voices Gallery Talk, "The Black List Project," Hall of the Americas, first floor, 8:00
* Saturday, January 3 Film: GHOSTCATCHING (Bill T. Jones, Paul Kaiser & Shelley Eshkar, 1999) and MAD HOT BALLROOM (Marilyn Agrelo, 2005), Iris and B. Gerald Cantor Auditorium, third floor, 8:30
Saturday, January 3 Book Club: SWING by Rupert Holmes, Schapiro Wing, fifth Floor, 9:00
Saturday, January 3 Dance Party: Brooklyn Winter Ball, Beaux-Arts Court, third floor, 9:00 — 11:00
Saturday, January 3 Chicago House Dance Party, with DJ Quentin Harris, Martha A. and Robert S. Rubin Pavilion, first floor, 9:00 — 11:00
CHINESE NEW YEAR SPECTACULAR
Brooklyn Academy of Music
Howard Gilman Opera House
30 Lafayette Ave. between Ashland Pl. & St. Felix St.
Tickets: $48-$108
718-636-4100 / 877-683-show
Saturday, January 3
and
Sunday, January 4 Annual Chinese New Year's celebration featuring live music, dance, and more, presented by Divine Performing Arts
GOTHAM WIND SYMPHONY: NEW YEAR, NEW MUSIC
Symphony Space, Peter Jay Sharpe Theatre
2537 Broadway at 95th St.
Tickets: $21-$31
212-349-0330
Monday, January 5 Bob Brookmeyer, John Hollenbeck, Mike Holober, and James Chirillo welcome in the new year with four world-premiere compositions, 8:00
THREE KINGS DAY PARADE
El Museo del Barrio
1230 Fifth Ave. at 104th St.
Admission: free
212-831-7272
Tuesday, January 6 Thirty-second annual event, with live music, costumes, floats, and more, 11:00 am