Twi-ny, This Week in New York
CONEY ISLAND / ASTROLAND PARK
1000 Surf Ave. at West 10th St.
Beach admission: free
Astroland Pay One Price: $25.99
718-372-0275
Astroland Park in Coney Island will be closing for the season on September 4, with its fate up in the air as Thor Equities gets zoning regulations in order and decides just what to build and what to get rid of. While the Cyclone and the Wonder Wheel are landmarked and cannot be torn down, we might have to say goodbye to such stalwarts as Dante's Inferno, the Break Dancer, the Tilt-a-Whirl, the Pirate Ship, the numerous arcade games, and so many more longtime favorites. Also on the chopping block are the Coney Island Museum and Sideshows by the Seashore. "The city's latest plans to 'save' Coney Island — the land of dreams and schemes at the southern tip of Brooklyn — once again threatens to destroy it," Dick Zigun, the "permanently unelected Mayor of Coney Island," wrote in a Daily News op-ed on June 19. "If the city gets its way, it won't be Coney Island anymore. And if we lose Coney Island now, it will be gone forever. That is why I oppose this plan."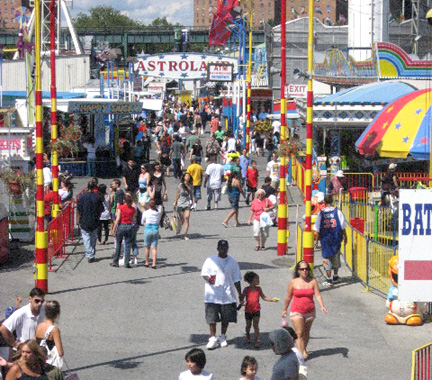 twi-ny/mdr
Crowds might be seeing Astroland Park for the last time

Over the years, Coney Island has seen its ups and downs and comings and goings, from the days of Luna Park, Dreamland, and Steeplechase Park to its time as a luxury resort and a run-down, drug-addled dangerous location. But its seen a resurgence recently, as such annual events as the Mermaid Parade and the Siren Festival get more popular every summer and fans flock to see the Brooklyn Cyclones play in KeySpan Park. And of course, on New Year's Day the crazy Polar Bear Club jumps into the freezing cold ocean to jump-start the next 365 days. Since there's no telling what Coney Island will look like after September 7, make sure to get down there and enjoy its many strange charms or you'll regret it.
COPS VS. COPS
Coney Island, Brooklyn
Beer Island, Twelfth St.
Thursday, August 28, $20, 8:00
This summer Beer Island opened up on the site where the miniature golf course used to be. An expanse of sand and umbrellas, Beer Island is also home to special events, including the one taking place on August 28. Members of the New York Police Department will be duking it out in a temporary ring for Fight Night. Tickets are twenty bucks to watch the city's Finest get the gloves on. (In July, the cops took on the firefighters here.) The bar by the entrance will be serving beer, wine, and various cocktails, and the barbecue truck in the back will be portioning out its fare as well.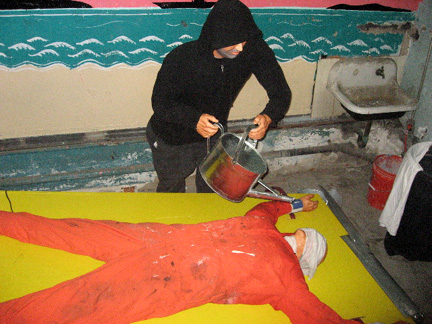 twi-ny/mdr
Steve Powers's "Waterfront Thrill Ride" exhibit is next to Sideshow
BURLESQUE AT THE BEACH 2008
Sideshows by the Seashore
Surf Ave. & West 12th St.
Coney Island, Brooklyn
Friday night burlesque & vaudeville shows at 10:00, followed by fireworks
Thursday night Bawdville at the Beach shows at 10:00
Through September 21
Admission: $10 at the door
Thursday, August 28 Hollywood Bitches, with Sequinette as Baby Jane, Iggy as Marlene Dietrich, Violet Temper as Joan Crawford, Jessica Rabbit, Chris Tanner, Lance Cruce, Robert Appleton, and Brandon Olsen, Glenn Marla and Bebe, and Kipps Ahoy, hosted by World Famous *BOB*
Friday, August 29 Freaks, Geeks & Rockabilly, with the Tunnel Rockets, Matters Squidling, Betty Bloomerz, the Amazing Barry Silver, Jelly Boy the Clown, Stormy, and more, $15
Friday, September 5 Miss Coney Island Pageant
Friday, September 12 Tigger's Man-a-Teast
Friday, September 19 This or That! America's favorite burlesque gameshow
CONEY ISLAND SATURDAY NIGHT FILM SERIES
Coney Island Museum
1208 Surf Ave. between Stillwell Ave. and West 12th St.
Saturday nights at 8:30 through September 13
Tickets $5, including free popcorn
718-372-5159
Saturday, August 30 LITTLE FUGITIVE (Joanna Lipper, 2006), followed by a Q&A with writer-director Joanna Lipper
Saturday, September 6 CARNIVAL OF BLOOD (Leonard Kirtman, 1970)
Saturday, September 13 THE CABINET OF DR. CALIGARI (Robert Wiene, 1920), with live piano accompaniment by Liz Magnes
Nature Art Exhibits of the Week
twi-ny/mdr
Maurizio Cattelan, "Untitled," taxidermied horse skin and fiberglass resin, 2007
AFTER NATURE
New Museum of Contemporary Art
235 Bowery at Prince St.
Through September 21
Admission: $12 (free Thursdays from 7:00 to 10:00)
212-219-1222
In September 1903, Paul Cézanne wrote to Charles Camoin, "What shall I wish you: good studies made after nature, that is the best thing." Comprising more than ninety multimedia works spread across three floors, "After Nature," on view at the New Museum of Contemporary Art through September 21, uses as its jumping-off point Warner Herzog's 1991 film LESSONS OF DARKNESS, in which the iconoclastic German director turned the destruction of Kuwait following the Gulf war into a postapocalyptic nightmare of the future through shattering yet beautiful imagery. Many of the pieces in the exhibit are "made after nature" in both Cézanne's sense as well as Herzog's, examining a world in which nature has been turned upside down and inside out, both friend and foe. Kudzu swallows houses in William Christenberry's digital pigment prints. Light emanating from Jenny Holzer's LCD screens keeps a hanging grafted fern alive in Allora and Calzadilla's "Growth (Survival)." Pawel Althamer creates disturbing sculptural self-portraits using grass, straw, animal skin and intestines, hemp fiber, wood, and hair.
In Diego Perrone's photographs, a naked man does yoga poses next to huge holes in the ground. Robert Kusmirowski re-creates the Unabomber's cabin as some kind of idyllic, Walden-esque structure, but visitors cannot go inside the shuttered home. And Zoe Leonard brings a large tree indoors, held up by steel; although it's quite a sight, its bare branches and metal braces evoke the death of nature (as well as the cover of W. G. Sebald's poetry book AFTER NATURE, which serves as the catalog for the show, wrapped by an essay by Director of Special Exhibitions Massimiliano Gioni and featuring small photos of many of the works on display interleaved throughout its pages.) The exhibit's central image is Maurizio Cattelan's sculpture of a full-size horse's body sticking out high on a wall, its head unseen, as if a reverse hunter's trophy — or a part of nature trapped in between two worlds. Or it could be seen as even more subversive, the horse sticking its rear end out in people's faces, ready to show them what he thinks about how man has laid waste to so much of the natural and organic environment. Interestingly, "After Nature" is one of several current exhibitions — and the most successful — in Manhattan that bring the outside world inside, contrasting humanity's continuing relationship with nature and technology. Some of the others are examined below.
twi-ny/mdr
Nick Cave, "Soundsuit," mixed media, 2008
IMPLANT
UBS Gallery
1285 Sixth Ave. between 51st & 52nd Sts.
Monday — Friday 8:00 am — 6:00 pm through October 31
Admission: free
212-713-2885
Organized in conjunction with the Horticultural Society of New York, "Implant" looks at the ever-changing relationship between plants and people, between nature and humanity, through a mixed bag of multimedia works that are intriguing and baffling, involving and confounding. Flora appears to be growing out of a person in Nick Cave's "Soundsuit," while a tree is wearing a dress in Robert Gober's untitled drawing. Pipilotti Rist's "Unfrisiert mit Schneeblumen" consists of side-by-side photographs comparing the back of a woman's head to flowers flowing in the breeze. Visitors are invited to go inside Peter Coffin's "Untitled (Greenhouse)" to listen to or play music. For "Uprooted (New York Street Tree)," Katie Holten, who is also represented in the Chelsea Art Museum's current "Nature Interrupted" exhibit (see below), has suspended tree roots (made of ink on molded newspaper, with wires and monofilament) from the ceiling, hanging above like clouds. And Caw + Ng's "Botanica Automata" computer-generated installation reacts to the ambient sound in the lobby gallery. But for every engaging piece, there is another that doesn't seem to belong, not feeling organic to its surroundings. The exhibition also features works by such notable artists as Ellsworth Kelly, Tacita Dean, William Eggleston, Carol Bove, Jane Freilicher, Gabriel Orozco, and Felix Gonzalez-Torres.
twi-ny/mdr
Soazic Guezennec, "Olues Acides (Acid Rain)," acrylic on nylon mounted on umbrellas, thread of nylon and silicone, mirrors, 2008
NATURE INTERRUPTED
Chelsea Art Museum
556 West 22nd St. at Eleventh Ave.
Through September 6
Closed Sunday & Monday
Admission: $8
212-255-0719
The environment is on the run in "Nature Interrupted," as a small group of artists depict the ongoing struggle between plants and machines, beauty and waste, verdant life and dark death. In Soazic Guezennec's "Plues Acides," acid rain pours through umbrellas and a tent covered in African imagery. Katie Holten, who also has a piece in the UBS Gallery's current "Implant" show (see above), has placed a black tree, constructed from recycled materials, in the corner of a white room, its trunk and branches covered with gaffer tape. Pressed flowers slowly decompose in a pair of glass doors in Anya Gallaccio's "Like We've Never Met." Obsolete computers and television sets litter a barren landscape in two paintings by Jon Elliott. Joe Brumit finds a creative use for the plastic bags that will long outlive humanity. And an escalator runs up into a green forest in Chus Garcia-Fraile's "Protected Zone" photograph and video, technology cutting a path through nature. But the natural world is still putting up a fight, draping an abandoned U.S. Capitol in moss in Alexis Rockman's "Capitol Hill" and swallowing homes in intense waves in Helen Brough's Deluge series.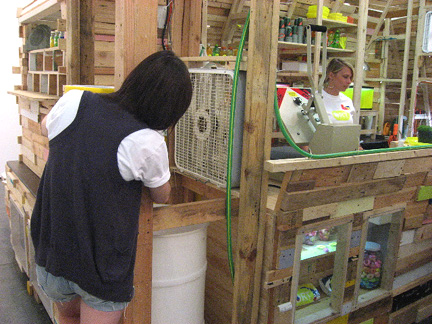 twi-ny/mdr
Phoebe Washburn, "Tickle the Sh*tstem," mixed media, 2008
TICKLE THE SH*TSTEM
Zach Feuer Gallery
530 West 24th St. between Tenth & Eleventh Aves.
Tuesday - Saturday 10:00 am - 6:00 pm through October 4
Admission: free
212-989-7700
Born in Poughkeepsie and based in New York City, Phoebe Washburn recycles found material into large, complicated — and often hard to figure out — installations, such as "While Enhancing a Diminishing Deep Down Thirst, the Juice Broke Loose," which was part of this year's Whitney Biennial. In her new site-specific piece at the Zach Feuer Gallery in Chelsea, she has brought together the natural world and branded materialism through a Rube Goldberg-like method of production to create and recycle elements into keepsakes that are available for purchase, including silkscreened T-shirts (with the logo ORT on each one), pencils (which say "This Is Not a Pencil" on them), and colored urchin shells; visitors can also buy various drinks, with the price going down later in the day. (We had a cup of Gatorade — which figured prominently in her biennial piece — for twenty-five cents.) As you wind around the gallery, you'll come upon a small water pool, a washing machine, golf balls in fish tanks, and other oddities, all leading to the centerpiece, an open wood shed where you can buy the merchandise; it also serves as a working greenhouse.
Thursday, September 4 Opening reception, 6:00 — 8:00
Saturday, September 20 Artist talk with Phoebe Washburn, 2:00
Art & Literature Festival of the Week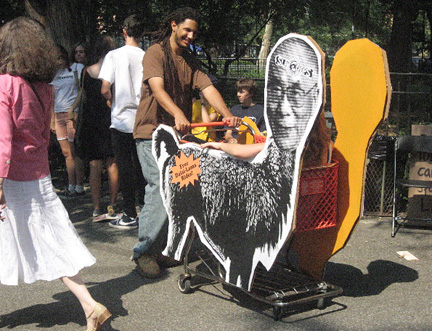 twi-ny/mdr
You never know what you're going to see at the Howl! Festival
HOWL! FESTIVAL 2008
Tompkins Square Park
Between Seventh & Tenth Sts. and Aves. A & B
September 5-11
Admission: park events free, some others have cover charges
Allen Ginsberg's poem "Howl!," written for Carl Solomon, begins, "I saw the best minds of my generation destroyed by madness, starving hysterical naked." The Howl! Festival, running in and around Tompkins Square Park from September 5 through September 11, will have all that and more (we hope) at its sort-of-annual gathering of writers, artists, readers, musicians, poets, gourmands, dogs, art lovers, anarchists, and other area denizens. The park will surround itself in murals being painted as the festival goes on; there will also be special events at the Bowery Poetry Club, St. Mark's Church-in-the-Bowery, the Sixth and Avenue B Garden, and other nearby locations.
Friday, September 5 Allen Ginsberg Poetry Festival, with Shappy and Moonshine, Collapisble Rodrigo Toscano, POEZ, D. Kimm and Alexisa O´Hare, the Nuyorican All-Stars, Todd Colby, MC Celena Glenn, Erica Kaufman and Simone White, the Mayhem Poets, Jade Sharma, Tsaurah Litzky, Marguerite Van Cook, Billy Lamont, John Farris, and Bob Holman, free, Tompkins Square Park South Stage
Friday, September 5 DANSPACE: A Tribute to John Cage, St. Mark's Church in-the-Bowery, 131 East Tenth St. at Second Ave., 7:30
Friday, September 5 HOWL! Opening Night Party, Bowery Poetry Club, 308 Bowery, 8:00 pm — 12 midnight
Saturday, September 6 Night of New Orleans, with screening of HOPE IN NEW ORLEANS, live jazz music, and Creole cuisine, Middle Collegiate Church, 50 East Seventh St. at Second Ave., fundraiser benefiting the All Healers Mental Health Alliance, $55, 7:00
Saturday, September 6
through
Wednesday, September 10 Cockettes, the Thrill Peddlers, works by Charles Busch, and Blue Hour Variety Acts, the Theatres at 45 Bleecker St., 9:00
Saturday, September 6 New Century's Annual Howl Fest Event: Survival in the 21th Century, with Lauren O'Brien (7:00), Michael McHugh with Roger Blanc (8:00), Kristen Graves (9:00), Lisa Bianco (10:00), and special guest (11:00), National Underground, 130-159 East Houston St. between Allen and Eldridge Sts.
Saturday, September 6 Artists Reception for Working Space 08 (exhibition runs through September 20), with Jane Benson, Megan Cump, Miwa Koizumi, Julie Ann Mann, Alice O'Malley, Mary Valverde, Claire Watkins, and Heeseop Yoon, Cuchifritos gallery/project space, inside the Essex Street Market between Delancey & Rivington Sts., 4:00 - 6:00
Saturday, September 6 Fifth annual Avant Garde(n), featuring the Street-Sachs Family Film Show, with works by Maya Deren, Rose Lawder, Robert Breer, Marie Menken, Joyce Wieland, Lynne Sachs, and Mark Street, Sixth and Avenue B Garden, free, dusk
Sunday, September 7 New Orleans Meets the East Village, with Bang the Drum for the Brothers (1:40), Middle Collegiate Choir (2:00), Blonde Boy Wilson with On Davis (2:30), Timbila (2:50), Reverend Billy (3:10), Trachtenberg Family (3:30), Ari Up's Slits (4:20), the Cockettes and the Thrill Peddlers (5:00), and the House of Bon Vivant's Ball House Tribute (6:00), Tompkins Square Park South Stage, free
Sunday, September 7 Urban Word (12 noon), Hip Hop Howl: A NY Minute with AJA Monet, Kased, Ref Star and Patty Dukes, Homeboy Sandman, Nola Darling, K-Swift, Zeps, and Jade (2:00), Crosby (3:00), Miz Metro (3:20), Emily King (3:40), the Crayons (4:00), the Sediment Club (4:20), No One and the Somebodies (4:40), Fiasco (5:00), and Count Down Silent Rave (5:30), Tompkins Square Park North Stage
Sunday, September 7 Early Punk—New Wave Films, Bowery Poetry Club, 308 Bowery, 10:00
Sunday, September 7 George Wallace and friends, including Andrew Boerum, Rob Plath, Amy Ouzoonian, Steve Dalachinsky, Annie Christain, and Lauren O'Brien with Gary Pickard, Greenwich Village Bistro, 13 Carmine St., 4:30
Sunday, September 7 LOW LIFE CITY: HOWLUCINATON, with MCs Paul Alexander and Hattie Hathaway, Joey Arias and Basil Twist, Dirty Martini and Miss Delirium Tremens, Jonny Porkpie and Nasty Canast, Drag Divinity Sweetie, Vangeline Theater, Duelling Bankheads, World Famous *BOB*, Amber Ray, Adam Joseph as the Irish Tenor, the Pixie Harlots, Heather Litteer and Tigger, and more, Tompkins Square Park South Stage, 5:00 - 7:00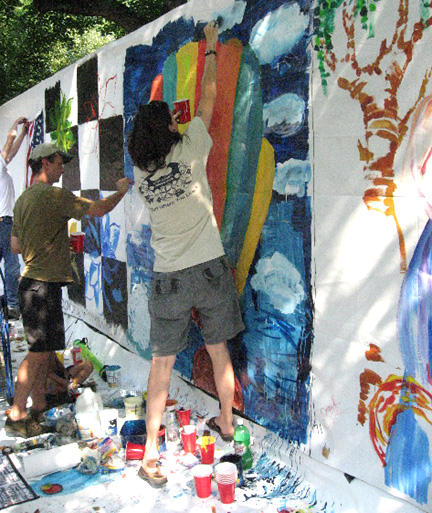 twi-ny/mdr
Muralists line up around the park for Howl! Festival

Monday, September 8 Love!, open mic hosted by Nathaniel Siegel, Bowery Poetry Club, 308 Bowery, 12 noon — 6:00
Monday, September 8 Poets in the Streets, Bowery Poetry Club, 308 Bowery, 6:00
Monday, September 8 Poets in the Streets, St. Mark's Church in-the-Bowery, 131 East Tenth St. at Second Ave., followed by reception, 8:00
Saturday, September 8
and
Sunday, September 9 Carl Solomon Book Expo, featuring small press comics, graphic novels, literature, and poetry all day, Tompkins Square Park
Saturday, September 8
and
Sunday, September 9 Children's activities, including mural painting and sculpture and drawing classes, Tompkins Square Park
Tuesday, September 9 Fine/ Visual Art Panel moderated by Tom Murrin, followed by Performance Art Panel with Brian Butterick, Bob Holman, Joseph Melillo, Uzi Parnes, Gary Ray, Lori E. Seid, Lucy Sexton, and Martha Wilson, St. Mark's Church in-the-Bowery, 131 East Tenth St. at Second Ave., 6:00
Tuesday, September 9 Hip Hop Howl! A New York Minute, fashion and music hosted by Crosmopolitan and Miz Metro, Element, 225 East Houston St.
Tuesday, September 9 Jazz Jam Benefit, Clemente Soto Vélez Cultural Center, 107 Suffolk St.
Wednesday, September 10 Howl! Panels 2008, including a literature panel with Daniel Pinchbeck, "Inside Out: Self and Society in Comic Art" with with Josh Neufeld, David A. Berona, James Romberger, and more, moderated by Calvin Reid, a poetry panel with John Farris moderated by Bob Holman, and a jazz panel with Matthew Ship, Sabir Mateen, and Steve Dalachinsky (followed by a live performance at 10:30), St. Mark's Church in-the-Bowery, 131 East Tenth St. at Second Ave.,
Wednesday, September 10 Howl Spins! with DB, Junior Sanchez, DJ Reset, Stretch Armstrong, and more, Element, 225 East Houston St., $5, 10:00 pm — 4:00 am
Thursday, September 11 A Memorial Celebration with Joy in Our History; We Remain to Remember; the Unknown Artist, St. Mark's Church in-the-Bowery, 131 East Tenth St. at Second Ave., 5:30
In the Neighborhood
FILMS IN TOMPKINS
Tompkins Square Park
Between Seventh & Tenth Sts. and Aves. A & B
Alternate Wednesdays, gates open at 6:00, films begin at sundown
Admission: free
Wednesday, September 10 THE TOY (Richard Donner, 1982)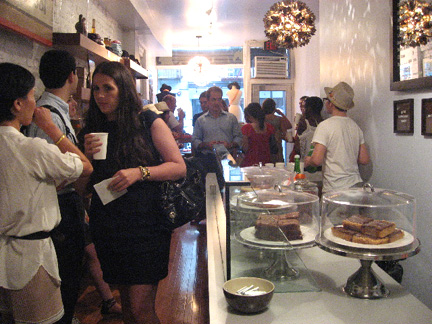 twi-ny/mdr
Alison Nelson's Chocolate Bar has moved into East Village
ALISON NELSON'S CHOCOLATE BAR
127 East Seventh St. between First Ave. & Ave. A
Open daily from 8:30 am to 10:00 or 11:00
Admission: free
212-366-1541
For nearly six years, the Chocolate Bar served its unique offerings at 48 Eighth Ave. by Jane St., but rent increases forced it to move to a new location, in the East Village near Tompkins Square Park. Run by cofounder Alison Nelson (former partner Matt Lewis now operates Baked in Red Hook), the new digs are to die for — well, actually, the space is next door to a funeral home. Be that as it may, the Chocolate Bar, which also has locations on Long Beach Island and in Henri Bendel, continues to breathe new life into chocolate with its fine array of graffiti bars (including dark rum with a design by CRASH, caramel by CRIME 79, and s'mores by Dondi White), small stencil bars, truffles and bon bons, artist bars (dark salty pretzel by Friends with You, dark almond by Gary Baseman, and dark caffetto by Nathan Jurevicius), clusters, retro bars (caramel apple, key lime pie, and malted milk), the Atomic Collection (like the Elvis, made from banana marshmallows and peanut butter), the super 71% super dark bar with cacao nibs, and hot and cold chocolate teas and other chocolate drinks. The Chocolate Bar also continues to brand itself, selling a line of bags, pins, hats, shirts, and ties — as well as its very own illustrated book of recipes.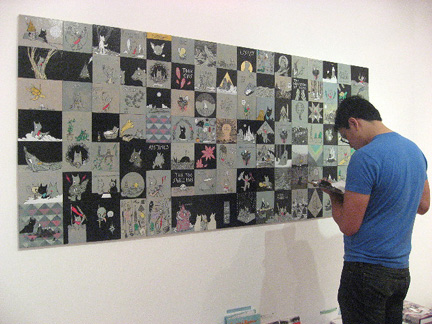 twi-ny/mdr
Deth Sun readies things for new show at Giant Robot
"I SEE IT ALL": WORK BY DETH SUN
Giant Robot Gallery
437 East Ninth St. between First Ave. & Ave. A
Through September 10
Admission: free
212-674-grny
On his Web site, Oakland-based artist Deth Sun writes, "I'm not really good with words." Well, fortunately for us, he is good with his hands, creating more than a hundred acrylic-on-scrap-wood pieces for his latest show at Giant Robot. Priced between $120 and $400, the works feature his usual cast of characters, including bizarre cats, rabbits, birds, and other unusual creatures in fairy-tale-like scenes that you won't remember from your childhood. Some of our favorites are "In Water with Knife," "Sitting in the Woods," and "Eating Sandwich," which are like panels from a nonexistent comic book. Sun brings a sweet charm to his panels, even the ones that involve coffins, skulls, and a different kind of Grim Reaper. A stop at Giant Robot, which also has a vast array of art books, graphic novels, and fun toys, is a great complement to the Howl! Festival. We're not sure what Allen Ginsberg would have thought of the place, but we love it, and you will too.
Ticket Alerts of the Week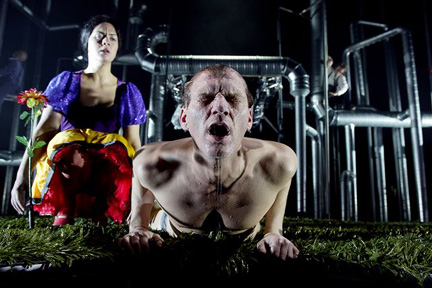 Eddi
Gisli Orn Gardarsson reimagines WOYZECK at BAM Next Wave Festival
2008 NEXT WAVE FESTIVAL
Brooklyn Academy of Music
BAM Howard Gilman Opera House (HG)
30 Lafayette Ave. between Ashland Pl. & St. Felix St.
BAM Harvey Theater (HT)
651 Fulton Street between Ashland Pl. & Rockwell Pl.
September 30 — December 14
Individual tickets: $20-$85, available starting September 2
718-636-4100
Every year BAM executive producer Joseph Melillo searches the globe looking for the most fascinating new works in dance, music, and theater. His travels result in the Next Wave Festival, which brings to Brooklyn challenging, cutting-edge programs that thrill and amaze. This year's selections include Bill T. Jones's A QUARELING PAIR, in which the Bill T. Jones/Arnie Dance Company reimagines a Jane Bowles puppet play; Gisli Orn Gardarsson's experimental version of WOYZECK, with music by Nick Cave and Warren Ellis; Aurelien Bory's philosophical, acrobatic LES SEPT PLANCHES DE LA RUSE (THE SEVEN BOARDS OF SKILL); Edouard Lock's dark fairy-tale dance, AMJAD, performed by La La La Human Steps; and Ivo Van Hove's multimedia production of John Cassavetes's OPENING NIGHT. U Theatre, whose SOUND OF OCEAN graced the BAM stages in 2003, is back with the intriguing MEETING WITH BODHISATTVA; Pina Bausch's endlessly entertaining Tanztheater Wuppertal returns with BAMBOO BLUES; and violinist Daniel Bernard Roumain (DBR) is back with with DARWIN'S MEDITATION FOR THE PEOPLE OF LINCOLN. Other Next Wave participants include Spanish musician Huecco, the string quartet ETHEL, Bangarra Dance Theatre, the Builders Association, Urban Bush Women with Compagnie Jant-Bi, and others. BAM is one of the best deals in the city; tickets for every show start at $20-$25, and various packages can save you up to fifty percent. Next Wave Thursdays is particularly enticing, offering eight productions on Thursday nights for as low as $99 total. Tickets go on sale to the public on September 2; a bunch of these will go fast, especially BAMBOO BLUES, so don't hesitate.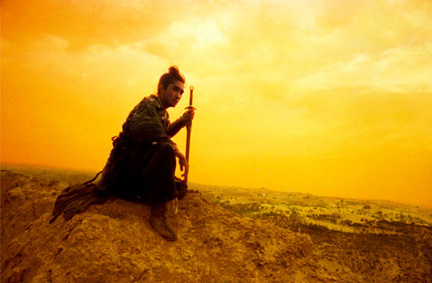 Wong Kar-wai revisits the old days in ASHES OF TIME REDUX
46th NEW YORK FILM FESTIVAL
Walter Reade Theater / Avery Fisher Hall / Ziegfeld Theater
September 26 — October 12
The Film Society of Lincoln Center has just announced its lineup for the forty-sixth annual New York Film Festival, and, as usual, it's an eclectic collection of American and foreign films from longtime regulars as well as a host of newcomers. Laurent Cantet's THE CLASS opens the festival, with Clint Eastwood's CHANGELING the Centerpiece and Darren Aronofsky's THE WRESTLER the Closing Night selection. We're glad to see Jia Zhangke back again with 24 CITY, Wong Kar-wai revisiting the old days with ASHES OF TIME REDUX, Steven Soderbergh returning with CHE, Jerzy Skolimowski's highly anticipated FOUR NIGHTS WITH ANNA, Mike Leigh's HAPPY-GO-LUCKY, Agnès Jaoui's LET IT RAIN, and Hong Sang-soo's NIGHT AND DAY. J-horror director Kiyoshi Kurosawa makes the cut with TOKYO SONATA, visual artist Steve McQueen brings along his Cannes hit, HUNGER, and Matteo Garrone takes on the mob in GOMORRAH. This year's Spotlight Retrospective focuses on Max Ophuls's classic LOLA MONTÈS, while Views from the Avant-Garde features works by Ken Jacobs, Bruce Conner, Ernie Gehr, and Josef von Sternberg. Zhangke, Aronofsky, and Arnaud Desplechin (A CHRISTMAS TALE) will participate in film dialogues, and the sidebar looks at the career of Nagisa Oshima. Because of all the construction around Lincoln Center, the majority of films will be screened at the Ziegfeld Theater, giving it a different kind of grand feel. Tickets for the general public go on sale Sunday, September 7, at Avery Fisher Hall and Monday, September 8, online. As always, they go quick, so don't delay.
Sports Event of the Week
twi-ny/mdr
Shea Stadium will be just a memory after 2008 season
SHEA STADIUM
123-01 Roosevelt Ave.
Flushing, Queens
718-507-METS
Sure, we know a lot of you out there have fond memories of Yankee Stadium, which faces the wrecking ball after the 2008 season, but as Mets fans, we hold Shea Stadium dear to our hearts. Or should we say, what happened inside the ballpark, if not the structure itself. We recall buying dollar flags from veterans in the parking lot on July 4 doubleheaders, watching Ed Kranepool homering foul, then fair against the Pirates, and being yelled at by an unstable hot-dog man for no reason. We were there on October 27, 1986, when the Mets won the World Series after the most improbable Game Six ever. We suffered through the Frazier, Torre, and Bamberger years of the 1970s and 1980s, with another dry spell following the healthy Davey Johnson era, as mediocre managers Bud Harrelson, Jeff Toborg, and Dallas Green couldn't find a winning record. We cheered on Agee, Jones, and Seaver, Theodore, Hahn, and Swan, El Cid, Keith, and Doc, Lenny, Rusty, and Randy, as the Mets broke our heart so many times — especially last season's dreadful downfall. But we come back with newfound hopes and dreams every April, envisioning an October run, this time to be led by Wright, Reyes, and Murphy, Delgado, Beltran, and Pelfrey, rookies and Hall of Famers, has-beens, will-bes, and never-was's.
Built by Praeger-Kavanagh-Waterbury for $28.5 million, Shea Stadium has been home to the Mets since 1964. After the Giants and Dodgers left for the West Coast, New York City needed another baseball team, so Mayor Robert Wagner hired lawyer William Alfred Shea to find one. (The stadium ended up being named after Shea instead of being called Flushing Meadow Park.) The result was the Metropolitans, who played their first home game on the grass field on April 17, 1964, against the Pittsburgh Pirates. (The Pirates won, 4-3, with the first hit being delivered by a young Buc named Willie Stargell. The Mets' first hit came off the bat of Tim Harkness.) The Mets' colors were a tribute to the dearly departed Brooklyn Dodgers (blue) and the New York Giants (orange); in fact, the stadium itself was christened with water from the Harlem River (for the Polo Grounds) and the Gowanus Canal (for Ebbets Field). Bill Shea died in 1991 at the age of eighty-four and is buried in Trinity Church Cemetery in Lower Manhattan. The new Mets stadium, which will be named Citi Field, is under construction right next to the current Shea; the facade is modeled after Ebbets Field, and just inside the entrance will be the Jackie Robinson Rotunda. While Shea can hold up to 57,333 fans, Citi Field's capacity will be 45,000, including standing room, so it will be a lot harder to get good seats, especially if the Mets hold on to first place and make the playoffs.
Friday, September 5 Dog Day Central Garden & Pet, vs. Philadelphia
Saturday, September 6 T-Shirt Day, vs. Philadelphia
Sunday, September 7 Santana Bobblehead, kids twelve and under, and Mr. Met Dash, vs. Philadelphia
Sunday, September 14 Stadium Tin and Mr. Met Dash, vs. Atlanta
Friday, September 26 Pennant Day, vs. Florida
Sunday, September 28 Shea Goodbye Ticket & Lanyard, vs. Florida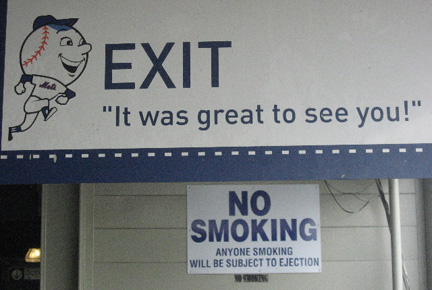 twi-ny/mdr
Mr. Met helps fans say goodbye to Shea Stadium
SHEA GOODBYE: 45 YEARS OF AMAZIN'
92nd St. Y
1395 Lexington Ave. at 92nd St.
Sunday, September 7, $27, 8:00
212-415-5500
Keith Hernandez, Darryl Strawberry, and Ron Darling, who were teammates on the 1986 World Champion New York Mets, will bid a fond farewell to Shea Stadium in a panel discussion moderated by Mets announcer Gary Cohen. Hernandez and Darling, who do color commentary for the team's television broadcasts, are known to speak their mind, especially Keith, who doesn't care about rattling a few cages, so it should be a treat listening to the two of them talk about the old ballpark, now in its last season. Strawberry played for both the Mets and the Yankees, so look for him to discuss the last year of the House that Ruth Built as well. The event will also offer a sneak peek at the upcoming SNY documentary SHEA GOODBYE: 45 YEARS OF AMAZIN' and will be followed by a separate singles mixer.
Riff's Rants & Raves: Film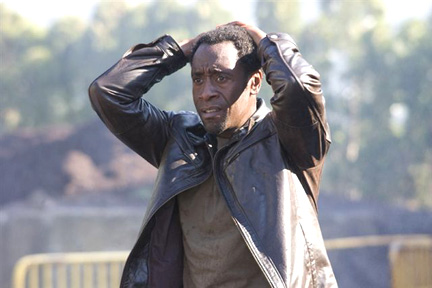 Don Cheadle is abandoned by a bad script in second half of TRAITOR
TRAITOR (Jeffrey Nachmanoff, 2008)
Opens Wednesday, August 27
http://www.traitor-themovie.com

The first half of TRAITOR is a taut, gripping thriller in which the mysterious Samir Horn (Don Cheadle), an English-speaking Muslim born in Darfur, is selling explosives to terrorists and soon becomes part of a cell planning a major attack in the United States. FBI agents Roy Clayton (Guy Pearce) and Max Archer (Neal McDonough) are hot on his trail, trying to track the elusive Horn down before he can cause any more damage and kill yet more innocent people. But then the plot takes a not-unexpected but highly lamentable turn, and the movie, directed by first-timer Jeffrey Nachmanoff, heads downhill fast as it reaches its ridiculous and laughable ending. Produced by David Hoberman, Cheadle, and actor / writer / comedian Steve Martin, TRAITOR betrays the audience; it had the potential to be something challenging and unusual, but instead it is just the same old, same old.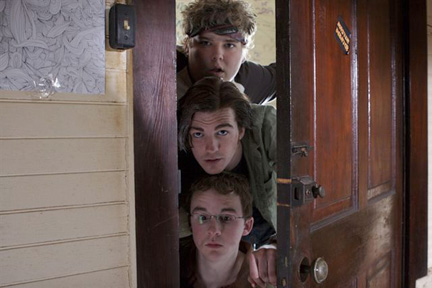 Three stooges go to college early in crude flick
COLLEGE (Deb Hagan, 2008)
Opens Friday, August 29
http://www.college-themovie.com

There's nothing wrong about being lewd, rude, and crude. Hey, some of our favorite movies are lewd, rude, and crude. But Deb Hagan goes way overboard in the dreadfully humorless COLLEGE. This insipid little film about three high school kids spending a weekend at a college hoping to find lots of babes and brews wants to be a cross between ANIMAL HOUSE, HAROLD AND KUMAR GO TO WHITE CASTLE, and REVENGE OF THE NERDS but fails every single test — it's not sexy, funny, or charming in the least. The characters and plot are a regurgitated embarrassment, and the putrid set pieces, often involving puke, puke, and more puke, are painful to watch. And the less said about the body-shot scene, the better. This is one college no one should attend.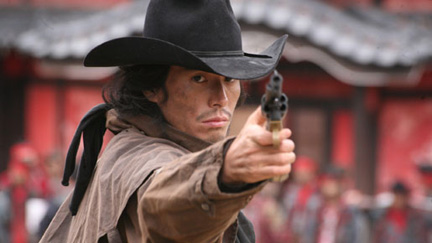 Hideaki Ito stars as the Man with No Name in Miike spoof/homage
SUKIYAKI WESTERN DJANGO (Takashi Miike, 2007)
Landmark Sunshine Cinema
143 East Houston St. between First & Second Aves.
Opens Friday, August 29
212-330-8182
http://www.landmarktheatres.com
http://www.city-cinemas.com/angelika.html

Takashi Miike, best known for such grisly films as AUDITION, ICHI THE KILLER, and the DEAD OR ALIVE series, joins forces with Quentin Tarantino in this riotous spoof of spaghetti Westerns. Based on Sergio Corbucci's 1966 flick DJANGO and with lots of Sergio Leone sprinkled in (especially A FISTFUL OF DOLLARS), SUKIYAKI WESTERN DJANGO follows the battle between the white Genji clan, led by Yoshitsune (Yusuke Iseya), and the red Heike clan, headed by Kiyomori (Koichi Sato). Caught in the middle is Shizuka, the Temptress (Yoshino Kimura), and the newly arrived Gunslinger (Hideaki Ito), who believes he can at last find the long-rumored treasure in the town of Yuda, which just might be in Nevada. Tarantino plays a strange gunman who is telling the tale as he sits in a hysterically fake set and is trying to enjoy a rare egg. The entire movie is filmed in English, with the majority of the actors speaking their lines phonetically, emphasizing the wrong words, resulting in yet more laughter. And veteran actress Kaori Momoi is a hoot as Bloody Benton.
EVERYBODY WANTS TO BE ITALIAN (Jason Todd Ipson, 2008)
Opens Friday, September 5
http://www.everybodywantstobeitalian.com
Set in Boston's North End, EVERYBODY WANTS TO BE ITALIAN, written and directed by Jason Todd Ipson (UNREST), is a low-budget romantic comedy with too many fits and starts before finally petering out. Jay Jablonski stars as Jake Bianski, a fishmonger who is obsessed with his ex-girlfriend, Isabella (Marisa Petroro) — even though she has moved on, now married with three children. His employees, Steve (John Kapelos), Gianluca (John Enos III), and Papa (Richard Libertini), involve themselves in every aspect of Jake's life, arguing among themselves about sex, love, and commitment while trying to find a new girl for him. They fix him up with Marisa Costa (Cerina Vincent), a single veterinarian who seems interested in Jake — until he won't stop talking about Isabella as if they are still together. As Jake and Marisa explore a platonic relationship, Isabella starts questioning her marriage, leading to a series of uncomfortable scenes and plot twists that detract from what was becoming a rather charming little film. Kapelos, Enos III, and the always great Libertini nearly save the day as the very funny Italian chorus, but Ipson eventually goes too far, losing control of the story.
BANGKOK DANGEROUS (Oxide Pang Chun & Danny Pang, 1999)
Available on DVD

The Pang Brothers' first feature film as a duo, BANGKOK DANGEROUS is a mediocre thriller starring Pawalit Mongkolpisit as Kong, a deaf-mute hit man partnered with the more experienced Jo (Pisek Intrakanchit), who is running out of gas killing people for money. When Kong, who lost his hearing as a child, meets the sweet Fon (Premsinee Ratanasopha) in a pharmacy, he becomes instantly enamored with her. He tries desperately to keep his job from her as their relationship grows, but everything spins wildly out of control when they are confronted by thieves in a park and some mob lowlifes brutally attack Aom (Patharawarin Timkul), Jo's girlfriend and the woman who gives Jo and Kong their assignments. The Pangs won the International Critics' Award at the 2000 Toronto International Film Festival for their slick style, although the movie has its ups and downs. Their next film, THE EYE (2002), starring Angelica Lee as a blind woman who regains her sight through an eye transplant, is far superior, although their 2004 sequel with Shu Qi is just plain awful. On September 5 the twin brothers Oxide and Danny, the Chinese/Thai equivalent of the Wachowski brothers, will release their English-language remake of BANGKOK DANGEROUS, starring Nicolas Cage. We don't even want to think about it…
In Theaters Now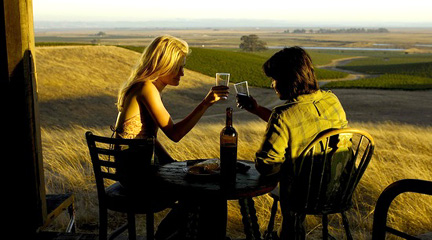 Sam and Gustavo share wine and more in BOTTLE SHOCK
BOTTLE SHOCK (Randall Miller, 2008)
Quad Cinema
34 West 13th St. between Fifth & Sixth Aves.
212-255-8800
http://www.bottleshockthemovie.com

In order to boost his failing business, snobby Brit Steven Spurrier (a delightful Alan Rickman) — whose only patron in his fancy Paris wine shop appears to be the garish American expatriate Maurice Cantavale (Dennis Farina), who never pays for his drinks — thinks up a tasting competition pitting the French wines he loves against the upstart vintages coming out of the Napa Valley. Spurrier heads to California to choose which wines to bring back to Paris for the event, but he is shocked to discover that some of the wineries are actually making wines that are more than palatable. He is especially intrigued by Chateau Montelena, run by the obstinate Jim Barrett (Bill Pullman) and his son, Bo (Chris Pine). Jim is a bitter perfectionist whose dedication comes with a chip on his shoulder that sabotages his chances for success and alienates the ones he loves, including his hippie surfer-dude son. Based on a true story, BOTTLE SHOCK is an enticing blend of Jonathan Nossiter's 2005 documentary, MONDOVINO, and Alexander Payne's 2004 hit SIDEWAYS. The complicated relationship between father and son lies at the heart of the story, and it rings true — at least partly because the real-life Jim and Bo served as consultants on the film. The supporting cast includes the always excellent Freddy Rodriguez as Gustavo Brambila, who works for Jim but dreams of making his own wine, and Rachael Taylor as Sam, a beautiful young intern who interests both Bo and Gustavo (and is one of the only major characters that were invented for the film). Featuring period music by the Doobie Brothers and other '70s bands, BOTTLE SHOCK is delightful from the very start, both sweet and spicy on the palate, with a charming finish that lingers on the tongue and in the heart.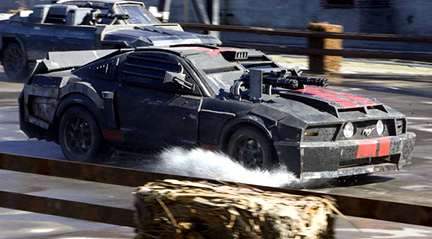 Things heat up in disappointing killer car race flick
DEATH RACE (Paul W. S. Anderson, 2008)

In 1975, director Paul Bartel and producer Roger Corman teamed up to make the fun camp cult classic DEATH RACE 2000, billed as a "cross country road wreck" and starring David Carradine and Sylvester Stallone. Now Paul W. S.Anderson — definitely not to be confused with Paul Thomas Anderson (BOOGIE NIGHTS, THERE WILL BE BLOOD) or Wes Anderson (RUSHMORE, THE ROYAL TENENBAUMS) — adds to his not-so-stellar resume (MORTAL KOMBAT, EVENT HORIZON, RESIDENT EVIL) with DEATH RACE, a macho remake that takes itself way too seriously. (Or considering Paul W. S. Anderson's history, maybe it's more of a big-screen version of the controversial DEATH RACE video game that followed the release of the original flick.) After being framed for the murder of his wife, Jensen Ames (Jason Statham) is sent to Terminal Island Prison, where death-row inmates participate in violent car races in which anything goes — and five victories earns freedom. Of course, the losers end up dead, being ripped apart in brutal crashes. The prison's evil warden (yes, Joan Allen, we're sorry to say) forces Jensen, a former racing champion, to take over the role of Frankenstein, a masked driver who is one victory away from winning his freedom. But "Machine Gun" Joe (Tyrese Gibson) is determined to defeat Frankie and get out first, as the world watches on pay-per-view. Even with a remarkably stupid and foul line uttered by Allen — which elicited gales of laughter at the screening we saw and is repeated at the end of the closing credits — DEATH RACE has no sense of humor whatsoever. It really is more like watching a video game than a movie, the same things happening over and over again, with no plot or character development. Even Ian McShane is wasted as Ames's chief mechanic. Someone should just flip the switch on this DEATH RACE and put it out of its — and our — misery.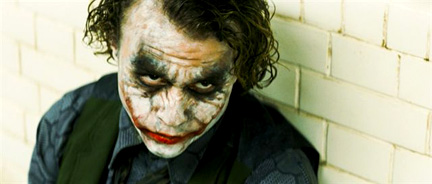 Heath Ledger is a scary scream in THE DARK KNIGHT
THE DARK KNIGHT (Christopher Nolan, 2008)
http://www.thedarkknight.warnerbros.com

Christopher Nolan's follow-up to his 2005 hit BATMAN BEGINS is one of the most brilliant superhero films ever made. Christian Bale is back as billionaire bachelor Bruce Wayne, who spends his evenings fighting crime in Gotham City, which is under siege, victim to a brutal crime spree led by the vicious Joker (Heath Ledger in a massive, spectacular performance). As the madman with the wild hair and evil clown face starts knocking off public officials, mob bosses, ordinary citizens, and even his own minions, Wayne is also beset by the blossoming relationship between Rachel Dawes (Maggie Gyllenhall), the woman he loves and who knows his secret, and the new DA, Harvey Dent (Aaron Eckhart), who has come into his high-profile job with both arms swinging, determined to make Gotham City safe. The Bat-Man is joined once again by his faithful butler, Alfred (Michael Caine), Wayne Industries exec Lucius Fox (Morgan Freeman), and police lieutenant Jim Gordon (Gary Oldman); the film also features Anthony Michael Hall as a television talk-show host who finds himself in danger, Eric Roberts as a smooth-talking gangster, and Cillian Murphy as Scarecrow in a brief cameo. THE DARK KNIGHT is a carefully constructed tale of good and evil, love and death, and everything in between, working as both a thrilling action movie as well as a psychoanalytic examination of what lurks deep in the soul. Although there are special effects aplenty, it is primarily a very intimate, personal film about one man's tortured existence. In the summer of the high-octane superhero flick (IRON MAN, THE INCREDIBLE HULK, HELLBOY II, HANCOCK), THE DARK KNIGHT towers above them all.
Ron Perlman is back to save the world as Mike Mignola's oddball hero
HELLBOY II: THE GOLDEN ARMY (Guillermo del Toro, 2008)
Regal E-Walk 13
247 West 42nd St. between Seventh & Eighth Aves.

Guillermo del Toro's sequel to his 2004 comic-book adventure begins with Professor Broom (John Hurt) reading a bedtime story to his "son," the young Hellboy (Montse Ribé), but it's really more of a warning. Years later, the fairy tale comes to life as Hellboy (Ron Perlman), a cigar-chomping, Baby Ruth-loving, wryly sarcastic superhero, battles Prince Nuada (Luke Goss), who is determined to reclaim his underworld throne and raise the unstoppable Golden Army in a bid to end humankind. Hellboy is once again joined by his girlfriend, fireball Liz Sherman (Selma Blair), alien fish stick Abe Sapien (Doug Jones, who also plays several other costumed characters), and the nervous head of the Bureau for Paranormal Research and Defense, Tom Manning (Jeffrey Tambor). But the government, concerned about Hellboy's refusal to follow orders, has sent him a new team leader, by-the-book gasbag Johann Kraus (played by John Alexander, voiced by FAMILY GUY creator Seth McFarlane). Despite some lapses in the plot — which borrows elements from STAR WARS, STAR TREK, RAIDERS OF THE LOST ARK, THE LORD OF THE RINGS, and even SHREK — HELLBOY II is actually better than the original, with more humor and, indeed, more tenderness. It also features the best use of a Barry Manilow song ever. And Perlman is a riot every step of the way.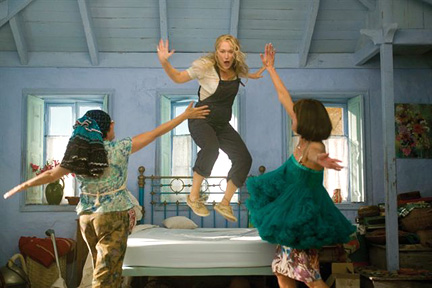 Meryl Streep jumps for joy as Broadway fave hits the big screen
MAMMA MIA!

Writer Catherine Johnson and director Phyllida Lloyd bring their Broadway smash, MAMMA MIA!, to the big screen, placing it firmly on the strong shoulders of Meryl Streep, who sings and dances away with the movie. Preparing for her wedding to Sky (Dominic Cooper), Sophie (Amanda Seyfried) finds her mother, Donna's (Streep), diary, detailing three brief romances she had the summer Sophie was conceived. Determined to find out which one is her true father and have him walk her down the aisle, Sophie secretly invites the three men — the rugged adventurer Bill (Stellan Skarsgard), the handsome architect Sam (Pierce Brosnan), and the goofy banker Harry (Colin Firth) — to the festivities, being held at the villa Donna runs on a small, beautiful Greek island. But when Donna suddenly comes upon her former lovers together in the goat house, she freaks out, demanding they leave immediately, despite Sophie's insistence that they stay for the wedding. In the meantime, Donna has reunited with her former backup singers, thrice-married debutante Tanya (Christine Baranski) and plucky cookbook author Rosie (Julie Walters), who talk about the good times as well as the bad.
As the wedding approaches, all of the main characters reexamine their lives and reconsider their future, singing and dancing their way through such classic ABBA songs as "The Name of the Game," "Take a Chance on Me," "Super Trouper," and "When All Is Said and Done." Inspired by Melvin Frank's 1968 film BUONA SERA, MRS. CAMPBELL, which starred Gina Lollabridgida as the mother and Phil Silvers, Peter Lawford, and Telly Savalas as her three former lovers, MAMMA MIA! is campy fun, primarily when Streep is on-screen. The subplots range from lame to predictable, and some of the bigger numbers, including "Voulez Vous," fall flat on their face, but Streep always brings the film back to life, whether she's bouncing on a bed during "Dancing Queen," standing on a mountain, looking out on the horizon while belting out "The Winner Takes It All," or holding back laughter as Brosnan does his best with "SOS." But be warned — love it or hate it, your head will be filled with ABBA songs for days to come. (And yes, those two guys are exactly who you think they are, ABBA cofounders Benny Anderson and Björn Ulvaeus, in small cameos.)
MAN ON WIRE (James Marsh, 2008)
Landmark Sunshine Cinema
143 East Houston St. between First & Second Aves.
212-330-8182
http://www.landmarktheatres.com

Winner of the Audience Award at the Sundance, Edinburgh, and Los Angeles Film Festivals, MAN ON WIRE is a thrilling examination of Philippe Petit's attempt to walk on a wire connecting the two towers of the World Trade Center. Using archival footage, home movies, still photos, black-and-white re-creations, and new interviews with all the primary characters, director James Marsh (THE KING, WISCONSIN DEATH TRIP) sets up MAN ON WIRE like a heist film as Petit and his cohorts discuss the detailed planning that went into the remarkable event, including getting the wires and cable to the top of the South Tower and hiding under a tarp as a security guard has a smoke right next to them. Petit, who had previously — and illegally — traversed Notre Dame Cathedral in Paris and the Sydney Harbour Bridge in Australia, had become immediately obsessed with the Twin Towers as soon as he learned they were being built; Marsh intercuts scenes of the construction of the WTC as Petit puts together the seemingly impossible caper, leading to his August 7, 1974, walk between the two towers, more than a quarter mile above the ground. Petit has a relationship with the World Trade Center unlike anyone else's; interestingly, Marsh and Petit do not so much as even hint at the destruction of the towers on September 11, 2001, a questionable decision that leaves a gap in the film. (They could have at least mentioned it in the end captions.) Still, MAN ON WIRE is an exhilarating documentary; even though you know that Petit survives, you'll be breathless as he balances high above Lower Manhattan, one tiny step from death.
ZDF / Maria Anna Tappeiner
Richard Serra gets serious in front of "The Matter of Time" in Bilbao
RICHARD SERRA: THINKING ON YOUR FEET
(Maria Anna Tappeiner, 2005)
Film Forum
209 West Houston St. between Sixth & Seventh Aves.
August 20 - September 2
212-727-8110

In June 2005, Richard Serra's permanent installation, "The Matter of Time," opened at the Guggenheim Museum in Bilbao, comprising seven monumental works of curved steel. Each set was made of multiple concave and convex pieces that form twisting walkways, the outside as fascinating as the inside. (New Yorkers got a chance to see a similar installation last summer as part of MoMA's "Richard Serra Sculpture: Forty Years.") In THINKING ON YOUR FEET, director Maria Anna Tappeiner puts Serra front and center, as the influential, controversial artist takes viewers on a private tour of the making of the Bilbao exhibit, from the model process to the forging of the steel to the extremely delicate installation. Serra, who oversees every last detail, then walks through the work, as that experience is the key to its success or failure. A conceptual theorist, Serra discusses form and shape, process and activity, gravitational vectors and topological surface, and time and space, often pulling out his ever-present notebook to outline what he is referring to. All of this is somewhat interesting if you've experienced firsthand Serra's exciting creations; if you haven't, it comes out as a lot of sophisticated art and engineering talk that you might or might not care much about. By having no narrator and letting Serra run the show, Tappeiner loses control of the film, which plays more like a public television program than a feature-length documentary. We learn little about Serra's life outside the exhibition — he has been a major figure in the art world for five decades — although it is fun to learn that one of his early assistants was Philip Glass. Add half a star if you loved the MoMA exhibition as much as we did.
SEX AND THE CITY (Michael Patrick King, 2008)
Regal E-Walk 13
247 West 42nd St. between Seventh & Eighth Aves.
AMC Loews Village 7
66 Third Ave. at Eleventh St.
http://www.sexandthecitymovie.com

From 1998 to 2004, SEX AND THE CITY was a mainstay on HBO, following the life and loves of Miranda Hobbes (Cynthia Nixon), Charlotte York (Kristin Davis), Samantha Jones (Kim Cattrall), and Carrie Bradshaw as they traipsed about Manhattan in designer duds and really expensive shoes, dining and dishing at all the right places. The chic chicks have now reunited in the highly anticipated big-screen version of the award-winning cable series, picking up four years later, with Miranda having troubles with Steve (David Eigenberg) while they raise Brady (Joseph Pupo) out in Brooklyn, Samantha struggling to continue a monogamous relationship with hulky model and actor Smith Jerrod (Jason Lewis) in Hollywood, Charlotte loving her life with husband Harry (Evan Handler) and their adopted daughter, Lily (Alexandra and Parker Fong), and Carrie finally deciding to move in with — and marry — Mr. Big (Chris Noth). Written and directed by Michael Patrick King, an executive producer and writer on the original series, the movie hiccups its way through nearly two and a half hours of predictable story lines and frustrating plot twists — albeit with some very tender moments — trying too hard to please fans of the show as well as newcomers to this silly, superficial world. But it's still fun to see the girls back together — with Carrie facing forty and Samantha heading toward fifty — even if the film feels more like two episodes strung together than the cinematic extravaganza it wants to be.
Ben Stiller and Robert Downey Jr. get down and dirty in TROPIC THUNDER
TROPIC THUNDER (Ben Stiller, 2008)

Director and star Ben Stiller takes on Oliver Stone (PLATOON), Francis Ford Coppola (APOCALYPSE NOW), Michael Cimino (THE DEER HUNTER), Stanley Kubrick (FULL METAL JACKET), Sylvester Stallone (FIRST BLOOD), and just about everyone else who has ever made a movie about the Vietnam war in the hysterical spoof TROPIC THUNDER. Stiller, who also is one of the writers and producers, plays Tugg Speedman, a onetime huge action star whose career is in the toilet, especially after his disastrous attempt to win an Oscar by going "full retard" in SIMPLE JACK. His castmates on the film within a film include Jeff Portnoy (Jack Black), who has made a fortune making flatulence flicks and wants to be respected as a real actor; Oscar-winning Method actor Kirk Lazarus (Robert Downey Jr.), who has undergone a controversial procedure to darken his skin so he can play a black soldier; hip-hop star Alpa Chino (Brandon T. Jackson), who never misses a chance to hype his bootylicious thirst quencher; and Kevin Sandusky (Jay Baruchel), a young actor who is just happy to be in the movie, which is based on a book written by gruff and grizzled Vietnam vet John "Four Leaf" Tayback (Nick Nolte). When troubles on the set threaten to end production, director Damien Cockburn (Steve Coogan) takes the four leads into the jungle, where he hopes for a more realistic feel. But soon the troops, with their prop rifles and hand grenades, are battling a very real drug cartel with very real weapons.
TROPIC THUNDER is a multilayered farce that is fresh and funny from start to finish. In fact, it begins with a riotous series of pseudo-commercials and previews that introduce the main characters. TROPIC THUNDER is a smart send-up of all aspects of the entertainment industry — featuring a surprise appearance by one of Hollywood's top stars giving what might be his most memorable performance ever as an insanely powerful foul-mouthed studio head with no morals.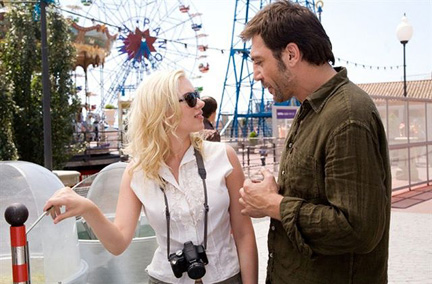 Scarlett Johansson is romanced by Javier Bardem in Barcelona
VICKY CRISTINA BARCELONA (Woody Allen, 2008)
http://www.vickycristina-movie.com

After a trio of films made in England (the justly celebrated MATCH POINT, the disappointing SCOOP, and the underappreciated CASSANDRA'S DREAM), Woody Allen heads to Spain, setting his latest adult romantic comedy in the gorgeous city of Barcelona. The very serious Vicky (Rebecca Hall, channeling Mia Farrow) and the flirtatious free spirit Cristina (Scarlett Johansson) are best friends spending the summer at a villa owned by Judy (Patricia Clarkson) and Mark (Kevin Dunn). Vicky is about to get married to the very responsible and successful Doug (Chris Messina), while Cristina is just looking to have a wild time. When hot artist Juan Antonio (a gentle Javier Bardem) invites Vicky and Cristina to join him for wine and sex in Oviedo, Vicky thinks he is a pig, while Cristina wants to take him up on his offer. Further complicating the situation is Juan Antonio's homicidal, suicidal ex-wife, Maria Elena (an inspired Penelope Cruz), who forces herself back into his life. VICKY CRISTINA BARCELONA features one of Allen's best scripts in years. Hall, a young British actress who primarily works on stage and television, is captivating as Vicky; cinematographer Javier Aguirresarobe's camera falls in love with her charming face the moment it first lays eyes on her. Bardem and Cruz inject fire and ice into this complex relationship drama, which examines the nature of love in intelligent and intriguing ways. In addition to filming at such sites as Antoni Gaudi's Sagrada Familia, Parc Guell, and La Pedrera, Allen infuses the proceedings with a soundtrack of delightful Spanish music, structured around Gulia y Los Tellanini's "Barcelona."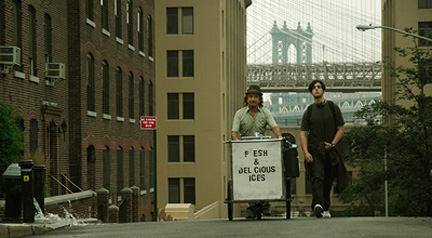 Squires and Shapiro share a strange friendship in THE WACKNESS
THE WACKNESS (Jonathan Levine, 2008)
Village East
181 Second Ave. at 12th St.
212-529-6998
http://citycinemas.moviefone.com
http://www.sonyclassics.com/thewackness

Winner of the Audience Award for Dramatic Film at the 2008 Sundance Film Festival, THE WACKNESS is a quirky coming-of-age drama set in 1994 New York City, which is quickly being taken over by new mayor Rudy Giuliani's so-called quality-of-life initiatives. Josh Peck stars as Luke Shapiro, an easygoing loner who sells pot in the parks from a disguised Italian ices cart. He's just graduated high school, and he's trying to raise enough money so he can go to college. Luke has a strange relationship with his drug-addled shrink, Jeffrey Squires (a wickedly funny Ben Kingsley), that changes when Luke starts getting a little too friendly with Dr. Squires's hot stepdaughter, Stephanie (Olivia Thirlby). Meanwhile, Luke's father (David Wohl) has lost a large sum of money, leaving the family facing possible eviction. Writer-director Jonathan Levine (ALL THE BOYS LOVE MANDY LANE), who graduated high school in 1994 himself, sets the film amid the burgeoning world of hip hop, featuring songs by Nas, the Notorious B.I.G., a Tribe Called Quest, and Method Man (who also plays Luke's supplier) that heavily influenced his own coming of age. In Luke and Dr. Squires, Levine has created a truly odd, engaging couple in this offbeat, surprisingly affecting film.
Riff's Rants & Raves: Live Music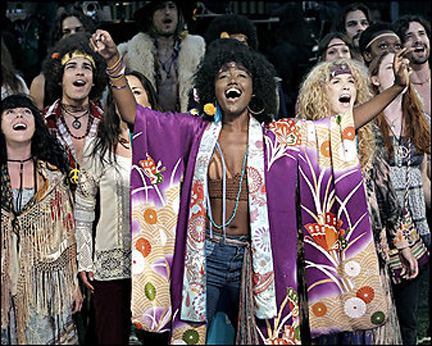 Michal Daniel / AP
HAIR revival lets the sun shine in at Delacorte
HAIR
Delacorte Theater, Central Park
Tuesday — Saturday at 8:00 through September 14
Admission: free

HAIR, James Rado, Gerome Ragni, and Galt McDermot's era-defining musical, opened the brand-new Public Theater in October 1967 as part of the New York Shakespeare Festival organized by Joe Papp. The groundbreaking work encapsulated the sixties counterculture movement through psychedelic songs and imagery that referenced sex, drugs, free love, war, the Space Race, racism, the draft, poverty, patriotism, communism, and the overall state of hippiedom. Forty years after it shocked the nation, HAIR is back in Central Park in a full-fledged production at the Delacorte, and it is as sparkling, energizing — and relevant — as ever. Will Swenson stars as the wisecracking erstwhile leader of a band of drug-loving hippies who seem to live in the park. They celebrate life in such songs as "Aquarius," "Manchester, England," and "I Got Life" while also arguing for social justice and equality in such numbers as "Ain't Got No," "Easy to Be Hard," and "Where Do I Go." The plot turns when Claude (now played by Christopher J. Hanke, who recently took over for Jonathan Groff) gets drafted and must decide whether to sign up or head to Canada. He gets advice from his traditional parents (Andrew Kober and Megan Lawrence), the sexually confused Woof (a hysterical Bryce Ryness), the pregnant Jeanie (Kacie Sheik), the serious Sheila (Caren Lynn Manuel), the free-spirited Crissy (Allison Case), the sharp-talking Dionne (Patina Renea Miller), and the rest of the talented "tribe," which sparkles under Diane Paulus's frenetic direction.
The first act ends with the actors running through the audience, handing out flyers for a be-in in which nearly all the actors famously get naked; the second act concludes with audience members invited onstage to dance, sing, and, well, let their hair down. It is this shared egalitarian involvement, breaking down the barriers between viewer and performer (and citizen and government), making all things equal, that still breathes life into HAIR after all these years. (And for those of you wondering why it's once again part of the Shakespeare Festival, the show includes the beautiful "What a Piece of Work Is Man" soliloquy from HAMLET.) The run has been extended several times, now through September 14; try the virtual ticket line if you don't want to sleep over in the park to see the show. And if you do miss it, it's rumored to be Broadway bound, but it won't be free, and it won't be under the stars in the park, where it is so liberating.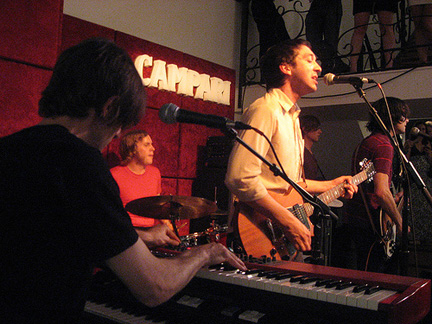 twi-ny/mdr
Robbers played a special show this summer at art closing
ROBBERS ON HIGH STREET
Fontana's
105 Eldridge St. between Broome & Grand Sts.
Admission: $7
212-334-6740
http://www.robbersonhighstreet.com
Thursday, August 28 Robbers on High Street brings its playful brand of indie pop to Fontana's Bar, with Radio 4 and the Subjects, 9:00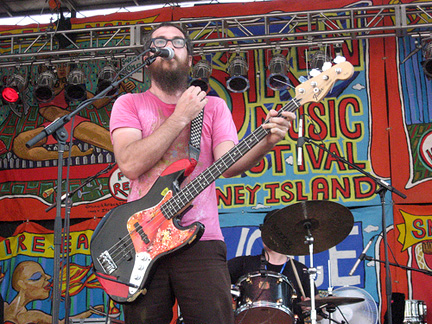 twi-ny/mdr
Parts played a hot set at Siren Festival this summer
PARTS AND LABOR
Market Hotel
957 Broadway at Myrtle Ave.
718-453-2640
http://www.myspace.com/markethotelnyc
Saturday, August 30 After a successful gig at the Siren Festival in Coney Island, Parts and Labor takes the stage at the Market Hotel, playing with Aa, 8:00

twi-ny/mdr
Thurston Moore and Sonic Youth headline last show in McCarren Park Pool
SONIC YOUTH
McCarren Park Pool
Lorimer St. between Driggs & Bayard Aves.
Saturday, August 30, $35, 5:00
On July 4, Sonic Youth played a great show in Battery Park, with Thurston Moore in all his full-force glory, turning the photo area into a mosh pit, and Kim Gordon whirling around and, at one point, even playfully forgetting the words to one song, forcing the band to start again. (Thurston imediately professed that he still loved her despite the gaffe.) The free show was highlighted by a bunch of tunes from the classic DAYDREAM NATION ("Silver Rocket," "The Sprawl," "Hey Joni," "'Cross the Breeze," "The Wonder/Hyperstation," etc.), with a fabulous final encore of "Schizophrenia" and "100%." Moore, Gordon, Steve Shelley, and Lee Ranaldo will be back on August 30 for another outdoor gig, this time at McCarren Park Pool (with opening act Times New Viking, the Columbus, Ohio, group that impressed at the Siren Festival), playing what might be the last show ever at this ultracool venue that has hosted so many up-and-coming bands these past three summers, with both free and pay concerts. Essentially, the long-dormant and crumbling pool, which opened in 1936, was shown to be a crowd pleaser after all, so now the city wants it back, to build a real pool there.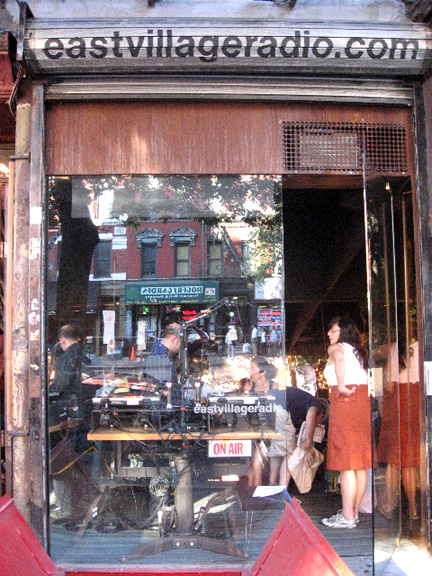 twi-ny/mdr
East Village Radio will move into seaport for a day of free live music
EAST VILLAGE RADIO MUSIC FESTIVAL
South Street Seaport, Pier 17
Saturday, September 6, free, 1:00 — 9:00
Free shuttle service: 12:30 — 7:00
http://www.eastvillageradio.com
East Village Radio, which broadcasts from a tiny glassed-in storefront at 21 First Ave. by Houston St., will be celebrating its fifth anniversary with an all-day free concert at the South Street Seaport. Hosted by KRS-One and with a special appearance by THE DAILY SHOW's John Oliver, the party features Ólöf Arnalds, Awesome Color, Boris, Devin the Dude, Flying Lotus, 4-IZE, High Places, the Hypnotic Brass Ensemble, Dr. Lonnie Smith, and Vivian Girls. There will be free shuttle service between the station and the seaport from 12:30 to 7:00, and EVR founder Frank Prisinzano will be serving food from his restaurants and catering service at the event. In the meantime, get to know East Village Radio by listening to such eclectic and wide-ranging programming as Atlantic Tunnel with Gaz Thomas and Ed Rogers, Minimal-Elektronik Plus with Veronica, Radio Heart with Ceci Moss, Fat Beats Radio with Monster and Bill Sharp, Infinite Eargasm with DJ Hallogallo, Authentic Sh*t with Mark Ronson, and our favorite, the Shocking Blue Sessions with Delphine Blue.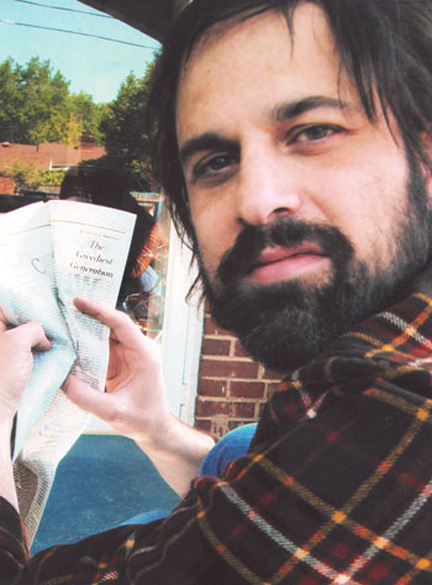 David Berman heads to Israel in doc and NYC for a trio of shows
SILVER JEWS
Saturday, September 6, Music Hall of Williamsburg, 66 North Sixth St., $25, 8:00
Sunday, September 7, Bowery Ballroom, 6 Delancey St. at Bowery, $20, 8:00
Monday, September 8, Maxwell's, 1039 Washington St., Hoboken, $25, 8:00
The Nashville-based Silver Jews are coming up to their twentieth anniversary next year, touring behind its most recent disk, LOOKOUT MOUNTAIN, LOOKOUT SEA (Drag City, June 2008). David Berman and wife Cassie Berman combine on such songs as the beautiful "Suffering Jukebox," which sets his deep voice against her lilting chorus, the nearly bouncy "Strange Victory, Strange Defeat," and the heavenly "Open Field." The band will be playing three area shows, at the Music Hall of Williamsburg and the Bowery Ballroom with Monotonix and Maxwell's with Chris Brokaw. For a great introduction to the band, check out Michael Tully's documentary, SILVER JEW, which is being released on DVD in September. The film, which played SXSW, follows David Berman as he leads the group through a pair of shows in Israel.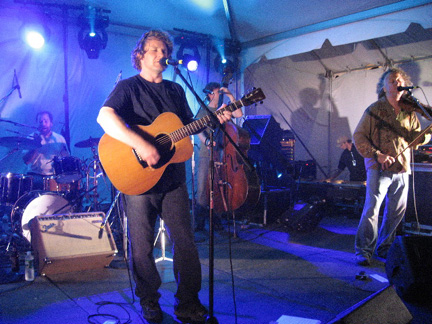 twi-ny/mdr
Railroad Earth choogles into Irving Plaza with new record
RAILROAD EARTH
The Fillmore New York at Irving Plaza
17 Irving Pl. between 14th & 15th Sts.
Saturday, September 6, $25, 9:00
212-777-6800
Those purveyors of folk/country/bluegrass/roots jams, Stillwater, New Jersey's Railroad Earth returns to New York City for what should be a groovy show at Irving Plaza, with the Everybodyfields opening things up. RRE is currently on tour in support of their new CD, AMEN CORNER (Sci Fidelity, June 2008), which features lead singer and acoustic guitarist Todd Sheaffer, violinist extraordinaire Tim Carbone, mandolinist John Skehan, multi-instrumentalist Andy Goessling, bassist Johnny Grubb, and drummer Carey Harmon chooglin' to such tunes as "Been Down This Road," "Hard Livin'," and "Lonecroft Ramble." In addition to the new songs, the band will be playing an ever-changing mix of such older faves as "Long Way to Go," "Dandelion Wine," "Elko," "Like a Buddha," "Mighty River," "Bird in a House," and the always welcome "Warhead Boogie."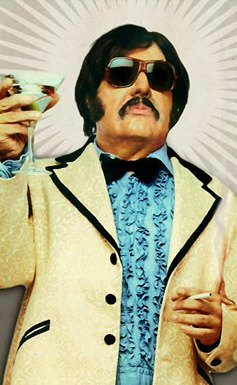 Andy Kaufman creation returns to NYC for benefit show
THE RETURN OF TONY CLIFTON
B.B. King Blues Club
237 West 42nd St. between Seventh & Eighth Aves.
Wednesday, September 10, $15-$20, 8:00
212-997-4144
One of the most annoying pseudo-celebrities ever, Tony Clifton was the questionable protege and alter ego of Andy Kaufman, the innovative experimental comedian and TAXI star who died tragically in 1984. Clifton — who at times might have been played by Kaufman or Bob Zmuda (Kaufman's manager), or maybe really is just a lousy lounge singer and provocateur — has returned in honor of the upcoming twenty-fifth anniversary of Kaufman's death, bringing back his cloying shtick in a series of performances around the country with the Katrina Kiss-My-Ass Orchestra in a Comic Relief benefit for Gulf Coast musicians, dancers, and singers. Or heck, maybe Kaufman, as some still dream, planned his own death and is really still alive, back as the much-hated and long-lamented Clifton himself.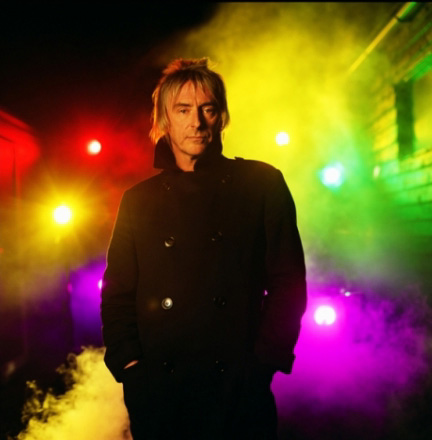 The Modfather brings brings class and style to the city for two shows
PAUL WELLER
Wednesday, September 10, Nokia Theatre, 1515 Broadway, $55, 8:00
Thursday, September 11, Highline Ballroom, 431 West 16th St. between Ninth & Tenth Aves., $55, 8:00
http://www.highlineballroom.com
Paul Weller, aka the Modfather, achieved cult status long ago in both the UK and USA. Perhaps the tastiest bit of the Jam (1977-82), superstars who revived the Mod look and Motown beats of the '60s in a whole new Brit-punk context, singer-songwriter Weller's subsequent supercool jazz stylings as founder of the Style Council (1983-89) both alienated furious Jam fans and won him new legions of devoted followers. But the supersmoothness of the Style Council eventually lost him his record contract by the end of the decade. Weller spent the early '90s a bit under the radar, perhaps brooding while hatching a new sound based around his treasured Motown beats, myriad pop and rock influences, and fiercely felt, incisively observant lyrics. His solo albums, beginning with STANLEY ROAD and continuing through AS IS NOW, ILLUMINATION, and the latest, 22 DREAMS, have won him won him more Modchildren — dedicated fanatics who madly and modly mobbed his last show in NYC, in early 2007 at Irving Plaza. His live albums and shows are beloved on both sides of the Atlantic, and his upcoming stops at the Nokia Theatre on September 10 and the Highline Ballroom on September 11 are sure to provide the goods, mainly from his solo work — though "A Town Called Malice" will probably show up in the encores for Jam diehards. Indie London band the Rifles, who have played onstage with Weller, open things up with their melodic punk.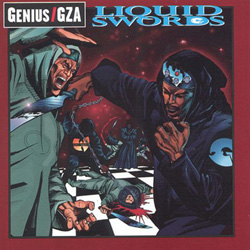 GZA PERFORMING LIQUID SWORDS
The Fillmore New York at Irving Plaza
17 Irving Pl. between 14th & 15th Sts.
Friday, September 12, $25, 9:00
212-777-6800
Brooklyn-born GZA, also known as the Genius, is a solo artist and member of the highly influential hip-hop group Wu-Tang Clan, with RZA and Method Man. Even though he has a new album out, PRO TOOLS, GZA will be playing his classic 1995 rap record, LIQUID SWORDS, at Irving Plaza, which features such songs as "Duel of the Iron Mic," "Cold World," "Shadowboxin'," and "I Gotcha Back," with sampling from the Ohio Players, Three Dog Night, Al Green, Stevie Wonder, and a heavy dose of SHOGUN ASSASSIN, the 1980 film based on the epic manga series LONE WOLF AND CUB.
Riff's Rants & Raves: Art & Literature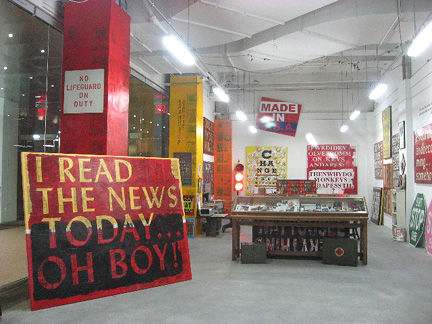 twi-ny/mdr
The duration of new Peter Tunney space is unknown
THE PETER TUNNEY EXPERIMENT
666 Fifth Ave. at 52nd St.
Duration: unknown
Closed Sunday
Admission: free
A few years ago, we did a story on an art exhibit in the Chelsea Market curated by former Wall Street investor and longtime Pop artist Peter Tunney. By the time the article was printed, shortly after the show had opened, the space was vacant; Tunney was long gone, with no explanation. The self-described "Adventurer, Card Shark, Bon Vivant, Globetrotter, Impersonator, and Risk Taker" has now set up shop in Midtown, filling a street-level space with dozens of his own works, including signs, photographs, and other flotsam and jetsam, with such messages as "Don't Panic," "Don't Stop Here," and "Forget About the Future." In his artist statement, which runs around white columns in the gallery, Tunney, who also has had spots in SoHo, claims that he "works painstakingly and meticulously to bring to life the art that resides in all things." We'll see how long this one lasts, for as it states on the glass door, "Duration: Unknown."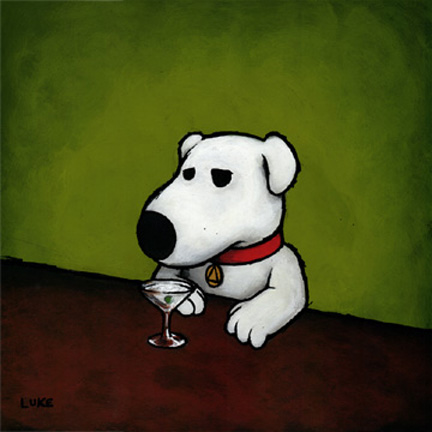 The Paley Center
Luke Chueh, "Luke Chueh vs. the Family Guy — Brian Griffin," acrylic and ink, 2007
IT'S A FREAKIN' ART SHOW:
A COLLECTION OF INTERPRETIVE WORK INSPIRED BY FAMILY GUY
Paley Center
25 West 52nd St. between Fifth & Sixth Aves.
Tuesday — Sunday 12 noon — 6:00 (open till 8:00 on Thursday)
Admission: $10
212-621-6800
We admit we're latecomers to the FAMILY GUY bandwagon, but we're catching up quickly, since it seems to be on television all the time. Seth MacFarlane's show about the highly dysfunctional Griffins — Kiss-loving father Peter, sexually rambunctious mother Lois, doofus son Chris, lonely daughter Meg, smooth-talking dog Brian, and baby Stewie, who plans on ruling the world — is an animated 21st-century ALL IN THE FAMILY mixed with REN & STIMPY and BEAVIS & BUTTHEAD, filled with non sequitur pop-culture references amid its takeoff on sitcom conventions. The exhibit at the Paley Center features original cel drawings, flatscreen monitors playing episodes of the program, and works by twenty-one Lowbrow Pop artists who interpret the characters in their own ways — with a clear favoritism toward Stewie and Brian. Ryan Bubnis, Luke Chueh, Diana Pearson, Alex Ruiz, Damon Soule, Yoskay Yamamoto, and others evoke van Gogh, Hopper, Madison Ave., and other artists, movements, and styles as they take the family and their friends — including Quagmire! — off the television screen and onto the canvas.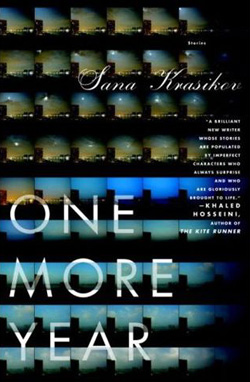 ONE MORE YEAR by Sana Krasikov
(Spiegel & Grau, August 2008, $21.95)

Born in Ukraine, raised in Soviet Georgia, and now based in New York City, Sana Krasikov's debut collection of short stories takes on added meaning as Russia invades the land where she grew up. Only in her late twenties, Krasikov, whose work has already appeared in the New Yorker, the Atlantic, and Zoetrope, writes about men and women trapped between two worlds, Eastern Europe and America. All too often they are forced to endure dramatic compromises as they try to make a new life for themselves, sometimes having to live apart from their loved ones in order to do so. In "Companion," Ilona, who has come to New York from Tbilisi, takes care of a much older man who gives her things, but his family resents her. In "The Alternate," Victor looks back on what could have been, going to dinner with his former love's daughter. In "Asal," the barren Gulia has to deal with her husband's other wife, the fruitful Rashid. And in "The Repatriates," Lera feels that her husband is more interested in money and the Fatherland than in her and the family. Krasikov writes with a complex calm that threatens to explode at any moment — but doesn't. Her characters accept their fate without much of a fight, powerless to change their lives. Although ONE MORE YEAR is filled with much heartbreak and sadness, it comes alive in Krasikov's masterful style, with each story flowing into the next as if it's one tale of people seeking desperately not to be lonely anymore.

All contents copyright 2008 by Mark Rifkin and twi-ny. All rights reserved. Contents may not be reprinted without written permission. Please note that events, dates, and prices are subject to change.
Send all comments, suggestions, reviews, and questions to mark.rifkin@twi-ny.com.
Please note that some e-mail clients may wrap links, so be sure to enter them fully into your browser.
To subscribe to this list, please e-mail the administrator at admin@twi-ny.com with the word Subscribe in the Subject line; be sure to ask for back issues, which are free as well. To unsubscribe from this list, please think it over twice before e-mailing the same address. Please let us know what you didn't like about this forum and we'll do our best to correct it in the future — if we agree with you. If you would like to see something covered in a future issue, please let us know. Without you, there is no need for us to exist.


twi-ny top two dozen (or so) weekly reminders & special events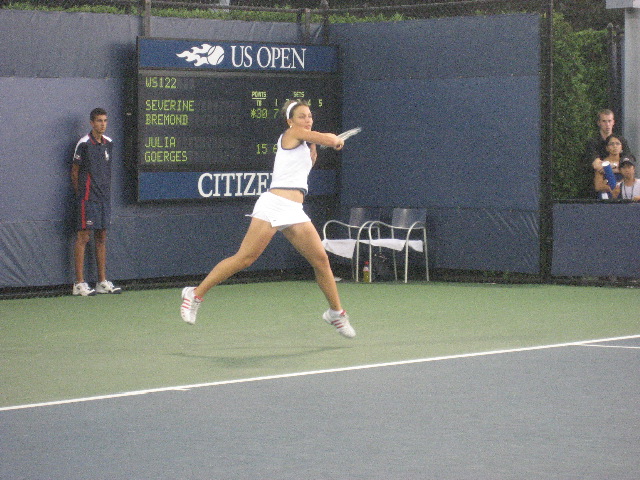 twi-ny/mdr
Severine Bremond hits a forehand on one of the smaller U.S. Open courts
U.S. OPEN TENNIS CHAMPIONSHIPS
Billie Jean King National Tennis Center
Flushing Meadows Corona Park
August 25 through September 7
Tickets: $22-$680
1-866-open-tix
Defending U.S. Open champion Roger Federer better watch out, because there's a new number one in town. Rafael Nadal, who has won four consecutive French Opens (defeating Federer in the last three finals), finally beat Federer on the grass at Wimbledon earlier this summer, and now he is seeking to capture his third straight Grand Slam tournament, on the hard surface of the courts at the Billie Jean King National Tennis Center, where Federer has reigned since 2004. Meanwhile, on the women's side, Justine Henin, who last year defeated Svetlana Kuznetsova in the finals, has retired at the age of twenty-five, so this year's number one is French Open victor Ana Ivanovic. Both the men's and women's champion will take home at least $1.5 million in prize money this year. Don't just concentrate on the big-time matches; be sure to walk around and check out the action on the smaller courts, where you can get much closer to the game. And here's a little trick that we'll continue to point out every year: If you get day tickets, you can stick around and watch all of the night events as well except for those in the main stadium.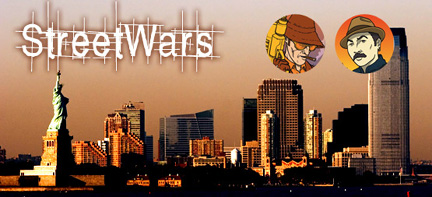 STREETWARS
Registration: $45
Friday, August 29 Registration deadline to compete in gaming tournament that runs from September 8 to 29, twenty-four hours, seven days a week; competitors must be at least eighteen years old, live in one of the five boroughs, and meet other qualifications in order to participate in the game, which involves taking out specific targets with either a water gun, water balloon, or Super Soaker
THE FRENCH NEW CRIME WAVE SERIES:
FILM NOIR & THRILLERS, 1937-2000
Film Forum
209 West Houston St. between Sixth & Seventh Aves.
Through September 11
212-727-8110
Wednesday, August 27 LES DIABOLIQUES (Henri-Georges Clouzot, 1955) and EYES WITHOUT A FACE (Georges Franju, 1960)
Thursday, August 28 THE SICILIAN CLAN (Henri Verneuil, 1969) and UN FLIC (Jean-Pierre Melville, 1972)
Friday, August 29
and
Saturday, August 30 ELEVATOR TO THE GALLOWS (Louis Malle, 1957)
Sunday, August 31
and
Monday, September 1 BREATHLESS (Jean-Luc Godard, 1959) and BAND OF OUTSIDERS (Jean-Luc Godard, 1964)
Tuesday, September 2 CASQUE D'OR (Jacques Becker, 1952) and GOUPI MAINS ROUGE (Jacques Becker, 1943)
Wednesday, September 3
and
Thursday, September 4 QUAI DES ORFÈVRES (Henri-Georges Clouzot, 1947) and PÉPÉ LE MOKO (Julien Duvivier, 1937)
Thursday, September 4 THE WAGES OF FEAR (Henri-Georges Clouzot, 1952)
Friday, September 5
through
Thursday, September 11 SHOOT THE PIANO PLAYER (François Truffaut, 1960)

MOVIES WITH A VIEW
Brooklyn Bridge Park at Empire-Fulton State Park
1 Main St. at Water St.
Thursday nights at sunset, preceded by music by live DJs at 6:00
Admission: free
718-802-0603
Thursday, August 28 THE SHINING (Stanley Kubrick, 1980)
elodieO CD RELEASE SHOW
Le Royale
21 Seventh Ave. South
212-463-0700
http://www.myspace.com/elodieo
Thursday, August 28 elodieO celebrates the release of her debut solo album, STUBBORN (Mulatta, August 2008) with a live performance, along with sets by DJs Lily of the Valley, Miss Guy, and Marc Allan with Larry Tee
TWELFTH NIGHT
Governors Island
Ferry: free
Admission: free
212-440-2202
http://www.pulseensembletheatre.org
Friday, August 29
Saturday August 30
and
Sunday August 31 Pulse Theatre Ensemble presents Shakespeare's TWELFTH NIGHT, 2:00
Charlton Heston shows his stuff at Lincoln Center
CINEMATIC ATLAS: THE TRIUMPHS OF CHARLTON HESTON
Walter Reade Theater
165 West 65th St. between Eighth Ave. & Broadway
August 29 - September 4
Tickets: $11 (Series Pass $40)
212-875-5600
An entire generation has grown up thinking of Charlton Heston as that gun-loving NRA old dude who used to be on DYNASTY and then was made fun of by Michael Moore. But from the early 1950s through the 1970s, Heston was a legitimate Hollywood movie star, a glistening hunk of a man who played such legendary figures as Marc Antony, Buffalo Bill Cody, Moses, Andrew Jackson, Judah Ben-Hur, El Cid, John the Baptist, Michelangelo, and Cardinal Richelieu. He was just as comfortable in biblical epics as film noir, in science fiction and Westerns. The Film Society of Lincoln Center is paying tribute to Heston, who died in April at the age of eighty-four, by screening eleven of his best movies, all in new 35mm prints. And what a list it is: TOUCH OF EVIL, PLANET OF THE APES, BEN-HUR, SOYLENT GREEN, and even EARTHQUAKE, which we saw when it first came out — in Sensurround. Although he'll never be considered in the pantheon of America's greatest actors, no one ever dominated the silver screen the way Heston did.
Friday, August 29 TOUCH OF EVIL (Orson Welles, 1958), 1:30 & 6:15
Friday, August 29 SOYLENT GREEN (Richard Fleischer, 1973), 3:45 & 9:15
Saturday, August 30 THE GREATEST SHOW ON EARTH (Cecil B. DeMille, 1952), 1:00
Saturday, August 30 MAJOR DUNDEE (Sam Peckinpah, 1965), 4 :00
Saturday, August 30 WILL PENNY (Tom Gries, 1968), 6:30
Saturday, August 30 THE OMEGA MAN (Boris Sagal, 1971), 8:45
Sunday, August 31 BEN HUR(William Wyler, 1959), 1:00
Sunday, August 31 PLANET OF THE APES (Franklin J. Schaffner, 1968), 5:00
Sunday, August 31 BENEATH THE PLANET OF THE APES (Ted Post, 1970), 7:15
Sunday, August 31 SOYLENT GREEN (Richard Fleischer, 1973), 9:10
Monday, September 1 WILL PENNY (Tom Gries, 1968), 1:00
Monday, September 1 THE GREATEST SHOW ON EARTH (Cecil B. DeMille, 1952), 3:15
Monday, September 1 EL CID (Anthony Mann, 1961), 6:15
Tuesday, September 2 BEN HUR(William Wyler, 1959), 1:00
Wednesday, September 3 EARTHQUAKE (Mark Robson, 1974), 1:00
Wednesday, September 3 MAJOR DUNDEE (Sam Peckinpah, 1965), 3:30
Wednesday, September 3 THE OMEGA MAN (Boris Sagal, 1971), 6:15
Wednesday, September 3 PLANET OF THE APES (Franklin J. Schaffner, 1968), 8:15
Thursday, September 4 THE OMEGA MAN (Boris Sagal, 1971), 12:30
Thursday, September 4 EL CID (Anthony Mann, 1961), 2:30
Thursday, September 4 TOUCH OF EVIL (Orson Welles, 1958), 6:15
Thursday, September 4 EARTHQUAKE (Mark Robson, 1974) 8:30
US OPEN LIVE
Madison Square Park
Broadway & Madison Ave. and Twenty-third & Twenty-fifth Sts.
Admission: free
212-538-9310
https://www.madisonsquarepark.org
Friday, August 29
through
Sunday, September 7 Watch the US Open on live viewing screens while sitting in bleachers and eating food from such restaurants as Country, Hill Country Barbecue Market, and Rickshaw Dumpling Bar

TIME TO ASCEND
K2 Lounge
Rubin Museum of Art
150 West 17th St. at Seventh Ave.
Free admission to galleries from 7:00 to 10:00
212-620-5000 ext 344
Friday, August 29 Harlem in the Himalayas: the Theo Croker Quartet featuring Marcus Belgrave, $18-$20, 7:00
Friday, August 29 CabaretCinema: HIMALAYA — L'ENFANCE D'UN CHEF (Eric Valli, 1999), free with $7 bar minimum, 9:30
Friday, September 5 Concert: Suphala, $18-$20, 7:00
Friday, September 5 CabaretCinema: WHISKEY GALORE (Alexander Mackendrick, 1949), free with $7 bar minimum, 9:30
WARM UP 2008 / P.F.1 (PUBLIC FARM ONE)
P.S.1 Contemporary Art Center / MoMA
22-25 Jackson Ave. at 46th Ave., Long Island City
Saturdays from 3:00 to 9:00 July 5 - September 6
Admission: $10, includes admission to art galleries 2:00 to 9:00
718-784-2084
Saturday, August 30 Jonathan Kane's February, James Chance and the Contortions, Matthew Dear & Ryan Elliott, and Jason Evans
Saturday, September 6 Live sets by Lisa Shaw and Bing Ji Ling, with Neil Aline and Jerome Derradji

ORCHARD BEACH CONCERT SERIES
Section Nine at the Pavilion
Pelham Bay Park at City Island Rd.
Sundays at 12 noon through September 1
Admission: free
http://www.tropicalmusicfestival.com
Sunday, August 31 Johnny Ray Orchestra, La Excelencia, Manbo Duro, Wired, Annie D, Alex Brocha
Monday, September 1 "El Dia del Merengue," with Oro Solido, Magic Juan, Fragancia, Bachata Azur Group, Louizo, Entregate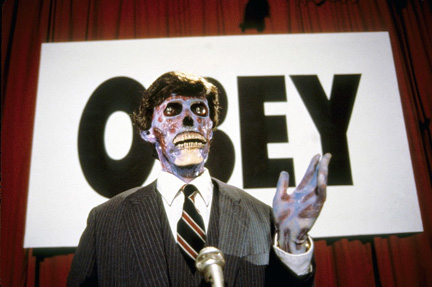 Photofest
John Carpenter's THEY LIVE admonishes viewers at BAM
A FOUR-PACK OF CARPENTER
BAMcinematek
BAM Rose Cinemas
30 Lafayette Ave. between Ashland Pl. & St. Felix St.
718-636-4100
Monday, September 1 BIG TROUBLE IN LITTLE CHINA (John Carpenter, 1986), 2:00, 4:30, 6:50, 9:15
Tuesday, September 2 THE THING (John Carpenter, 1982), 6:50, 9:15
Wednesday, September 3 THEY LIVE (John Carpenter, 1988), 4:30, 6:50, 9:15
Thursday, September 4 ESCAPE FROM NEW YORK (John Carpenter, 1981), 6:50, 9:15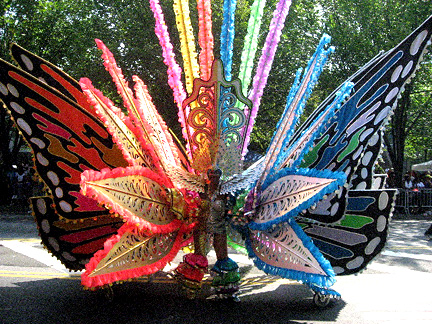 twi-ny/mdr
Elaborate costumes parade through Brooklyn on Labor Day
WEST INDIAN AMERICAN DAY CARNIVAL
Eastern Pkwy.
Monday, September 2
Admission: free
718-467-1797
Every year we look forward to this fabulous event, now in its forty-first year. We've been going for more than fifteen years, and it never lets us down, although it continues to get more and more crowded every Labor Day, with an expected crowd of more than three million in 2008. This year's theme is "One Caribbean, Many Cultures," and the grand marshals are Mayor Michael Bloomberg, Governor David Paterson, Dr. Elizabeth Nunez, and Les Slater, with Congressman Charlie Rangel and Comptroller Bill Thompson serving as honorary grand marshals. The festivities actually begin at 2:00 am, with the traditional J'Ouvert Morning, a precarnival procession featuring steel drums and percussion and fabulous masquerade costumes, from Grand Army Plaza to Flatbush Ave. and on to Empire Blvd., then to Nostrand Ave. and Rutland Rd.
The Parade of Bands begins around 11:00 am, as truckloads of blasting Caribbean music and groups of ornately dressed dancers march down Eastern Parkway to Grand Army Plaza, soon to be joined by the glad-handing local politicians. Don't eat before you go; the great homemade food includes ackee and codfish, oxtail stew, curried goat, jerk chicken, fishcakes, and lots of rice and peas. The farther east you venture, the more closed in it gets; by the time you get near Crown Heights, it could take you half an hour just to cross the street, so take it easy and settle in for a fun, colorful day where you need not hurry.
LOU REED AND JOHN ZORN
(le) poisson rouge
150 Bleecker St.
Tickets: $75
212-505-fish
http://www.myspace.com/lepoissonrougenyc
Tuesday, September 2 Lou Reed and John Zorn team up for a special show at (le) poisson rouge, with opening act Phantom Orchard, featuring Ikue Mori and Zeena Parkins, 7:30
ARTIST RECEPTION
Bronx Museum Project Space
11 Bruckner Blvd. at Lincoln Blvd.
Admission: free
RSVP for program: 718-681-6000 ext102
http://www.bronxmuseum.org/projectspace
Wednesday, September 3 Special viewing and reception for Darcy Dahl on the occasion of the opening of the new multimedia exhibit "Insula," 9:00
RIVER TO RIVER FESTIVAL
Rockefeller Park in Battery Park City (RP) / World Financial Center Plaza (WFC)
Multiple locations
Admission: free
212-528-2733
http://www.rivertorivernyc.org
Wednesday, September 3 SITELINES: Ofelia Loret deMola's danscores, AVAILABLE SPACE, City Hall Park ontersections of Park Row & Center St. and Park Row & Broadway, 12:30
Wednesday, September 3 The Latin Giants of Jazz, Wagner Park in Battery Park City, 7:00
Saturday, September 6 The Drawing Center presents the Big Draw, 11:00 am — 4:00 pm
Saturday, September 6
through
Monday, September 15 SITELINES: Ofelia Loret deMola's danscores, AVAILABLE SPACE, City Hall Park ontersections of Park Row & Center St. and Park Row & Broadway
BENEFIT FOR TERRY KARYDES
Maxwell's
1039 Washington St., Hoboken
Tickets: $15
201-653-1703
Friday, September 5 Benefit show featuring Ira Kaplan and Georgia Hubley of Yo La Tengo, Glenn Mercer of the Feelis, Kate Jacobs, Tammy Faye Starlite, Dave Schramm, Ron Metz, and Al Greller, 9:00
SUNSHINE AT MIDNIGHT
Landmark Sunshine Cinema
143 East Houston St. between First & Second Aves.
Friday and Saturday nights at midnight
212-330-8182
http://www.landmarktheatres.com
Friday, September 5
and
Saturday, September 6 Wizard of Oz Sing-Along, with lyrics shown on-screen
RIVER TO RIVER FESTIVAL: EVENING STARS
Historic Battery Park
September 5-7 at 7:30
Bring a blanket
Admission: free
212-219-9401 ext304
http://www.rivertorivernyc.com
Friday, September 5 Lar Lubovitch Dance Company, "Concerto Six Twenty-Two" and "Dvorak Serenade"
Saturday, September 6 Bad Boys of Dance featuring Rasta Thomas, "Steel Visions," "In Love," "Heartbroken," "I Love Lucy," "Feelin Good," "Gotcha!," and "Rock You"
Sunday, September 7 Los Vivancos, "7 Hermanos"
IT'S THE ECONOMY STUPID! OR THE TURNING POINT
Theater for the New City
Multiple locations
Through September 14
Admission: free
212-254-1109
http://www.theaterforthenewcity.net
The Theater for the New City's Street Theater Company goes on the road with Crystal Field's new musical IT'S THE ECONOMY STUPID! OR THE TURNING POINT, performing the show outdoors in parks and playgrounds through September 14.
Saturday, September 6 West Towers at West 90th St. between Columbus & Amsterdam Aves., 2:00
Sunday, September 7 Washington Square Park, 2:00
CHESS IN CONCERT
Symphony Space, Peter Jay Sharpe Theatre
2537 Broadway at 95th St.
Tickets: $60-$110
212-349-0330
Monday, September 8 New York City actors, dancers, and singers perform in benefit Career Transition for Dancers, 7:30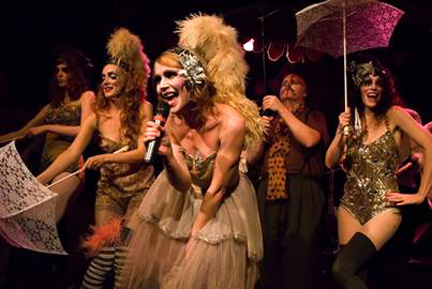 The Citizens Band are back with more Panic
THE PANIC IS ON!
Spiegelworld
Fulton Fish Market, Pier 17, South Street Seaport
Tickets: $30
212-279-4200
http://www.thecitizensband.net
Sunday, September 7
through
Tuesday, September 9 The Citizens Band perform their hit show under the Spiegeltent at the seaport, with a cast that currently includes special guests Nina Persson of the Cardigans and Amanda Palmer of the Dresden Dolls in addition to regulars Chelsea Bacon, Ian Buchanan, Michael Cavadias, Turner Cody, Sarah Sophie Flicker, Rachelle Garniez, Jesse Gelber, Mike Jackson, Mark McAdam, Amy Miles, Jon Natchez, Rain Phoenix, and Ronin
WORD FOR WORD POETRY
Bryant Park Reading Room
Midpark on north side
Admission: free
Tuesday, September 9 A Tribute to Jason Shinder, with Mary Louise Parker, Jon Robin Baitz, Bob Balaban, Melissa Leo, Michael Lally, Matthew Maher, Alix Lambert, and Carol Muske Dukes, hosted by Michael O'Keefe, 12:30
PAUL AUSTER PRESENTS CÉLINE CURIOL
French Institute Alliance Française
Le Skyroom
22 East 60th St. between Park & Madison Aves.
Tickets: $15
212-307-4100
Tuesday, September 9 Paul Auster in conversation with Céline Curiol, discussing her debut novel, VOICE OVER, followed by a book signing, 7:00