Twi-ny, This Week In New York
WARM UP 2006
P.S. 1 Contemporary Art Center / MoMA
22-25 Jackson Ave. at 46th Ave.
Long Island City
Saturdays from 2:00 — 9:00 pm through September 2
Admission: $10, includes admission to art galleries
718-784-2084
http://www.ps1.org/ps1_site/index.php?option=com_content&task=view&id=55&Itemid=99

The best beach party of the summer goes on every Saturday at P.S.1, where revelers swarm into Long Island City for a fast and furious orgy of hot music, sweaty dancing, and plentiful beer and burgers. Be sure to arrive early, because the later you come, the longer the line will be. Every year P.S.1 holds a contest to transform the courtyard into a beach; OBRA won 2006's Young Architects Program, creating "Beatfuse!" consisting of plywood and polypropylene mesh shells, tidal pools, and misters twisting through the outdoor space. If the sweat and sand get too much for you, cool down in OBRA's frigidarium, where ice cubes melt slowly, surrounded by silver foil bubble insulation. Visit OBRA's Web site for a behind-the-scenes slideshow detailing the construction of "Beatfuse!"
Saturday, July 22 A Guy Called Gerald, San Serac, Derek Plaslaiko
Saturday, July 29 The Juan Maclean, Adam X, Jeffrey Sfire
Saturday, August 5 agnès b. presents . . .
Saturday, August 12 Rub-N-Tug, Escort
Saturday, August 19 Mathew Jonson, Beppe Loda, Lee Douglas, Jeremy Campbell
Saturday, August 26 The Glimmers, Mudd, plus special guest
Saturday, September 2 Carl Craig, Gamal, plus special guest

Patty Chang, "In Love," 2001
INTO ME / OUT OF ME
P.S. 1 Contemporary Art Center / MoMA
22-25 Jackson Ave. at 46th Ave.
Long Island City
Closed Tuesday & Wednesday
Through September 25
Suggested donation: $5; free with MoMA ticket within thirty days
718-784-2084
http://www.ps1.org/ps1_site/index.php?option=com_content&task=view&id=189&Itemid=63

This wide-ranging, bizarre, thrilling, and disgusting exhibit examines things that go into the body, then come out, via metabolism, reproduction, and violence, while calling into question the creation of art — and the artist's role in that creation. Pipilotti Rist's "Mutaflor" video is projected onto the floor, an inner journey from the esophagus to the other end. Marina Abramovic changes places with a prostitute in "Role Exchange." Andrea Fraser's untitled video and "Don't Postpone Joy, or Collecting Can Be Fun" follows her sexual dalliance with a private art collector who paid for the special privilege. Kiki Smith's "Daisy Chain" consists of body parts connected by a rusting chain. A naked Sigalit Landau does the hula with barbed wire, puncturing her skin in the video "Barbed Hula." Jake and Dinos Chapman explore the horrors of war in "Sex II," a dead tree covered with skeletal remains. In a room dedicated to regurgitation, Sue Williams's "Vomithead" sculpture and Martin Creed's photographic series "Work No. 548" turn praying to the porcelain god into art. Andy Warhol used urine to erode his "Oxidation Painting." Piero Manzoni's "Merda d'artista" is a can of the artist's waste material. You'll have to look closely to see a speck of Tom Friedman's feces atop an otherwise white pedestal. The video projected onto the plate in Mona Hatoum's "Deep Throat" table installation takes you through the digestive process. Feel free to take a piece of candy from Felix Gonzalez-Torres's untitled "Placebo—Landscape—for Roni Horn"; not only do you become part of the art, but you also get to ingest it.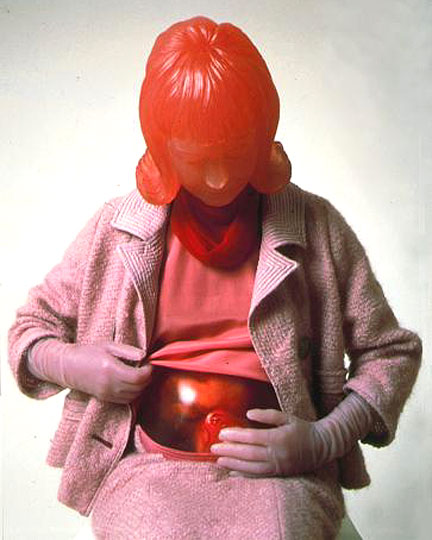 Keith Edmier, "Beverly Edmier, 1967," 1998

In the Drawing Gallery, Louise Bourgeois evokes the heartbreaking umbilical bond between mother and daughter in "Do Not Abandon Me." Keith Edmier shows himself inside his mother's womb in "Beverly Edmier, 1967." In Patty Chang's "In Love" two-channel video, the artist intimately and tearfully shares an onion with her parents — in reverse. One of our favorite things about P.S.1 is that you can find art everywhere; don't miss a single room. Even the bathrooms feature video works. We love the boiler room, where you will find Ann-Sofi Sidén's "Fidei Commissum," a life-size bronze of a woman continually relieving herself, as well as Tony Oursler's "Crying Doll," hiding tearfully in the corner. Among the dozens of other artists represented in this terrific yet repellent display are Bruce Nauman, Carolee Schneeman, Cindy Sherman, Kara Walker, Matthew Barney, Vito Acconci, Paul McCarthy and Mike Kelly (you'll never see HEIDI the same way again), Andres Serrano, Gordon Matta-Clark, Gregory Crewdson, Damien Hirst, Rineke Dijkstra, Robert Mapplethorpe, Jeff Koons, Kenneth Anger, Henry Darger, Wim Delvoye, Nan Goldin, Jenny Holzer, Jean Genet, Stan Brakhage, Ryan McGinley, Andrea Zittel, Annie Sprinkle, and Lorna Simpson. Just be warned that if you go during Saturday's "Warm Up" series, like we did, a few of the more outrageous galleries are closed, leaving us to wonder just what could be behind those doors that is so much more "adult" than the rest of the show.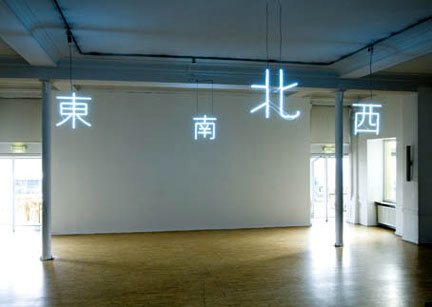 Peter Blum Gallery, New York
Su-Mei Tse, "Dong Xi Nan Bei (E, W, S, N)," 2006, neon installation
ALSO AT P.S.1
http://www.ps1.org/ps1_site/index.php?option=com_content&task=view&id=189&Itemid=63

In celebration of P.S.1's thirtieth anniversary, the third floor main gallery has been given over to Ron Gorchov, who participated in the 1976 "Rooms" exhibit, but "Double Trouble" (through September 18), featuring the artist's repetitive twin shapes, is given way too much space. Likewise "John Lurie: Works on Paper," in the Kunsthalle Gallery through August 14, consisting of approximately eighty watercolors by the musician and actor; although there are a handful of interesting pieces ("Buffalo," "Man Eating Nachos," "Block Heads Kissing"), often reminiscent of Paul Klee, and some cute titles ("Bunny Has Sex wit Leroy Neiman," "Nazi Bird Fleeing Testicles," "The Sultan Loved His BVD's"), the exhibition as a whole has more celebrity name value than artistic merit. Part of the International Project, Su-Mei Tse has two works in the third floor archive galleries (through September 4): "Mistelpartition" is a beautiful large-screen video in which the natural world melds with classical music, the white dots on the trees (mistletoe) turning the environment into a lovely musical manuscript of Shostakovich's Cello Concert No. 1 in E flat major, while "Dong, Xi, Nan, Bei (E, W, S, N)" consists of four neon sculptures hanging from the ceiling, marking the true path. Other International and National Projects include installations by Joe Bradley, Drew Heitzler, Curtis Mitchell, Taiyo Onorato & Nico Krebs, Lisi Raskin, and Kalup Linzy, whose "Shades in Black and White" soap-opera videos, in which he predubs all the voices, are a must-see.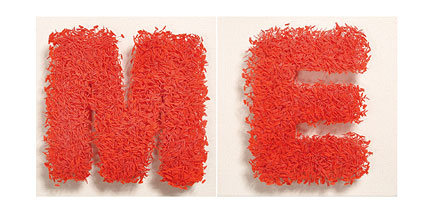 Courtesy the artist / Photograph by John Carrico
Todd Pavlisko, "ME," 2005, retail tag fasteners on unprimed canvas

"Bearable Lightness…Likeness," in the second floor Mini-Kunsthalle Gallery through October 2, features seven works that may be light in weight but are much stronger in content. We particularly liked Cory Wagner's "Big White Lie" floor installation; Todd Pavlisko's "Me," the ego brought to life by red retail tag fasteners; Sungmi Lee's "Untitled #600," a Plexiglas case containing wafting incense smoke; and Milton Rosa-Ortiz's "GULA (Gluttony: From the 7 Deadly Sins Series)," a chandelier made of sugar cubes. Finally, "Time Frame," in the second floor main gallery through September 18, is a cool collection of time-based works, including Hiroshi Sugimoto's Theaters series, photographs of movie theaters that are exposed for the length of the film being projected; Cory Arcangel's "Colors," which retells Dennis Hopper's 1988 COLORS horizontal line by horizontal line; Paul Pfeiffer's "Burial at Sea," depicting an endlessly twisted sunrise/sunset; and John Pilson's "Dark Empire," a much shorter reimagining of Andy Warhol's eight-hour EMPIRE. Oh, and don't forget about William Kentridge's "Vertical Painting: Stair Procession" in the northwest stairwell and Ernesto Caivano's "In the Woods" drawings in stairwell A. As we said above, there's art to be found everywhere you look at P.S.1; we even found an unidentified tiny diorama hiding behind a brick at the top of one staircase, and there's a little green dude trying to make it up the steps outside by the dance floor.
EXHIBITION PROGRAMS
P.S. 1 Contemporary Art Center / MoMA
718-784-2084
http://www.ps1.org/ps1_site/index.php?option=com_events&Itemid=72
Sunday, July 23 Kalup Linzy's Birthday Party, featuring Linzy performing as Labisha (the Diva) from his Shades in Black and White soap-opera series, and more, free with museum admission, 3:00
Sunday, July 30 MoMA/P.S.1 Summer Celebration, featuring music, art, food, and live performances, free, 12 noon — 6:00 pm
In the Neighborhood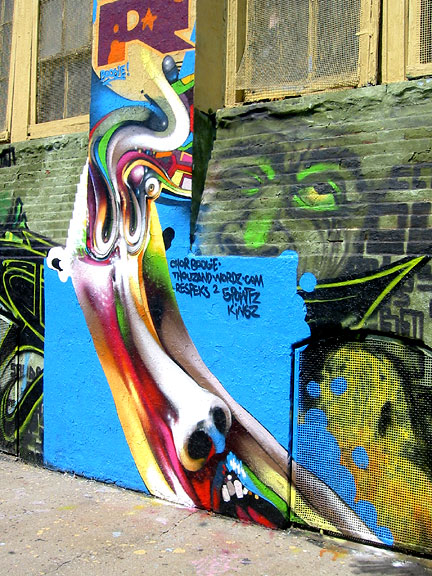 twi-ny/mdr
Twisted figures emerge from old warehouse
5 POINTZ
Jackson Ave. at Crane & Davis Sts.
Admission: free

The art of graffiti is exploding all over the city, from Chelsea galleries to MoMA, from the Brooklyn Museum to high-profile coffee-table books. Right across from P.S.1, on Jackson Ave., graffiti blazes out from the doors, windows, and walls of an abandoned warehouse. This area is known as 5 Pointz, where graffiti artists from the five boroughs and around the world come to create pieces, all with permits and officially sanctioned. Facing Jackson Ave. is a long wall of black-and-white work, but be sure to walk all the way around the building, which is covered from top to bottom in awesome graffiti, favoring murals more than tags. You can see more art as you walk up the steps of the Crane St. Studios, wander through the back parking lot, and venture into the loading dock, where you might find some kids practicing dance moves. A few weeks ago, we were lucky enough to see the Paris-based Axe put the finishing touches on his half of a New York versus Paris mural done with MeresOne, who runs 5 Pointz.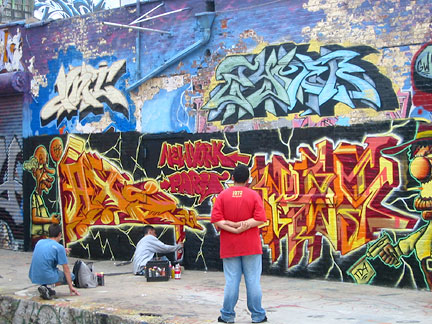 twi-ny/mdr
Axe puts finishing touches on his part of New York vs. Paris mural

Among the current highlights are howling ghosts, el Coro battling it out with el Grupo SWAT, a Rembrandt self-portrait, twisted aliens, a pair of black-and-white heads hovering over the blue 2fly lady, a psychedelic doorway, lots of cute little characters, the "We Don't Clown Around" insane clowns, animated lightbulbs, Pepe Le Pew at the top of the stairs and the Road Runner and Wile E. Coyote around the corner, the "No Writting [sic] Without a Permit" cartoon, a winged skeletal demon ruling over his minions, and hundreds more cool, colorful images. Part of what makes graffiti what it is involves the dangerous aspect of it, with bombers hitting the streets late at night and trying to avoid the vandal squad, so this loses a little something in that it is all done with the permission of the supervising group. But that doesn't mean it is any less spectacular to look at.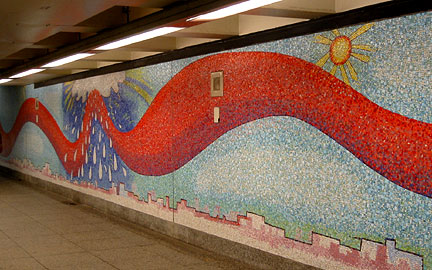 twi-ny/mdr
Elizabeth Murray mosaic streams through Queens station
STREAM: ELIZABETH MURRAY
23rd St. & Ely E/f, Court Square G
Admission: $2
http://www.mta.nyc.ny.us/mta/aft/pa/tour/23elymurryvv.htm
http://www.mta.nyc.ny.us/mta/aft/pa/tour/23rdelyf.htm

A different kind of "legalized graffiti" can be found throughout this subway station, right next to P.S.1. Elizabeth Murray, who was recently the subject of a terrific career retrospective at MoMA, designed these colorful glass mosaics in 2001, stretching down the long corridors that connect the the 23rd St. & Ely Ave. E/F with the Court Square G. A thick red line twists over the city skyline, going from a bright, sunny day to overcast skies to a sudden rainstorm. Ride the people mover amid reds, yellows, blues, and oranges, adding glorious color to the usual gray and dank subway system. As an added bonus, the E/F also features Frank Olt's 1992 "Gothic Circle," "Temple Quad Reliefs," and "In Bound Arch" ceramic and glass reliefs.
Indoor Film Festival of the Week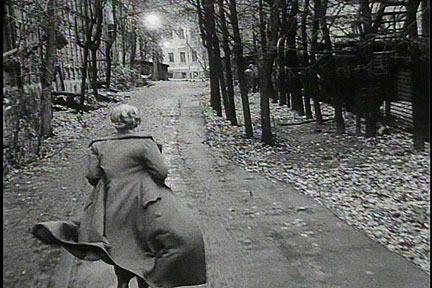 Cineastes are rushing to Anthology to see THE MIRROR
and other great Kino flicks
KINO SUMMER SERIES
Anthology Film Archives
32 Second Ave. at Second St.
Tickets: $8
July 24 - August 7
212-505-5181
http://www.anthologyfilmarchives.org

Kino International celebrates summer with this splendid series that shows the wide-ranging variety of classic and foreign films that it has been distributing since 1977. Anthology guides cineastes through a geographic wonderland, starting in Eastern Europe, with such directors as Sergei Paradjanov, Akira Kurosawa, and Andrei Tarkovsky, before making stops in Germany (F.W. Murnau, Fritz Lang), Western Europe (Raùl Ruiz, Claude Chabrol, Roberto Rossellini), Scandinavia (Aki Kaurismäki), Asia (John Woo, Wong Kar-wai), North America (Buster Keaton), and Africa (Cheick Oumar Sissoko, Souleymane Cissé), among others.
Monday, July 24 THE RETURN (Andrei Zvyagintsev, 2003), 7:00
Monday, July 24 DERSU UZALA (Akira Kurosawa, 1975), 9:15
DERSU UZALA (Akira Kurosawa, 1975)

In this stunning film, director-cowriter Akira Kurosawa has fashioned one of cinema's greatest characters, a worldly wise, deceptively simple, charming man who understands life, nature, responsibility, and helping others. Maksim Munzuk gives a marvelously understated performance as the title character, who is suddenly taken out of his quiet life of solitude when a Russian army troop comes to Siberia.
Tuesday, July 25 THE LEGEND OF SURAM FORTRESS (Sergei Paradjanov, 1985), 7:00
Tuesday, July 25 ASHIK KERIB (Sergei Paradjanov, 1988), 9:00
Wednesday, July 26 SHADOWS OF OUR FORGOTTEN ANCESTORS (Sergei Paradjanov, 1965), 7:00
Wednesday, July 26 COLOR OF POMEGRANATES (Sergei Paradjanov, 1969), 9:00
Thursday, July 27 HARVEST TIME (Marina Razbezhkina, 2004), 7:00
Thursday, July 27 STALKER (Andrei Tarkovsky, 1979), 8:45
Friday, July 28 MOTHER AND SON (Aleksandr Sokurov, 1997), 7:00
Friday, July 28 THE MIRROR (Andrei Tarkovsky, 1975), 8:45
THE MIRROR (ZERKALO) (Andrei Tarkovsky, 1975)

"Words can't really express a person's emotions. They're too inert." So says Andrei Tarkovsky in his dream-filled, surreal masterpiece THE MIRROR, which features long scenes with little or no dialogue. Tarkovsky turns the mirror on himself and his childhood to tell the fragmented and disjointed story of WWII-era Russia through his own personal experiences with his family. Tarkovsky was obsessed with film as art, and this nonlinear film is his poetic masterpiece; he even includes his father's poems read over shots that are crafted as if paintings. Many of the actors play several roles; have fun trying to figure out who is who and what exactly is going on at any one moment.
Saturday, July 29 MY NAME IS IVAN / IVAN'S CHILDHOOD (Andrei Tarkovsky, 1962), 3:00
MY NAME IS IVAN / IVAN'S CHILDHOOD
(Andrei Tarkovsky, 1962)

IVAN'S CHILDHOOD is a magnificent work about a fearless young boy who spies for the Russians during World War II. But for all of his outward toughness -- battling fearlessly with the other soldiers to prove his military value, dirt seemingly entrenched on his face -- he is still a young boy who dreams of another, safer life, wrapped in his mother's arms. This award-winning masterpiece, which marked Andrei Tarkovsky's feature-film debut, is filled with unforgettable shots that will stay with you long after the film is over.
Saturday, July 29 SOLARIS (Andrei Tarkovsky, 1972), 5:00
SOLARIS (Andrei Tarkovsky, 1972)

Natalya Bondarchuk and Donatus Banionis star in the Russian 2001: A SPACE ODYSSEY (Stanley Kubrick, 1968), in which something strange is going on in outer space that is unexplainable to both the characters in the film and the people in the audience. Banionis plays Chris Kelvin, who is sent to the Solaris space station to decide whether to put an end to the solaristics project that Burton (Vladislav Dvorzhetsky) complicated twenty years before. What he discovers is one death, two possibly insane men, and his supposedly dead wife (Bondarchuk). Ambiguity reigns supreme in this gorgeously shot (in color and black and white) and scored film that, while technically sci-fi, is really about the human conscience. See it whether or not you checked out Steven Soderbergh's recent underrated remake with George Clooney and Natascha McElhone.
Saturday, July 29 ANDREI RUBLEV (Andrei Tarkovsky, 1966), 8:30
ANDREI RUBLEV (Andrei Tarkovsky, 1969)

Tarkovsky's marvelous — and very long, at nearly three and a half hours — study of Russian religious painter and monk Andrei Rublev is breathtaking in its epic scope and sublime beauty. Anatoli Solonitsyn stars in this primarily black-and-white tale that has the look and feel of an old classic Russian film from the 1930s (or earlier). It is about faith, about the earth, and about as slow moving as a film can get. The section about the bell is unforgettable. As with several of Tarkovsky's films, it was cowritten by Andrei Konchalovsky, who made an attempt at Hollywood in the 1980s, churning out such terrible stuff as HOMER & EDDIE and TANGO & CASH following a decent start with MARIA'S LOVERS and RUNAWAY TRAIN.
Sunday, July 30 MY FRIEND IVAN LAPSHIN (Alexei Gherman, 1971/85), 3:15
Sunday, July 30 THE SACRIFICE (Andrei Tarkovsky, 1986), 5:30
Sunday, July 30 STALKER (Andrei Tarkovsky, 1979), 8:30
Monday, July 31 THE LAST LAUGH (F.W. Murnau, 1924), 7:00
Monday, July 31 FAUST (F.W. Murnau, 1926), 9:00
Tuesday, August 1 LA VIE DE BOHÈME (Aki Kaurismäki, 1992), 7:00
Tuesday, August 1 THE MATCH FACTORY GIRL (Aki Kaurismäki, 1990), 9:15
THE MATCH FACTORY GIRL
(TULITIKKUTEHTAAN TYTTÖ) (Aki Kaurismäki, 1990)

Finnish auteur Aki Kaurismäki wrote, directed, produced, and edited this harrowing tale of a young woman for whom nothing goes right. As hardship upon hardship continues to cripple her life, you'll actually start laughing at the absurdity of it all. This immensely bold yet simple film stars Kati Outinen, who won the Best Actress award at Cannes a few years back for her performance in Kaurismäki's THE MAN WITHOUT A PAST.

Wednesday, August 2 TIME REGAINED (Raùl Ruiz, 1999), 7:30
TIME REGAINED (LE TEMPS RETROUVÉ) (Raul Ruiz, 1999)

Raul Ruiz's overly long dramatization of Marcel Proust on his deathbed, thinking back on his own life as well as the fictional life of his characters, has charm and wit and a whole lot of bizarrely entertaining set movements. Despite a cast that includes Catherine Deneuve and John Malkovich, the acting is only so-so, and it helps if you know a little Proust, but Ruiz is a director always worth watching, so give it a chance–if you have the time.
Thursday, August 3 LES BONNES FEMMES (Claude Chabrol, 1960), 7:30
Thursday, August 3 EVE (Joseph Losey, 1962), 9:30
Friday, August 4 A TALKING PICTURE (Manoel de Oliveira, 2003), 7:30
Friday, August 4 DAYS OF BEING WILD (Wong Kar-wai, 1991), 9:30
DAYS OF BEING WILD (A FEI JING JUEN) (Wong Kar-wai, 1991)

Wong Kar-wai's second film, DAYS OF BEING WILD, following the surprising success of his debut feature, AS TEARS GO BY, was a popular failure, as Hong Kong audiences were not yet ready for his introspective, character-driven, nonlinear style. (However, it did win five Hong Kong Film Awards, including Best Picture and Best Actor.) DAYS is Wong's first film with master cinematographer Christopher Doyle, who has since shot all of Wong's work, including CHUNGKING EXPRESS, FALLEN ANGELS, HAPPY TOGETHER, and IN THE MOOD FOR LOVE. The late Leslie Cheung, who jumped out a hotel window in 2003, stars as Yuddy, a disaffected, beautiful youth who lures in women and then, after they fall in love with him, verbally mistreats them and cheats on them. Among his conquests are the gorgeous Su-Lizhen (Maggie Cheung), often shot in magnificent close-up, and the trampy Mimi (Carina Lau), who is jealous of Su, who takes comfort in telling her tale of woe to local police officer Tide (Andy Lau). Meanwhile, Yuddy, who was raised by a former prostitute, is obsessed with finding his birth mother, two facts that just might be part of the reason he treats women as he does. Set in 1960, the film's leitmotif involves time and memory, with clocks ticking loudly and lots of long, lingering looks. The story goes a bit haywire in the latter sections, although the ending is a gem. (Look for Tony Leung there.)
Saturday, August 5 THE GENERAL (Buster Keaton, 1926), 2:45
Saturday, August 5 THE KILLER (John Woo, 1990), 4:30
Saturday, August 5 FALLEN ANGELS (Wong Kar-wai, 1995), 7:00
Saturday, August 5 HAPPY TOGETHER (Wong Kar-wai, 1997), 9:00
Sunday, August 6 MODERN TIMES (Charles Chaplin, 1936), 2:30
Sunday, August 6 METROPOLIS (Fritz Lang, 1927), 4:30
Sunday, August 6 ROME: OPEN CITY (Roberto Rossellini, 1945), 7:00
Sunday, August 6 M (Fritz Lang, 1931), 9:15
Monday, August 7 GUIMBA THE TYRANT (Cheick Oumar Sissoko, 1995), 7:30
Monday, August 7 YEELEN (BRIGHTNESS) (Souleymane Cissé, 1987), 9:30

In the Neighborhood
THE ORIGINAL YONAH SCHIMMEL KNISHERY
137 East Houston St. between First & Second Aves.
212-477-2858

Before or after a classic flick at Anthology (especially an Eastern European movie), walk down Second Ave. and across Houston for some classic old-fashioned New York cuisine. Yonah Schimmel has been serving its excellent knishes since 1890, and it has been in this small, homey shop for more than ninety of those years. Our only problem with the place is that every time we walk in, we want one of everything — potato, kasha, and chocolate-cheese knishes; potato latkes and cheese blintzes; noodle or potato kugal [sic] and potato blintzes; even borscht and some muhn kichel. Yonah Schimmel (also spelled Shimmel on the storefront) is so proud of its knishes — and rightly so — that the take-out menu includes directions for reheating them. But for the proper experience, order a knish and an egg cream, grab a table by the window, and watch the parade of fools down Second Ave. who have no idea what they're missing.
Briefly in the Neighborhood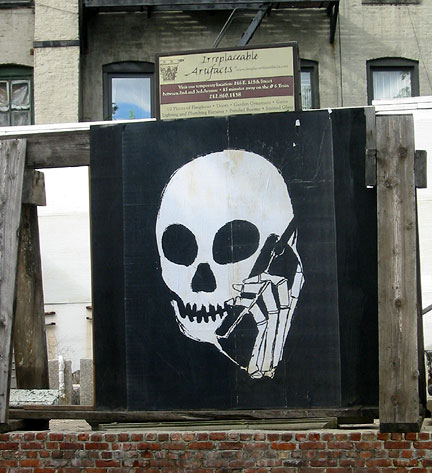 twi-ny/mdr
Replaceable skeleton man on phone has been removed from artifacts lot
IRREPLACEABLE ARTIFACTS
14 Second Ave. at Houston St.
Admission: none
http://www.demolitiondepot.com
In July 2000, the architectural salvage shop Irreplaceable Artifacts came crashing down on the corner of Second Ave. and Houston St., leading to indictments of the owners as well as one of the demolition men, who was charged with stealing items from the store before wrecking it. In return, co-owner Evan Blum sued the city to maintain control of the site. Today the area is a gated mess, looking like a failed excavation dig. A small sign notes the relocation of the store to 125th St., where it has merged with the Demolition Depot. Recently, the above graffiti appeared, depicting a skeleton on the telephone, an image that can be seen all around the city. We got all excited about showing it off — it's usually found high up on buildings, so this was a rare chance to see up close and personal — only to find that someone had painted over it, blacking it out completely. Bah, humbug, we say.
Outdoor Film Festival of the Week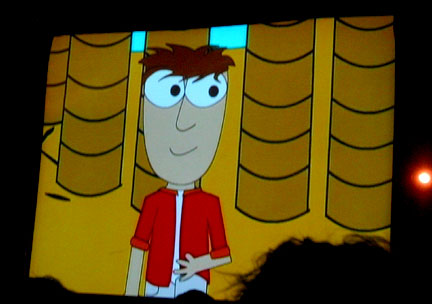 twi-ny/mdr
Cartoons start off a hot night of cool screenings in Brooklyn
ROOFTOP FILMS: MOVIES ON A ROOF IN BROOKLYN
289 Kent Ave. between South First & South Second Sts., Williamsburg (KA)
Automotive High School, 50 Bedford Ave. between North 12th St. & Lorimer, Williamsburg (AHS)
The Old American Can Factory, 232 Third St. at Third Ave., Gowanus (OACF)
Downtown Community Television, 87 Lafayette St. between Walker & White Sts. (DCTV)
Open Road Park, between 11th & 12th Sts. between First Ave. & Ave. A, East Village (ORP)
Pier 63 Maritime, 23rd St. & the Hudson River, Chelsea (63)
Solar One, Stuyvesant Cove Park, 23rd St. & the East River (S1)
Thursday through Saturday: live music at 8:30, screenings at 8:00
Tickets: $8 unless otherwise noted
http://www.rooftopfilms.com/2006_schedule.html

Currently celebrating its tenth anniversary, Rooftop Films screens independent shorts, documentaries, and features, preceded by live music, on rooftops and other outdoor venues in Brooklyn and Manhattan. This season we've been to events at Solar One at Stuyvesant Cove Park and the Automotive High School in Williamsburg. Everyone is laid back, and you are encouraged to bring your own food and drink for the coolest picnics around.
Thursday, July 20 RWANDA: THE HILLS SPEAK (RWANDA: LES COLLINES PARLENT) (Bernard Bellefroid), with live music by Marie Claudine Mukamabano, DCTV, $10
Friday, July 21 Circus Shorts: Clowns and Rollercoasters, the High Line
Saturday, July 22 Shorts Program: Animation Block Party, AHS
Thursday, July 27 TBD
Friday, July 28 Shorts Program: Punk Rock Girl, ORP
Saturday, July 29 SONGBIRDS (Brian Hill), AHS
In the Neighborhood
twi-ny/mdr
Polish food is perfect for outdoor summer films
LOMZYNIANKA
646 Manhattan Ave.
718-389-9439

If you're heading out to a Rooftop screening at the Automotive High School in Williamsburg, stock up on some great eats from this awesome Polish restaurant just up the street. We made ourselves a picnic of potato pierogies slathered in fried onions, enormous cheese blintzes, cucumber salad, and potato pancakes, all for a mere sixteen bucks. Top it off with a few beers and you're sure to enjoy the music and movie. (And if you have to eventually go on a bathroom run, use the one inside the high school, just past the shiny car engine.)
Chelsea Exhibit of the Week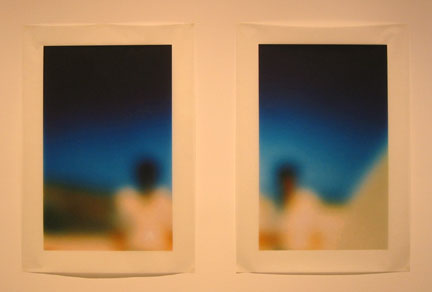 twi-ny/mdr
Dimitrios Antonitsis, "Hegel146;s Dialectic I & II"
IT'S NOT A PHOTO…
Chelsea Art Museum, first floor
556 West 22nd St. at Eleventh Ave.
Closed Sunday & Monday
Through August 26
Admission: $6
212-255-0719
http://www.chelseaartmuseum.org/exhibits/2006/notaphoto/index.html

For this cool exhibit, curators Julia Draganovic and Manon Slome have gathered together eight artists who use the medium of photography to create abstract artworks that do not involve the click of a camera, exposing instead the materials that go into making photographic images. James Welling experimented with light and exposure for his Degrades series, resulting in captivating prints featuring slowly evolving shifts in color. Jeremy Blake is represented by several of his futuristic C-prints as well as two time-based DVDs featuring changing patterns, background turning into foreground, and objects repeating in different color schemes. Look closely at Willa Davis's "Dome of the Green Cathedral" and "Great Hall," a pair of kaleidoscopic mandalas that are more than they appear to be. Marco Breuer makes the paper surface itself part of his work, using a razor blade in his Pan/Tilt pieces and emulsion as a destructive and constructive force in his Notes, Queries works. For his Philosphobia series, Dimitrios Antonitsis manipulates found vacation photos into brand-new, shadowy images, then names them after philosophers: "The Older Wittgenstein's Make-Up Kit," "Hegel's Dialectic," "Descartes' Demon." Go down the stairs in the back to find Bjørn Melhus's thrilling "Still Men Out There?", in which a devilish collection of three sets of six television monitors flick colored light on and off, projecting an ever-changing color scheme onto the walls and ceiling, while the soundtrack blasts snippets of Hollywood war movies. "It's Not a Photo…" shows artists taking conventional theories about the photographic image as a jumping-off point in making engaging experimental works that illuminate, tease, confuse, and bewilder the careful watcher.
MIMMO ROTELLA:
SELECTIONS FROM THE PERMANENT COLLECTION
Chelsea Art Museum, second floor
Through the summer
As long as you're already at the Chelsea Art Museum, it is worth going upstairs to the second floor, where the compelling work of Mimmo Rotella is on view. Rotella, who died this past January at the age of eighty-seven, was a master of décollage, taking posters, tearing them, and painting over them to create violent new images that appear to be ripped right off city streets, including "La Dolce Vita" and "Strike." One of the Affichistes, a Nouveaux Réaliste, and an originator of Mec art (with Alain Jacquet), Rotella also burned paper on cardboard as a form of deconstruction; look at the floor and you just might see tiny pieces that are still flaking off of "Bruciature in Transparente."
In the Neighborhood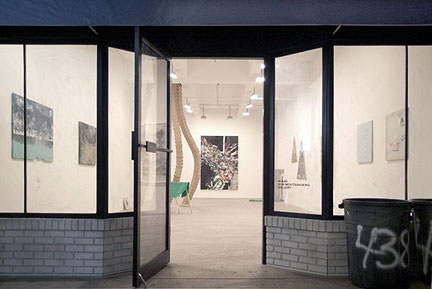 The entire Klaus von Nichtssagend Gallery moves into Chelsea space
CRG PRESENTS: KLAUS VON NICHTSSAGEND GALLERY
CRG Gallery
535 West 22nd St. between Tenth & Eleventh Aves.
Monday-Friday, 10:00 am — 6:00 pm
Through July 28
Admission: free
212-229-2766

Williamsburg's Klaus von Nichtssagend Gallery gets brilliantly re-created in Chelsea's CRG Gallery, complete with its own entrance; even the garbage cans are part of the show, marked 438 because the Brooklyn gallery is located at 438 Union Ave. Inside, seventeen artists have contributed site-specific installations, and, in a type of performance art, you'll even find someone from KVN working at a desk around the bend (in addition to the CRG person working outside the space). The gallery within a gallery features such cool pieces as Ian Pedigo's "Expansion into Undeveloped Areas," using craft paper and found material to occupy one corner; Matthew Chase's "Land Scape Additive," which climbs the wall behind the desk; Teresa Seeman's "Barge," which jumps out of its space; and Rindfleisch/Rapedius's "Palm Box," which consists of twisting cardboard boxes rising from the floor. The works question perception much like the existence of the gallery itself considers how and where art is displayed. Don't get overly caught up in the individual pieces; it's the piece as a whole that is simply fab.
Amer Kobaslija, "Door View," oil on panel, 2006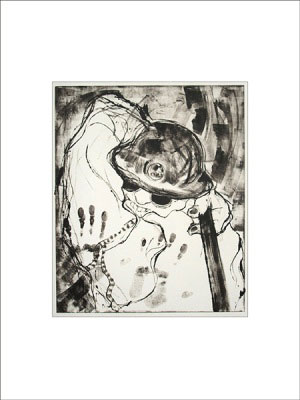 David Fox, "Cop Beating with Stick," monotype on paper, 2006
LARGE SCALE STUDIO PAINTINGS: AMER KOBASLIJA
IMAGES OF WAR: RECENT MONOTYPES BY DAVID FOX
George Adams Gallery
525 West 26th St. between Tenth & Eleventh Aves
Tuesday-Friday, 10:00 am — 5:00 pm
Through August 18
Admission: free
212-564-8480
http://georgeadamsgallery.com/exhibitions/exhibitions_cur.php3

The main gallery of the George Adams Gallery has been taken over by sensational large-scale paintings by Amer Kobaslija, offering unique perspectives of the artistic process from his studio. Cleverly, the gallery has placed "Door View," showing a partially open door, by its own front door, both serving as invitations. "The Art of Painting" looks down on the studio from an odd angle, disorienting the viewer. Only the painter's foot and lower leg are visible in "Artist in His Studio." A broom, a ladder, and a stool sit alone on a Pollock-like floor in "Painter's Floor with an Open Door." Kobaslija reveals his appreciation of Japanese novelist (and twi-ny fave) Haruki Murakami by incorporating the celebrated author's titles into "South of the Border, West of the Sun II" and "Sputnik Sweetheart of New Orleans and the End of the World." In the Drawing Gallery, seven monotypes by David Fox show the devastation of war, focusing on prisoner abuse. Part of his Images of War series, Fox calls to mind the work of Goya and Otto Dix as well as Ralph Steadman, resulting in a disarming and powerful group of drawings that can't help but summon up thoughts of Guantanamo Bay and Iraq, especially with such titles as "Soldier and Muslim" and "Hooded Prisoner."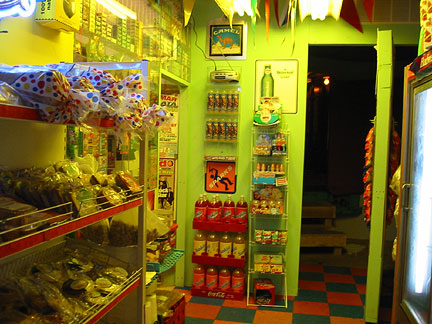 twi-ny/mdr
Walk through "bodega" to get to further installations behind trick door
HELTER SWELTER: JUSTIN LOWE
Oliver Kamm 5BE Gallery
621 West 27th St. between Eleventh & Twelfth Aves.
Monday-Friday, 11:00 am — 6:00 pm
Admission: free
212-255-0979

Don't turn around after you walk into the Oliver Kamm 5BE Gallery, thinking you've made a mistake. You haven't. Justin Lowe has turned the front space into a typical city bodega (and possible drug front), getting every detail right, from the floor tiles to the bugs in the refrigerator case, from the cash register to the music. The far wall, under the Arizona iced tea bottle, is a secret revolving entrance to the back room — but there is no illegal gambling or drug dealing going down there; instead, you have entered a questionable construction site, with ads plastered on the walls and scaffolding over your head. But continue on down the steps to discover that you were actually inside an improbable Kool Man ice-cream truck parked on soft grass (made of colorful fabric), playing that annoying ice-cream song over and over.
ALSO IN CHELSEA
27th St. between Tenth & Twelfth Aves.
Most open Monday-Friday during July and August
Admission: free
http://chelseaartgalleries.com
Although the 27th St. galleries are generally less visited than those between 21st & 26th, that doesn't mean there's less to see. While Justin Lowe's "Helter Swelter" is worth going out of your way for, here's some other cool stuff nearby: Maya Hayuk's very adult site-specific wall installation is on view as part of "The Rest Is Total Silence" at ATM Gallery (619B West 27th St., through July 28, http://atmgallery.com); go behind the scenes of Chris Moukarbel's re-creation of Oliver Stone's WORLD TRADE CENTER, which resulted in a lawsuit, at Wallspace (619 West 27th St., through August 5, http://wallspacegallery.com); Jessica Ciocci uses pigs to take on the culture of consumption in "P.E.A.C.E" at Foxy Production (617 West 27th St., through August 4, http://www.foxyproduction.com); and motion sensors set off urination, a smoking tree, a singing bush, and a tale-wagging dog in Peter Caine's revolutionary-war era animatronic "The Patriot," part of the summer group exhibition at Derek Eller (615 West 27th St., through August 18, http://derekeller.com).

Riff's Rants & Raves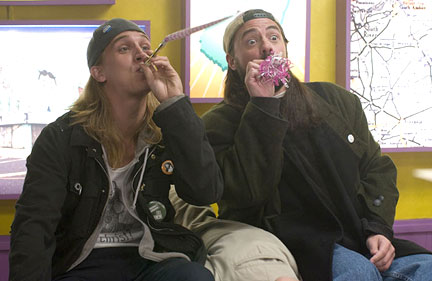 Jay and Silent Bob razz Joel Siegel's early departure
CLERKS II (Kevin Smith, 2006)
Opens Friday, July 21
http://viewaskew.com/news/jul06/1.html

At one time titled THE PASSION OF THE CLERKS, Kevin Smith's return to hallowed ground is just about everything it should be: a rude, crude, and raucously funny sequel to the 1994 black-and-white indie cult classic. After the Quick Stop burns down, clerks Dante Hicks (Brian O'Halloran) and Randal Graves (Jeff Anderson), now in their early thirties, end up working at Mooby's, a fast-food joint run by the very patient and forgiving Becky (Rosario Dawson). Their going-nowhere lives are about to change, however, as Dante prepares to move to Florida to marry Emma (Jennifer Schwalbach, Smith's real-life wife) and take over one of her father's car washes. While Dante paints Becky's toenails and Randal turns his foul-mouthed attentions on "Funployee of the Month" Elias (Trevor Fehrman), Jay (a now-sober Jason Mewes) and Silent Bob (Smith) loiter outside, dealing drugs and blasting some serious tunage. Amid hysterical, heated arguments over the LORD OF THE RINGS and STAR WARS trilogies, controversial sexual positions, racist language, and the Transformers among themselves and a string of Mooby's customers (including cameos by Jason Lee, Wanda Sykes and Earthquake, Ben Affleck, and Kevin Weisman), Smith sneaks in a few cringe-worthy, treacly scenes that fortunately mostly get lost in the shuffle. CLERKS fans should love CLERKS II, while newcomers might be shocked by some of the language; at the preview screening we attended, one prominent critic got up early in the film, announced to everyone that it was time to go, and, on his way out of the theater, declared that this was the first movie he's walked out on in thirty #$!@% years. We wonder what he would have thought after the donkey scene. As an added bonus for CLERKS fanatics, the movie Web site includes "Train Wreck," twenty short videos that go behind the scenes of the making and marketing of this very dirty, very funny flick.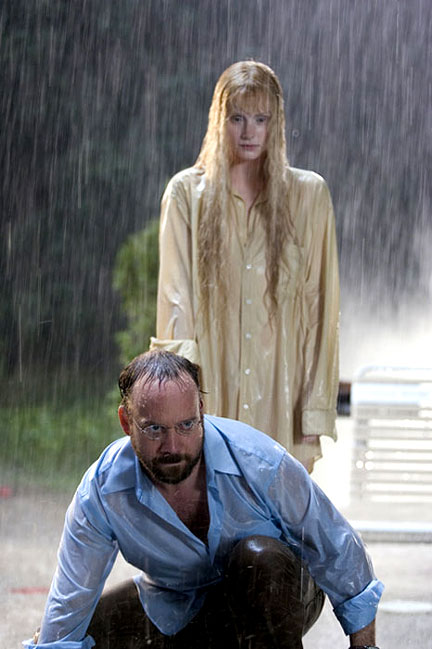 LADY IN THE WATER ends up being all wet.
LADY IN THE WATER (M. Night Shyamalan, 2006)
Opens Friday, July 21
http://ladyinthewater.warnerbros.com
M. Night Shyamalan, the man behind such thrilling films as THE SIXTH SENSE (1999) and such inane tripe as UNBREAKABLE (2000), creates a fantastical bedtime story with LADY IN THE WATER. Paul Giamatti stars as Cleveland Heep, a shlubby, stuttering superintendent of a Philadelphia apartment complex filled with some very strange people. When a mysterious naked woman calling herself Story (Bryce Dallas Howard) shows up seemingly out of nowhere in the complex's pool, Cleveland starts believing that she is a creature from a frightening fairy tale that tenants Young-Soon Choi (Cindy Cheung) and her mother (June Kyoto Lu) tell him a little bit at a time. Thinking Story's life is in danger, Heep, who is harboring his own dark secret, starts recruiting other people in the complex to fight for her survival, including a crossword-puzzle junkie (Jeffrey Wright), a cynical book and film critic (Bob Balaban), an animal lover (Mary Beth Hurt), a writer (Shyamalan), the writer's sister (Sarita Choudhury), and a group of smoking oddballs (led by Jared Harris). Among the other weirdos in the building are Reggie (Freddy Rodriguez), who is working out only one side of his body, the nagging Bubchiks (Tovah Feldshuh and Tom Mardirosian), and Mr. Leeds (Bill Irwin), a lonely man who just sits in front of his television silently, his front door always ajar. The film winks at itself and the audience constantly, but what at first is kind of cute and effective eventually grows tiresome. The movie is so self-referential that Shyamalan himself plays the author of a manuscript called THE COOKBOOK, because he is the master chef of this ultimately unsatisfying meal — or story, shall we say, as the title character is so very carefully named. And Shyamalan clearly has little sympathy for the critic, as if he is well prepared for the negative reviews that indeed have come flooding in. There's a lot here to admire, but Shyamalan stirs the pot too much, leaving gaping plot holes, unexplained detours, and a final twenty minutes that are a major letdown after an okay set-up. The film was shot by master Hong Kong cinematographer Christopher Doyle, although you'd never know it from looking at it.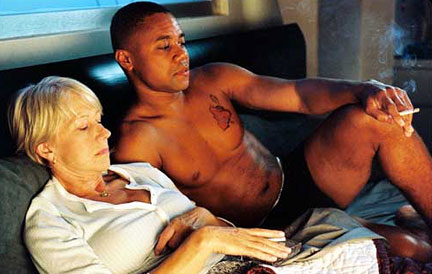 Helen Mirren and Cuba Gooding Jr. are in big trouble in SHADOWBOXER
SHADOWBOXER (Lee Daniels, 2005)
Opens Friday, July 21
http://www.shadowboxerthefilm.com

Producer Lee Daniels (MONSTER'S BALL, THE WOODSMAN) steps behind the camera for his directorial debut, the insipid, insulting, and utterly inane SHADOWBOXER. Cuba Gooding Jr. stars as Mikey, a cold-blooded hit man partnering with the ailing Rose (Helen Mirren). On an assignment to kill the wife of a notorious crime boss who goes by the hard-hitting name Clayton (Stephen Dorff), Rose hesitates when she sees that the woman, Vickie (Vanessa Ferlito), is pregnant. Against Mikey's wishes, Rose decides to help Vickie escape, putting all their lives in grave danger. They are aided by young Dr. Don (Joseph Gordon-Levitt) and his oversized girlfriend, Precious (Mo'Nique), but the evil, insane, clichéd Clayton lurks around every corner. SHADOWBOXER plays much more like a late-night Skinemax movie than a cool, hip indie flick, which it so desperately wants to be. While Mirren shows flashes of her extraordinary talent, Gooding broods through the entire ninety-three minutes. And yes, that is the virtually unrecognizable Macy Gray as Vickie's best friend, Neisha.
AZUMI (Ryuhei Kitamura, 2003)
Village East Cinema
181 Second Ave. at 12th St.
Opens Friday, July 21
Tickets: $10.75
212-529-6998
http://citycinemas.moviefone.com/showtimes/theater.adp?theaterid=922
http://asiavisionfilms.com/films/azumi

In nineteenth-century Japan, the Tokugawa Shogunate wants to bring peace to the land — by sending highly skilled assassins to kill their archenemies before they can lead attacks against them. Master Gessai (Yoshio Harada) has been training his small elite force since they were young orphans, and the time has come for them to defend their nation. But first, to prove their dedication to the mission, they must each take the life of one of their own. Only after doing so can Azumi (Aya Ueto), Hyuga (Kenji Kohashi), Nagara (Yuma Ishigaki), and Ukiha (Hiroki Narimiya) enter a world they know little about, murderous machines who leave rivers of blood in their wake as they go after three wicked warlords. Although it is based on the comic book series by Yu Koyama, AZUMI feels more like a video-game-turned-movie, mixing silly soap opera with mechanical, uninvolving fight scenes, lacking emotional depth, and using special effects for the sake of using special effects instead of doing so to propel the weak story. Azumi is no Black Mamba (Uma Thurman from the KILL BILL flicks), and the white-clad flower fiend Bijomaru (Joe Odagiri) is completely out of place here. AZUMI is minor league all the way.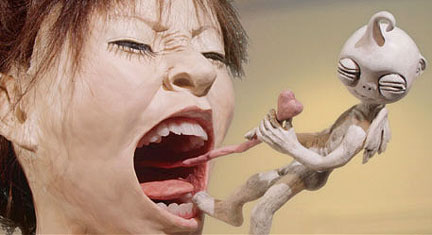 Be prepared for some real strangeness in KATAKURIS
THE HAPPINESS OF THE KATAKURIS (Takashi Miike, 2001)
Nippon Eiga Series, part two
Tribeca Cinemas
54 Varick St. at Laight St.
Wednesday, July 26, 6:00 & 8;45
Admission: free (RSVP to ana@newyork-tokyo.com)

We love this flick. Takashi Miike incorporates claymation and musicals into this terrific tale of the Katakuris, a family that moves to the middle of nowhere to run a country inn. The only problem is that when guests finally arrive, they all end up dead — in bizarre, ridiculous ways — and the father decides to bury them instead of reporting the incidents, in order to protect the inn. Miike (ICHI THE KILLER, AUDITION, THE GREAT YOKAI WAR) masterfully mixes comedy, romance, music, murder, and mayhem in this enormously entertaining and highly original movie that is filled with a never-ending bag of surprises. Our friends at New York-Tokyo, in conjunction with All Nippon Airways, is sponsoring two free screenings of this sweet little film, which is rarely shown on the big screen, so RSVP now. Don't miss it.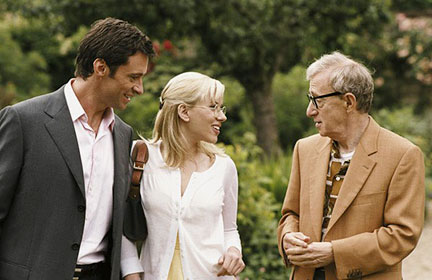 Woody Allen takes Scarlett Johansson for another romp through London, this time with Hugh Jackman
SCOOP (Woody Allen, 2006)
Opens Friday, July 28

Woody Allen follows the critical and popular success of MATCH POINT with the tired and average SCOOP. Like its predecessor, SCOOP was shot in London, but the Woodman seems to have already run out of unique British characters and locations. MATCH POINT's Scarlett Johansson stars as Sondra Pransky, a nerdish American journalism student who gets mixed up in the exploits of the Tarot Card Killer, who is viciously murdering women all over town. Pransky, adopting the pseudonym Jade Spence, teams up with pathetic magician Splendini (Allen), who has accidentally conjured up the spirit of recently deceased ace reporter Joe Strombel (Ian McShane), who tells her that he knows who the serial killer is and needs her to get the story. So she sets out to investigate Peter Lyman (Hugh Jackman), the ridiculously wealthy playboy son of a well-connected lord. There are some very funny moments in the film, and it regularly flirts with success, but Allen continually reverts to stale material and clichéd scenes (some of which have been borrowed from Alfred Hitchcock's NOTORIOUS). The actors lack any sort of chemistry, and the supposedly shocking finale is all wet. Woody's next film will also be made in London; we already can't wait for him to come home to Gotham.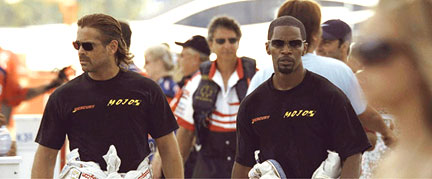 Colin Farrell and Jamie Foxx are Crockett and Tubbs for a new generation
MIAMI VICE (Michael Mann, 2006)
Opens Friday, July 28

Nobody can do Michael Mann quite as well as Michael Mann: The stylish, painterly, nearly ambient texture of MIAMI VICE is proof of his visual, rhythmic, and atmospheric mastery (shot in high-end digital video), and his characters seem to swim through this beautiful environment like gorgeous tropical fish — delivering deadpan dialogue that is equal parts romantic cliché and hard-boiled bad-assedness. The weakness of the storyline almost doesn't matter . . . almost. It's disappointing that Mann didn't use his visceral shooting and timing to reinvent the genre (again, as he did so well in the original TV series and such films as HEAT), as the beginning of the film is very successful. Mann simply plunges right into a nightclub where Crockett (Colin Farell) and Tubbs (Jamie Foxx) are working some sort of sting operation, and they are quickly drawn into an FBI drug investigation gone horribly, horribly wrong. Its hyperviolent outcome is filmed with security-video detachment; there are things in the first part of the film that audiences have not seen in movies (it's definitely not for the squeamish), used to brilliant effect. Admittedly, the bar is set very high, but it seems that after this Mann uses his own tried-and-tested techniques and situations. Unfortunately, when the story becomes important, things go downhill. Crockett somehow manages to fall in love with one of the drug queenpins (an amazing but ultimately wasted Gong Li) and inexplicably takes a little trip to Cuba "for drinks" in a super-deluxe speed boat. That's how bad-asses roll these days, and yes, he says, "I'm a fiend for Mojitos." Well, love is in the air, and that pretty much undermines the crime plot and its clichéd (but amazingly done) set pieces. This is HEAT all over again . . . except you care even less about the story and characters. MIAMI VICE is solid entertainment but ultimately a misfire for Mann.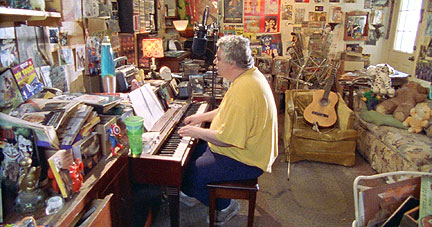 © Complex Corp.
Daniel Johnston rehearses in his crowded room
THE DEVIL AND DANIEL JOHNSTON
(Jeff Feuerzeig, 2005)
Makor Film
Steinhardt Building
35 West 67th St. between Amsterdam & Columbus Aves.
Saturday, July 29, and Saturday, August 5, 9:00
Tickets: $9
212-601-1000
http://www.sonyclassics.com/devilanddaniel

Jeff Feuerzeig's THE DEVIL AND DANIEL JOHNSTON is a sad portrait of fame and folly. The mesmerizing documentary examines the life and career of Daniel Johnston, an outsider artist and musician who has a ravenous underground following. From the time he was a kid, Johnston was obsessed with recording his existence, making deeply personal audiocassettes and inventive Super-8 films, many of which Feuerzeig includes here, revealing Johnston's curious, unique past. In the mid-1980s, Johnston recorded a pair of homemade tapes, SONGS OF PAIN and MORE SONGS OF PAIN, that detailed his unrequited love for an acquaintance of his named Laurie. His music quickly developed a cult audience, landing him on MTV and at the prestigious SXSW festival while gaining such fans as Kurt Cobain, Matt Groening, Sonic Youth, and the Butthole Surfers. All the while, he created comic-book-style paintings and drawings that began to be shown in galleries. But as Feuerzeig's amazing mix of archival footage, home movies, and new interviews reveals, Johnston is also a manic depressive with severe mental problems who cannot survive on his own. Now in his mid-forties, he still lives with his Christian fundamentalist parents, seemingly as childlike as ever, unable to understand the realities of his situation. While many people consider him a genius — at the beginning of the film, he is introduced at a live gig as the greatest songwriter in the world, and his art was included in the recent Whitney Biennial — it's also easy to think that he's being celebrated for all the wrong reasons and that this worship is doing him — and us — more harm than good. Favorite scene: Butthole Surfer Gibby Haynes talking about Johnston while sitting in a dentist's chair getting his teeth drilled.
ONCE IN A LIFETIME:
THE EXTRAORDINARY STORY OF THE NEW YORK COSMOS (Paul Crowder & John Dower, 2006)
Angelika Film Center
18 West Houston St. at Mercer St.
Tickets: $10.75
212-995-2000
http://www.city-cinemas.com/angelika.html
http://198.173.65.227/cosmos/chstage.html

The 1970s was a crazy time in New York City: President Ford told the Big Apple to drop dead, David "Son of Sam" Berkowitz went around shooting strangers, a blackout led to looting and rioting, and a powerful CEO fought to bring the foreign game of soccer to the New World. The vastly entertaining documentary ONCE IN A LIFETIME details the story of Warner Bros. chairman Steve Ross's determined, desperate attempt to make soccer a major sport in America. And he did it the old-fashioned way: with a lot of cash. Backed by music moguls and big-time soccer fans Ahmet and Nehui Ertegun, Ross put together the New York Cosmos, one of the greatest teams to ever play the world's most popular game. As the name says, he filled the Cosmos with international stars that would have made Carl Sagan proud: Giorgio Chinaglia, Franz Beckenbauer, Carlos Alberto, Steve Hunt, and, of course, the magical Pelé, who was signed to a multimillion-dollar deal at a time when such numbers were unheard of even for baseball. When the Cosmopolitans started winning, the city adopted them, following their exploits from the green AstroTurf of Giants Stadium to the silver disco ball at Studio 54.
Directors John Crowder and John Dower talk to all the major players, both behind the scenes and on the field, except for Ross, who died of prostate cancer in 1992, and Pelé, who declined to participate (most likely because he wanted money to talk). Among the people telling tales out of school are such Cosmos stars as Beckenbauer, Alberto, Werner Roth, Shep Messing, and Chinaglia, who is painted as the villain responsible for eventually bringing down the franchise. (But Chinaglia doesn't care; he sits self-assured behind a desk or in a chair, proud of what he accomplished.) Marv Albert, David Hirshey, Cosmos mascot Mario Marianni, Ross's son Mark, superstar Rodney Marsh, Mia Hamm, Phil Mushnick, Ahmet Ertegun, and numerous executives put the fascinating tale in perspective, often seeing things very differently. Historical archival footage of the Me Decade is mixed in with terrific soccer moments, set to a 1970s soundtrack that includes songs by Kool and the Gang, Junior Walker, the Jam, Donna Summer, the Pretenders, Steely Dan, the Commodores, Parliament, Sparks, and the Main Ingredient. Cosmos fans must stay through the end of the credits for a sweet little coda that goes something like this: clap-clap / clap-clap-clap / clap-clap-clap-clap / Cosmos!
HEADING SOUTH (VERS LE SUD)
(Laurent Cantet, 2005)
Lincoln Plaza Cinemas
1886 Broadway between 62nd & 63rd Sts.
212-757-2280
Angelika Film Center
18 West Houston St. at Mercer St.
Tickets: $10.75
212-995-2000
http://www.shadowdistribution.com/headingsouth/index.html
http://www.city-cinemas.com/angelika.html
http://lincolnplaza.moviefone.com

Nominated for the Golden Lion at the 2005 Venice Film Festival, Laurent Cantet's HEADING SOUTH is a captivating, disturbing look at misguided passion in a postcolonial world. Based on three short stories by Dany Lafèrriere, the film is set in late 1970s Haiti, at a resort where wealthy white women come to be served — in all possible ways — by the local black men. Karen Young stars as Brenda, a troubled woman who returns to the beach resort for the first time in three years, seeking to find the sexual release with Legba (Ménothy Cesar) that changed her life. But she has a rival in Ellen (Charlotte Rampling), a longtime island regular who has taken Legba under her wing (and under her sheets). Sue (Louise Portal) tries to maintain the peace while dallying with her own boy toy, Neptune (Wilfried Paul). And observing it all from a cold distance is the resort manager, Albert (Lys Ambroise), a proud, distinguished gentleman who resents having to serve white people almost as much as he resents the black escorts who sell their bodies. As the three women convince themselves that they are truly in love, danger lurks from the nearby city, as Port-Au-Prince is about to explode. And yet no matter what happens, things are bound to continue as is, with young Eddy (Jackenson Pierre Olmo Diaz) ready to take over for the next generation. HEADING SOUTH is a well-acted, well-written examination of sex and love, power and poverty, and race and politics, with trouble and turmoil seething beneath virtually every scene.
A SCANNER DARKLY (Richard Linklater, 2006)
In theaters now
http://www.scannerdarklymovie.com
http://www.philipkdick.com/films_scanner.html

Advancing the interpolated rotoscoping technique he used to make WAKING LIFE (2001), Richard Linklater turns Philip K. Dick's novel A SCANNER DARKLY into an animated science-fiction thriller that will leave you dizzy, breathless, and plenty confused. Made with the participation of Dick's daughters, the film is set in a futuristic society that is combating the evil drug known as Substance D. (The story is partly based on Dick's real-life experiences.) Keanu Reeves stars as Bob Arctor, an undercover cop who has gotten in too deep with a motley group of stoners that includes the goofy Ernie Luckman (Woody Harrelson), who has a thing about bikes; sexy dealer Donna Hawthorne (Winona Ryder), who has a thing about being touched; the feckless Charles Feck (Rory Cochrane), who has a thing about bugs; and the fast-talking Jim Barris (scene stealer Robert Downey Jr.), who has a thing about, well, just about everything. After the movie was shot regularly, an animation team illustrated over it, creating awkward movements and awesome color schemes that threaten to overwhelm the story itself, but Linklater (DAZED AND CONFUSED, SLACKER, BEFORE SUNRISE) manages to keep things forging ahead. One of the coolest things is the scramble suit that Arctor wears, which constantly morphs him into different people in order to keep his true identity secret. Graham Reynolds's groovy score is enhanced by songs from Radiohead.
MINI'S FIRST TIME (Nick Guthe, 2006)
In theaters now

First-time feature-film writer-director Nick Guthe makes quite a first impression with his debut, the black comedy Hollywood noir MINI'S FIRST TIME. Born and raised in Brooklyn, Guthe savagely attacks the L.A. lifestyle in darkly funny ways. Nikki Reed, who wrote and starred in the indie hit THIRTEEN (Catherine Hardwicke, 2003), stars as Mini, a high school senior who likes celebrating firsts, no matter what they are. Her mother, Diane (Carrie-Anne Moss), is a failed actress who always has a drink in her hand and gets around with everyone from her masseur, Fabrizio (the heavily tattooed Rick Fox), to her next-door neighbor, television producer Mike (a deliciously wry Jeff Goldblum). Her stepfather, Martin (an outstanding Alec Baldwin), runs a successful firm and does his share of fooling around as well. With no moral compass or parental support whatsoever, Mini has no boundaries as she goes about living the high life, willing to try anything for yet another first. When she decides to moonlight as a paid escort, she is surprised when her second client is none other than Martin, who has a thing for young girls. Blindfolding him, she does what she's been paid to do, but when Martin later finds out he slept with his stepdaughter, thinking she was an anonymous hooker, their relationship changes, and Guthe turns the story into a compelling noir as Martin and Mini devise a plan to gaslight Diane. Every time the actions in the film go too far, Guthe is able to draw it back in and keep the tension running hot. Reed is nothing short of a sensation as Mini, a manipulative, coldly calculating femme fatale for the twenty-first century. Baldwin is excellent as Martin; he acts up a tour de force immediately after discovering what he's done with his stepdaughter. The cool cast also features Luke Wilson as a suspicious cop, Svetlana Metkina as a hot-to-trot housewife, Guthe himself as Mr. Bishop, and Guthe's wife, TV writer Heidi Ferrer, as Jennifer.
CHANGING TIMES (LES TEMPS QUI CHANGENT)
(André Téchiné, 2004)
Paris Theater
4 West 58th St. between Fifth & Sixth Aves.
Tickets: $10.50
212-688-3800
http://www.1000films.com/films/lestemps

In 1980, Catherine Deneuve and Gérard Depardieu teamed up for the first time in Claude Berri's JE VOUS AIME, followed by François Truffaut's THE LAST METRO. They appeared in several more films together but not in dual leading roles since François Dupeyron's A STRANGE PLACE TO MEET (1988). Fortunately, in the ensuing years, they have been more successful than the characters they play in André Téchiné's absorbing drama CHANGING TIMES. Deneuve, as beautiful as ever in her early sixties, stars as Cécile, a lonely woman feeling way too settled in her role as wife, mother, and radio host. Depardieu is Antoine, a lonely engineer who has been burning a candle for Cécile, his first love, for more than thirty years. When her grown son, Sami (Malik Zidi), comes to visit, he surprises everyone by bringing his girlfriend, Nadia (Lubna Azabal), and her young son, Said (Jabi Elomri). Both Sami and Nadia have other reasons for coming to Tangier: He wants to see his very good friend Bilal (Nadem Rachati), a groundskeeper for a rich family, and she wants to see her twin sister, Aicha (Azabal), a devout Muslim who works in McDonald's. Meanwhile, Cécile's husband, the younger Nathan (Gilbert Melki), hangs around the house, goes for long swims, and takes care of Antoine's smashed nose. Depardieu is unnerving as a creepy stalker, and Deneuve is enchanting as the bored wife; Téchiné (SCENE OF THE CRIME, ALICE ET MARTIN) treats their awkward relationship with intelligence and subtlety, allowing it to play out in unexpected ways.
LE TEMPS QUI RESTE (TIME TO LEAVE)
(François Ozon, 2004)
Lincoln Plaza Cinemas
1886 Broadway between 62nd & 63rd Sts.
212-757-2280
Angelika Film Center
18 West Houston St. at Mercer St.
Tickets: $10.75
212-995-2000
http://www.francois-ozon.com/english/index.html
http://www.city-cinemas.com/angelika.html
http://lincolnplaza.moviefone.com

Melvil Poupaud is absolutely mesmerizing in François Ozon's gorgeous, elegiac LE TEMPS QUI RESTE (TIME TO LEAVE). Poupaud (A SUMMER'S TALE, GENEALOGIES OF A CRIME) stars as Romain, a self-absorbed, nasty fashion photographer. After collapsing at a rooftop shoot, Romain learns that he has terminal cancer, with probably less than a year to live. In most films, impending death means inner revelations, major epiphanies, sudden change of lifestyle, and a new attitude, but this is Ozon (WATER DROPS ON BURNING ROCKS, 8 WOMEN, SWIMMING POOL), so you never know what to expect. Romain breaks up with his live-in boyfriend, Sasha (Christian Sengewald), goes out of his way to avoid his sister, Sophie (Louise-Anne Hippeau), and her children, and reaches out to his father (Daniel Duval), with no success. He decides to tell no one about his illness except for his grandmother, Laura (French film legend Jeanne Moreau), who has been ostracized from the family. The scenes between Romain and Laura are wrenchingly beautiful and, oddly, downright erotic. Romain seemingly cares little about leaving any kind of mark on the world, even when given the chance by a woman (Valeria Bruni-Tedeschi) he meets in a diner. All the while, he continually sees himself as a child (Ugo Soussan Trabelsi), enjoying life in a more innocent time. The final scene is unforgettable. Don't miss this marvelously timeless look at life and death.
GABRIELLE (Patrice Chéreau, 2005)
Lincoln Plaza Cinemas
1886 Broadway between 62nd & 63rd Sts.
212-757-2280
IFC Center
323 Sixth Ave. at Waverly Pl.
Tickets: $10.75
212-924-7771
http://lincolnplaza.moviefone.com

Jean Hervey (Pascal Greggory) thinks he has the perfect life. He is a wealthy businessman with a beautiful home and a gorgeous wife, Gabrielle (Isabelle Huppert). At their fancy Thursday-night dinner parties, he gets to show off everything he has to all the right people. But then one day he comes home from work to find a letter waiting for him: Gabrielle has left him for another man. Suddenly his carefully constructed world — including a sexless marriage and servants who dress and undress him — comes tumbling down in an instant, only to be turned upside down again when Gabrielle immediately returns, having changed her mind, but not necessarily for the most loving of reasons. For the rest of the film, Greggory and Huppert act up a storm as they try to deal with the tragic consequences both publicly and privately. Based on the Joseph Conrad short story "The Return," GABRIELLE is a powerful, gripping turn-of-the-century drama that is staged theatrically by director and co-writer Patrice Chéreau, who knows how to get inside his characters (see INTIMACY, QUEEN MARGOT, or THE WOUNDED MAN). While Hervey delivers monotone voice-over monologues in black and white, the more lively Gabrielle is depicted in color, her red hair a striking contrast to her bland, brown-gray husband. Most of the film takes place within the confines of their fabulous home, which becomes more and more like a prison as they fight for survival. GABRIELLE is a stunning achievement, though not an easy film to watch.
SUPERMAN RETURNS
In theaters now
http://supermanreturns.warnerbros.com

It's been five long years since Superman took to the skies, searching for the lost remnants of his home planet, Krypton. It's also been more than a quarter century since the last decent Man of Steel movie, SUPERMAN II. (The less said about III and IV the better.) X-MEN guru Bryan Singer has taken over the bridge, recruiting his USUAL SUSPECTS star Kevin Spacey to play the villainous Lex Luthor, Kate Bosworth to be Lois Lane, and former ONE LIFE TO LIVE regular Brandon Routh to channel the role of Superman a la Christopher Reeve. After swindling an old lady out of her fortune (Noel Neill, the second Lois Lane from the 1950s SUPERMAN television series and Lane's mother in the first film), Luthor travels to the Fortress of Solitude, absconding with some very powerful crystals — and some very evil plans. Meanwhile, Superman comes back to earth — as does Clark Kent, who gets his old job back at the Daily Planet from newspaper chief Perry White (Frank Langella) — and has to get used to Lois's new love, Richard White (James Marsden), and their young son, Jason (Tristan Lake Leabu). Marlon Brando is back as Jor-El, Superman's father, setting off a chain of events that involve fathers and sons, turning Kal-El into a Christlike figure. The appropriately named Eva Marie Saint plays Clark's mother (look for a picture of Glenn Ford as Clark's father on the piano), and Sam Huntington is photographer Jimmy Olsen (look for Huntington hugging bartender Jack Larson, who played Olsen in the original TV series). Routh makes for a solid Superman, and Spacey is an appropriately snarky Luthor, but Bosworth is a lightweight Lane, lacking the spark of Margot Kidder and Teri Hatcher before her. (And does she really say that Superman weighs about 125 pounds?) With the movie running more than two and a half hours, it is too long by at least twenty minutes, and there are plenty of unexplained plot holes, but Singer, with several nods to the early STAR TREK films, brings the Superman franchise back to life in a big way.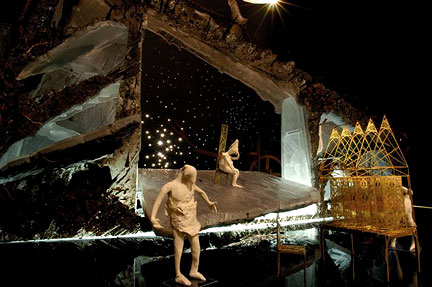 GRENDEL kicks off LCF 2006
GRENDEL: TRANSCENDENCE OF THE GREAT BIG BAD
Lincoln Center Festival 2006
New York State Theater
July 11-16; July 13 performance reviewed
Tickets: $40-$200
http://www.lincolncenter.org/programs/festival_home.asp?ws=

This highly anticipated, long-delayed, much-maligned opera, which has been in the works since the mid-1980s, finally arrived at Lincoln Center, where it just completed a run of four shows at the New York State Theater. Based on John Gardner's 1971 novel GRENDEL and the epic poem BEOWULF, the new operatic retelling of the famous legend features music by Elliot Goldenthal; direction by Goldenthal's partner, Julie Taymor; and a libretto by Taymor and poet J.D. McClatchy. Bass Eric Owens is absolutely outstanding as Grendel, a monster searching for his place in the world, and Denyce Graves does a star turn as the Dragon, a diva who rolls out on a spiky tongue and receives backup vocal support from a trio of Dragonettes perched high up on her tail. Unfortunately, nothing else approaches the level of their performances; the story moves way too slowly, scenes come and go with little reason other than to show off creepy costumes and inventive staging (the small puppet warriors are especially hard to swallow), and there is barely any conflict to involve the audience. Operas in English are always problematic, often sounding ridiculous; complicating matters here is that while Grendel sings in contemporary English, complete with curses and humorous but out-of-place asides and gestures, most of the rest of the cast deliver their lines in Old English, with poetic translations appearing as surtitles. None of the dance scenes are very compelling, including the climactic showdown between Grendel and Beowulf (played by a nearly naked, very tattooed Desmond Richardson). During intermission, an older gentleman approached us, asked us what we thought so far, then proceeded to tell us that while he'll well remember the smoked salmon sandwich he was eating (purchased in the lobby), he'll immediately forget the opera; he then said goodbye and exited the theater. Most people stayed for the significantly better second act, giving an uproarious standing ovation at the end. However flawed this creative production might be — and it is indeed seriously flawed — there's no denying the splendid work of Owens, a star on the rise.
RAMAKIEN: A RAK OPERA
Lincoln Center Festival 2006
La Guardia Concert Hall
Southwest corner of 65th St. at Amsterdam Ave.
July 28-30, 7:00
Tickets: $40
http://www.lincolncenter.org/programs/festival_home.asp?ws=

Commissioned specifically for the Lincoln Center Festival, RAMAKIEN: A RAK OPERA is a chaotic but entertaining mess. Ostensibly a retelling of the Floating Princess episode from the RAMAYAMA, the story doesn't really matter much, because it's virtually impossible to follow, even with the descriptions in the program and occasional surtitles. The main characters are played by some of Thailand's most popular dancers, singers, and bands, with Sek Loso as Prince Rama, Palmy Panchaeron as Princess Sita, Pru as Hanuman, Modern Dog as Benjakai, the Photo Sticker Machine with Arto Lindsay as Totsakan, and rapper Joey Boy as the narrator. In addition to performing their own numbers, the groups sometimes play all at the same time, along with the traditional Thai ensemble Fong Naam, creating quite a cacophony. The dance also mixes contemporary and traditional, with fine work by Sarawanee Tanatanit as Princess Sita, Manop Meejamrat as Hanuman, and choreographer Pichet Klunchun as Benjakai. All of the musicians form a crescent shape in front of a trilevel installation of twenty-four rooms that add a multimedia element to the show, with baffling video projections, changing color schemes, character appearances, and other background visuals. Artistic director Rirkrit Tiravanija and music director Bruce Gaston throw just about everything they can into the mix — even a little kickboxing — and while it makes for way too complicated a stew, there are some very tasty bits if you just relax your expectations and carefully sift through this bizarre Thai-palooza.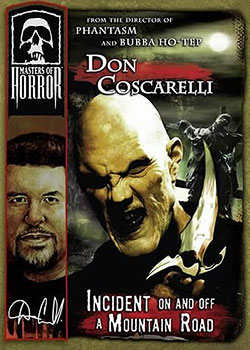 MASTERS OF HORROR
Available on DVD
http://www.sho.com/site/mastersofhorror/home.do

Last season, some of horror's greatest directors came together for MASTERS OF HORROR, a thirteen-part Showtime series featuring one-hour episodes by such genre masters as John (HALLOWEEN) Carpenter, Don (PHANTASM) Coscarelli, Mick (THE STAND) Garris, Dario (SUSPIRIA) Argento, Tobe (THE TEXAS CHAIN SAW MASSACRE) Hooper, Stuart (RE-ANIMATOR) Gordon, John (HENRY: PORTRAIT OF A SERIAL KILLER) McNaughton, Larry (IT'S ALIVE) Cohen, and Joe (THE HOWLING) Dante. (Only twelve episodes aired; Takashi Miike's contribution, IMPRINT, was deemed too violent even for the pay cable network.) Anchor Bay Entertainment is now releasing the DVDs in single versions and two-packs, loaded with bonus features, including director interviews, behind-the-scenes featurettes, audio commentary, and other extras, more than three hours per disc. Like predecessors such as TALES FROM THE DARK SIDE and TALES FROM THE CRYPT, MASTERS OF HORROR is a hit-or-miss affair. Garris's CHOCOLATE melted straight away, while Carpenter's CIGARETTE BURNS (with the great Udo Kier) was on fire from the very start. Bree Turner is excellent battling a demon in Coscarelli's INCIDENT ON A MOUNTAIN ROAD, and Gordon does well by H.P. Lovecraft in DREAMS IN THE WITCH-HOUSE, but Lucky McKee's SICK GIRL and McNaughton's HAECKEL'S TALE fall flat. The creepiest hour is probably Argento's JENIFER, in which Carrie Anne Fleming plays a bizarre creature who lures men into dark, dangerous sexual relationships; Hooper's DANCE OF THE DEAD, starring Robert (Freddy) Englund, also deals with some pretty evil sexual goings-on. And Republicans better watch out, at least based on Dante's heavily political HOMECOMING. The second season is scheduled to begin later this fall; we'll keep you posted about the eventual debut of Miike's IMPRINT.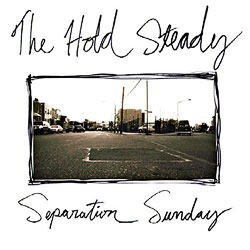 THE HOLD STEADY
Downtown NYC River to River Festival 2006
Music at Castle Clinton in Battery Park
Friday, July 28, 7:00
Admission: free, but same-day free tickets required, available at 5:00
212-835-2789
http://www.rivertorivernyc.org
http://www.downtownny.com/live/events
The Hold Steady holds court down in Battery Park, where their heartfelt Dylan-esque tales of picaresque urban adventures and giant, earnest rock 'n' roll sound should reverberate great in the intimate setting of Castle Clinton, a fine place to see live music. A recent Mates of State show featured a very young and surprisingly subdued crowd; the more raucous tones of the Hold Steady are sure to get this historic joint shaking like cannon fire. Don't miss the details in the surrounding historic park, such as the meditation maze and the cool tic-tac-toe board of metal plates that play musical tones like a giant telephone touchpad when you step on them.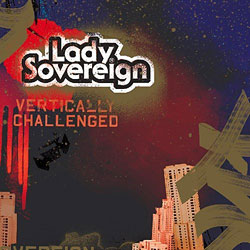 LADY SOVEREIGN / PETE ROCK / JEAN GRAE
Central Park Summerstage
Rumsey Playfield
Central Park (enter at Fifth Ave. & 69th St.)
Sunday, July 30, 3:00
Admission: free
212-360-2777
http://www.cityparksfoundation.org
Possibly the best show of the season on SummerStage: Lady Sovereign, Peter Rock, and Jean Grae. Lady S.O.V. is a tiny eighteen-year-old MC from London, insanely quick on the microphone. Her buzz is huge; she was recently signed to Def Jam and appeared at the end of June in a wild show at Webster Hall with the Streets. Apparently afraid of nothing, she's playful, goofy, and really, really good; we've been listening since she was featured on sounds du jour (http://fredgatesdesign.com/soundsdujour.html) and a DVD of her stuff, complete with crazy videos, came back with a relative from London last year. (We also saw her at Spin 20th anniversary show at Webster Hall, where she blew away such overhyped acts as Drive-by Truckers and Death Cab for Cutie.) The giant animated punch in the face on her Web site says a lot about this little dynamo, who told Ras Kwame of BBC 1Xtra: "Don't listen to blah-barians talking your name. If they're talking about you, you're doing things good, so just keep going." They're sure talking about her now, so just keep going till you get to this show, which is bound to be packed. And don't miss the amazing Jean Grae, a former Alvin Ailey dancer whose fabulous delivery, extreme hotness, and searing lyrics will blow you away on a totally different level. Pete Rock ain't too bad as well.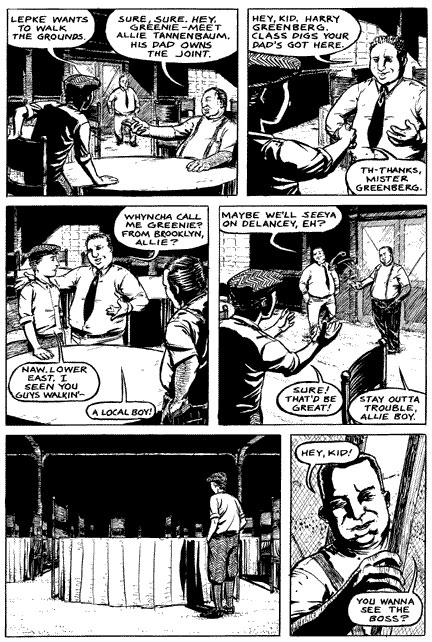 BROWNSVILLE by Neil Kleid & Jake Allen
(NBM ComicsLit, $18.95 hardcover, $12.95 trade paperback)
http://www.nbmpub.com/comicslit/kleid/kleidhome.html

Writer Neil Kleid and illustrator Jake Allen bring New York City's infamous Murder Inc. to life in the true-crime graphic novel BROWNSVILLE. Spanning 1925 to 1954 and ranging from the Catskills to East New York, BROWNSVILLE tells the story of a group of Jewish hit men led by Louis "Lepke" Buchalter and his associates, including Jacob "Gurrah" Shapiro, Albert "Mad Hatter" Anastasia, Harry "Pep" Strauss, Frank "Dasher" Abbandando, Charlie "Bug" Workman, Martin "Bugsy" Goldstein, and Harry "Happy" Malone, but the book focuses primarily on Abe "Kid Twist" Reles and Albert "Allie Boy" Tannenbaum. The tale begins upstate at Lake Sheldrake Country Club, with Allie peeling potatoes for his father, who owns the resort — which is frequented by a certain fringe element from the city. Against his father's better judgment, Allie is recruited by Shapiro, and soon he works his way up the ladder at Murder Inc., one of the most feared bunch of killers in American history. But when Mayor Fiorello La Guardia sends Assistant D.A. Thomas Dewey after the gang, their luck begins to change. BROWNSVILLE is a solid if unspectacular morality tale highlighted by Allen's noirish black-and-white drawings and Kleid's colorful dialogue. And yes, Dutch Schultz's real name was Arthur Flegenheimer.

All contents copyright 2006 by Mark Rifkin and twi-ny. All rights reserved. Contents may not be reprinted without written permission. Please note that events, dates, and prices are subject to change.
Send all comments, suggestions, reviews, and questions to mark.rifkin@twi-ny.com.
Please note that some e-mail clients may wrap links, so be sure to enter them fully into your browser.
To subscribe to this list, please e-mail the administrator at admin@twi-ny.com with the word Subscribe in the Subject line; be sure to ask for back issues, which are free as well. To unsubscribe from this list, please think it over twice before e-mailing the same address. Please let us know what you didn't like about this forum and we'll do our best to correct it in the future -- if we agree with you. If you would like to see something covered in a future issue, please let us know. Without you, there is no need for us to exist.

twi-ny top two dozen (or so) weekly reminders & special events
NY ASIAN AMERICAN INTERNATIONAL FILM FESTIVAL 2006
The Asia Society, 725 Park Ave. at 70th St.
Quad Cinema, 34 West 13th St. between Fifth & Sixth Aves.
July 13-21
Stony Brook University, Charles B. Wang Center
August 3-6
Tickets: $10 film screenings unless otherwise noted, $5 panels
Festival CinePass: $120
Festival GoldPass: $170
http://www.stonybrook.edu/sb/wang
Wednesday, July 19 Shorts Program: Can You Hear Me Now? Quad, 1:00
Wednesday, July 19 PURITY (NaRhee Ahn, 2006), Quad, 3:30
Wednesday, July 19 Sun Sing Theater Retrospective: ALL ABOUT AH LONG (A LANG DE GUSHI) (Johnny To, 1989), Quad, 6:00
Wednesday, July 19 AMERICAN FUSION (Frank Lin, 2005), Quad, 8:30
Thursday, July 20 THE THIRTY MILLION RUSH (Karl Maka, 1987), Quad, 1:00
Thursday, July 20 RIGODON (Sari Lluch Dalena & Keith Sicat, 2005), Quad, 3:30
Thursday, July 20 BEAUTY REMAINS (MEI REN YI JIU) (Ann Hu, 2005), Quad, 6:00
Thursday, July 20 Music Video Show, Quad, 8:30
Friday, July 21 Closing Night Award Ceremony, announcing winners for Emerging Director Award, Excellence in Short Filmmaking, Best Music Video Award, One to Watch For Youth by Youth Award, Michelob Light Music Video Award, and V-Clip Competition, Asia Society, 6:30
Friday, July 21 Closing Night Reception, Asia Society, 7:30
Friday, July 21 Closing Night Film: TBA, Asia Society, 8:30

JAZZMOBILE: MANHATTAN
Various venues at 7:00
Admission: free
212-666-1640
http://www.jazzmobile.org/events.asp
Wednesday, July 19 Houston Person, Grant's Tomb, Riverside Park, 122nd St. & Riverside Dr.
Thursday, July 20 Ms. Carol Daggs, Morningside Park
Friday, July 21 Benny Powell, Marcus Garvey Park, 122nd St. & Fifth Ave.
Monday, July 24 Roy Merriweather, Brooks Senior Center, 143-22 109th Ave.
Tuesday, July 25 Ms. Lily White, West 47/48th St. Block Association, 47th St. between Ninth & Tenth Aves.
Wednesday, July 26 Wycliffe Gordon Quintet, Grant's Tomb, Riverside Park, 122nd St. & Riverside Dr.
Thursday, July 27 Ms. Lily White, Macon St. Block Association, Macon St. between Ralph & Patchen Aves.
DOWNTOWN NYC RIVER TO RIVER FESTIVAL 2006
Rockefeller Park in Battery Park City (RP)
World Financial Center Plaza (WFC)
Wagner Park in Battery Park City (WP)
Historic Battery Park Lawn (BPL)
Music at Castle Clinton in Battery Park (CC)
June 7 — September 7
All shows at 7:00 unless otherwise noted
Admission: free (same-day free tickets required for Castle Clinton shows)
212-528-2733/212-267-9700
http://www.rivertorivernyc.org
http://www.worldfinancialcenter.com/calendar/default.html
http://www.bpcparks.org
Wednesday, July 19 Little Feat, RP
Thursday, July 20 Josh Rouse, CC
Tuesday, July 25 Diane Reeves & Chiara Civello, WFC
Wednesday, July 26 The Spinners, RP
Thursday, July 27 The Hold Steady, CC
Wednesday, August 2 Hot August Night: A Neil Diamond Celebration
NEW YORK AFRICAN FILM FESTIVAL:
THROUGH AFRICAN EYES & PRIZED PIECES
Historic Harlem Parks
Wednesdays and Thursdays through August 3 at 7:00
Admission: free
http://www.africanfilmny.org/aff_fest.html
Wednesday, July 19 Music: Les Merveilles de Guinea - Guinean Drummers and Dancers; Film: THE GOLDEN BALL / LE BALLON D'OR (Cheik Doukouré, 1992), preceded by SAFI, THE LITTLE MOTHER (Rasò Ganemtoré, 2004), St. Nicholas Park, 135th St. & St. Nicholas Ave.
Thursday, July 20 Music: DJ Stone; Film: BUCKLE BROTHERS (Marquette Williams, 2005), preceded by SAFI, THE LITTLE MOTHER (Rasò Ganemtoré, 2004), St. Nicholas Park, 135th St. & St. Nicholas Ave.
Wednesday, July 26 Live Performance: Mouminatou Camara with Seewe African Dance Company; Film: THE HERO (Zeze Gamboa, 2004), the Basketball Courts at Jackie Robinson Park, 150th St. & Bradhurst Ave.
Thursday, July 27 Music: DJ L'mani V; Film: BEYOND BEATS AND RHYMES (Byron Hurt, 2006), the Basketball Courts at Jackie Robinson Park, 150th St. & Bradhurst Ave.
Wednesday, August 2 Live Performance: Kotchegna Dance Company - Ivorian Drummers and Dancers; Film: HYENAS (Djibril Diop Mambety, 1992), Harlem Meer, Charles A. Dana Discovery Center, 110th St. @ Lenox Ave.
RIVERFLICKS
One Mean Summer: Pier 54, Hudson River at Fourteenth St.
Wednesdays around dusk July 5 — August 23
Big Adventures: Pier 46, Hudson River Park at Charles & West Sts.
Fridays around dusk July 7 — August 25
Admission: free
http://www.hudsonriverpark.org/Calendar/RF.htm
Wednesday, July 19 THE BEASTMASTER (Don Coscarelli, 1982)
Friday, July 21 CHICKEN RUN (Peter Lord & Nick Park, 2000)
Wednesday, July 26 JAWS (Steven Spielberg, 1975)
Friday, July 28 HARRY POTTER AND THE SORCERER'S STONE (Chris Columbus, 2001)
Wednesday, August 2 CRUEL INTENTIONS (Roger Kumble, 1999)
MID-SUMMER MUSIC
Wave Hill Great Lawn
West 249th St. at Independence Ave., the Bronx
Wednesday nights at 7:00
Free with grounds admission of $4
718-549-3200
Wednesday, July 19 Yerbabuena
Wednesday, July 26 Pulse Field
JAZZ HOUSE SUMMER NIGHTS
On the Terrace at Scandinavia House
58 Park Ave. at 38th St.
Wednesday nights from 5:30 to 9:30 through August 23
Tickets: $7
Food and drink available from Restaurant Aquavit
http://www.scandinaviahouse.org/programs.html#3
Wednesday, July 19 Mika Pohjola, Finland
Wednesday, July 26 Lage Lund, Norway
Wednesday, August 2 Nikolaj Hess, Denmark
SUMMER IN THE SQUARE
Union Square Park
Park Ave. to Broadway between 14th & 17th Sts.
Wednesdays at 12:30 and 6:00 unless otherwise noted
June 28 - August 16
Admission: free
212-460-1208
http://www.unionsquarenyc.org/events/index.html
Wednesday, July 19 Rebecca Pronsky Band, 12:30; Take a Break — Practice Om Yoga in the Park, 3:00; Battery Dance Co., 6:00
Wednesday, July 26 New School University's Afro-Cuban Jazz Orchestra, 12:30; Performance Space 122, 6:00
Wednesday, August 2 Chuck Braman Jazz Quintet, 12:30; Calvin Wiley Dance Theatre, 3:00; Kr3t's Dance Co., 6:00
OUTDOOR CINEMA
Socrates Sculpture Park
Broadway at Vernon Blvd.
Wednesdays at sundown through August 30
Live music at 7:00
Admission: free
718-956-1819
http://www.socratessculpturepark.org
Wednesday, July 19 MOTORCYCLE DIARIES (Walter Salles Jr., 2003)

Wednesday, July 26 LATCHO DROM (Tony Gatlif, 1993)
Wednesday, August 2 THE STRAIGHT STORY (David Lynch, 1999)
MOVIES UNDER THE STARS
Pier A Park at First & Sinatra Dr.
Hoboken
June and July films start at 9:00
Admission: free
Blankets & lawn chairs encouraged
201-420-2207
http://www.hobokennj.org/html/hservices/movies.html
Wednesday, July 19 WALK THE LINE (James Mangold, 2005)
Wednesday, July 26 RENT (Chris Columbus, 2005)
Wednesday, August 2 MARCH OF THE PENGUINS (Luc Jacquet, 2005)
MOVIES UNDER THE STARS
Riverside Park South
Pier 1, 70th St. at the Hudson River
Admission: free
212-870-3037
http://riversideparkfund.org
Wednesday, July 19 SHOW BOAT (George Sidney, 1951)
Wednesday, July 26 THE AFRICAN QUEEN (John Huston, 1951)
Wednesday, August 2 THE SPONGEBOB SQUAREPANTS MOVIE (Stephen Hillenburg, 2004)
MOVIE NIGHTS 2006
Brookhaven Amphitheater
Arts & Cultural Center at Bald Hill, Farmingville, Long Island
Wednesday nights in July and August at approximately 8:45
Admission: $5 per carload
631-451-8010
http://brookhavenamphitheater.com/movie_sched.html
Wednesday, July 19 DREAMER (John Gatins, 2005)
Wednesday, July 26 CHARLIE AND THE CHOCOLATE FACTORY (Tim Burton, 2005)
Wednesday, August 2 ZATHURA (Jon Favreau, 2005)
SHAKESPEARE IN THE PARKING LOT
The Drilling Company
Municipal Parking Lot across from 85 Ludlow St. at Broome St.
Thursdays through Saturdays through July 22 at 8:00
Admission: free
212-414-7717
http://www.drillingcompany.org/shakespeareparkinglot.html
Thursday, July 20
through
Saturday, July 22 THE TEMPEST, directed by Kathy Curtiss
CELEBRATE BROOKLYN! 2006
Prospect Park Bandshell
June 5 - August 5
Keep It Great: Give $3 at the Gate
718-855-7882
http://www.brooklynx.org/celebrate/schedule.asp
Thursday, July 20 Brave New World Repertory Theatre: THE GREAT WHITE HOPE, 8:00
Friday, July 21 Movies Under the Stars: BLACKMAIL (Alfred Hitchcock, 1929) with Alloy Orchestra / Morley, 7:30
Saturday, July 22 Ronald K. Brown/Evidence, 8:00
Thursday, July 27 Movies Under the Stars: DRACULA (Tod Browning, 1931) with Philip Glass & Kronos Quartet / Slavic Soul Party, 7:30
Friday, July 28 Leela James / Bfe Sound System aka Brooklyn Funk Essentials, 7:30
Saturday, July 29 Latin Music Series: Boricua Festival -- Sonora Ponceña / Joe Bataan / and more, 2:00 — 9:00
BROADWAY IN BRYANT PARK
Bryant Park Stage
Thursdays at 12:30 pm through August 10
Admission: free
http://www.bryantpark.org/calendar/broadway.php
Thursday, July 20 SHOUT! THE MOD MUSICAL / THE PHANTOM OF THE OPERA / THE COLOR PURPLE / WICKED
Thursday, July 27 THE WEDDING SINGER / HAIRSPRAY / TARZAN / RENT
SUMMER ENCHANTED EVENINGS
Sinatra Park
Frank Sinatra Dr. between Fourth & Fifth Sts.
Thursday nights at 7:00 through August 31
Admission: free
201-420-2207
http://www.hobokeni.com/musicatsinatrapark.asp
Thursday, July 20 Guitar Bar Allstar Jamboree
Thursday, July 27 Gene D. Plumber
SEASIDE SUMMER CONCERTS
Asser Levy Seaside Park
Sea Breeze Ave. & Ocean Pkwy.
Brighton Beach, Brooklyn
Limited seating: $5 per chair ($10 for special shows), but you can bring your own for free
Requested donation: $5
Thursday nights at 7:30 pm
718-469-1912/718-222-0600
http://www.brooklynconcerts.com/seaside.html
Thursday, July 20 Frankie Valli/Stewie Stone
Thursday, July 27 Julio Iglesias
MOVIES WITH A VIEW: MOVIES IN MOTION
Brooklyn Bridge Park at Empire-Fulton State Park
1 Main St. at Water St.
Thursday nights at sunset, preceded by music by live DJs at 6:00
Admission: free
718-802-0603
Thursday, July 20 STRANGERS ON A TRAIN (Alfred Hitchcock, 1951)
Thursday, July 27 PEE WEE'S BIG ADVENTURE (Tim Burton, 1985)
Wednesday, August 2 THE ADVENTURES OF PRISCILLA, QUEEN OF THE DESERT (Stephan Elliott, 1994)
PASSPORT FRIDAYS: GLOBAL SIGHTS AND SOUNDS OF THE URBAN TRAVELER
Queens Museum of Art
Flushing Meadows Corona Park
Friday nights at 6:30 through August 25
Admission: free for outdoor events; $5 suggested donation for museum, which is open until 8:00
718-592-9700
http://www.queensmuseum.org/education/special_events.htm
Friday, July 21 Dance: Bollywood Axion Troupe; Music: members of Stone Forest Ensemble, Chee Malabar, Ranjit, and Genius Blaze; Film: BUNTY AUR BABLI (BUNTY AND BABLI) (Shaad Ali, 2005)
Friday, July 28 Dance: Yana Yu Ballet School; Music: the Chinese Music Ensemble of New York; Film: KUNG FU HUSTLE (Stephen Chow, 2004)
THE BLACK FACTORY
Union Square Farmers Market
Admission: free
http://www.nsu.newschool.edu/02a_specdiv.htm#0201
Saturday, July 22 Mobile art performance installation by William Pope.L, 10:00 am — 6:00 pm
NOSTALGIA TRAIN RIDES
Departing from 59th St. & Columbus Circle
Tickets: $30 adults, children three to seventeen $10
Space is limited: reservations and prepayment required
Trips depart at 10:00 am and leave destination for return trip at 3:00
718-694-1867
http://www.mta.nyc.ny.us/mta/museum/programs.htm
Saturday, July 22 Take a vintage 1917 Lo-V subway train to Coney Island, with an optional tour of the new Stillwell Ave. terminal, a visit to the Coney Island Museum, or remain on the train for more rides, 10:00 am — 4:00 pm
FREE SHAKESPEARE IN THE PARKS
Boomerang Theatre Company
Through July 23
Saturdays and Sundays at 2:00
Admission: free
212-501-4069
http://boomerangtheatre.org/seasons/2006.html
Saturday, July 22
and
Sunday, July 23 KING LEAR, Central Park, 69th St. & Central Park West
SCI-FI MOVIE MARATHON
Symphony Space
Peter Jay Sharp Theatre
2537 Broadway at 95th St.
Tickets: $10
212-864-5400
http://www.symphonyspace.org/genres/genrePage.php?genreId=2
Saturday, July 22
and
Sunday, July 23 Triple Feature: FORBIDDEN PLANET (Fred M. Wilcox, 1956), 4:00, THE INCREDIBLE SHRINKING MAN (Jack Arnold, 1957), 6:00, and CLOSE ENCOUNTERS OF THE THIRD KIND: SPECIAL EDITION (Steven Spielberg, 1977), 7:30
WEEKEND STREET FAIRS/FESTIVALS/PARADES/CARNIVALS
All events approximately 11:00 am - 6:00 pm unless otherwise noted
Admission: free
http://www.nyctourist.com/st_fairs_calendar.htm
http://nycstreetfairs.com/sched.html
http://www.clearviewfestival.com
Saturday, July 22 East Side Summer Festival: Lexington Ave. between 42nd & 57th Sts.
Saturday, July 22 14th St. Festival: 14th St. between Seventh & Eighth Aves.
Saturday, July 22 East Village Festival: Fourth Ave. between Fifth St. & Astor Pl.
Sunday, July 23 Flatbush Ave. Festival: Flatbush Ave. between Parkside & Cortelyou Rd.
Sunday, July 23 Seventh Ave. Movie Day Festival: Seventh Ave. between 47th & 57th Sts.
Sunday, July 23 NYC Unfolds Street Fair: Broadway between Houston & Grand Sts.
Saturday, July 29 Washington Sq. Summer Fair: Bleecker St. between Broadway & Sixth Ave.
Saturday, July 29 Vanderbilt YMCA Second Ave. Festival: Second Ave. between 42nd & 55th Sts.
Sunday, July 30 52nd Association Jazz Festival: 52nd St. between Lexington & Seventh Aves.
Sunday, July 30 Theatre District Festival: 47th St. between Eighth & Ninth Aves.
Sunday, July 30 Christopher St. Festival: Christopher St. between Seventh & Greenwich Aves.
Sunday, July 30 Broadway Summerfest: Broadway between Steinway & 47th Sts.
SUMMER ON THE HUDSON: OASIS FESTIVAL 2006
Riverside Park South
Red Shade Plaza at 62nd St.
Admission: free
212-408-0219
http://nycgovparks.org/sub_things_to_do/events/output_pages/summer_on_the_hudson.php
Wednesday, July 23 Site-Specific Sundays: ninth annual multidiscipline event presented by Chashama, 3:00 & 5:00
POoL PARTIES
McCarren Park Pool
Lorimer St. between Driggs & Bayard Aves.
Pool open 2:00 — 8:00; live music at 3:00
Bring bathing suits and blankets
Do not bring chairs, bikes, food, and drink
Sundays through September 3
Admission: free
http://www.thepoolparties.com/events.php
Sunday, July 23 Pretty Girls Make Graves, Jason Lytle (Grandady), Bon Savants, with DJ All England Club
Sunday, July 30 Of Montreal, Enon, Irving, Asobi Seksu, with DJ Franki Chan
BROOKHAVEN NATIONAL LABORATORY'S
SUMMER SUNDAY TOURS
Brookhaven National Laboratory
U.S. Department of Energy
William Floyd Pkwy. (County Road 46)
Sundays through August 20, 10:00 am - 3:00 pm
Whiz Bang Science Show: 10:30 am, 12 noon, 1:30 & 3:00 pm
Admission: free
631-344-2651
http://www.bnl.gov/community/summer_sunday.asp
Sunday, July 23 Playing with Science
Sunday, July 30 See with Invisible Light
AN EVENING WITH EMILY HUBLEY
IFC Center
323 Sixth Ave. at Waverly Pl., Manhattan
212-924-7771
http://www.ifccenter.com/event?eventid=999928
Monday, July 24 Short films presented by animator Emily Hubley, with live score by Sue Garner (with Rebecca Gates, Doug Weiselman, and Megan Reilly), 7:45
ART ADVENTURE MONDAYS!
The Jewish Museum
1109 Fifth Ave. at 92nd St.
Monday mornings at 11:15
Free with museum admission of $10 adults, $7.50 students, children under twelve free
212-423-3337
http://www.thejewishmuseum.org/site/pages/event.php?id=488
Monday, July 24 The Power of Color: Color in painting, sculpture, and other works of art, gallery tour and activity program for children four to seven
Monday, July 31 All that Glitters: Gold and silver treasures with surprising shapes and forms, gallery tour and activity program for children four to seven
NEW YORK DOLLS
Tower Village
692 Broadway at West Fourth St.
212-505-1500
http://www.towerrecords.com/stores/store.asp?storeID=t17125
Tuesday, July 25 New York Dolls in-store performance; must buy new album, ONE DAY IT WILL PLEASE US TO REMEMBER EVEN THIS, starting at 9:00 am to receive laminate for admission to live show at 7:00 pm
NAUMBURG ORCHESTRAL CONCERTS
Naumburg Bandshell
midpark just south of the 72nd St. cross-drive
Monthly Tuesday nights through August 8 at 7:30
Admission: free
http://naumburgconcerts.org/2006/program.htm
Tuesday, July 25 The Naumburg Orchestra, featuring Sarah Ioannides, conductor, and Scott Hartman, trombone soloist: Felix Mendelssohn, Midsummer Night's Dream Overture Op. 32; Ferdinand David, Concertino for Trombone and Orchestra; Wolfgang Amadeus Mozart, Prague Symphony, Naumburg Orchestral Concerts, 7:30
NEW YORK INTERNATIONAL LATINO FILM FESTIVAL highlights
Multiple venues
July 25-30
Individual film screenings: $10
646-723-1428
Tuesday, July 25 Opening Night Premiere Feature: SOLO DIOS SABE (Carlos Bolado), followed by after-party, Regal Union Square Stadium 14, 850 Broadway, $20, 7:00
Wednesday, July 26 NYILFF Vanguard 2006: NUYORICAN DREAM (Laurie Collyer), Carlitos Café y Galeria, 1701 Lexington Ave. between 106th & 107th Sts., $5, 9:30
Wednesday, July 26 NYILFF Vanguard 2006: CHICAGO BORICUA (Marisol Torres), Carlitos Café y Galeria, 1701 Lexington Ave. between 106th & 107th Sts., $5, 11:30
Thursday, July 27 Dominican Night: LA REPUBLICA DE BASEBALL:
LOS GIGANTES DOMINICANOS (REPUBLIC OF BASEBALL: THE DOMINICAN GIANTS) (Daniel Manatt), RECUERDOS (MEMORIES) (Yahaira Paulino), followed by after-party, Florence Gould Hall, 55 East 59th St. between Park & Madison Aves., $20, 8:00
Friday, July 28 Panel 2: John Singleton and Franc. Reyes: The Making of ILLEGAL TENDER, with John Singleton and Franc. Reyes, ImaginAsian Theater, 239 East 59th St. between Second & Third Aves., $15, 6:30
Friday, July 28 YELLOW (Alfredo de Villa, 2006), followed by after-party, Florence Gould Hall, 55 East 59th St. between Park & Madison Aves., $10, 8:00
Friday, July 28 Cinema Under the Stars: WEST SIDE STORY (Robert Wise, 1960), Dongan Lawn, Fort Tryon Park, free, preparty at 7:00, film screening at 8:30
Saturday, July 29 Official Closing Night Premiere Feature: QUINCEAÑERA (Richard Glatzer & Wash Westmoreland), followed by after-party, Florence Gould Hall, 55 East 59th St. between Park & Madison Aves., $20, 8:00
Saturday, July 29
and
Sunday, July 30 NYILFF Family Weekend, with free snacks and drinks, movies, arts & crafts, hands-on reptile exhibit, costumed characters, games, gifts, and more, JCC in Manhattan, 334 Amsterdam Ave., free, 10:00 am — 5:00 pm
WASHINGTON SQUARE MUSIC FESTIVAL
Washington Square Park
Fifth Ave. below Eighth St. by Garibaldi statue
Rain space: NYU's Frederick Loewe Theater, 35 West Fourth St.
Tuesday nights through August 1 at 8:00
Admission: free
212-252-3621
http://washingtonsquaremusicfestival.org/schedule.htm
Tuesday, July 25 Washington Square Chamber Ensemble: Works by Mozart and Sir George Martin, 8:00
Tuesday, August 1 Cuartetango: An exploration of Argentine tango, 8:00
LAZY LIONS
Fat Baby
112 Rivington St. between Ludlow & Essex Sts.
212-533-1888
http://www.myspace.com/lazylions
Wednesday, July 26 Lazy Lions perform their unique brand of power pop, $7, 9:00
THE ULTIMATE SUMMERTIME PARTY
Intrepid Sea, Air & Space Museum
Pier 86, 12th Ave. & 46th St.
Tickets: $75-$100
212-463-7787
http://nationalmssociety.org/nyn/event/event_detail.asp?e=755
http://www.intrepidmuseum.org/intrepidmuseum/events/item.php?id=115
Thursday, July 27 Caribbean Nights: Manhattan Society's twenty-second annual party, featuring live music, dancing, and food and drink, aboard the USS Intrepid, benefiting the New York City Chapter of the National MS Society, 7:30 — 11:00 pm
WITHOUT PRETENSE
Dance Theater Workshop
219 West 19th St. between Seventh & Eighth Aves.
212-924-0077
Thursday, July 27
through
Saturday, July 29 An evening of works by danceTactics Performance Group, $12-$20, 7:30
SOLAR POWERED DANCE SERIES
Solar 1
Stuyvesant Cove Park
2420 FDR Dr. at 22nd St. and Ave. C
Admission: free
212-505-6050
http://solar1.org/about/events/index.html
Thursday, July 27
through
Saturday, July 29 Tara Madsen, Austin Dixon, InkBoat, Erica Essner Performance Co-op, and Kayoko Sakoh, 6:00 — 8:00 pm
DOT DASH FESTIVAL YEAR IV
Brooklyn Southpaw
125 Fifth Ave., Brooklyn
718-230-0236
Thursday, July 27 The Dicks, Marked Men, Carbonas, Pissed Jeans, Live Fast Die, $17, 8:00
Friday, July 28 The Alarm Clocks, the Cynics, the Original Sins, the Hentchmen, Turpentine Brothers, $17, 8:00
Saturday, July 29 Rocket from the Tombs, the Little Killers, DC Snipers, Angry Angles, Imaginary Icons, $20, 8:00
FAMILY CAMPING
Alley Pond Park, Queens
Little Neck Bay to Springfield Blvd. at Union Tpke.
Admission: free, but must RSVP by calling 311 on Monday, July 24
718-217-6034
http://www.nycgovparks.org/sub_about/parks_divisions/urban_park_rangers/pd_ur_family_camping.html
http://nycgovparks.org/sub_your_park/historical_signs/hs_historical_sign.php?id=12062
Friday, July 28
and
Saturday, July 29 Camp with the Urban Park Rangers, including a cookout, stargazing, night hikes, breakfast, and more, reservations must be made on July 24 by calling 311
JIM ALLEN
Mo Pitkin's
34 Ave. A between Second & Third Sts.
212-777-5660
http://www.cdbaby.com/jimallen
Saturday July 29 Jim Allen of the Lazy Lions takes the solo-troubadour route for this special performance at 9:00, followed by Andy Germak at 10:00
SUNDOWN
Issue Project Room
400 Carroll St. between Bond & Nevins Sts.
Tickets: $10-$15
718-330-0313
http://issueprojectroom.org/events.html
Saturday, July 29
and
Sunday, July 30 The School of Hard Knocks in a site performance in the afternoon vistas of the Gowanus Canal, with seven dancers, seven musicians, and seven-foot cubes, conceived, choreographed, and directed by Yoshiko Chuma, 3:00 — 10:00 pm
SUNDAYS IN THE GARDEN
Staten Island Botanical Garden
1000 Richmond Terr.
718-273-8200
http://sibg.org/calendar.html#jul
Sunday, July 30 Conversation with Christopher Catt about Snug Harbor's current production of THE FULL MONTY, Carl Grillo Glass House lawn, $5, 1:00
AN EVENING WITH HARRY, CARRIE AND GARP
Radio City Music Hall
1260 Sixth Ave. at 50th St.
Tickets: $12.50-$104.50
http://www.scholastic.com/harrycarriegarp
http://www.radiocity.com/eventcalendar/home
http://www.doctorswithoutborders.org
Tuesday, August 1
and
Wednesday, August 2 Readings and audience Q&A with J.K. Rowling, Stephen King, and John Irving, with surprise guests; proceeds benefit the Haven Foundation and Doctors Without Borders / Médecins Sans Frontières, 7:30
PbP SUMMER SOIREE
Obivia
201 Lafayette St. between Kenmare & Broome Sts.
Admission: $10
http://www.projectbyproject.org/ny/events.asp
http://www.AsianCineVision.org
Wednesday, August 2 Summer fundraiser offering discounted tickets for September 29th Eighth Annual Food and Wine Tasting Event, with food and drink specials, benefiting Project by Project and Asian CineVision, 6:00 — 9:00
DJ SPOOKY'S SUBLIMINAL STRINGS
Joe's Pub
425 Lafayette St. between East Fourth St. & Astor Pl.
212-539-8778
Wednesday, August 2 With Min Xiao-Fen (on Chinese pipa) and Yumiko Tanaka (on Japanese shamisen), $20, 9:30